*Product was received. This is only a feature. This post includes my affiliate links.
Holidays are upon us and time for families to get together and spend some quality time together! Why not play some fun games to break the ice? We love Fun Games Anyone Can Enjoy! I have a couple of games for you all! Have you heard of the BandFuse: Rock Legends or the super cute and fun Phineas and Ferb: Quest for Cool Stuff? If not, listen up! Bandfuse: Rock Legends is REALLY popular! I saw it on t.v. and thought, wow, my nephew, who has his own band, would go crazy over this fun game for the Xbox 360 (also for the PS3 ).
About Bandfuse: Rock Legends
BandFuse: Rock Legends provides an authentic pickup and play experience for musicians of all skill levels. Whether you've never held a guitar or bass before or you are already the lead guitarist in your own band, BandFuse: Rock Legends will have you rockin' out with your favorite songs in minutes.
Vocalists can enjoy karaoke style or scored vocalist mode with instructions on proper singing techniques. The set list includes 55 epic tracks and a cast of the world's most famous rock legends, including Slash, Bootsy Collins, Zakk Wylde, George Lynch, Five Finger Death Punch's Zoltan Bathory and Jason Hook, and more!
Features
Real Instruments: Learn to play real guitar, bass, and vocals. Real-world animated guitar tablature provides the first truly authentic music video game experience on consoles.
Form Bands: Get the band together and play along with your favorite songs, or create original music with up to 4 players on guitar, bass, and vocals. Additional hardware is required and included in the Band Pack.
Tour Mode(Career): Progress your way through the phases of a rock career; start from humble beginnings as a novice player or vocalist and work your way up to become a Rock Legend. As you develop as a musician, completing challenges to gain fans and cash, you can unlock additional tours.
Real Rock Legends: Receive inspiration and instruction from some of the world's best musicians including Slash from Guns N' Roses, Zakk Wylde, former lead guitarist for Ozzy Osbourne and founder of Black Label Society, bass legend Bootsy Collins, and others. These legends offer instruction and inspiration for the player every step of the way, providing the foundation for a lifetime of music.
Huge Music Selection: 55 songs on disc with 5 or more levels of gameplay. Artists include Pearl Jam, Coldplay, Rick Springfield, Jane's Addiction, Maroon 5, Halestorm, Black Label Society, Judas Priest, Incubus, Heart, and many more!
The other game worth mentioning (thought it would be cute!) is Phineas and Ferb: Quest for Cool Stuff. You can find this for the Xbox 360, Wii U, Wii, Nintendo 3DS, and Nintendo DS.
About Phineas and Ferb: Quest for Cool Stuff
Join Phineas and Ferb as they travel to out-of-this-world places in their newest invention, the A.T.T. (All-Terrain Transformatron). This upgradeable, customizable, ultra-cool amphibious ride helps the boys hunt for lost loot to display in their backyard Museum of Cool.
Phineas and Ferb: Quest for Cool Stuff features many of the fan-favorite characters from the hit show, including Perry the Platypus – aka secret Agent P, Candace, Isabella, Buford, Baljeet, and the evil Dr. Doofenshmirtz, who is determined to unleash his latest creation, the "get-rid-of-cool-stuff-inator" on the Tri-State Area.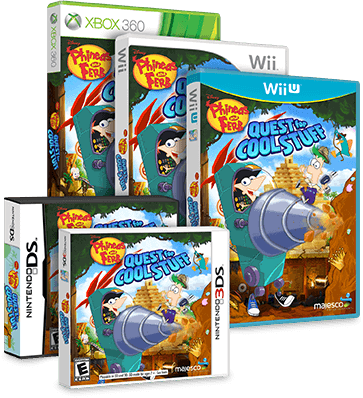 This game has multi-gameplay modes such as the exploration mode which allows you to switch on the fly between ambitious innovator Phineas and silent, but stoic "Man of Action" Ferb as they explore an ancient lost temple, underwater caverns and more in search of treasure! You can also build, upgrade and the A.T.T (all-terrain transformation vehicle), then take it on fun treasure-seeking adventures!
There is also a fun action mode, which transforms Perry from a sweet pet to a super agent so that he can battle the evil Dr. Doofenshmirtz! Fun is sure to be had by anyone who plays this game!
Buy
You can purchase both of these games online at Amazon.com!
Don't you just love Fun Games Anyone Can Enjoy?!?