CONGRATS TO
Karen Drake #3656!
*Product was received. Opinions are mine.

It is seriously beginning to look a lot like… Christmas! Woot! Okay, so it is not even Thanksgiving yet and there is no snow on the ground, to be seen, BUT many (including myself) have Christmas on their minds! I love it 🙂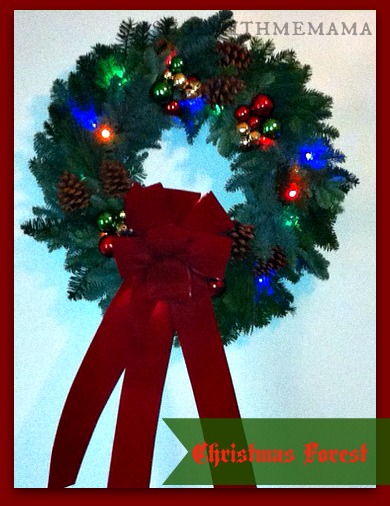 I already want to decorate for the holidays. Some say before Thanksgiving is too soon, but I say anytime after Halloween (like RIGHT after) is game.
I start slowly and add gradually, so it is not too annoying for anyone who comes over to my home 🙂 The first thing I added? A gorgeous fresh Christmas wreath from Christmas Forest.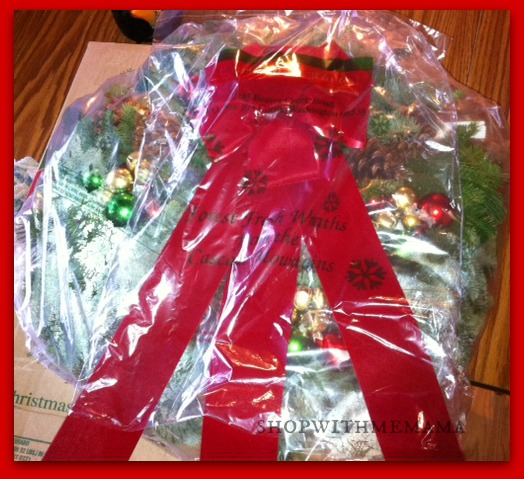 It was packaged with such care and nothing was out-of-place or scrunched when it arrived on my doorstep. Inside the box was a beautiful, fresh from the forest, Christmas wreath for me to adore! The red bow was packaged separately in a bag. I just had to attach the bow to my wreath (or use it as decoration somewhere else in my home!) and hang it up!
I chose the Jingle Bell Christmas Wreath. I love things that light up for the holidays. It just warms everything in my home when I see sparkly lights everywhere! I will eventually put this gorgeous wreath on my front door, but for now, I wanted it in my living room on the wall, so I can enjoy it! Every time I walk by it, I have to smile!! It is truly beautiful!
This wreath has sparkly lights on it which on the back of the wreath, has an on/off switch to turn the lights on or off. It already had batteries in it and it was all ready to go! Now that is my kind of gift! Now all it needs to do is play "Jingle Bells"!!
The fresh Christmas wreath is adorned with fresh pinecones (big ones!),  mini lights and red and golden-colored ornaments. This is perfect for any one celebrating the holidays! It would even be great to bring along to a holiday get together, for the host! Anyone would appreciate this beautiful wreath! I also think it is awesome that this the Christmas Forest is based in Seattle, Washington!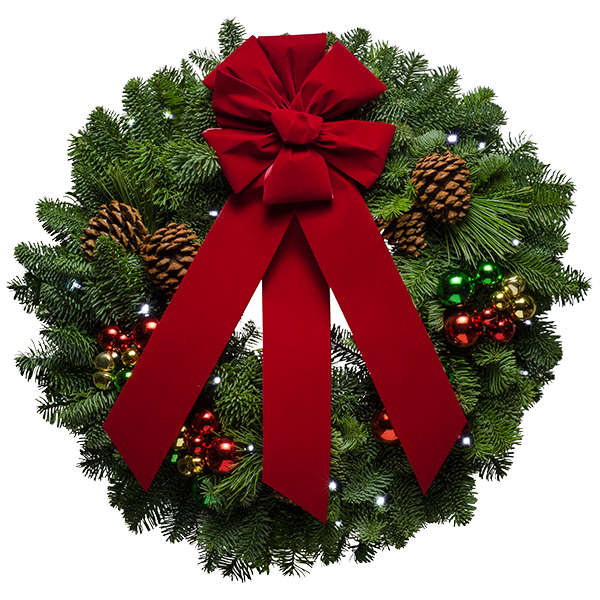 Specs:
20″ in diameter
Loaded with ornaments!
Always forest fresh
There are some gorgeous wreaths on their site! You must take a peek and see for yourself!
A Bit About Christmas Forest:
Since 1976, when we sold our first Christmas wreath at Pike Place Farmer's Market in Seattle, we have focused on pleasing our customers with gorgeous forest fresh Christmas wreaths, and now we are proud to have loyal customers worldwide. Our wreath makers join with nature to create exquisite noble fir Christmas wreaths out of the finest evergreens of the Cascade Mountains, while protecting Mother Nature. With our friendly office elves, we have become well-known for our outstanding customer service as well as for our handcrafted outdoor Christmas wreaths. Thrill everyone on your gift list with the most beautiful Christmas wreaths in the world.
Buy
You can check out all of the beautiful, handmade fresh Christmas Wreaths online at http://www.christmasforest.com. Free shipping to continental U.S. via UPS ground and a 10% discount for orders of 10 or more wreaths!
Win!
One very lucky person is going to win a Fresh Christmas Wreath!!
How?
Easy! Just use the Rafflecopter form below! GL!
RULES:
Contest is open to US 18+ will end on November 30, 2013 at 12:00 am PST. One person will win a Fresh Christmas Wreath!!!(see above!)! Winner will have 48 hours to confirm their win or a new person will be chosen, good luck!