My brother and brother-in-law are HUGE John Wayne fans! Heavens, my brother visited John Wayne's grave (located in Newport Beach, California)  when we were in California for Disneyland. It was not too much out-of-the-way, but it was a bit of a drive…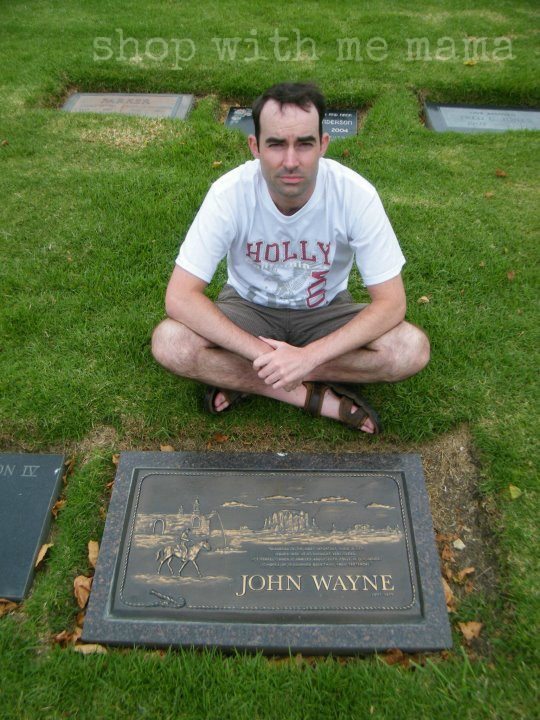 So when I was able to review the John Wayne Film Collection, I knew EXACTLY who would be reviewing it for me, my brother 🙂 He really likes celebrities, especially John Wayne and yes, Elvis Presley…
The John Wayne Film Collection is a 10-title collection features films from over 39 years of John Wayne's legendary career including some of his most memorable and critically acclaimed films, including The Barbarian and The Geisha, on DVD for the first time! Oh boy was my brother in heaven, LOL!
The ten films included in this awesome film collection are:
The Big Trail
Red River
Legend Of The Lost
The Barbarian and the Geisha
The Horse Soldiers
The Alamo
North To Alaska
The Comancheros
The Longest Day
The Undefeated
So, there is some great entertainment right there! Perfect for Dad (or your brother!) to have in his movie collection, it is a must-have for any John Wayne fan!
 Buy
Perfectly timed for Father's Day, this collection is available for the SRP of $49.98 U.S. / $69.98 Canada online at Amazon.com
About Twentieth Century Fox Home Entertainment

Twentieth Century Fox Home Entertainment, LLC (TCFHE) is a recognized global industry leader and a subsidiary of Twentieth Century Fox Film Corporation, a News Corporation company. Representing 75 years of innovative and award-winning filmmaking from Twentieth Century Fox, TCFHE is the worldwide marketing, sales and distribution company for all Fox film and television programming, acquisitions and original productions on DVD, Blu-ray Disc Digital Copy, Video On Demand and Digital Download. The company also releases all products globally for MGM Home Entertainment. Each year TCFHE introduces hundreds of new and newly enhanced products, which it services to retail outlets from mass merchants and warehouse clubs to specialty stores and e-commerce throughout the world.
Follow Twentieth Century Fox Home Entertainment on Twitter @FoxHomeEnt
Disclosure:
I received product to review, all opinions are my own. The Amazon.com link above is my personal affiliate link, thanks!