*HOTEL TRANSYLVANIA 3 movie night kit was received. This post includes my affiliate links.
Who is ready to get into the Halloween spirit with me? Come on! I already have my house decorated like a haunted house, so that is done. Now, to find all of my Halloween movies and watch them with my kids! We love Halloween around this home! Yay!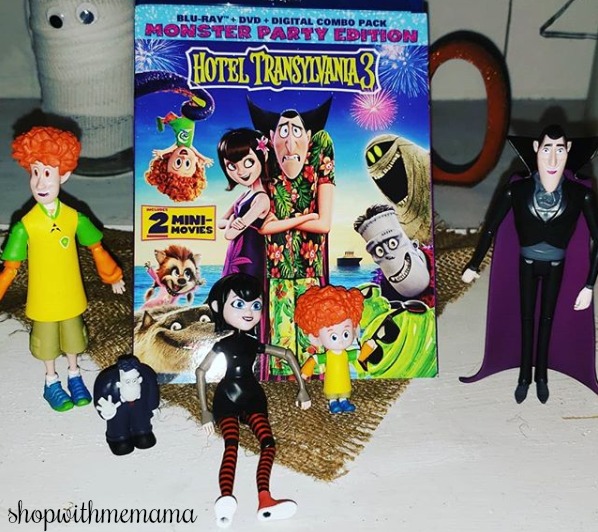 One way we were able to get into the Halloween spirit was by receiving an awesome coffin filled to the brim with toys, party supplies, a costume, and the Hotel Transylvania 3 movie!! This was SO much fun to unbox! See our video of the unboxing, below!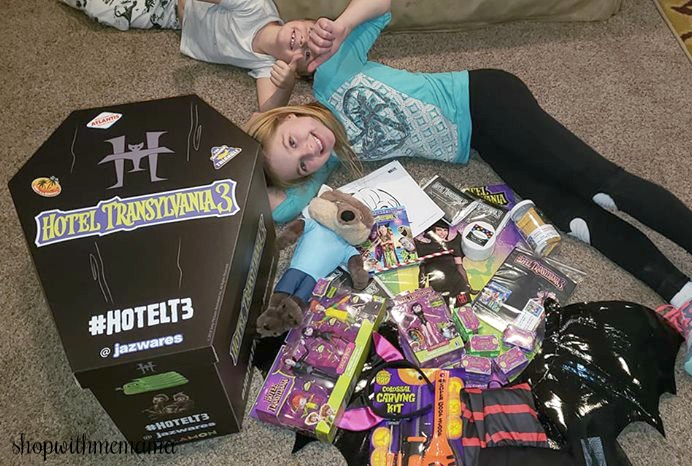 This fall's highly anticipated Blu-ray, DVD, and Digital release of HOTEL TRANSYLVANIA 3 – from Sony Pictures Home Entertainment was so funny and good! We love this movie! Have you seen it yet?
HOTEL TRANSYLVANIA 3 is available on Blu-ray, DVD, and Digital October 9th!!! Now you can grab your copy and start watching it. It is so good, you and your kids will watch it more than once, promise. We have already seen it about 4 times and counting! Whoosh!
What Did The Coffin Box Contain?
My kids were howling with excitement as they literally tore into their coffin box filled with Jazwares toys and other fun things!
This is what they received:
Plan Your Own Spook-tacular Sleepover
A DIY Murray Lantern Kit (kind of like my light up mummy jar!)
DIY Dracustraws
Pumpkin Stencils and carving tools
Branded popcorn for viewing party
Scary-Oke Sing-Alongs
Flier with lyrics
"I See Love" Monster Dance Party Dance Along
Flier w/ Macarena instructions
Vampire Makeover
Mavis and Drac Tutorial
Mavis make-up kit with Vampire teeth
Mavis Halloween costume
There were some fun toys from Jazwares (not mentioned above), and of course, it all came inside of a scary coffin box! This was really fun to get!
About The Movie: Hotel Transylvania 3
The Drac Pack is back with HOTEL TRANSYLVANIA 3, just in time for a spooky, fun, family movie night right before Halloween!
Mavis surprises Dracula with a family voyage on a luxury, haunted monster cruise ship. Of course, the rest of the Drac Pack has to tag along, and that's when things get a little…batty.
The monsters are having a great time, indulging in all of the shipboard fun the cruise has to offer, from monster volleyball to colossus-sized buffets and exotic excursions, but then the unexpected happens when Drac falls for the ship's mysterious (and dangerous) human captain Ericka.
The third film in this family-friendly monster franchise is the best-reviewed installment and you're invited along on the haunted cruise vacation! It is such a funny and good movie!!
Bonus Material!
It is always nice when movies have bonus material! HOTEL TRANSYLVANIA 3 is filled with more than an hour of engaging bonus materials including three "All-New Scary-Oke Sing-Alongs," a monster dance party dance along to "I See Love" by Joe Jonas featuring Jonas Blue, plus a fun zing-tastic read along with Drac.
Families can enjoy all the frightful fun with a "Plan Your Own Spook-tacular Sleepover" (see below), feature and "Vampire Make Over: Mavis and Drac Tutorial," and go behind the scenes to explore the amazing talent who bring these characters to life in "Behind the Screams – The Voices of Hotel Transylvania 3".
Plan Your Own Spook-tacular Sleepover:
This feature will give you all the details on how to make your own sleepover spook-tacular! From snacks to crafts to games and more, follow these steps to create a Hotel T sleep-over with your friends and family, the perfect setting to binge watch all 3 Hotel Transylvania movies!!
*HOTEL TRANSYLVANIA 3 has a run time of approximately 97 minutes and is rated PG for some action and rude humor.
Grab your Hotel Transylvania 3 Printables!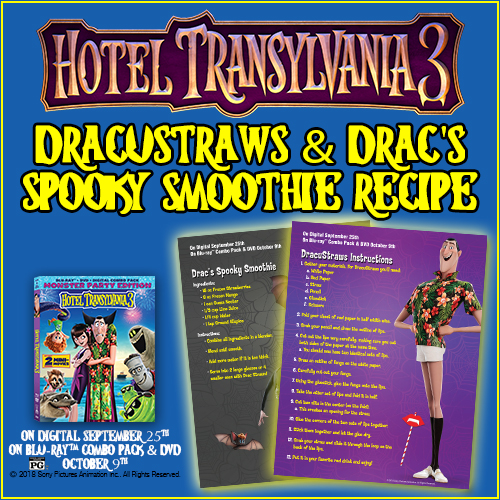 Hotel Transylvania 3 Printable Pumpkin Carving Stencils!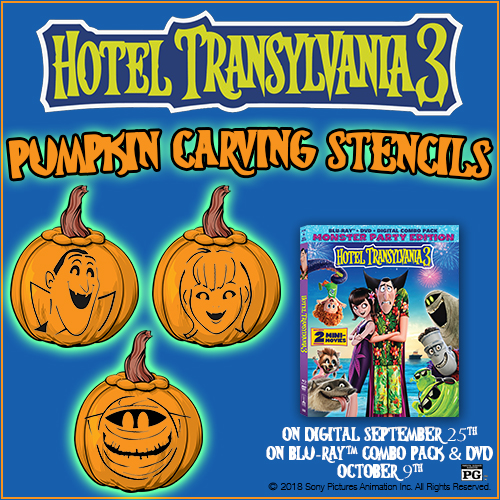 Buy
You can purchase Hotel Transylvania 3 online at Amazon.com!
This is such a fun movie to watch for the whole family! Great family entertainment!