When I see my kids using their imaginations and playing together peacefully, I take a step back and just watch (sometimes I film it!). I absolutely love watching my kids play, making forts out of blankets, using certain items from around the house to play with and just using their imaginations. When you use your imagination, you can do ANYTHING!
Hot Wheels inspires children to use their imaginations in lots of different ways. Hot Wheels loves inspiring imaginative play. My toddler absolutely LOVES cars, trucks, or any vehicle he can run across the floors, walls, wherever, you name it, he loves driving his little vehicles ALL over the house! It is SO adorable. I have never had a child SO into play vehicles in my life and I love it!
Around the holidays and of course my kid's birthdays (which are all pretty much around the holidays anyways!), they get so excited to unwrap their gifts and see what they received. I try to get my kids gifts that will get their imaginations going. This year, my toddler and older son were both surprised to receive two awesome gifts early!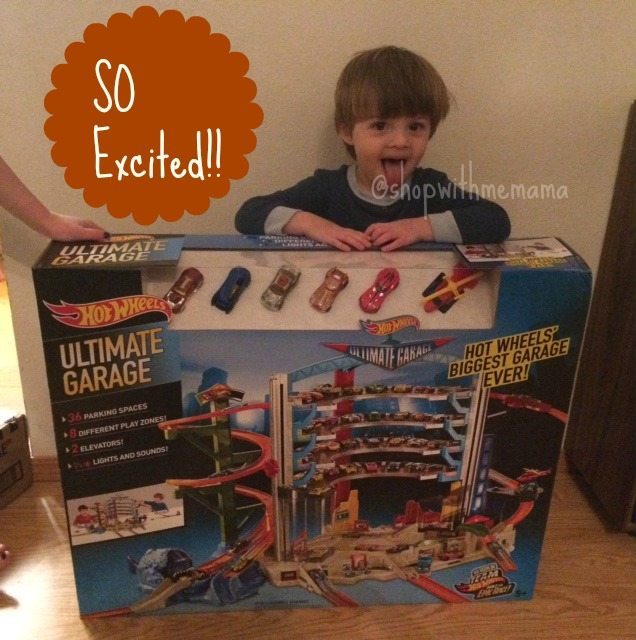 They received Hot Wheels Ultimate Garage™ and the Hot Wheels® Track Builder Volcano Blast! Talk about EXCITED!!! These are two awesome gifts that definitely spark my kids' imaginations! There are so many fun ways to play with these toys. They're big, bold, and brimming with opportunities for creativity.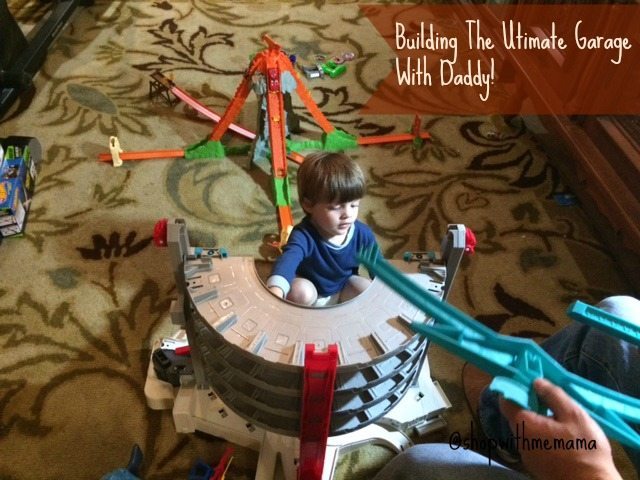 First I want to talk about the Hot Wheels Ultimate Garage! Now, this is an awesome play set! You can connect to other Hot Wheels® track sets, which is really nice. My kids can create a huge track using our existing Hot Wheels tracks. The possibilities are endless! The Ultimate Garage comes with a helicopter and 5 cars. I love it when play sets come with accessories. The Hot Wheels Ultimate Garage has fun light-up and sound features which my kids think are really cool.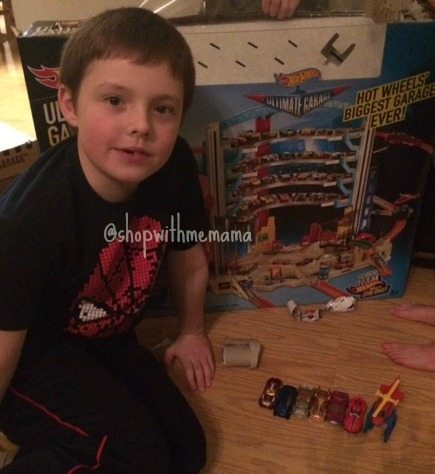 This 5 story set has space for 36 cars. That is a lot of cars in one spot! This is also a great storage area for all of my kids' Hot Wheels cars. Stores them all nicely! The Ultimate Garage is so much fun. My toddler really likes using the spiral ramp because it goes down into the chomping shark where he doesn't quite escape his jaws!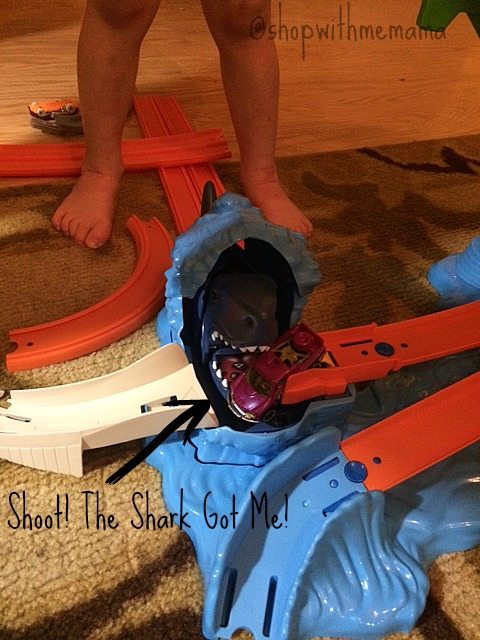 The two working elevators bring your vehicles safely back to the top of the garage (or back down!) only to do it all over again! My older son and toddler have so much fun using the side-by-side racing ramp to see who will win the race.
My toddler, of course, cries if he does not win each and every time, so we have to comfort him a little bit and tell him winning is not everything. So, not only is this play set fun, but my toddler is also learning from it that he does not have to win every time to have fun.
When the cars need a tune-up, my kids just visit the tune-up shop and get it all fixed up. Then they can go back at it, escaping the jaws of the shark, and race each other! When they get hungry, they can visit a restaurant.
The helipad on the side of the Hot Wheels Ultimate Garage is the hot spot for the helicopter. My son loves having the helicopter fly around making sure all of the vehicles are driving and following the rules, then he will land the helicopter on the helipad where he also will watch over the whole garage. No one better do wrong or he will give them tickets!
Certainly, all of this racing around will drain those vehicles of gas. What is a car to do? Drive into the gas station of course, and fill up on gas! After the fill-up, those cars go racing off to more imaginative adventures. So much fun! This play set keeps my kid's attention and allows them to play together nicely which encourages social play.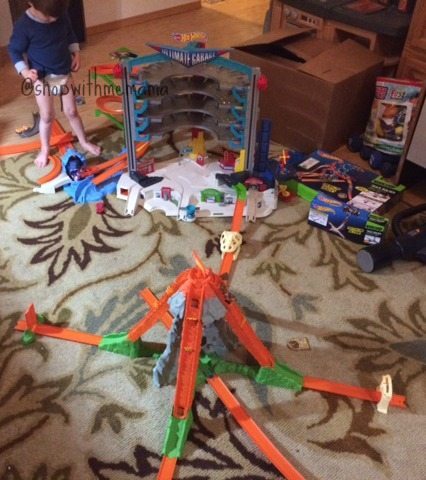 The Hot Wheels Ultimate Garage is great for kids ages 5 and up. This play set is HUGE and my kids really love it. The setup of this playset really is not all that hard. It looks like it will be so hard to put together, but it is not. I had three kids around me trying to help out and I still had my mind after it was all put together, so that tells you it is not hard to do!
The Hot Wheels® Track Builder Volcano Blast is also SO much fun! Again, it can connect to other Hot Wheels tracks, which of course I love. There are five stunts you can do on this playset: Tiki Stunt, Dino Skull, Launch Dock, Pop-Up Treasure, and Palm Tree Stunt! Talk about fun and being able to use your imagination and creative side to get a storyline going and play it out!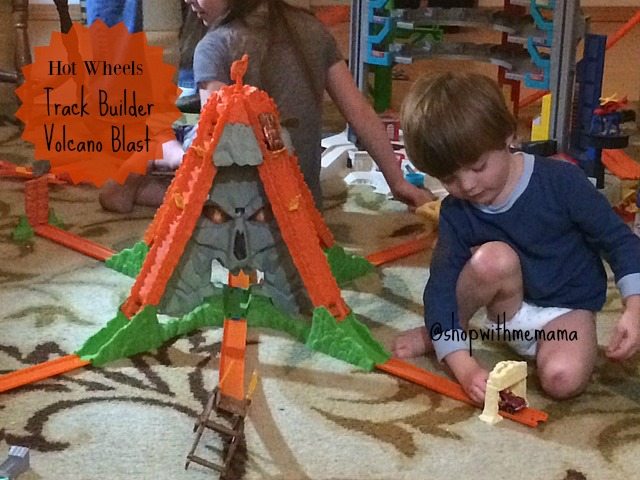 You can load up to eight cars to launch, which is great because sometimes my daughter plays too. And, my kids love it that the volcano's eyes turn red with fury! My kids' favorite thing to do is have their vehicles race out of the volcano! They pretend the volcano will eat them up if they don't hurry and race down it!
This play set is not hard to put together either. I had my hubby help put this one together as I had already put together the Ultimate Garage. He had the Track Builder Volcano Blast put together in no time. The Hot Wheels® Track Builder Volcano Blast is great for kids ages 4 and up.
Buy
You can purchase both of these fun play sets online at Amazon.com!
Hot Wheels® Track Builder Volcano Blast