Father's Day is approaching rather quickly, and what better way to say 'we love you dad' then with yummy Italian Meat and Cheese Gift Baskets. Any dad would love to receive a delicious assortment of meats, cheeses, nuts, crackers, and other delectable treats, am I right? Now is the time to order that Italian meat and cheese gift basket to get here in time for Father's Day!
The way to anyone's heart is through their tummy and your dad is no different when it comes to yummy morsels! My hubby was delighted to receive his Italian meat and cheese gift basket from Jet Gift Baskets!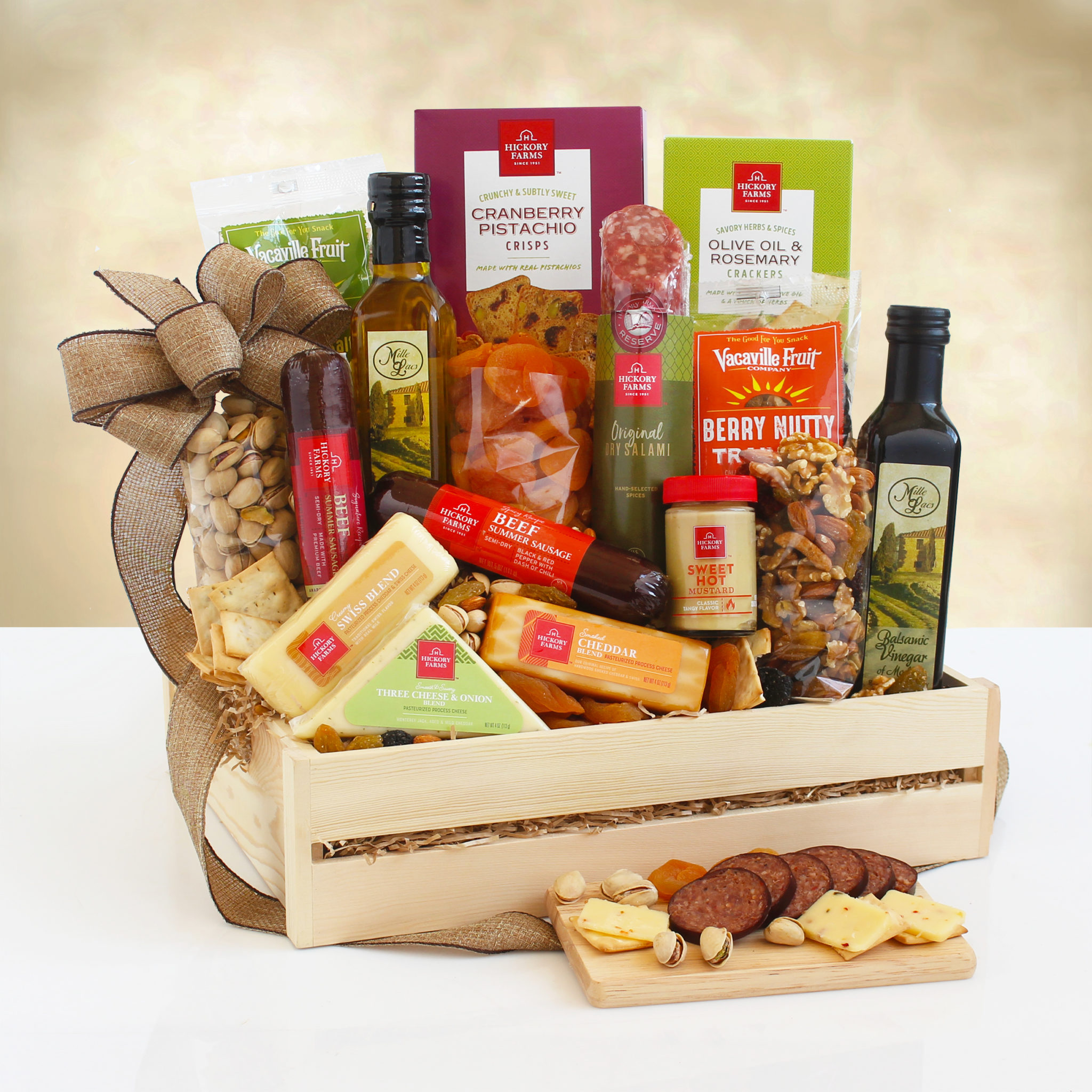 Italian Meat And Cheese Gift Baskets
We received the Ulitmate Meat and Cheese Wooden Crate filled with delicious food dad will love! Everything it came with was delicious and was devoured very quickly. Thankfully, my hubby decided to share a bit with us all because we were drooling over the goodness nestled inside that wooden crate! Who wouldn't?!? Italian Meat And Cheese Gift Baskets are the BEST!
What Comes In The Ultimate Meat And Cheese Wooden Gift Crate?
Spread a blanket and feel the warmth of a sunny day when this fabulous gift arrives! A rustic wooden crate holds a delicious sampling of gourmet treats including California nuts, tasty dried fruit, a bottle of balsamic vinegar, and extra virgin olive oil, an assortment of California cheese spreads, mustard, dried fruits and nuts, and three flavors of sausage & salami. Fabulous!
Here is what comes inside of the wooden crate:
*Assorted Gourmet Cheeses: The cheeses were SO good. The creamy swiss blend was my absolute favorite! It was kind of spicy, creamy cheese. SO. GOOD.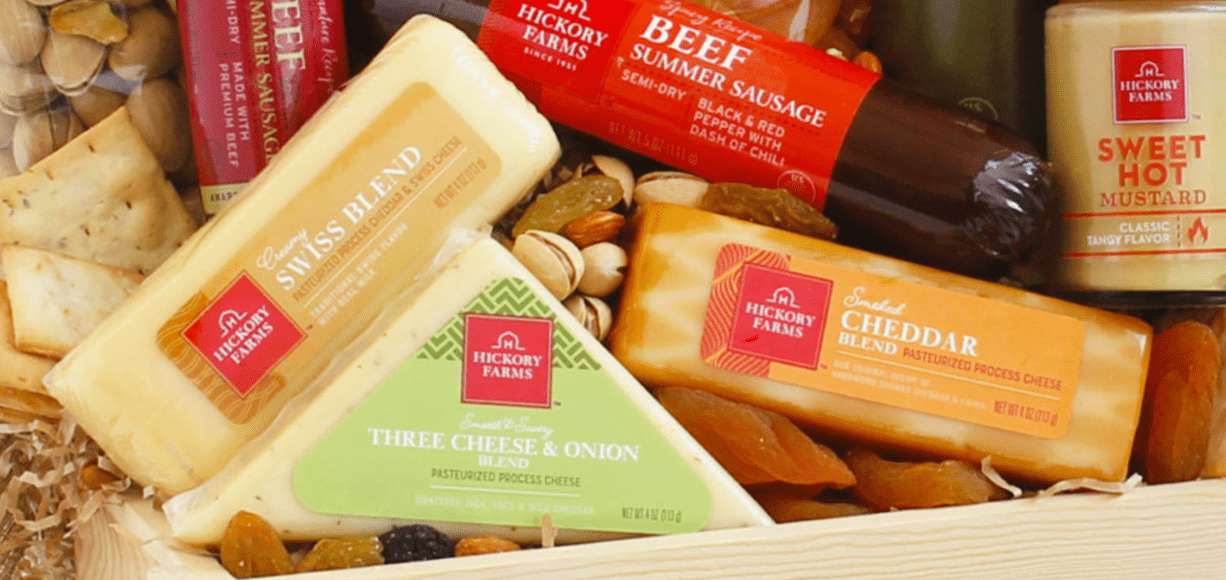 *Assorted Crackers
*Balsamic Vinegar
*Dried Fruit
*Extra Virgin Olive Oil
*Fruit & Nut Mix
*Mustard: This sweet/hot mustard is tangy and so dang good!
*Pistachio Crisps
*Roasted Nuts
*Salami: This salami was seasoned just right for such a good flavor!
*Sausage: This was spicy and so flavorful!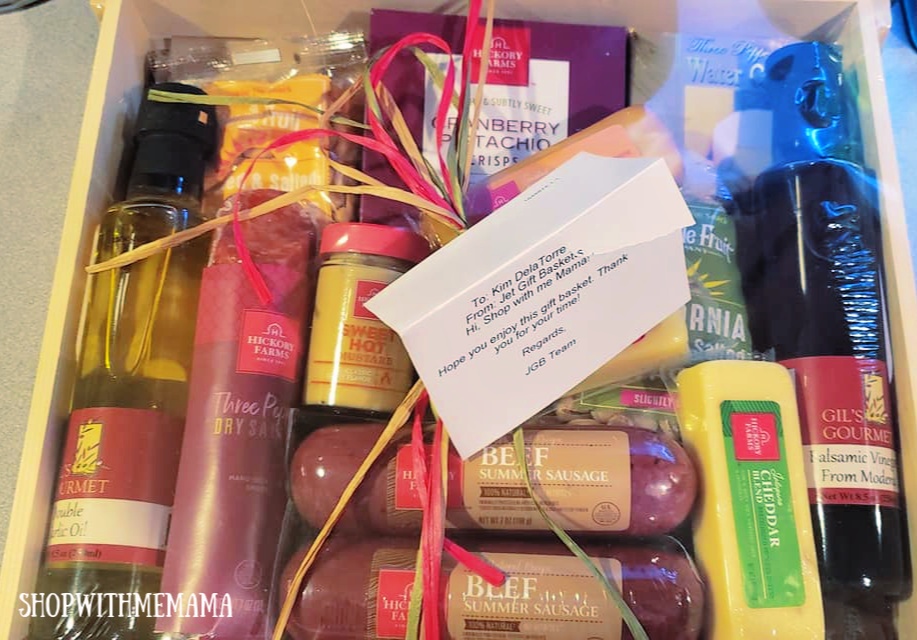 Why Choose Jet Gift Baskets Over Other Brands?
This was easy for me. The quality is definitely there. And, all products are Hickory Farms! We absolutely LOVE Hickory Farms! The portions are bigger then other gift baskets I have received and it is actually filled to the brim with goodies. The taste of the salami, sausage, cheese, and other snacks taste GOOD. They don't taste stale or gross. I truly believe that Jet Gift Baskets knows what its customers want.
The gift basket arrived very quickly (which is so nice!), and it arrived ready to gift to my hubby. Assembled in a nice, sturdy wooden crate which I now use on my countertop to hold all our incoming mail. I might even stain it and sand the sides to look 'distressed'. So see? Not only is the food good, but the crate can be used for other things too! Such a wonderful, gourmet gift for dad!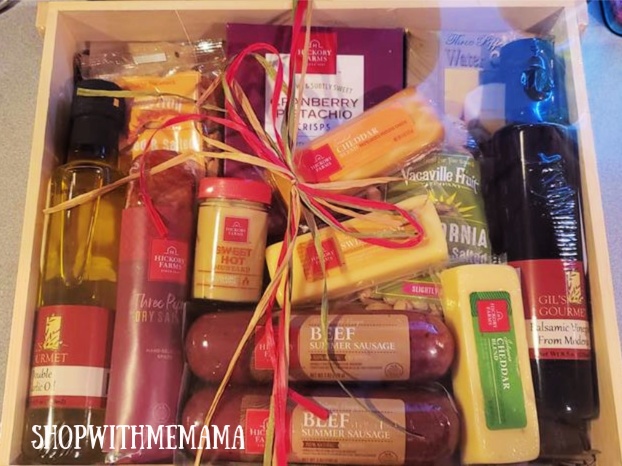 More Reasons To Buy From Jet Gift Baskets (As If You Needed More Reasons!):
Gourmet Food Selection
Jet Gift Baskets spend so much time selecting the most delicious gourmet treats and the finest drinks out there for you to impress anyone with every sip and bite.
Mix n' Match
Every single item in their gift baskets has been carefully curated by our gift experts to complement other items. Of course, with your friends and families' different tastes in mind.
Jet Speed Delivery
They mean it when we say they will deliver it to you with jet speed! Choose when you would like your basket delivered upon check-out.
*Note: Some products will require expedited shipping due to their nature
Some Other Gift Baskets Dad Would Love For Father's Day!
Below, are some other delicious gift baskets dad might love to receive on Father's Day! Whether dad loves Italian Meat And Cheese Gift Baskets or other kinds of snacks, Jet Gift Baskets has you covered:
*Cheeseboard Complete: This gourmet meat and cheese assortment is a delectable gift loaded with savory delights! Gourmet goodies are beautifully presented upon a wooden cutting board, including sausage, cheese & crackers, smoked nuts, gourmet mustard, cookies, and a cheese knife. Retails for $39.99.
*Nuts For Dad: Show Dad how much you're nuts for him with this wooden crate thoughtfully filled with his favorite drink and treats! More than just a Father's Day gift, this wooden box is ideal for birthdays and even simple tokens of appreciation for their love and hard work. $66.49.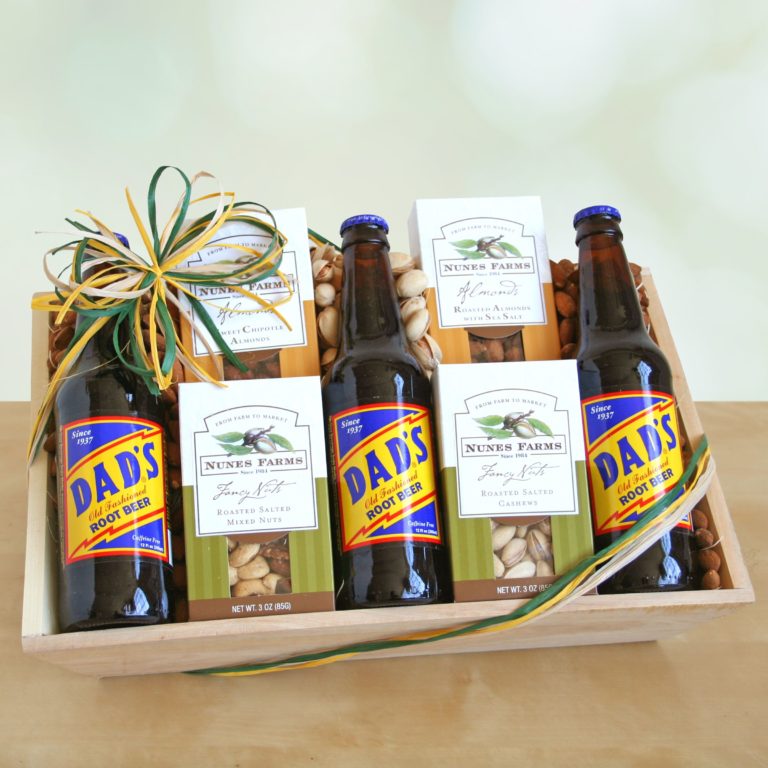 *Guinness Snack Pack: Treat your drink buds with a sleek box bearing two cans of smooth Guinness along with their favorite beer pairings. It's a nice change from the usual six-pack, for sure! Also perfect for corporate giveaways or a little something for Dad's day. $27.00.
*Father's Day Caddy Snack: Swing your way right into dad's heart with this golf bag loaded with gourmet treats! With this novelty cooler comes snacks he can bring to the greens – to share (or not) with his pals. How's that for a unique Father's Day gift? Better yet, you can grab this for any special occasion just for him! $47.49.
*Blue Moon Gift Basket: Make a grand entrance to house parties with this metal tray of cool Blue Moon six-pack. Complete the fun by munching on dude ranch chips from Late July, delicious butter toffee pretzels, Mille Lac's beef sausage, and tomato basil cheese. Hang on to the quote beer heads like you should totally live by! $48.00.
*Best Dad Chocolate Covered Berry-Gram: The sweetest and most heartfelt message on top of succulent strawberries? What's Dad not to love about this Berry-Gram®! Dipped in sinful dark Belgian chocolate and decorated with letters and drizzles, the contents of this elegant chocolate gift box would make Father's Day, birthdays, and other occasions memorable. $59.95.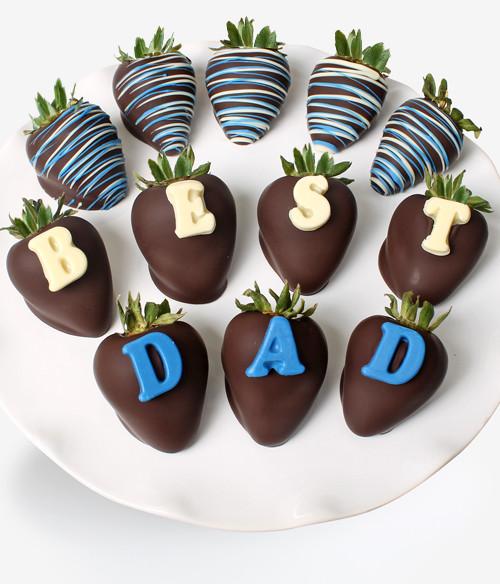 *IPA Gift Tray: Share a beer gift basket just like the old times with two bottles of India Pale Ale by Lagunitas. Keep the conversation going while chowing down some gourmet favorites such as classic peanuts, blonde ale caramel corn, Beer Buddies rind & stout snack, pepper cheese spread, and beef sausage. $107.99.
*Sports Fan Dad Chocolate-Covered OREO Cookies: Awaken the sports fan in the man of the hour with this themed gourmet Oreos! Doused in rich Belgian milk, dark, and white chocolate, this assortment of the classic favorites is topped with athletic decors to bring Dad on top of his game. For Father's Day, birthdays, holidays, or as a way to show appreciation, this gets the perfect score! $34.95.
*The Parducci Briefcase: Emanate grace, class, and luxury by gifting this Parducci Briefcase to true gents alike. An excellent pick for Father's Day, anniversaries, and simply celebrating the good life. $255.00.
*BBQ Crunch Time Snacker: It's crunch time! Chips, beer pretzels, sunflower seeds, and a variety of barbecue items (including the beer) make this the perfect gift for any occasion. $78.00.
*Manly Must-Haves Gift: If you don't want to go for the usual tie or scent? these manly must-haves can cater to a wide range of taste buds. For the BBQ dad, the gym-head beefing up, the coffee connoisseur, the health nut, and the man's man? this gift set is a must for all gents for all occasions. $79.99.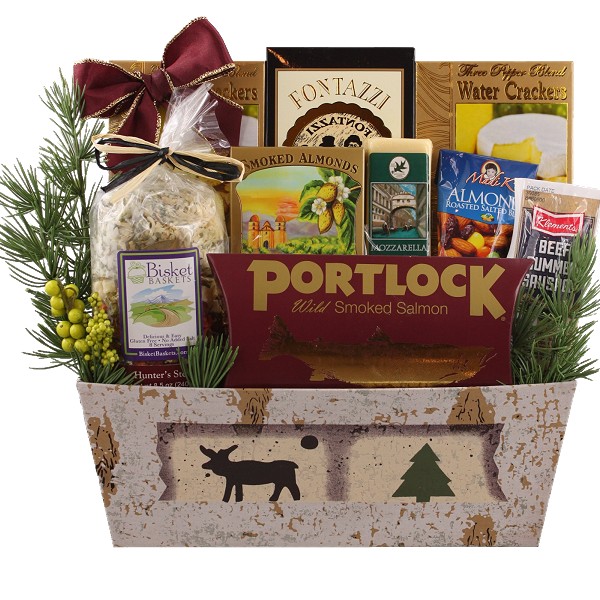 *Masculine Munchies Gift: There's nothing like a homecooked meal to a man?s heart. But California Smoked Almonds, Sorrento Chocolate Truffle Cocoa, and other gourmet favorites in this basket sound just as comforting. Whether it's his birthday, a milestone in the office, or a simple thanks, you?ll never go wrong with a basket of exquisite munchies. $74.99.
*Dad's Favorites Premium Nuts and Snacks Crate: A grand gesture of gourmet nuts crackers and cheese. Filled with all-new gourmet treats just premiered at the Fancy Food shows. Let Dad feats on BLT dip made with thick-cut bacon, spicey cheddar and jalapeno wingman peanuts, pizza and beer cheese-flavored crackers, and more. A true sampling of delicious savory treats enclosed by an all-wood pine crate. The Dad's Favorites Premium Nuts & Snacks Crate includes Pine crate with lid, Kind chocolate and peanut butter bar, pizza & beer cheddar crackers, pepper cheese triangle, Smokey cheddar cheese straws, cheddar, and jalapeno spicy peanuts, 3 oz classic beef salami, deluxe mixed nuts, Hawaiian trail mix, BLT dip. $63.99.
If the yummy array of gift baskets you see above don't pique your interest, then check out Jet Gift Baskets online and browse their huge selection of Father's Day Gift Baskets!
See? Dad doesn't just have to receive Italian Meat And Cheese Gift Baskets, there is much more available to gift dad on Father's Day. Jet Gift Baskets has you covered!
Buy
You can check out Jet Gift Baskets online at https://www.jetgiftbaskets.com/.
PIN IT