Are you looking for a way to upgrade your at-home oral care routine and take better care of your teeth? Introducing Izzo! This is the first comprehensive home Oral Care System that combines professional tools and features to give you a deeper clean, whiter teeth, and confidence that you won't stop smiling about! Read on to learn more about this revolutionary system and how it can help you achieve that movie star smile. You can easily Upgrade Your Oral Care Routine with the Izzo Oral Care Kit because it is on sale right now!! Read more on this amazing at-home oral care kit below!
*This post includes my affiliate links
The Izzo Oral Care Kit comes with an advanced oscillating brush that features ultrafast bristles, a polishing cup head with enamel polishing paste, a scaler to clean those hard-to-reach spots, and a UVC sanitizing case that kills 99.9% of germs after each use. It's the best way to maintain excellent oral health while being safe and gentle on your teeth. Get the Izzo electric toothbrush for the sparkling smile and confidence you'll be proud to show off.
Upgrade Your Oral Care Routine with the Izzo Oral Care Kit
What Does Izzo Do?
Izzo is an advanced oscillating brush with ultrafast bristles that models after the ones used by dental professionals. It also comes with a polishing cup head with enamel polishing paste and a scaler to clean those hard-to-reach areas in between your teeth. The ergonomic power handle effortlessly switches from brushing mode to polishing mode so you can get the deepest clean possible every day.
How Does Izzo Work?
The Izzo Oral Care System works by providing users with an all-in-one solution for their daily oral care needs. The oscillating brush removes plaque and tartar from teeth, while the polishing cup head helps whiten them. The scaler gently cleans in between teeth where toothbrushes are unable to reach, leaving your mouth feeling fresh and squeaky clean. With regular use of this unique system, users can expect brighter, whiter teeth in just two weeks or less!
Izzo Oral Care System Features:
*Polishing Cup + Polishing Paste: Remove surface stains 73% better than advanced whitening toothpaste to reveal your teeth's inner shine.
*Oscillating Brush Head: Have 3 Customized speeds and a built-in timer give you the perfect clean every time.
*Scaler: Confidently remove plaque and debris from hard-to-reach areas.
*UVC Sanitizing Case: Say goodbye to 99.9% of germs on your brush in just 3 minutes.
I received the Izzo Oral Care System and I LOVE it so much. I replaced my old electric toothbrush of three years and have been using my Izzo electric toothbrush for three days so far and I absolutely can feel the difference in how SMOOTH and CLEAN my teeth, gums, and mouth feel every time I use it!
It is ready to go out of the box and comes with everything you need to get the cleanest teeth and mouth possible! It just works so well I am so impressed. I have used and tried several electric toothbrushes in the past and none have cleaned my teeth THIS well. I also love the attachments it comes with; the scraper to get in between my teeth and to use on my teeth and gum area to ensure smooth, clean, and yuck-free teeth all the time!
I also love the UVC sanitizing case!! Usually, I use a plastic baggie over my toothbrush head because it is in the bathroom (yuck!) and who knows what gets on it! So, I have peace of mind now that I can use the UVC sanitizing case on my toothbrush and I KNOW I am killing all those gross germs! My kit also came with Eco floss picks which I also love.
The polishing cup and polishing paste are very cool and so different too. I have never bought an electric toothbrush that comes with this too! So that was really neat. I love how CLEAN and SMOOTH my teeth feel after using the polishing cup and toothpaste! I have only used it once so far but man my teeth feel like I just came from the dentist's office! Love it!
About The Products That Come In The Izzo Oral Care System Kit
What's in the Kit:
Power Handle, Oscillating Brush Head, Polishing Head & Enamel Polishing Paste, Scaler, UVC Sanitizing Case, 2-port Wall Charger, Charging Base, and Cable.
The Ergonomic Power Handle: The Izzo oral care kit comes with an ergonomic power handle that effortlessly switches from brushing to polishing so you can get the deepest clean possible every day. The power handle is intuitively designed for easy use and comfort – perfect for those hard-to-reach areas of your mouth. Additionally, its rechargeable battery ensures you get up to two weeks of brushing on one charge.
Tools Modeled After Your Dental Professional: The kit also includes tools modeled after the ones your dental professional uses – like an oscillating brush head featuring ultrafast bristles and a polishing cup head with enamel polishing paste – so that you can maintain your beautiful smile on those 363 days a year when you're not at the dentist. It also comes with a scaler which helps to remove plaque and stains in those hard-to-reach places between teeth or along the gum line.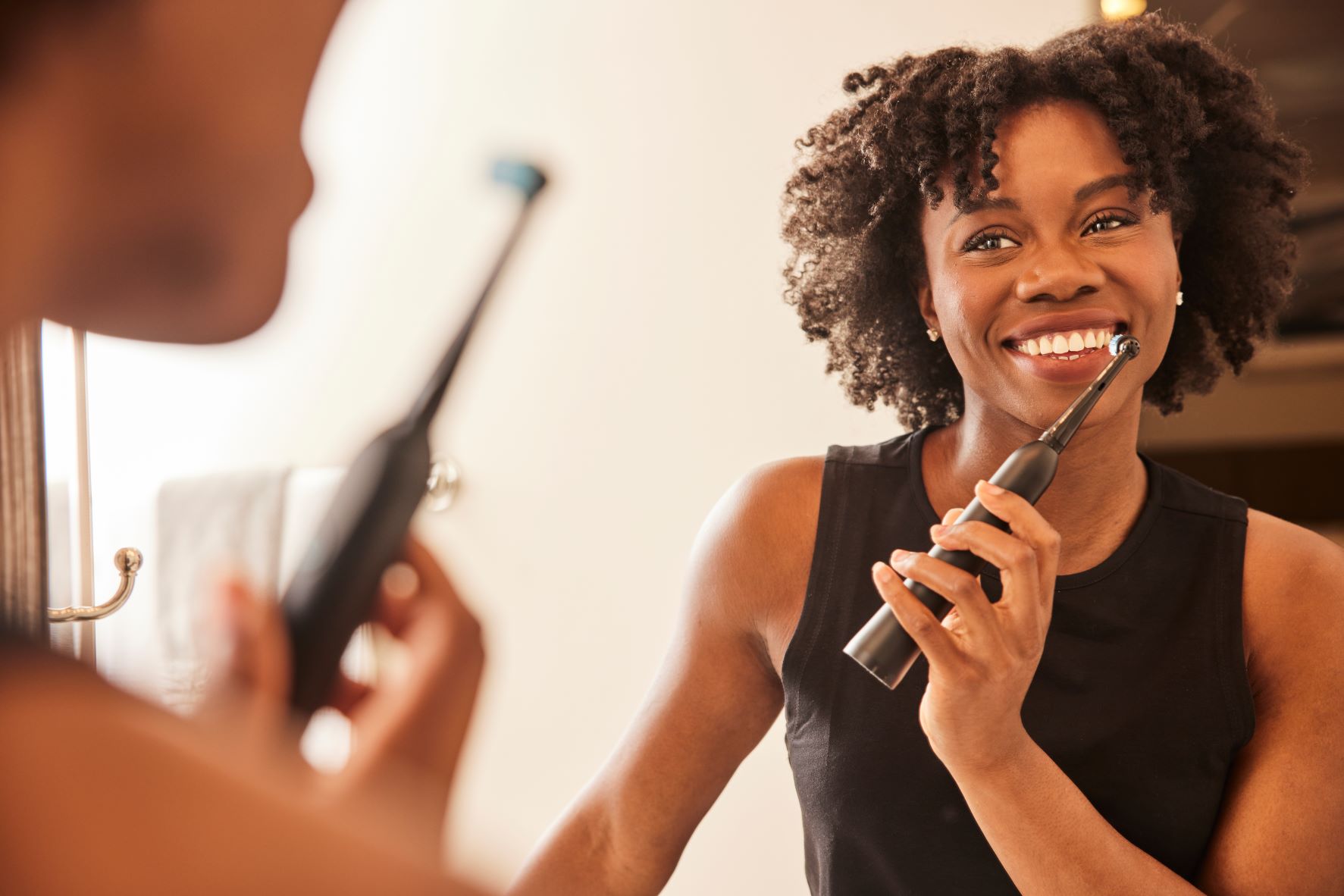 Advanced Cleaning Technology: Izzo utilizes advanced cleaning technology to make sure your teeth are sparkling white and plaque-free! Its sonic technology vibrates while brushing to effectively remove bacteria from deep within the gums without irritating them. Plus, its patented technology helps penetrate deeper than regular toothbrushes so that stains are quickly removed – leaving behind a brighter smile in just minutes!
UVC Sanitizer: Kill 99.9% of bacteria and germs in just 3 minutes. It uses ultraviolet light to rid your Brush Head and Polishing Cup Head of millions of bacteria. It is compatible with the Izzo Brush Head and Polishing Cup Head. It has a self-timer and indicator light that begins automatically when you close the case. It has a built-in rechargeable battery that takes 2 hours to load and holds a charge for 2 weeks!
Eco-Friendly Floss Picks: My kit came with a package of eco-friendly floss picks! This package has 45 floss picks in it. Their dental floss picks are really strong and work great to get the gross stuff in between teeth.
Why You Should Choose Izzo?
Izzo offers users an easy way to keep their mouths healthy and happy 365 days a year. It was designed by dental professionals to provide an effective deep clean that is far superior to traditional toothbrushes or electric toothbrushes alone. Not only does it remove existing plaque and tartar buildup, but it also prevents future build-up through regular use. With its innovative design and easy-to-use features, Izzo makes taking care of your teeth easier than ever before!
Subscribe, Save and Smile!
Save 20% annually on the brush head, polishing head, and enamel polishing paste replacements sent right to your door!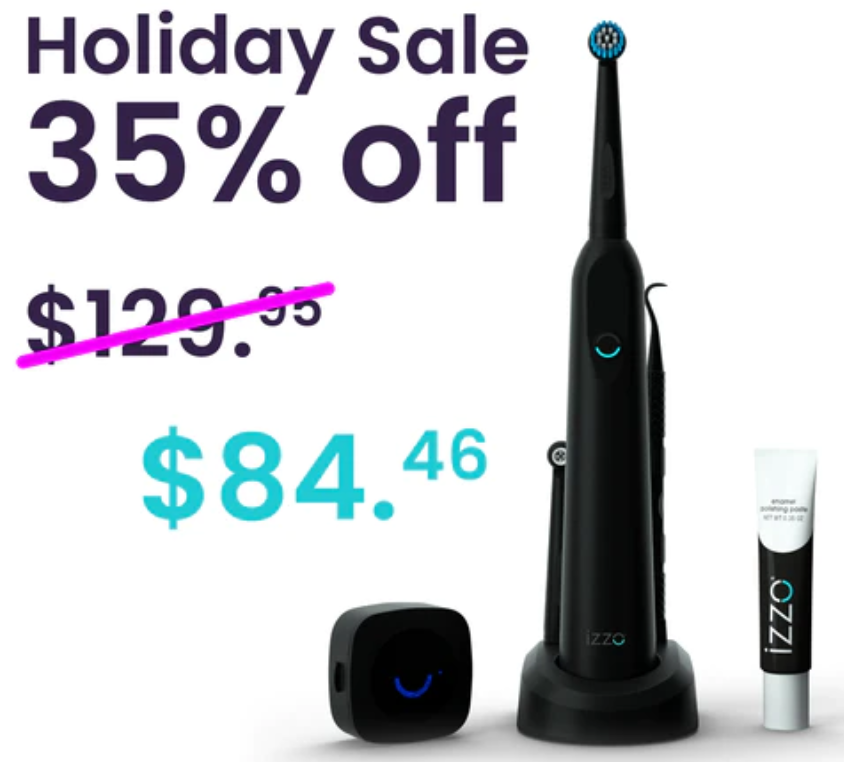 Holiday Sale!!!
Right now you can get 35% off the Izzo Oral Care System Kit! Originally it is $129.95 but right now you can get it for only $84.46!!! Such a GREAT deal! This would make an awesome gift for that special someone in your life!
More Discounts Going On Right Now!
*The Holidays are Here! Get 30% Off Izzo Kits Through 12/31
*Holiday Flash Sale! Get 35% Off Izzo Kits from 12/2-12/4.
*20% Off With a Subscription Sign-up!
*10% Off with Email Sign-up!
*Free Shipping on Izzo Kits!
Buy
You can purchase your own Izzo Oral Care Kit on their site!
Win!
One lucky person is going to win their very own Izzo Oral Care System Kit! Yay!!
Rules
The contest is open to US 18+. The giveaway will end on December 15, 2022, at 11:59 PM MT. The winner will have 48 hours to confirm their win after I email them, or a new winner will be chosen. I am not responsible for lost or stolen mail.