I am sure all of you know how to properly brush your teeth, right? But maybe, just maybe, you did not know how to brush your teeth with an electric toothbrush. How about a water flosser? See? It gets a bit trickier when you add in an electric toothbrush and water flosser, doesn't it???
From gum disease, plaque buildup, and brushing your back teeth really well to tooth decay, tartar buildup, and brushing the side of your teeth real well, there is a lot to do!
Hopefully, this blog post will help you understand how To Properly Floss And Brush Your Teeth using an electric toothbrush and water flosser.
*This post includes my affiliate links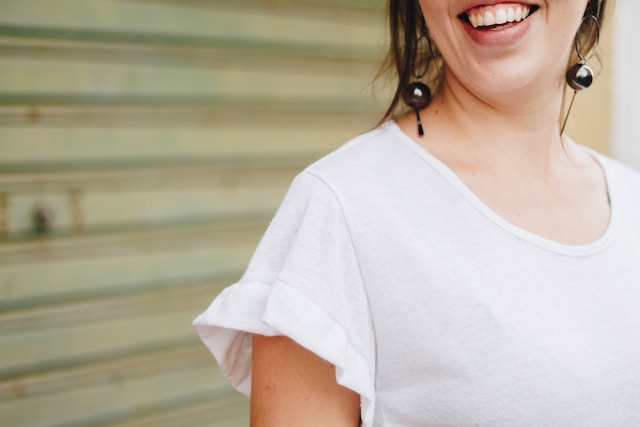 We all know that brushing your teeth is an essential part of maintaining good oral hygiene. While manual toothbrushes have been used for decades, electric toothbrushes have become increasingly popular in recent years.
Rechargeable electric toothbrushes offer several advantages over manual toothbrushes, including better plaque removal, better-brushing action, and improved gum health.
In this blog post, we'll discuss how to brush your teeth with an electric toothbrush to get the most out of your electric toothbrush and fight off plaque and cavities!! No one wants those things in their mouth (at least I would hope not??!)!
How To Brush Your Teeth With An Electric Toothbrush
Step 1: Choose the Right Brush Head
The first step in using an electric toothbrush is to choose the right brush head. Electric toothbrushes come with brush heads to use with your electric toothbrushes.
Some brush heads are designed for sensitive teeth, while others are designed for deep cleaning or whitening. For best results, choose a brush head that best fits your needs and preferences.
Step 2: Apply Toothpaste
Next, apply toothpaste to the brush head. You'll want to use a pea-sized amount of toothpaste, as this is all that's necessary to clean your teeth effectively. (This is pretty obvious and self-explanatory!).
Step 3: Position the Brush
Once you've applied toothpaste to the brush head, position the brush at a 45-degree angle to your teeth. Did you know that this was the correct technique to use when brushing your teeth? I did not! I never knew there was a proper brushing technique! See, we learned something! Yay!
This will allow the bristles to reach between your teeth and along your gumline, where plaque and bacteria can accumulate.
Step 4: Turn on the Brush
Turn on the brush, choose the setting on the electric toothbrush that you want to use (if your electric toothbrush has more than one setting!), and begin brushing your teeth.
Move the brush head in a circular motion, making sure to brush all surfaces of your teeth, including the front teeth, back teeth (back of your mouth), top teeth, bottom teeth, back of your teeth, and the outside surfaces of your teeth. Make sure to get all areas of your mouth wherever you have teeth.
You'll want to brush for at least two minutes, which is the recommended amount of time for brushing with an electric toothbrush.
You also do not need to apply much pressure as the electric toothbrush will do all the work for you. You only need to apply gentle pressure! I go over the two-minute time limit sometimes for an extra good cleaning of my teeth!
Step 5: Rinse and Clean the Brush
Once you've finished brushing those pearly whites, rinse your mouth with water and spit out the toothpaste (preferably in the sink 😉 ).
Then, rinse the brush head under warm, running water to remove any remaining toothpaste or debris. You can also clean the brush head with a toothbrush sanitizer or by soaking it in a mixture of water and hydrogen peroxide.
Step 6: Store the Brush
Finally, store your electric toothbrush in a clean, dry place. You'll want to make sure the brush head is covered to protect it from dust and bacteria in the bathroom, yuck!
Some electric toothbrushes come with a travel case or brush head protective cap, which is a great option for people who are on the go (or just want their toothbrush to remain clean…).
But, before you can concentrate on your oral hygiene, brushing and flossing your teeth, you are going to need to find an electric toothbrush AND flosser, right? I say so! Let's talk about two awesome products I recommend to you, below!
What Is The Best Electric Toothbrush To Buy?
First, we will talk about the best rechargeable electric toothbrush!
​I have used my fair share of electric brushes in the past and almost every single one of them has just died on me and quit working. I am not kidding! It is very frustrating because some of those electric toothbrushes were really expensive!
One I am raving about right now is the Bitvae Electric Toothbrush. This toothbrush, so far, has cleaned my teeth far better than a regular manual toothbrush (duh!) and better than other name-brand electric toothbrushes!
Baffling, right? And, the Bitvae Electric Toothbrush is LESS than half the amount of those expensive name-brand toothbrushes!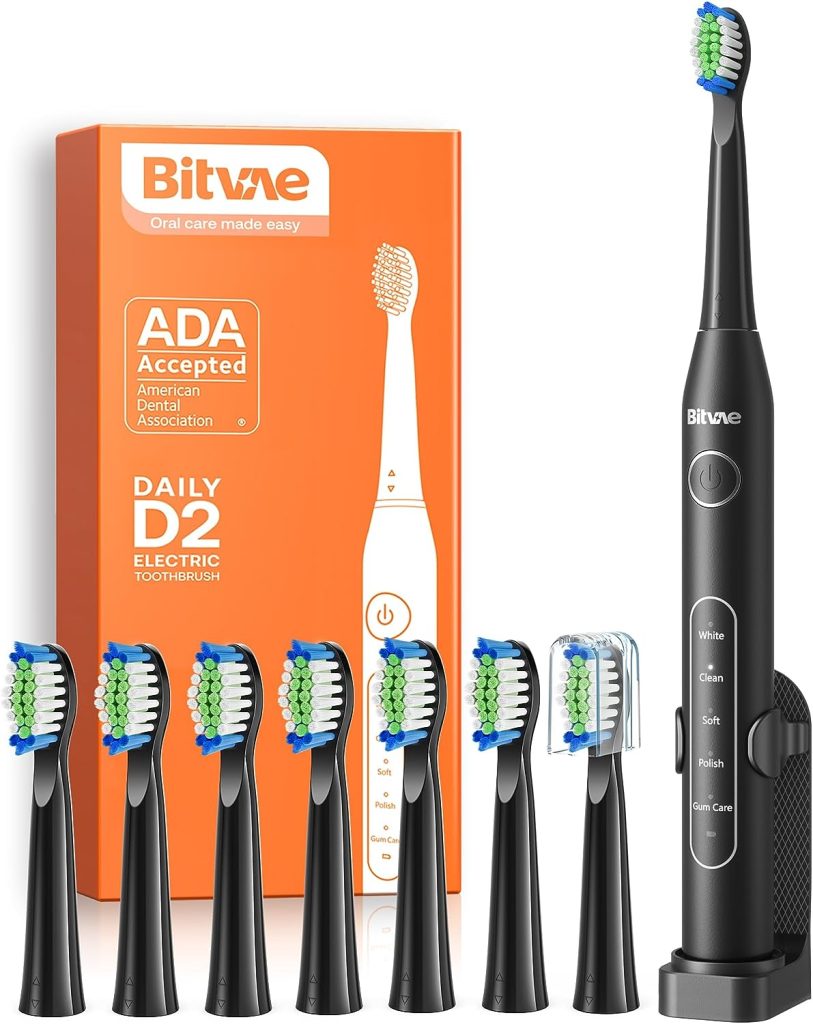 What I like about The Bitvae Electric Toothbrush:
*It comes with 8 brush heads (most only come with one electric toothbrush head!)
*It has five clean modes: Clean- for daily cleaning, White- for removal of stubborn stains, Polish- for brighter teeth, Soft- for first-time users or sensitive teeth, and Gum Care- for improving gums' health and blood circulation.
*It is ADA Approved and Deeply Cleans Teeth plus Removes More Stains than other electric toothbrushes.
*This electric toothbrush delivers 40,000 strokes per minute, removing up to more stains vs. a manual toothbrush and the sonic technology gently pulses fluid between the teeth and along the gum line for a gentle and effective clean every time.
*It comes with a plastic cap to put over your toothbrush head so nothing gross can get on it (oh yeah, been there, done that!!!)
*Soft w-shape bristles are designed to suit teeth topography and remove more stains from hard-to-reach spots.
*The lightweight handle makes this electric toothbrush suitable for both school-aged children and adults.
*Rechargeable electronic toothbrush runs for more than 30 days with a 4-hour charge.
*Sonic toothbrush has a built-in timers that pulses every 30 seconds, which helps ensure the dentist-recommended brushing habits are maintained.
*It has an IPX7 waterproof design, allowing users to safely use the power toothbrush while showering or bathing.
*Has a two-year warranty
What Comes In The Box?
*1 electric toothbrush
*8 extra brush heads
*1 toothbrush holder
*1 brush head protective cap
*1 USB cable
*1 instruction manual (or download it here)
Watch My Video Introducing The Water Flosser And Electric Toothbrush from Bitvae!
What Is The Best Water Flosser To Buy?
Next up, a water flosser! Why a water flosser? Well, for one, they just work better than regular dental floss for a number of reasons and they are easy to use! So why not??
One I am loving right now is the Bitvae Water Dental flosser. I received this and absolutely love using it after I brush my teeth (or before! Doesn't really matter!).
It is simple to use and is really powerful at dislodging all of those food particles from breakfast, lunch, and din din! It really gets in there a does a great job at cleaning between my teeth! A superb job!
What I like about The Bitvae Water Flosser
​*With 50-120PSI strong water pressure
*6 replaceable nozzles (including a tongue scraper nozzle)
*3 hours charging can be used 40 days
*Multiple Cleaning Modes For Your Choice: Soft – for gentle cleaning (the water pressure will be 50-70psi)
Normal – For normal cleaning (With strong water pulses to remove smaller particles between teeth the water pressure will be 70-90psi).
Potent – for people who have high requirements of teeth and gum cleaning (The water pressure will be 90-120psi).
*24 Months Warranty
*360° rotating nozzles for easy teeth and mouth cleaning
*Large Capacity Water Reservoir
*Waterproof
*Easy to hold and use
*Note: Please choose soft mode when you use this electric flosser for the first time.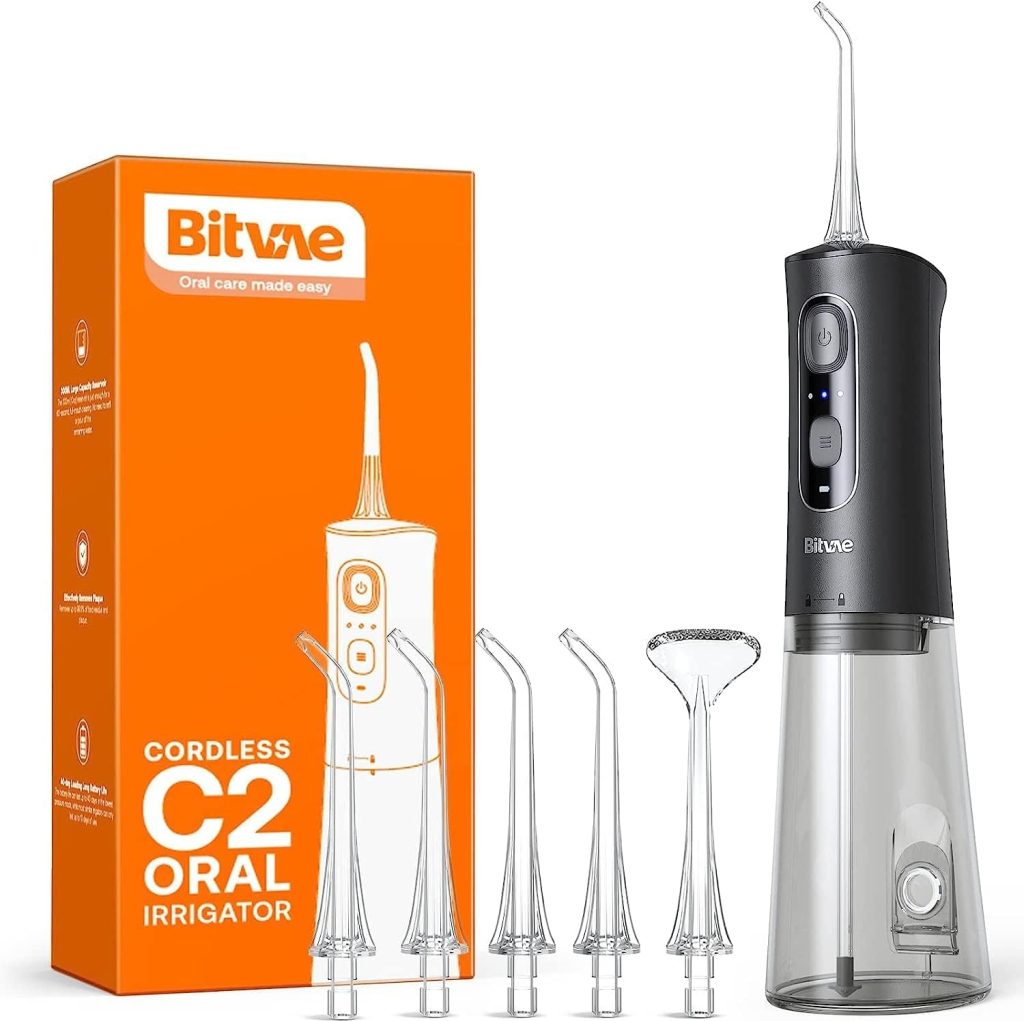 ​What Comes In The Box?
*1 Electric Water Flosser
*User manual (you can also download it here)
*4 Water Flosser Heads
*1 USB Cable
​Tooth brushing with an electric toothbrush and using a water flosser, is a simple and effective way to maintain good oral hygiene and will help keep all the parts of your mouth and teeth clean. By using the good brushing techniques above, you can ensure the care of your teeth and keep them healthy and clean.
​What Are The Benefits Of Electric Toothbrushes?
So glad you asked! Using an electric toothbrush has several benefits over using a manual toothbrush. I listed a few benefits, below:
*More effective plaque removal
*Easier to use
*Built-in timers
While they may be more expensive than manual toothbrushes, the benefits they offer can be well worth the investment. Remember to replace your brush head every three to four months, or sooner if the bristles become frayed.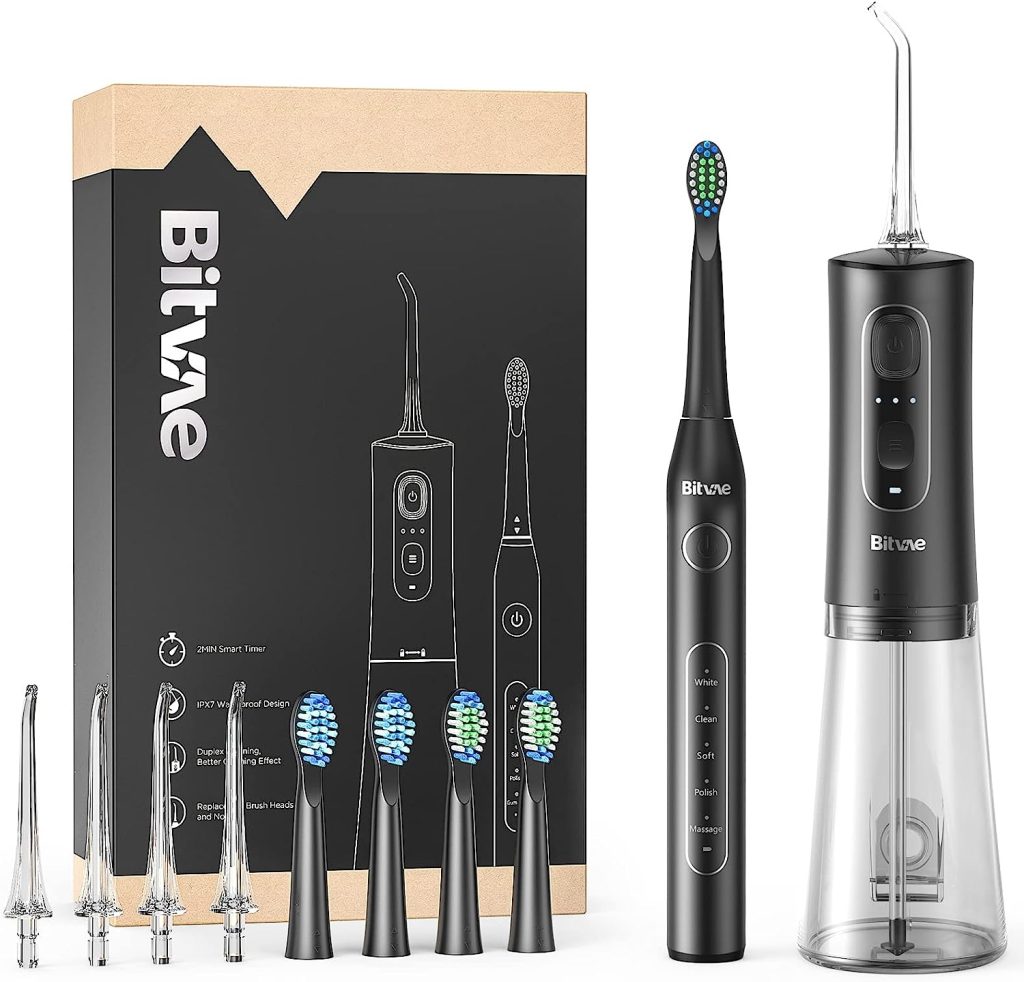 What Are The Benefits Of Using An Electric Water Flosser?
Using an electric water flosser, (also known as an oral irrigator), has several benefits over traditional flossing. Here are some of the main benefits of using an electric water flosser:
1. More effective at cleaning between your teeth: Electric water flossers use a stream of pulsating water to clean between your teeth and along your gum line, which can be more effective at removing plaque and food particles than traditional flossing.
2. Electric water flossers are easier to use and less messy than traditional flossing.
3. Better for people with braces or implants
4. Using an electric water flosser can improve gum health by removing bacteria and debris from between your teeth and along your gum line. This can help prevent gum disease and gingivitis.
Overall, using an electric water flosser can be a great way to improve your oral hygiene and help keep your teeth and gums healthy. I am so happy that I now use one. I should have been using one a long time ago! But, at least I am starting now!
With proper care and maintenance, your electric toothbrush and water flosser can be a powerful tool in your dental oral health care routine.
So go ahead, throw out those manual brushes, and get yourself an electric toothbrush and water flosser like the ones I mentioned above!
---
Coupon Code!
The Bitvae Water Flosser and Electric Toothbrush Combo is awesome and there is a coupon code you can use to get it for cheaper! Use the coupon code: 10D3Z67P
PLUS, they have a coupon that you can check/clip so that you get even more discounts on the single water flosser and electric toothbrush! YAY!!! Savings are always nice!!
---
Buy
You can purchase the Bitvae Electric Toothbrush and water flosser on Amazon.com. You can buy them separately or you can purchase the combo pack with both the water flosser and electric toothbrush! Great for gift-giving! They come in pink or black colors!
---
Win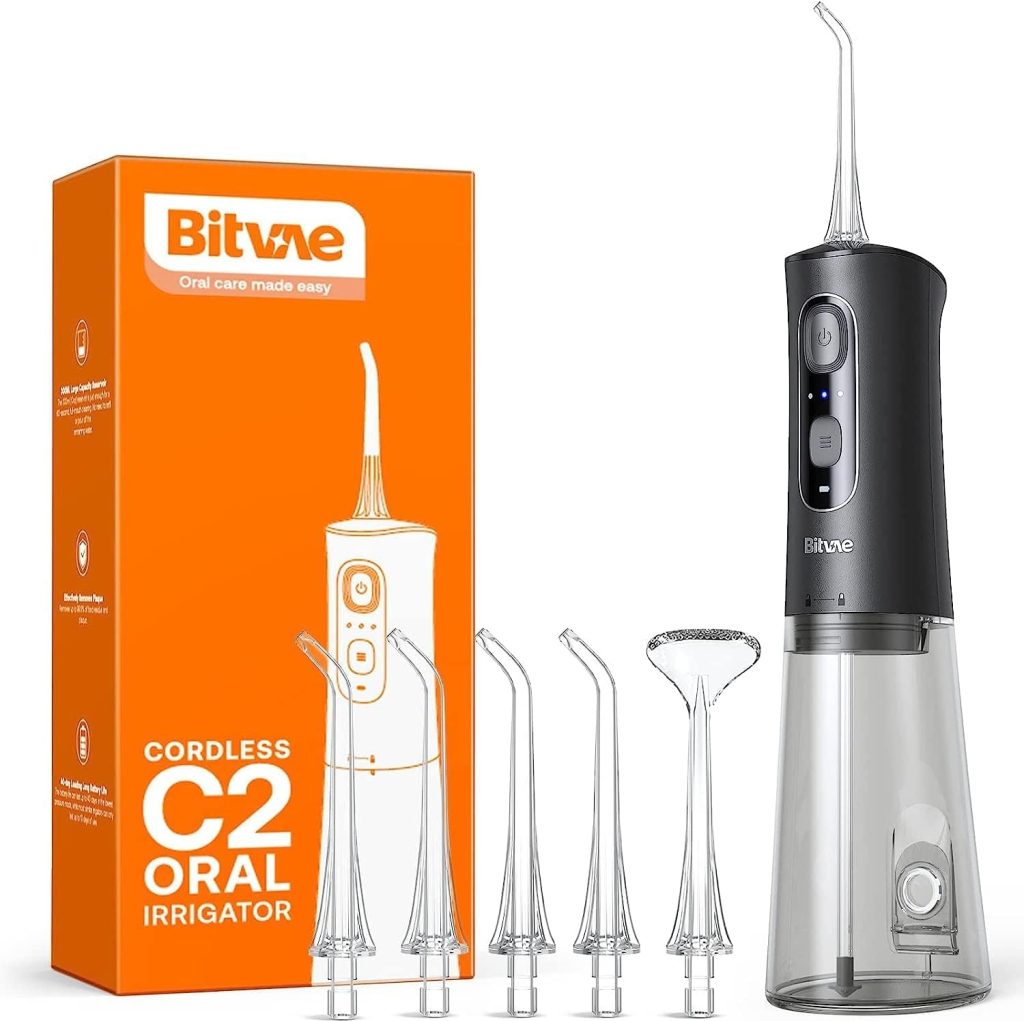 One person is going to win the Bitvae Water Flosser (in either pink or black!) Yay!!!
Rules (cuz we gotta have 'em!!!)
The contest is open to US, 18+. The giveaway will end on September 28, 2023, at 11:59 PM. I am not responsible for lost or stolen mail.