Since moving to Idaho, we have heard that it gets really cold here. We have yet to experience the winters here, but hopefully, we will get a lot of snow! I am excited about that part. The cold doesn't even bother me that much. I love a good fire going!
Of course, we will be driving in the cold and with little kids in tow, that kind of frightens me. I always like being prepared for the worse and feel better when I am.
It is important to keep things in your car for emergency situations. Do you have a pack or box in your car that has essentials for the 'just in case' scenarios? If not, you should think twice and just do it. Because you never know what can happen when driving in your car on a cold winter day, night or any day of the year. Just being prepared is being smart.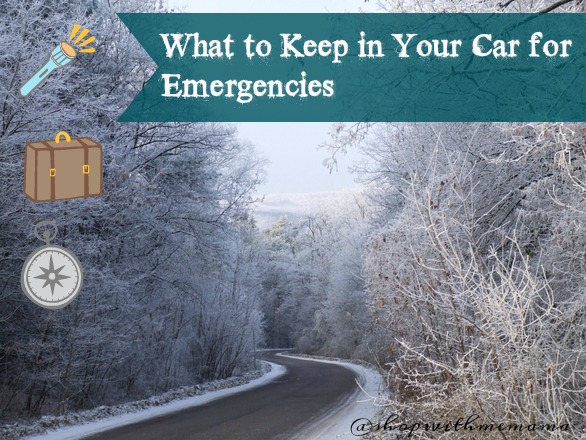 What to Keep in Your Car for Emergencies
Flashlight
Car Jack
Spare Tire
Gum
Hard Candy
Bottled Water
Coat or Extra Clothes
Blanket
Lighter
Jumper Cables
Pen & Paper
Flares
Chapstick (because I can't stand dry lips 😉 )
Beef Jerky
Cell Phone & Charger
Book (Might as well read when stuck in a car)
Seatbelt Cutter/Window Breaker
Pocket Knife
Pair of Boots/Socks
I know this seems like a lot of stuff, but you pick and choose what you feel will work for you. My car is already crowded, so a bit more stuff is not a big deal for us.
What Do You Keep In Your Car for Emergencies?