My family loves long road trips in our comfortable family car. Over the years I've figured out systems for getting everything packed and keeping the kids happy throughout almost the entire drive. The biggest decision we have to make these days is where we're going to go.
Taking a road trip with kids is a balance between finding things that will keep your kids interested and engaged without it seeming like one continuous day at Chuck-E-Cheese for the parents. What I've discovered is that scenic locales usually make for Incredibly Fun Family-Friendly Road Trips!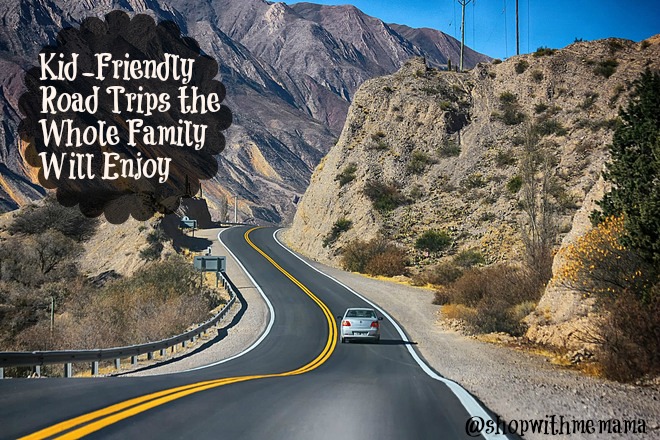 But, first! A Quick Road Trip Prep Checklist!
Before we jump into a few road trip suggestions, I'd like to take a minute to discuss preparation. No matter where you decide to go there are a few things that you'll need to prep in order to make the trip as enjoyable and relaxing as possible.
Auto Insurance – Check your policy to make sure it's up-to-date and adequate. If you need special coverage like cheap insurance to meet driving requirements, make sure everything is lined up well in advance.
Luggage – Do you have enough luggage for everyone based on the duration of the trip? Does it all fit in the car? Give your luggage a thorough review so you don't have to make last-minute shopping trips.
Navigation – There's nothing more frustrating on a road trip than getting lost. After being in the car for hours anticipating the arrival, a delay can put a real damper on things. GPS is a must on our road trips. If your car doesn't have a built-in GPS navigation system (with updated maps) you can get a quality portable one for less than $100. You can also upload apps like Waze and bring along a road atlas.
Entertainment – Keeping kids happy on a road trip largely comes down to two things: snacks and entertainment. Your kid entertainment pack should include devices, chargers, headphones, extra batteries, a set of crayons, activity books, and age-appropriate reading books. Throw in a few travel games as well, like Car Bingo.
5 Incredibly Fun Family-Friendly Road Trips
The road trips below offer just as much entertainment and sightseeing as the final destination. Give your kids a great view of America!
PACIFIC COAST HIGHWAY/LEGOLAND/DISNEY LAND
If you live in the west and have at least a week for a road trip this is one to take with your kids. It's really fun for kids around 7-12 years old who enjoy the outdoors as much as electronics. Going down the Pacific Coast from Seattle to San Diego would take around 18-20 hours of driving on the non-scenic route. Taking U.S. Highway 101 instead adds another couple hours of driving, but it's really worth it in my opinion.
Of course, you don't have to drive the entire length. You can easily spend a week going through the Redwood National Forest at the border of Oregon and California to Legoland and Disney Land just south of Los Angeles.
COLORADO MOUNTAINS
Driving west from Denver down Highway 70 through the Colorado Rockies is nothing short of amazing. You're driving right through the thick of the Arapaho National Forest. Towering, tree-filled cliffs rise up along the sides of the road as the Colorado River peeks out here and there. It really is wondrously beautiful.
GRAND CANYON
Visiting the Grand Canyon is a bucket list item for a lot of people for good reason – it's a natural wonder! The long, slightly hilly continuation of U.S. Route 180 to the park's south entrance is a really nice drive. Kids will enjoy watching all the activity at the small nearby airports. It's a setting that gets you ready for the amazing site you're about to see. When you get to the end of the road – literally – you're basically at the mouth of the Grand Canyon.
MOUNTAIN MARYLAND!
This is 193 miles long from the heights of Keyser's Ridge to the historic Cumberland. The Mountain Maryland byway encapsulates the beautiful scenery of Western Maryland. From the pretty and picturesque Youghiogheny River to the Alleghenys, driving this byway is an experience you won't soon forget!
DRIVING FLORIDA'S EASTERN COAST TO DISNEY WORLD
I won't know about this one personally unless we fly into Jacksonville, FL and rent a car since we live a little too far away to drive. I hate flying but a road trip from home would just be too time-consuming.
But I have heard this is one of the most beautiful drives if you take U.S. Route 1, which runs along the eastern coast. You'd see St. Augustine, the country's oldest city, Daytona Beach and Cape Canaveral along the way to Disney World. The kids might be so distracted by the beach they forget the main attraction is Mickey Mouse!
Where would you go first? What places would you add to my list of '5 Incredibly Fun Family-Friendly Road Trips'?
Drive safe!