Jooki is a kids music player and storytelling screen-free device. With everyone home right now due to this new virus going around, finding fun things for kids to do can be hard. That is why I want to talk about the Jooki kids music player and storytelling device! Everything is digital nowadays, so this device is a breath of fresh air.
*Jooki kids music player and storytelling screen-free device was received. This post includes my Amazon affiliate links
Jooki is all about promoting reduced screen time and more independence in kids. Children love the chunky figurines that come with the Jooki, and they give the kids a sense of control when it comes to music. My youngest loves Jooki! It is always nice to have musical things for your child to play around with!
Kids Music Player And Storytelling Screen-Free Device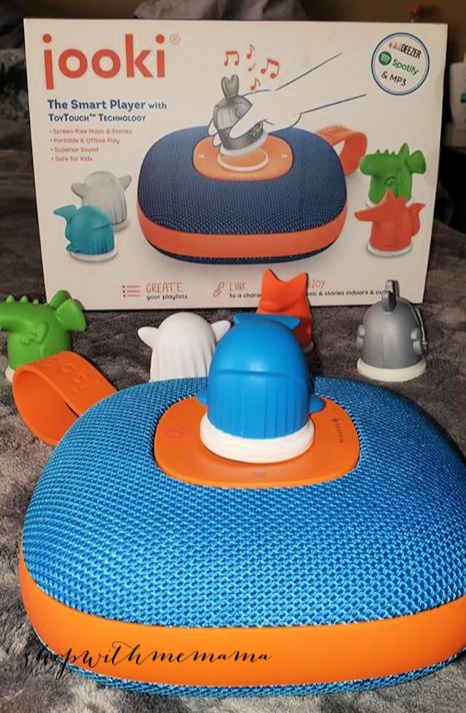 Jooki is a WIFI speaker that makes music accessible to the youngest in a screen-free environment. You can upload your own content on Jooki or listen to streaming music with Spotify Premium.
Jooki is the first WiFi-connected speaker suitable for children aged 3 and up. Your child can listen to his/her music or stories by simply placing a figurine on the speaker, they do not need to use a smartphone or a tablet.
Each figurine is linked to a playlist created by the parents. In the Jooki application (mobile or web), parents manage the playlists and associate them with the figures. Jooki is used connected to WiFi to read playlists from Spotify (Deezer in preparation), or completely offline (in the garden, in the car, at the beach), to listen to the music downloaded on Jooki itself. The Jooki has an 8 hour listening time before the battery needs to be charged again.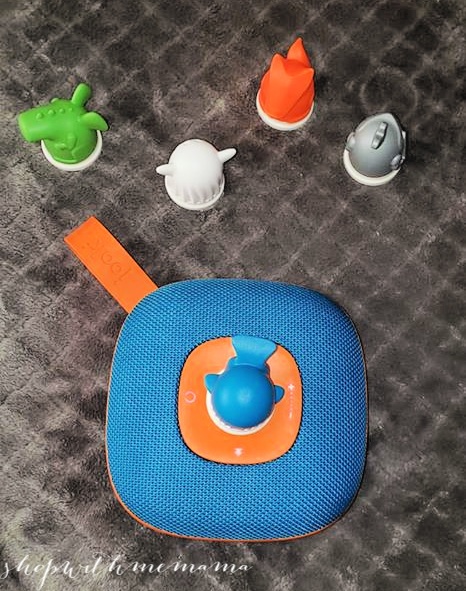 I can easily select music and add it to my child's playlist. All the songs my child likes, I add it to their list! This device is great for keeping my youngest entertained, while I get some blogging work done! Such a lifesaver! I love that I can control what my child listens too and what stories he can listen to.
If my child doesn't want to listen to music anymore and is restless, I will then have him listen to his favorite story as he sits quietly on the couch. This is really nice when I am so busy, I just don't have time to play with my youngest. Hey, I am a mom of three, so working from home, and taking care of my littles and making sure they are okay and fed, can be quite the chore at times.
The Jooki device helps me so much with entertaining my youngest. Now, it is the two older kids I need to entertain themselves if only for an hour or so! GAH. The struggle is real!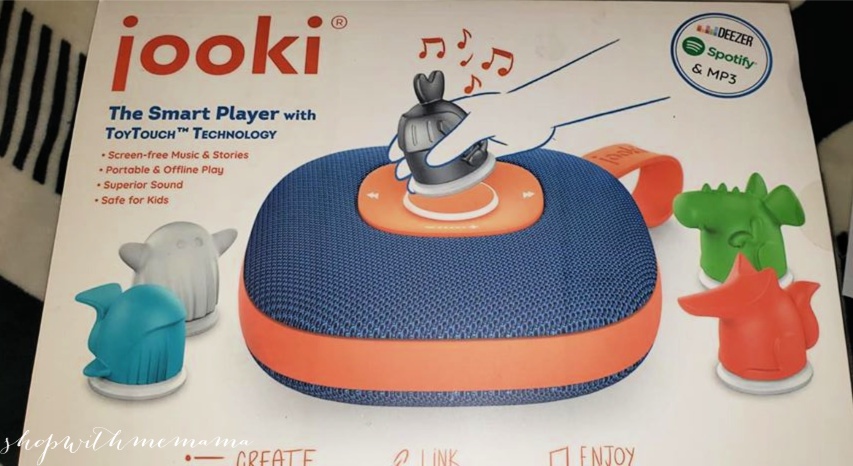 The Right Way to Listen to Music & Stories
With quality technology on the inside, Jooki is sturdy and splash-proof on the outside. However, it is NOT waterproof, only splash-proof! So do not emerge it in water. Jooki is portable and can be used online & offline which is so nice! With everyone home, the internet gets SLOW around these parts!
Also, Jooki has five cute figurines that trigger playlists from Spotify or local mp3 players content. The song or story starts when the figurine is placed on Jooki. Jooki is so intuitive and beautifully colored that your little music fans immediately adopt it and make it their favorite playmate!
Check out our video for Jooki Kids Music Player And Storytelling Screen-Free Device!
Setting Jooki Up Is Easy To Do!
*First, make sure it is fully charged. When you receive the Kids Music Player And Storytelling Screen-Free Device it may not be fully charged.
*Once fully charged, Jooki has a helpful voice assistant (Depending on where you bought Jooki, the voice assistant might talk in multiple languages), that informs you about the status during setup. So helpful!
*Next, turn off Jooki. Jooki is turned off if the button lights are off. To turn off Jooki, press and hold the power button for 2 seconds, then release it. Wait for about 5 seconds until all button lights are off.
*Then, power on Jooki! When Jooki is ready it will play a startup sound and the center ring will light up. Starting Jooki takes about 50 seconds.
*Do a basic test to see whether Jooki is ready for the next step. You do this test by putting Mister Fox, the Fox figurine, on the center ring of Jooki. Do you hear the music?
*Now Jooki is ready for Wifi, so have your wifi info on hand (password). WiFi setup will be done only once as Jooki remembers your WiFi info. So helpful! On your computer, go to WiFi settings and connect to the jooki-XXXX-setup network. DO NOT WORRY if you lose internet connection, this is normal. Please ignore any message that says you lost connection. If you are asked to confirm the connection, click "yes".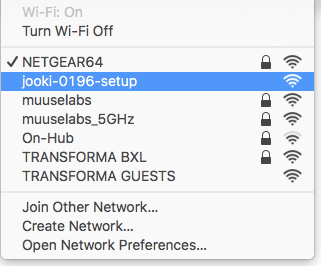 *The Jooki setup window shown below will now popup (see below image)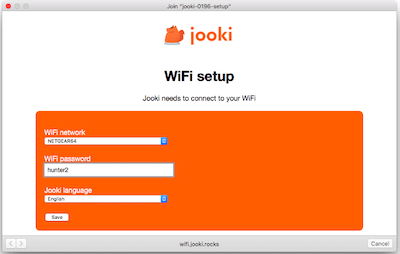 *How to enter the WiFi info in the Jooki setup window:
Select your WiFi network
Enter your 2.4GHz WiFi password
Click 'Save'
Click 'OK'
Close the popup window (if needed)
Please go to the WiFi settings on your computer and switch back to your usual WiFi network
Jooki will now connect to your WiFi network. It will make the 3-tone startup sound when the connection is complete.
Jooki is now connected to your WiFi network! From now on you can use the smartphone app and web dashboard to edit your playlists and link characters. You can use playlists on Spotify and Deezer. You can also transfer music files in MP3, AAC, OGG or FLAC format to Jooki using the web dashboard.
**Note: to transfer more than a few songs to Jooki you must install a micro-SD card. Only install the micro-SD card when Jooki is turned off!
Features:
Let kids listen to audio content they want, whenever they want: music, stories, audiobook, lullaby

Content can be imported offline or streamed directly from the speaker: Spotify, local MP3, audiobook

Fully portable (8 hours built-in battery), wireless (wifi, Bluetooth) or local offline (MP3 player, MP4)
Musical toy boombox designed for fun and educational purpose (Awarded Best in Family Tech at CES)

Perfect for Christmas or birthday gift. Adequate for boys or girls, aged 3, 4, 5, 6, 7 years old
Tokens!
Now, the original package comes with only the figurines, but you can purchase tokens too! The tokens act like the figurines and allow you to extend your experience with Jooki. They come with 8 generic stickers for easy recognition. Each Jooki Token can be associated with a Spotify playlist or a playlist created with music files that you download directly to Jooki. Simply place the Tokens on the light circle above the speaker to trigger the music. The Tokens are just a playlist trigger and do not contain music.
Buy
You can purchase the Jooki Kids Music Player And Storytelling Screen-Free Device online at Amazon.com. It retails for $199.99. You can also visit them online at https://jooki.rocks/ and find out more about Jooki!
Win
One lucky person is going to win a Jooki Kids Music Player And Storytelling Screen-Free Device of their very own, yay!
Rules
The contest is open to US residents ages 18+. This giveaway will end on April 11, 2020, at 11:59 pm MT. The winner will have only 24 hours to claim their win or a new winner will be selected. I am NOT responsible for lost or stolen mail (DUH!).