I received the Labelle Ultrasonic Skin Spatula to review several weeks ago, and I have a lot to say about it, so read on! My face, when I was younger, was acne-prone. I am so surprised I don't have some scars on my chin from it. It wasn't horrible, but it was cystic acne and only on my chin area. I HATED it!
I am SO thankful that I outgrew it but not until my late 20s! Once I had kids, it just went away. Now my complexion is nice. My face is really soft and I have not broken out in quite some time, thank heavens!
*This post includes my affiliate links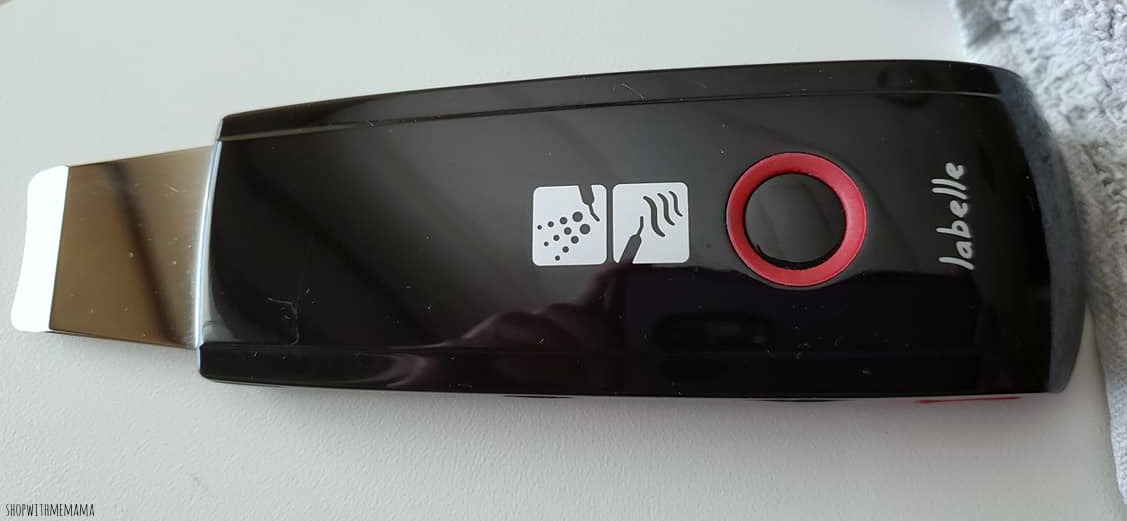 There are certain ways I take care of my skin, every day and there are certain products I use a few times a week to maintain my skin. I am very careful about what I allow on my face and neck area though. I like natural ways to improve my skin texture and I love great working anti-aging products!
I have reviewed a few Trophy Skin devices in the past and I still use them at LEAST once a week. Now, I have added my new device, the Labelle Ultrasonic Skin Spatula, to my weekly skin care regimen and I can't tell you enough, how soft and nice my face has been! So so so happy!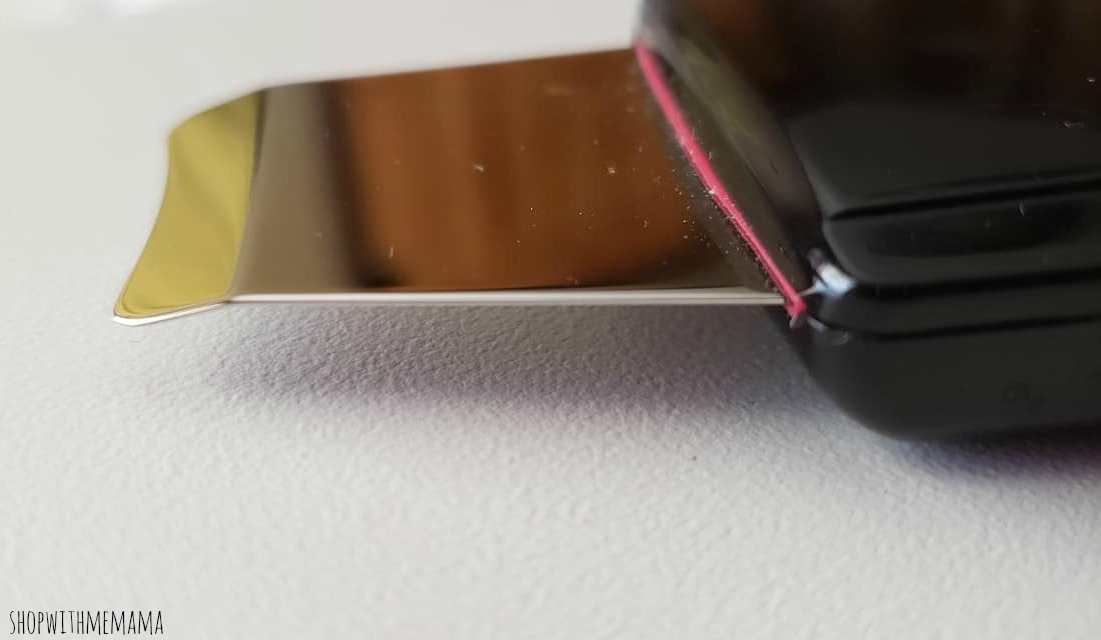 I use the Ultrasonic skin spatula on my nose, chin, and forehead. I do this once a week for an added glow to my skin. It seriously helps make my skin look and feel so soft! It is a game-changer in my skin routine, for sure!
In a nutshell, the Labelle Ultrasonic Skin Spatula does the following things:
The scrubber mode gently lifts dead skin and purge pores of gunk and oil. The infusion mode gently taps your favorite skincare serums, creams or moisturizers so it can be infused deep into the skin. This leaves you will soft, supple skin with fewer blackheads and more glow!
My Hubby And Oldest Son's Experience Using The Labelle Ultrasonic Skin Spatula
My hubby and son have the tendency to get blackheads on their nose. They hate it and when I introduced them to the Labelle Ultrasonic Skin Spatula, they were wondering if it would work for their blackheads. First, I had my hubby use it. He put a bit of water on his nose area and then turned the Labelle Ultrasonic Skin Spatula on.
Then he carefully glided the skin spatula over the area that has blackheads and some of his blackheads immediately were pulled out by the spatula. All you have to do is look at the skin spatula and you will see a lot of white-colored gunk! Ewwww, but kind of neat too! You simply wipe off the gunk and keep going.
My hubby did his whole nose and around it too. It took about 2-3 minutes and then he was done. You have to make sure that there is ALWAYS water on the area you are using the skin spatula on though, otherwise, it won't work and it might hurt your skin a bit because you won't have water to glide the spatula.
After using the Labelle Ultrasonic Skin Spatula, my hubby noticed a bit of change in how many blackheads he still had. It definitely took out quite a few of them. With continued use, he has noticed a significant change in how his nose looks, fewer blackheads! He is happy with his results so far.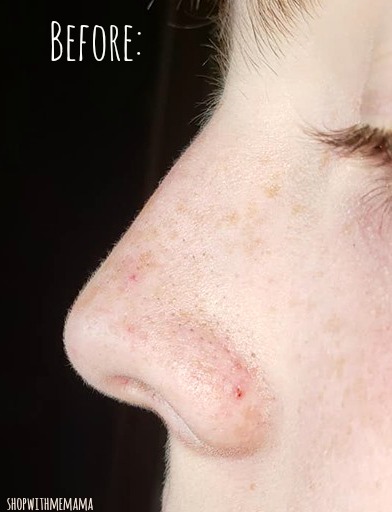 My oldest son, who is 13, also uses this. Don't worry! We disinfect it real good! He uses this twice a week, on his nose area. You can see from the pictures below, the gunk this skin spatula took out of his pores and a before and after picture of my oldest son's first treatment/use of the skin spatula. Definitely a difference and this was only the first time using it!
EWWWW! Look!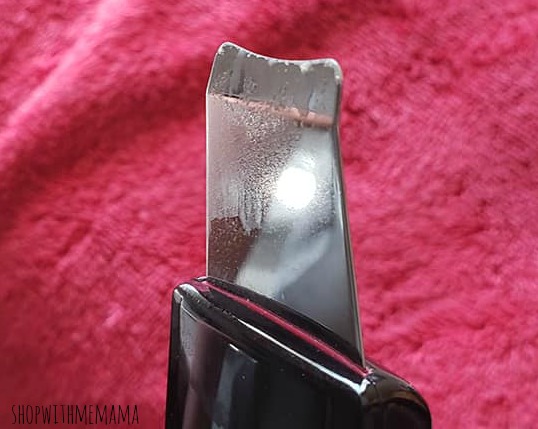 And now, after his first time using the skin spatula! You can already see there are fewer blackheads on his nose. This is the real deal!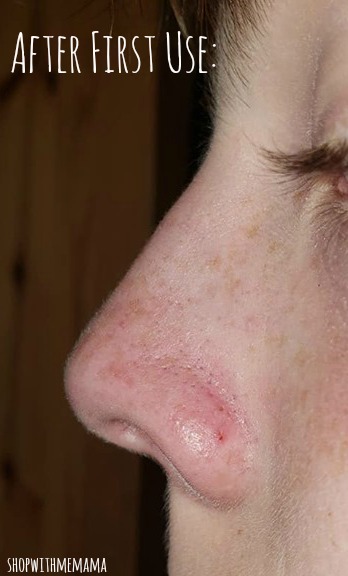 Once he has used this a few times, I am sure all those dreaded blackheads will be gone. Stay tuned for updated pictures in about 3 weeks!
This is the home version of the popular spa treatment known as ultrasonic skin scrubbing. This device makes it simple to achieve awesome looking skin, at home! I always loved being able to do things like this at home. I hated going somewhere to have a stranger do it for me, just way too weird for me. So, having a device like this one, that I can use in the comfort of my own home, really sold me.
4 in 1- It deep cleans, exfoliates, extracts and infuses!
This is a 4-in-1 device that deeps cleans your pores, exfoliates your skin, extracts gunk and infuses your beauty products so that they absorb SO much better!
After you use this to extract the gunky blackheads from your face, you can then use it to help infuse your beauty products into your skin! You simply apply your skincare creams and serums to your face, then you press the button twice (until you see the second option light up on the device) and then press it slightly on your face. This will gently 'pat' in your serum or face cream into your skin using ultrasonic motion. I LOVE this feature!!!!!
Features Worth Mentioning, Again!
✔

Unclog pores of blackheads, whiteheads, and excess oil

✔

Exfoliate dead skin that dulls the complexion

✔

Improve skin tone by removing dry, flaky skin

✔

Infuse serums and skincare topicals for better skin absorption

✔

Improve skin radiance

✔

Polish and revitalize skin
What's included?
LaBelle device
Charging adapter
Storage case
User manual
2 Modes: Scrubber and Infusion
Labelle Ultrasonic Skin Spatula emits ultrasonic waves at 30,000 Hz per second to improve the following skin conditions with consistent usage:
Clogged Pores
Excess Oil
Blackheads and Whiteheads
Dry, flaky skin
Dull skin tone
Uneven texture
Polluted skin
It deep cleans, exfoliates, extracts and infuses! Of course, your results may be different from my results or my husband or son's results. Everyone is different! But we all love this device!
Scrubber Mode
Deep clean, exfoliate and extract. Directions for use in the 'scrubber mode'
Make sure your face is moist throughout the treatment. Push the button to activate the Scrubber Mode (the top icon will light up).
Lightly glide the spatula across areas of the face where you have clogged pores or frequent breakouts at an angle as shown in the picture. Common areas include the forehead, nose, and chin.
Wipe skin impurities collecting on the end of the spatula on a dry cloth as needed during treatment.
Wash your face with warm water and gently pat dry with a towel. Your skin is now primed to absorb high-quality skincare products.
Infusion Mode
Pamper, hydrate, and infuse. Directions for use in 'Infusion Mode'
Apply our Argan Stem Cell Serum or your favorite high-quality serum or cream. Do not rub it into the skin.
Push the button again to activate the Infusion Mode.
Gently place the flat side of the spatula onto the skin. You will feel a slight pulsing of ultrasonic waves patting your serum deeply into the skin for maximum absorption.
Move in circular motions until all the serum on the skin has been infused.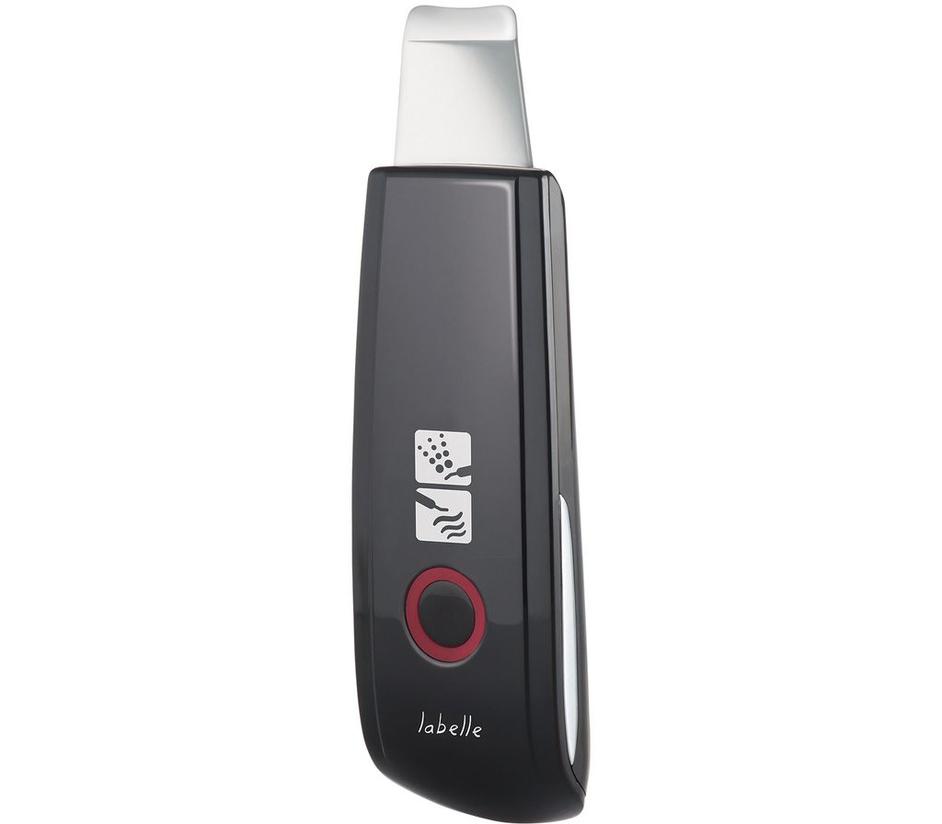 We are all so happy with the results that the Labelle Ultrasonic Skin Spatula has given to use, during the short time we have had it! This is definitely a skincare device that I recommend to anyone looking to lose their blackheads or for those who want smooth, soft skin! Such a great skincare tool!
Buy It!
The Labelle Ultrasonic Skin Spatula is sold on the Trophy Skin website. It retails for $149.
Save!
You can save 15% off any Trophy Skin product when you order online. Just use this coupon code: MAMA15 at checkout!
PIN IT!
Pin it for later!