I love my Trophy Skin Microdermabrasion MicrodermMD! Now you can Smooth and brighten your skin, and restore a youthful glow while also buffing away those fine lines we all adore (NOT!). All from the comfort of your home with the Trophy Skin Microdermabrasion MicrodermMD.
Reveal your true radiance with the power of Trophy Skin microdermabrasion MicrodermMD! I received the Trophy Skin Microdermabrasion MicrodermMD about a month or so ago. I use it 1-2 times a week and have been absolutely loving the way my skin looks and feels!
*This post includes my affiliate links.
Trophy Skin Microdermabrasion MicrodermMD
This is a wonderful device that comes in a travel-ready and easy-to-take-along case. Everything you need to smooth out your skin and get your skin glowing for summertime is nestled inside this case!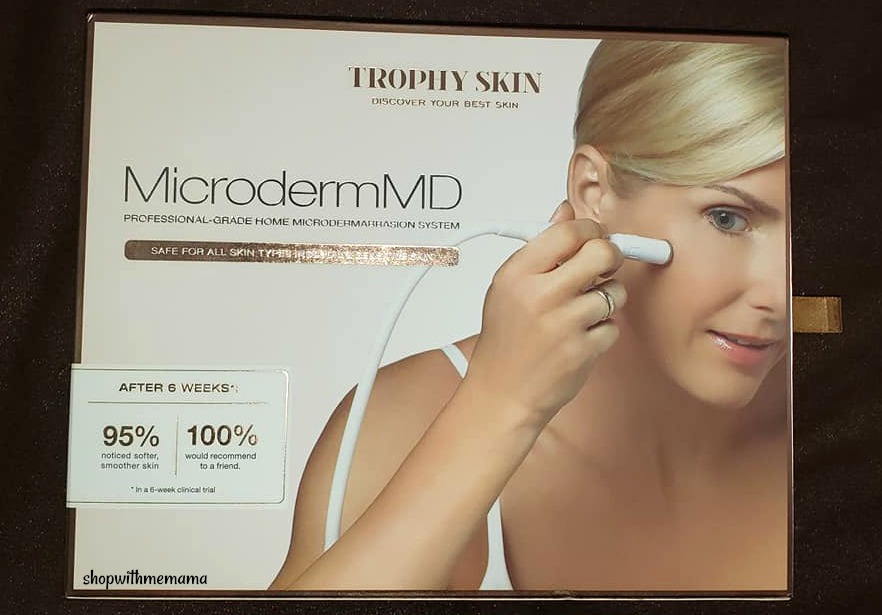 What It Does:
✔Buffs Away Fine Lines and Wrinkles.
✔Reduces Signs of Sun Damage and Age Spots.
✔Improves Skin Tone and Texture.
✔Gently Exfoliates and Sloughs Away Dead Cells.
✔Restores Radiance to Skin.
✔Save Hundreds (Even Thousands) of Dollars Compared to Spa Treatments and laser treatments.
I use to tan/layout in the sun A LOT when I was younger. I would stay out in the sun for at LEAST 2-3 hours a day! My sisters and I would lay out on our trampoline all day long.
We had our boom box and baby oil along with some ice cubes and spray bottles filled with cold water and we would lay out in the sun for hours! I am shocked I am not a prune by now!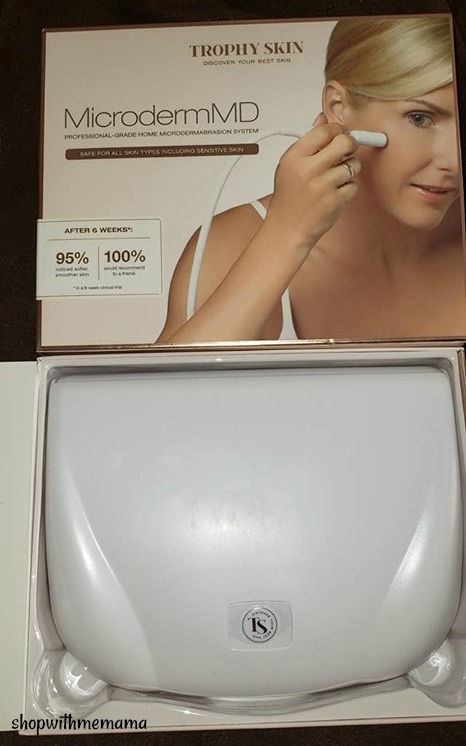 When I stopped finding time to lay out in the sun, then I visited tanning beds. I visited a tanning bed at least once a week! I was super tan, but my skin was not too happy!
It took me YEARS to undo the damage that was done by the sun! I am still going through some issues with my chest because there are pre-cancerous lesions on my chest that I need to go to the doctor for. Scary stuff! And, I am a natural redhead, so laying out in the sun? Ya, not such a good idea!
Now that I am older, I use good old self-tanning cream to create my natural glow for the spring and summertime. Sunless tanners have come a LONG way, that's for sure! (and yes, I have tried most of them!).
So, with all that said, my skin needed some help! Thankfully, I was able to review the wonderful Trophy Skin MicrodermMD. My skin is definitely making its comeback and I am so excited about it!
*Note plastic is still on the LCD monitor below. This picture was right when I opened up the case.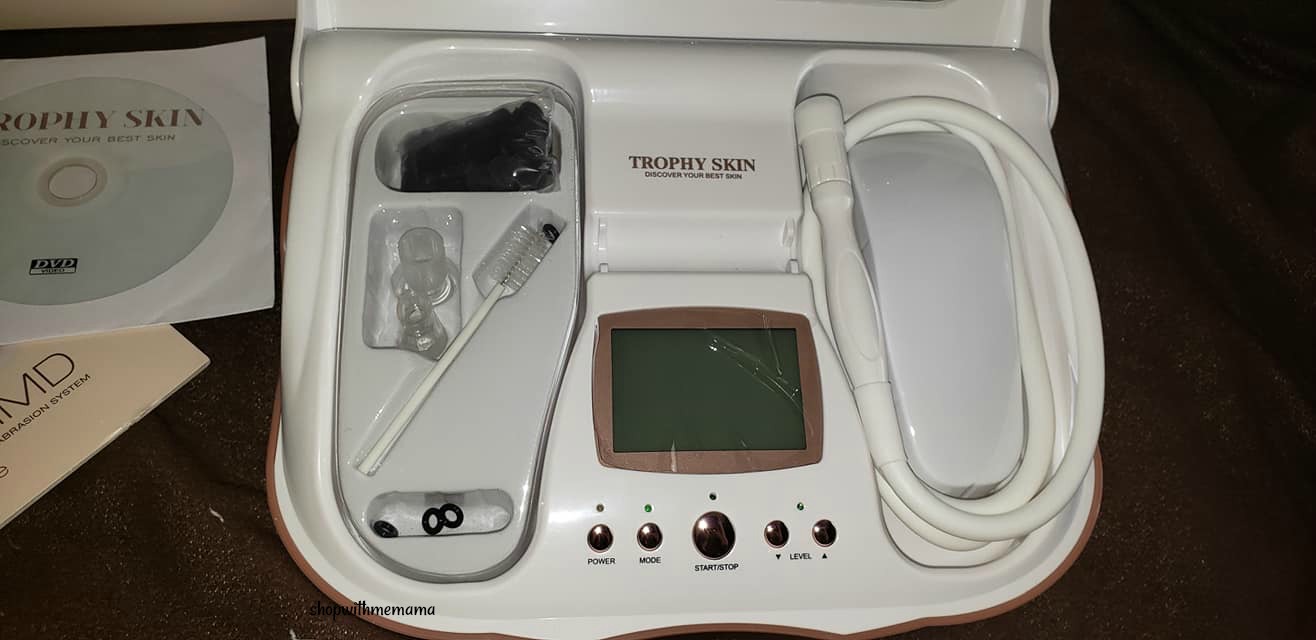 What's Included In The Trophy Skin MicrodermMD Package
*MicrodermMD device
*Medium diamond tip: It is attached to the unit itself. You can detach the diamond tip by carefully twisting and pulling it out.
*Pore extraction tip: This is included in the kit to remove whiteheads, blackheads, and excess oil from the skin.
*Infusion tip: Use this tip to drive serums and moisturizers deep into the skin.
*100-pack filters
*Power adapter
*User manual
See? It comes with EVERYTHING you need to get started! Now your skin is that much closer to becoming soft, clear and age spotless!!!
Sensitive Skin?
That is okay! Because the Trophy Skin MicrodermMD has a sensitive setting! Now Featuring Sensitive Mode! You still get Auto and Custom Modes, but now they also have Sensitive Mode for those with sensitive or more delicate skin types. Isn't that fantastic??
How To Use The Trophy Skin Microdermabrasion MicrodermMD
Before you use the MicrodermMD it is important to read all the directions and watch 'how-to' videos on Youtube to get you started.
Once you do that, you are informed and are less likely to make mistakes! They also have helpful Chat Support Representatives who are available 24/7 and are happy to walk you through the whole process.
1. First off is understanding your skin type! I have slightly sensitive skin, so I usually use the 'sensitive' mode. However, on my neck and chest area, I will do a higher mode because that skin is less sensitive.
2. They like you to start off with the lowest suction on the device and press lightly on your skin as you move it across your skin.
It is suggested that you do not go over the same area more than twice because doing that might cause you to exfoliate more than you should be causing irritation. You only need to remove 2-3 layers of skin.
3. MicrodermMD has an auto mode that is great for people who are new or just starting out with microdermabrasion. This mode allows you to do your face, neck, and chest areas in only 5 minutes! I use this mode often!
4. The MicrodermMD is simple to use after you get the hang of it. At first, I was nervous to use it the first time, but after reading the user manual and watching a few Youtube videos I felt much better using this device. I also really like the storage case that holds everything for you! The case is hard and I can tell it will last a long time.
5. After my treatments, my skin is immediately just SO soft! Since the microdermabrasion treatments bring blood closer to the surface of my skin, my skin looks so healthy and a bit more plumped up after each session. I love it! My skin feels re-energized and looks so much younger.
You will definitely feel a difference with just 1 treatment and should see a difference in just 2-6 weeks in most cases! I definitely see a difference in my skin already.
Before And After Photos
Look at the difference in my hands!!! I couldn't believe it either! That is from ONE session!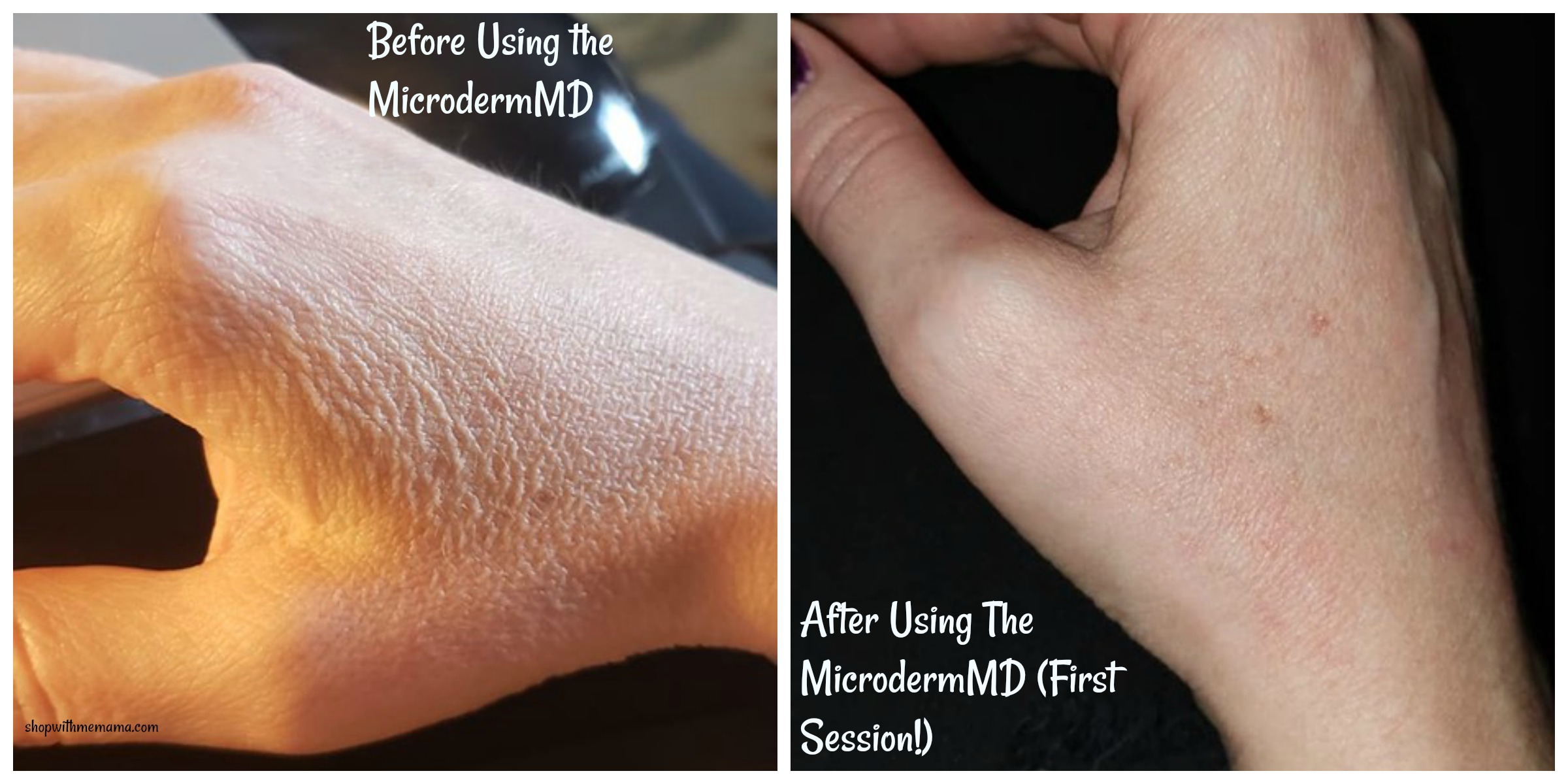 Oh no! My Microdermabrasion System Gave Me A Hickey!
Dear me! As silly as this sounds, Yes, I have experienced a hickey from my MicrodermMD! It was the very first time I used it (hey, I was new to this!) and I remember after my first session, I had hickey-like marks and/or red streaks on my forehead and neck area.
I had read about this happening but it ended up happening anyway. It is almost bound to happen if you have never done microdermabrasion before. There is a learning curve for sure!
You can get these marks because the suction is drawing out impurities, dead skin, and excess oils from your skin. The suction will draw out blood to the surface of your skin too.
That is why it is important to remember to NOT linger in a certain spot for too long! If you do, you will get these red marks/hickeys! Just remember to keep moving!
I use my Trophy Skin MicrodermaMD while sitting on my bed, and watching television. I love that inside this case, is everything I need to get my skin soft and healthier! The big mirror inside the case allows me to do this ANYWHERE! Including on my bed!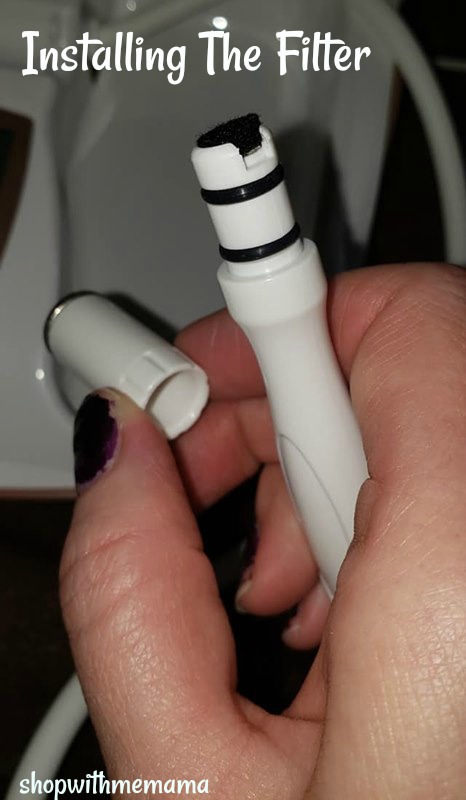 The big screen showing me the modes and levels is a great help too. It shows a face on the LCD screen and shows you where you should be using the diamond tip.
It also will guide you through your whole routine so that you don't stay in one spot for too long. It times you and when your session is done, it will shut off for you! I love this feature because sometimes I get so absent-minded!
Filters And Gross Talk
This system also comes with a year's supply of filters. This is what catches all the dirt, dead skin, and gunk from your skin! Before using your MicrodermMD, make sure that you have a fresh and clean filter placed inside your wand.
It also comes with a little cleaning brush so that when you are done using your Trophy Skin MicrodermMD, you can run the brush through the tip (after you pull the tip-off!) and clean it with the brush so that it is good to go for your next session!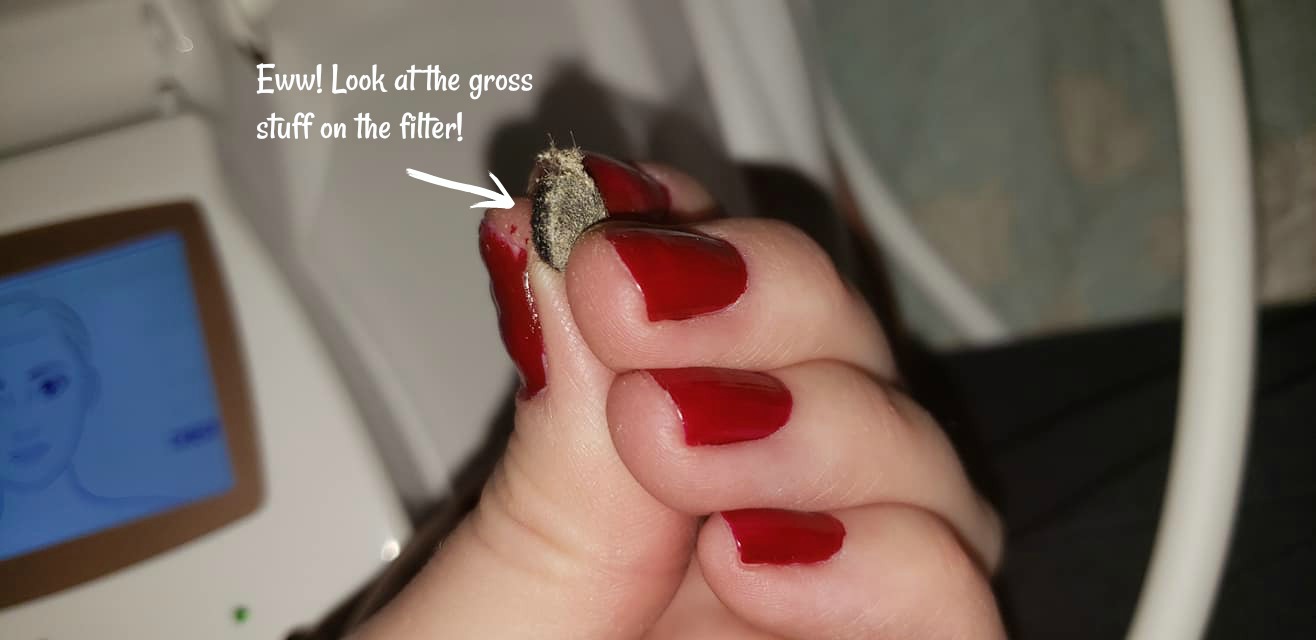 You may also use a soft brush, like a soft toothbrush, in cleaning the diamond tip. Make sure to change out the filter too! Beware, after doing a session, the filter will be yucky with all of your dead skin cells on it! (kind of cool to look at though!! 😉 ).
Clean Out Blackheads (More Gross Talk!)
The MicrodermMD can also help to clean out your pores! It comes with a pore extraction tip that will allow you to remove whiteheads, blackheads, and excess oil from the skin! I have not used this yet as I don't really have blackheads.
The infusion tip allows you to drive your skincare products deep into your skin! It is great to really get those beauty products into your skin and leave your skin SO soft and supple! Definitely, a must-have anti-aging device you NEED.
What are your skin care needs? Do you have pigmentation marks, fine lines, and wrinkles or are you looking to help erase stretch marks? What about acne scars?
I absolutely recommend the Trophy Skin Microdermabrasion MicrodermMD for all your skincare needs! This is definitely an investment in your skincare health! Get that Microderm Glo from the Trophy Skin MicrodermMD machine!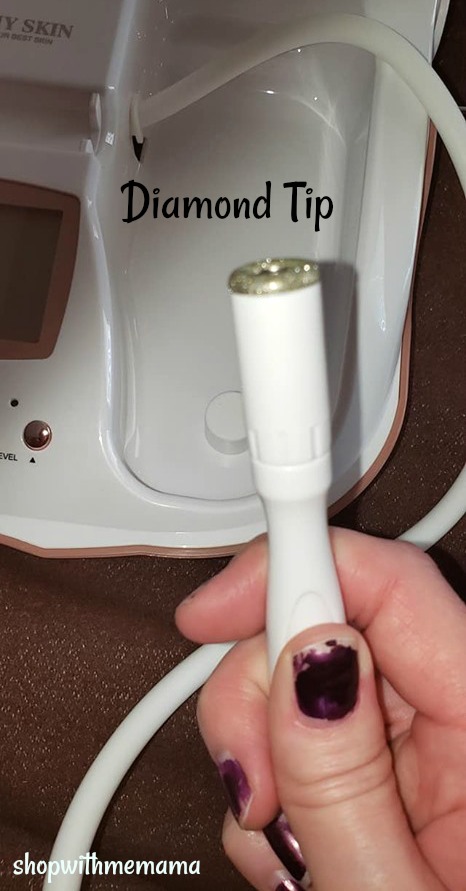 Skin Care Products Work Better
Did you know that if you use the Trophy Skin MicrodermMD, your beauty products will absorb into your skin WAY better than if you do not? It is true!!!
Once you slough off all of that dead skin on your face and/or body, your skin is ready to absorb those skin care products. There is no more dead skin in the way of the skincare products and in return, they absorb into your skin SO much better.
I have noticed this as well and love how quickly my skin absorbs the products I put on it. My skin is just so touchably soft!!
Discount Code
Grab your discount code for the Trophy Skin Microdermabrasion MicrodermMD! Get 10% Off When You Order Now! Use the Code: FACELIFT. Limited Time Offer!
Buy It
Shop and browse the awesome skin care products from Trophy Skin! They have some really great anti-aging and skin care products. The Trophy Skin MicrodermMD retails for $129.99 (on sale from $299.99!!)
More Products From Trophy Skin
I love Trophy Skin Products SO much that I have reviewed a few of them! Below, you can click on the links and read my reviews for those products: