So, one day I was browsing my Facebook and social media feed checking out the latest trends, and I came across an ad about a viral product called the Hyaluron Pen. Hmmm. I have had fillers before (Botox and lip dermal fillers injections), so of course, this ad and new product were EXTREMELY interesting to me. I love all things that have to do with beauty, so this was certainly down my alley!
In a nutshell, the Hyaluron Pen is a device that injects hyaluronic acid into your lips, neck, and face, without traditional needles, just force. the hyaluron pen promises to make you look young again and helps improve the looks of skin. This might be a good option for those of you who have a needle phobia.
Hmmm again… I was SO curious so of course, I clicked on that ad for more information. Hmmm again… I was SO curious so of course, I clicked on that ad for more information.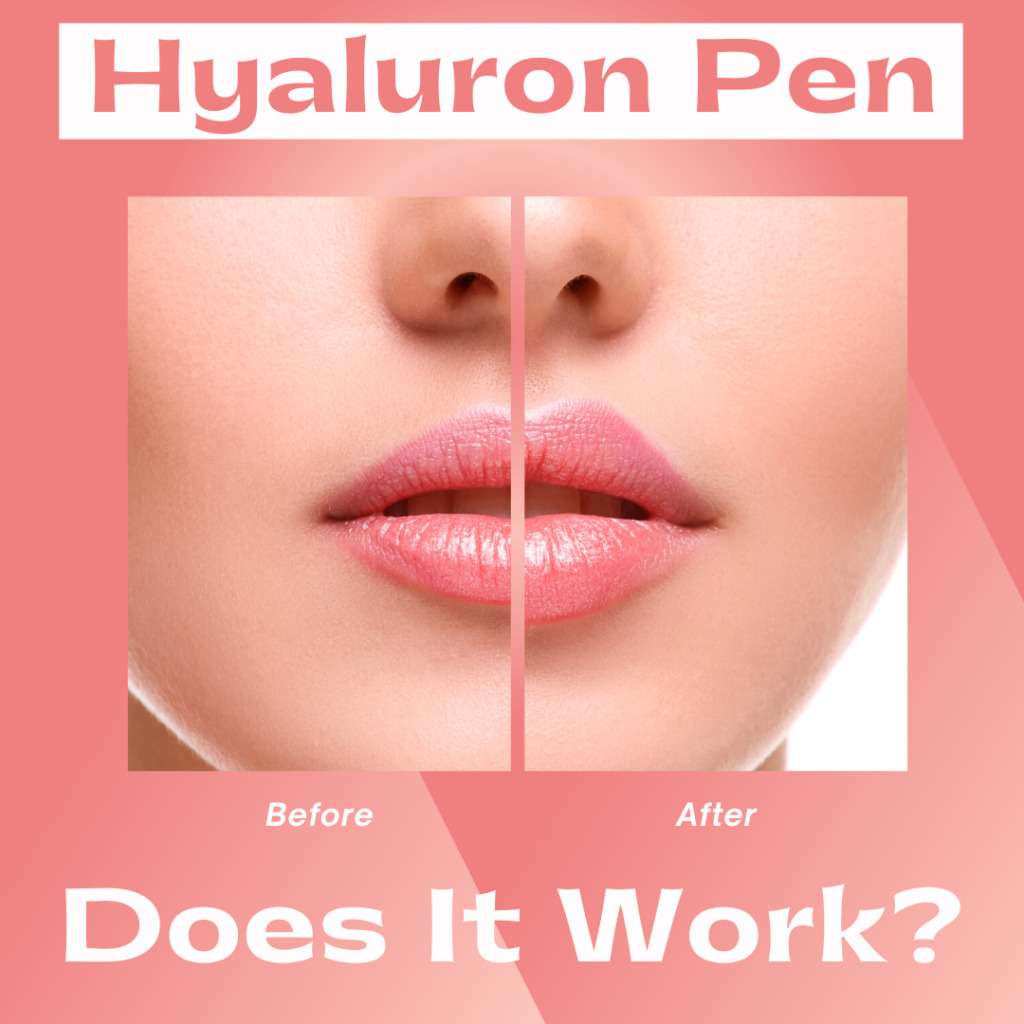 How Does the DIY Hyaluron Pen Lip Filler Work?
Hyaluronic acid is a naturally occurring most hydrating substance found in human tissue that helps to retain moisture within our skin. It also has anti-inflammatory properties which can help reduce redness or swelling around your lips.
The HA gel used for this procedure works by filling up any gaps between your facial tissues and creating an even smoother surface on your face.
This allows you to achieve fuller-looking plump lips and fill up your fine lines, with minimal discomfort. In a nutshell, the hyaluron pen can be used to create more volume to help lift and shape your face and give those fine lines and lips a plumper effect without the use of needles.
This is perfect for home use lip injections (plumping the lips for fuller lips) and for filling in those pesky fine lines with just the right amount of hyaluronic acid. And, you don't ever have to make an appointment at a medical office or med spa. Too good to be true? Let's read on to find out!
*This post includes my affiliate links
---
My Hyaluron Pen Review! (My Experience Using The Hyaluron Pen)
This article is all about my personal experience using the hyaluron pen!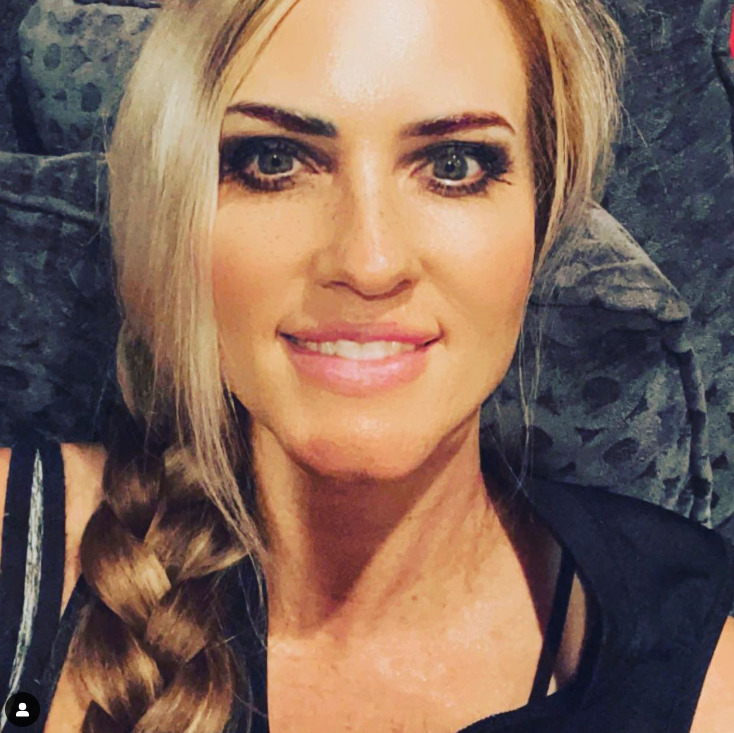 As we age we lose that youthful look and our collagen fibers start to break done quicker than they used to. So, the signs of aging start showing a lot faster once you hit your mid 30's, sigh! Loss of hydration is another big thing when it comes to showing the signs of aging more quickly. So, DRINK LOTS OF WATER!
Upon opening the ad, I learned that the 'pen' was a needle-free way to inject hyaluronic acid into your skin, giving fine lines and thin lips a run for their money.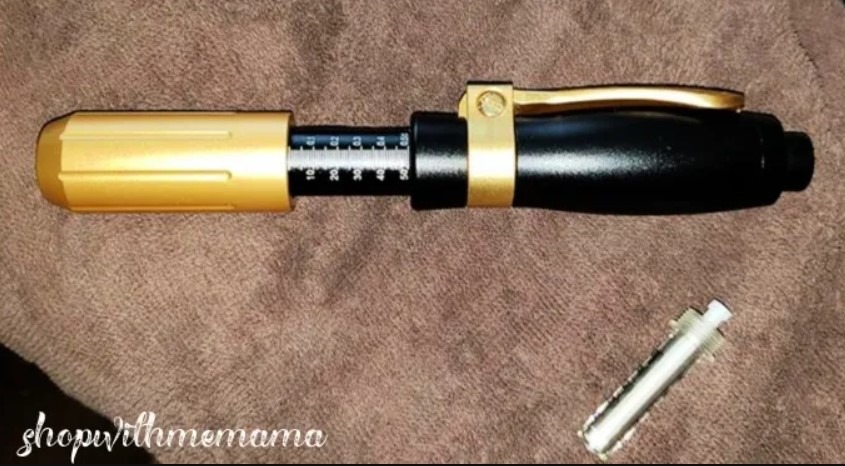 The high pressure from the pen forces the hyaluronic acid into your skin, causing the area to 'plump' up. Of course, the results don't last forever, but they are supposed to last around 6 months which is how long my Botox and lip fillers I got, lasted. Hmmm. I was interested to learn more. Plus, it is supposed to be pain-free! Yes, please!
---
This technique is to be done AT HOME, by YOU
It is supposed to be less abrasive than the office procedures because you don't have that pesky needle injecting stuff into you. This pen does everything by force with pressure technology.
However, you will still swell a bit from the force and will have some bruising (not everyone gets the bruising, but some will).
I was pretty much sold on this product at this point but wanted to know if it was safe or not. I learned that the liquid used (hyaluronic acid) is an acid that humans produce naturally.
There shouldn't be any chance of getting an allergic reaction because of that. It is used to retain water in the skin tissue to help 'plump' the area you 'inject' it into.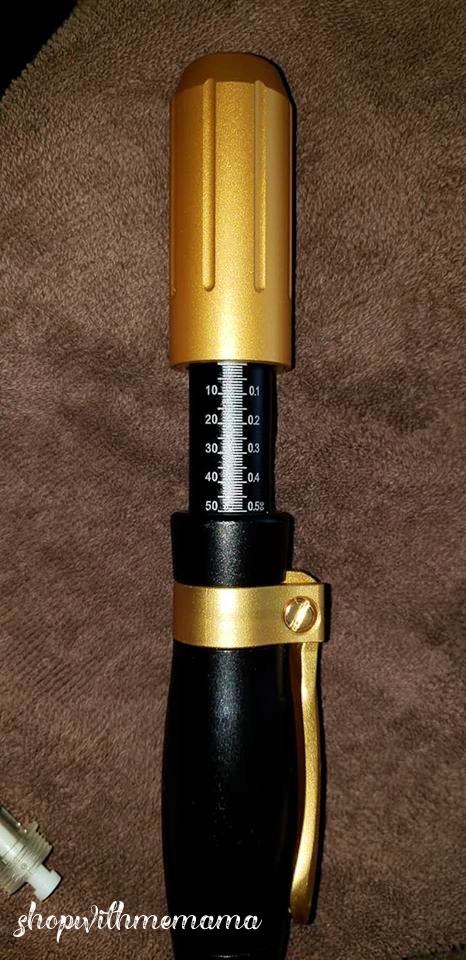 After doing a bit of research on the Hyaluronic Pen, I decided I must give it a try. So, I quickly purchased it. I bought it from Inoverstock, but I found that they also sell the Hyaluron Pens on Amazon.com. I spent around $140 on mine. You can find them on Walmart.com now for $57.88 which I thought was pretty cool!
Of course, ALWAYS buy the Hyaluronic Acid from a trusted dealer and do your own research. The hyaluronic pen I bought only came with the EMPTY ampoule heads (you fill these with the hyaluronic acid that you buy), and a user manual.
You have to buy hyaluronic acid from another site. I did not read things thoroughly and thought that my hyaluronic pen came with the acid, but when I received it in the mail, I quickly realized it did not. You can purchase hyaluronic acid HERE.
---
What IS A Hyaluron Pen??
Okay, let's talk more about what the Hyaluron Pen is! I advise you to search for Hyaluron Pen reviews on Youtube because that really gives you an idea of HOW to use the Hyaluron Pen.
There are SO many devices online that claim to do things to the human body and facial skin, so I searched for Hyaluron Pen reviews and watched a bunch of Youtube tutorials on using it. With any new technology, it is important to read up on it and learn exactly how to use it for the best results and to prevent injury.
I found out that the hyaluronic pen is a device that has a piston with a spring that provides a quick administration of hyaluronic acid into your skin. The Hyaluron Pen is an innovation that deposits Hyaluronic Acid fillers into the epidermal and upper dermal layers of the skin.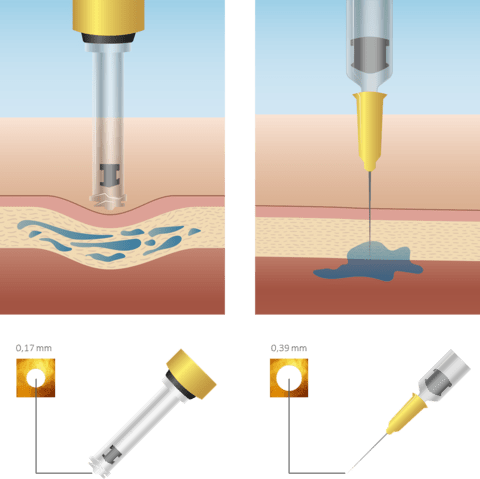 The microscopic hole it puts in your skin is how the Hyaluron pen administers the acid under the skin. The hyaluronic acid is absorbed and distributed under your skin better than if you were injected with a needle. It spreads out way better and distributes it more evenly.
---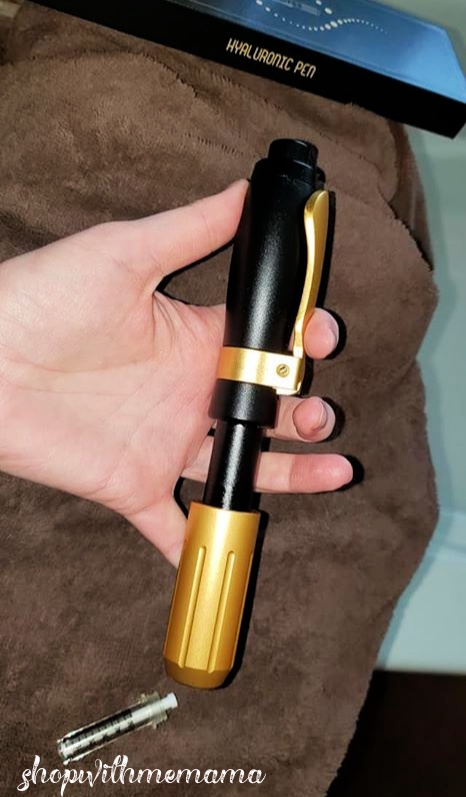 Let's Talk About The Hyaluronic Acid Fillers!
So, I went ahead and ordered the hyaluronic acid from this site. I bought the Hyafilia Classic filler. However, Hyafilia changed its name to Celltermi. It is the SAME great product, just a different name.
---
They have different kinds of fillers. Let Me Explain Each One Below!
*The Celltermi Gel P is a small crosslink
*Celltermi Gel C is a medium crosslink
*Celltermi Gel G is a large crosslink
It took about a week to finally receive my Hyafilia Classic Filler (you can also buy it here, just changed its name). It cost me about $57 for ONE syringe filled with Hyaluronic acid.
So, it basically was for one session of injecting it in my fine lines and some were left over for my lips. I should have bought more but wanted to see what it did for me, first, before investing in more.
Hyaluronic acid is a colorless and transparent gel-like substance that has no scent.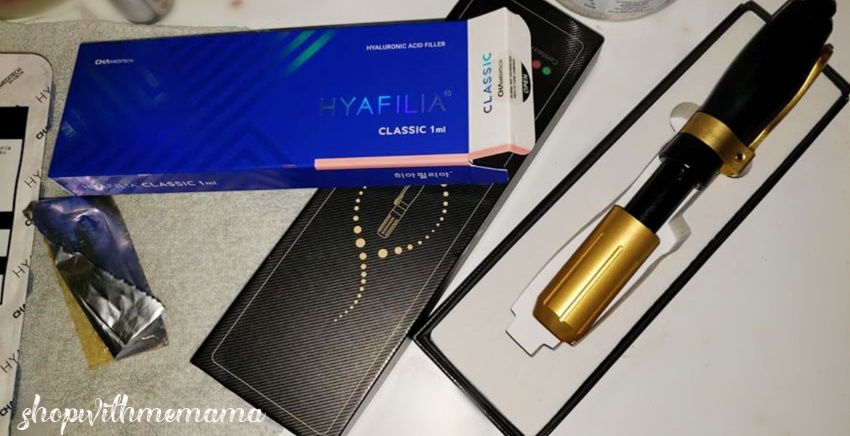 ---
Setting Up And Loading The Hyaluron Pen: Hyaluron Pen Review (My Hands-on Analysis)
I knew basically nothing about how to set up the Hyaluron pen or how to load it so I could use it. So, I watched several Youtube videos on Hyalulron Pen reviews and on how to do all that before actually trying to do it myself.
This stuff is way too expensive to just waste it! After watching tons of youtube videos on the subject, I felt I had the knowledge to try it myself.
Always make sure you have a sterile environment! Wash your hands, wear gloves, and then you can prepare your Hyaluron pen for use. I had rubbing alcohol nearby and cotton pads so I could swipe over the treatment area on the parts of my face I was going to use the hyaluron pen on.
After that, I took the Hyaluron pen and twisted it until it stopped.
Then I took the hyaluronic acid out of its packaging and took one of the empty ampoules and injected the Hyaluronic acid into the empty ampoule.
They have needles that come with the Hyaluronic acid so you can inject the acid into the empty ampoules easier, but I did not use the needles because it is easy to squirt the Hyaluronic acid into the ampoules.
---
Don't Overfill The Ampoule!!!
ALWAYS make sure when you put the Hyaluron acid into the ampoules that you leave a tiny space or air bubble at the end of it so when you screw the ampoule into the Hyaluron pen, you don't waste any precious Hyaluron acid!
Once you have your ampoule filled with Hyaluron acid filler, you then put the little plunger thing into the ampoule very carefully and then insert it into the end of your Hyaluron pen, screwing it into the pen slowly and carefully.
Once the pen is loaded with the Hyaluronic acid ampoule, you are ready to start! Time to do some hyaluron pen treatments!
---
Watch Videos (Training Courses)
I highly recommend watching any of these YouTube videos, to see how you fill the ampoules with Hyaluronic acid and how to set up the Hyaluron pen for injection. Those videos helped me SO much, to understand the whole setup process! Very important!
Once you feel COMFORTABLE with everything and on how to use the Hyaluron Pen, you are ready to start 'injecting'. Like, I said, I watched a ton of videos so I could actually feel comfortable with what I was about to do! So, make sure you feel comfortable!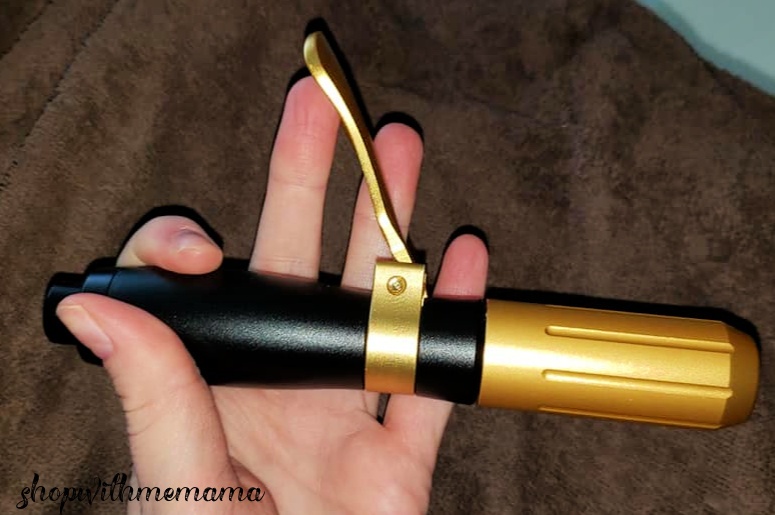 ---
Injecting Time!
The first time, you may be a bit nervous. I was! After all, watching those Youtubers do this, they always flinched each time they injected the hyaluronic acid. So, of course, I was a bit nervous about the 'pain' I might feel!
However, the first time I used it, the first 'injection' only felt like pressure and maybe a quick snap from a rubber band (kind of like a laser hair removal zap feeling). Other than that, nada!
---
What To Do First
You start off by taking your Hyaluronic pen and pulling up the lever on the side, then putting it back down. This allows air into the pen so that you can 'inject' your fine lines with the hyaluronic acid.
Each time you use the pen, you must lift that lever and get more air inside. There are no needles, just pressure that makes this pen work! And, when you lift the lever and put it back down for the next use, you also need to twist the hyaluronic pen so that you are getting the acid ready for the next injection.
It is hard to explain, so watch THIS YOUTUBE VIDEO to understand!!! It will give you a great visual of the whole process!
---
What Area I Did First
I started with my eleven lines (you know, the lines between your eyes). I used about half of the syringe for that area because I HATE those deep lines! I started at the top of that fine line and worked my way down.
Each time I did an injection, I then rubbed that area for a bit to get the product leveled out. If you don't rub the area right after you inject the hyaluronic acid, then it might stay in that one area and leave a lump. So, I was taught to rub the area.
After I was done injecting my eleven lines, I proceeded to my mouth or frown lines. I have a line on either side of my mouth that looks like I am frowning and I HATE them! So, I injected hyaluronic acid into those two lines on either side of my mouth.
---
Time To Do My Lips Using The Hyaluronic Pen Lip Filler
Next, I went for my lips. I started on the side of my lips that I thought were not as 'full' as the other side. I evened my lips out. Sometimes, after injecting, a little spot of blood would come out of that area. That is totally normal. I would just use my cotton ball with rubbing alcohol and wipe the blood off and then just keep going.
When the ampoule is empty or you are finished, you HAVE to throw away ANY unused hyaluronic acid in the ampoule you screwed into the Hyaluron pen. You can't save it and use it at a later date.
That is why I opted to use all of mine in one session. It is too expensive to waste. And, if you have any remaining in the syringe you used to insert into the ampoule, you MUST use it ASAP.
---
What Are My Results from Using the Hyaluron Pen? My Personal Results and Analysis!
Day One (After injecting the night before):
Okay, so obviously the night that I used the Hyaluron Pen, I was a bit swollen. I did not bruise at all though. The next day, my lips were pretty swollen and they hurt!
My lips looked like I got lip augmentations done! The area between my eyes (my eleven lines) was VERY sore too. The lines around my mouth barely hurt at all.
In my experience, I noticed a very slight difference in my eleven lines. They were not as deep as they had been before using my Hyaluron Pen. I am pleased with my lips and my eleven lines! The lines around my mouth were still there and I noticed no difference at all with those.
Day Two:
My lips are not swollen anymore, or are they? By analyzing the results, I could tell I did 'something' to my lips, but nothing was overly swollen or funny looking. My lips look natural and are pretty.
They are still tender though, but not too bad. My eleven lines still look LESS deep but they still HURT. Ouch! Still no bruising around the treated area.
---
A Week After Injection: Hyaluron Pen Review Results
My lips are still full-looking! Yay! I am pretty sure the swelling is gone, so these are just my lips now. I am happy with them. They are a little bit fuller than they used to be.
That makes me happy. If a friend saw me, they would NEVER know what I did to them because they are subtle. Very subtle. They are also not tender at all anymore.
My eleven lines are still LESS deep than they used to be. I like that! They also are not hurting anymore, yay! I am pleased with how they look but think next time, I will buy the Grand filler and use that to really get those eleven lines good! I want them gone! Gah.
The lines around my mouth are still there and the filler did nothing for them. However, I am sure it is because I barely put much filler in that area. I was more focused on my eleven lines and lips! And they look good!
So, next time, I will focus more on those two lines around my mouth (the marionette lines) and update you all then.
---
Lip Injections Before And After Pictures: Hyaluron Pen Review (Personal Before and After Pictures)
Here is a picture of my lips right before I injected them using the hyaluron pen lip filler:

Here is a picture of my lips right after the injection of the hyaluronic acid pen:

So, a tiny difference in lip plumping and I like it!
---
My Eleven Lines Before And After Pictures: Hyaluron Pen Before And After
Here is a picture of my eleven lines right before I used the hyaluronic pen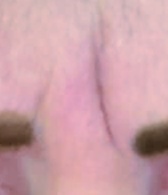 After: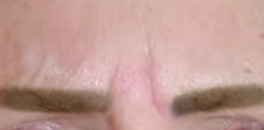 A little difference! My forehead wrinkles look less noticeable, don't you think? Check out my Google Web Story to see more!
---
Anyway, I just wanted to share my personal experience and results from using the Hyaluron Pen with you all! I was so curious about it when I saw it in that Facebook ad! It was a great experience and I will be ordering more Hyaluronic Acid in the near future, to try it again!
Of course, this will not replace me getting Botox or lip fillers from a spa, BUT, this is a good alternative for right now when you can't get out and are under quarantine! I do recommend this product. However, I am not a doctor and you should always do your own research before trying anything like this.
I put a coat of my favorite lip plumper on my lips and voila! My lips are PERFECTLY plump now! I love my lips!
---
UPDATE for 2023
I get emailed ALL the time about people asking me if I still use the hyaluronic pen. And, the answer is, no. I now get Botox on a regular basis so I have no need for the hyaluron pen. However, I never had any adverse reactions or side effects from using the hyaluron pen.
Just remember to ALWAYS clean your device between uses to avoid any kind of infection. Common sense!
I have also updated the buying links since I now buy from these places. See the links below!
Any Health Risks? What Are The Side Effects Of Using Hyaluronic Acid?
Such risks or Side effects from the hyaluron pen and warning signs may include:
– Inflammatory reaction in the location of manipulation (swelling, erythema, redness, etc.), which may be accompanied by itching, as well as pain while pressing. Such an inflammatory reaction can last up to 7 days.
– The appearance of bruising.
– The appearance of compaction or nodules at the injection location.
– Coloration or discoloration of the skin in the area of the injection site
---
Is The Hyaluron Pen Dangerous? (Safety Of Hyaluron Pen)
I read somewhere that people were saying that the hyaluron pen is dangerous. A way this could be potentially dangerous is if you did not disinfect the area that you are treating and if you did not disinfect the hyaluron pen.
In severe cases, bacterial and fungal infections have occurred because the device was contaminated, so make sure it is CLEAN! Use the hyaluronic acid in a timely manner and don't try to use it at a later date.
ALWAYS do your own research and do what is best for you! I am not a doctor or dermatologist, and I am only sharing MY experiences using the hyaluron pen. Your outcome may be different (duh!). I recommend doing research and talking with your dermatologist.
---
Blood Vessels And The Hyaluron Pen
There has been some talk about hyaluron acid getting into the wrong places like your blood vessels. And, sometimes, one person may have a reaction to their injection because of an allergy to the materials used to create the filler. Vascular contention is also possible with any injected material.
People are also being told that there is no risk of vascular occlusion (blood vessel), but the hyaluron pen can occasionally cause damage to the blood vessels if done improperly. You can find out more about that HERE.
However, it is said that the pen cannot infiltrate a blood vessel like a needle or other injection devices with needles, so it is unlikely to cause a (worst case) vascular injury.
Since this is not a needle and uses force, and only reaches the papillary layer of the dermis there seems to be a minimal risk with this. Plus, there are no sharp tips (needles) to puncture any blood vessels.
If in doubt, always consult your local med spa and leave this up to the medical professionals if you are unsure.
---
What You Need To Know About The Hyaluron Pen At Home Lip And Line Plumper
So, what should you know about the popular hyaluron pen and hyaluron pen filler? I have a recap of my article above, for you below!? I have a recap of my article above, for you below!
*It is non-invasive
*You can purchase it online and have it delivered to your doorstep
*You can do your own injection of hyaluronic acid (facial fillers) from the comfort of your home
*It can plump up your lips and fill in fine lines and wrinkles
*A fraction of the cost of dermal injections you get at a Med Spa
*Hyaluronic acid is a naturally occurring substance found in human tissue
*Use the hyaluronic acid in a timely manner and don't try to use it at a later date
*Disinfect everything before using it
*Hyaluron pen can be used to create more volume in your lips or to plump up fine lines
*I recommend doing research and talking with your dermatologist before using the hyaluron pen
---
NOTE: I am NOT a certified dermatologist or doctor and I do not claim to be one. This is MY experience with the hyaluron pen and my results. Your results may vary! Everybody is different! Do your own research, please especially if you have any health conditions or concerns.
Buy
There are SO many Hyaluron Pens, you just have to do your research. You can find them on Walmart.com now. You have to buy the Hyaluronic Acid filler separately. You can find that HERE.
I hope my Hyaluron Pen review helped you understand the process better! If not, check out the Youtube videos I posted above! Let me know if you decide to do this. I would love to hear your thoughts and experiences! Feel free to email me with any questions too!
PIN IT