This post is all about Sunless Tanners: The Best And The Worst Self-Tanners! Have you ever wondered which sunless tanners work and which ones don't? I have tried SO many self-tanners in the past and I KNOW which sunless tanners give you a golden, gorgeous glow and which ones give you an orange, streaky 'tan' (I ALWAYS burned first!). I tried a TON of them so you don't have to! This whole blog post is about Sunless Tanners: The Best and The Worst! Read on for all the details!
It is so hard to get your glow on when you are confused about which self-tanning products work the best. I have been using them my whole life (since I was 13!), so I know a good sunless tanner when I see one. I know how to prep my skin for a golden, even sunless tan and I know what to do if you make a mistake and need to get that sunless tanner off your skin in a hurry!
I used to tan out in the sun ALL the time! I am a natural redhead so you know that my skin is NOT supposed to be baked out in the sun. However, all three of my older sisters did it, so I did too! It was just the thing to do back in the '90s! That and going to a tanning salon and baking my skin in tanning beds when I could not lay out in the sun really damaged my skin.
I am SO lucky that beyond tanning, I did take good care of my skin though. I always moisturized and exfoliated my skin. My mom taught me early on to do that so I have been taking good care of my skin my whole life, minus the excessive tanning! Ugh.
Skin Cancer 🙁
I know this post is about sunless tanners but I want to explain to you why I now love self-tanners and am not a sun worshiper anymore! Last year, I noticed spots on my skin and went to the dermatologist. The spots turned out to be cancerous and I have quite a few of them! I did not know how horrible the process was going to be when they took them off of me! I even got stitches! I thought they were only going to burn them off but no! They CUT them off of me!
I still have quite a few that need to come off of me and so thinking back to all that tanning (AKA burning!) I did to my skin back in the day is definitely haunting me now 🙁 Just don't do it, kids! Don't abuse your skin as I did! It is not worth it and the tan/sunburn will fade but the damage will always be there 🙁
Okay, back to Sunless Tanners: The Best And The Worst Self-Tanners
*This post includes my affiliate links
Alright, back on the subject of the best and the worst self-tanners on the market! Below are my FAVORITE sunless tanners that I have ever used. One of them doesn't even have a sunless tan scent! Yep, it is true!
The Best Self-Tanners
1. Jergens Natural Glow Instant Sun Body Mousse
Jergens Natural Glow Instant Sun Body Mousse HAS to be my ALL-time favorite sunless tanner! I buy the Deep Bronze even though my skin is fair colored. This is one that I go back to over and over again after trying other sunless tanners. I love this self-tanner because it works SO well. I have never been disappointed by this tanner, ever! It is a mousse and it goes on effortlessly. I love mousse self-tanners because they go on your skin so nicely. It is dark-tinted so you can see where you put it on when applying it to your skin. And, you will be immediately tan after application! Love it.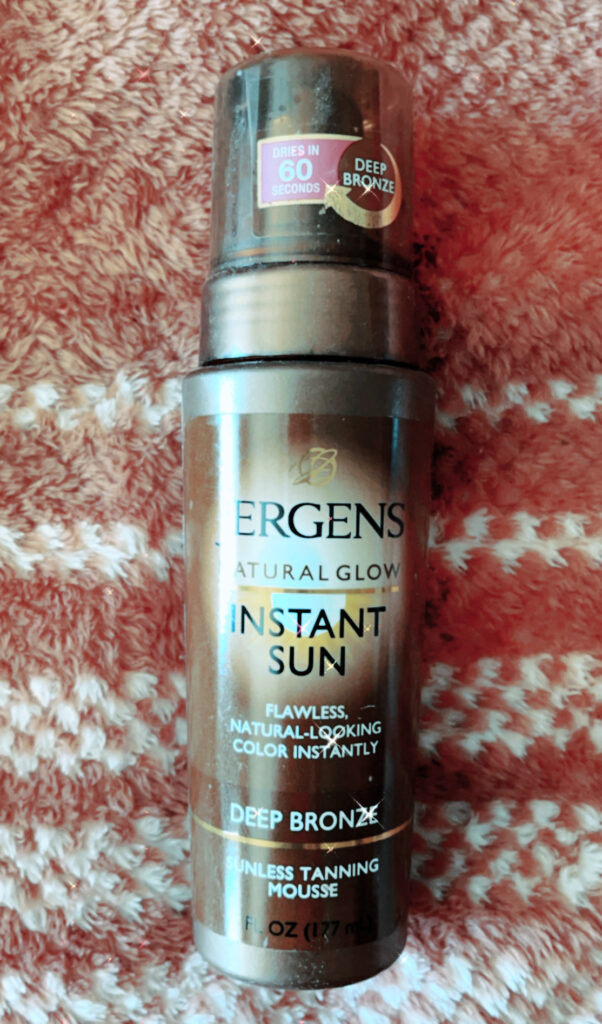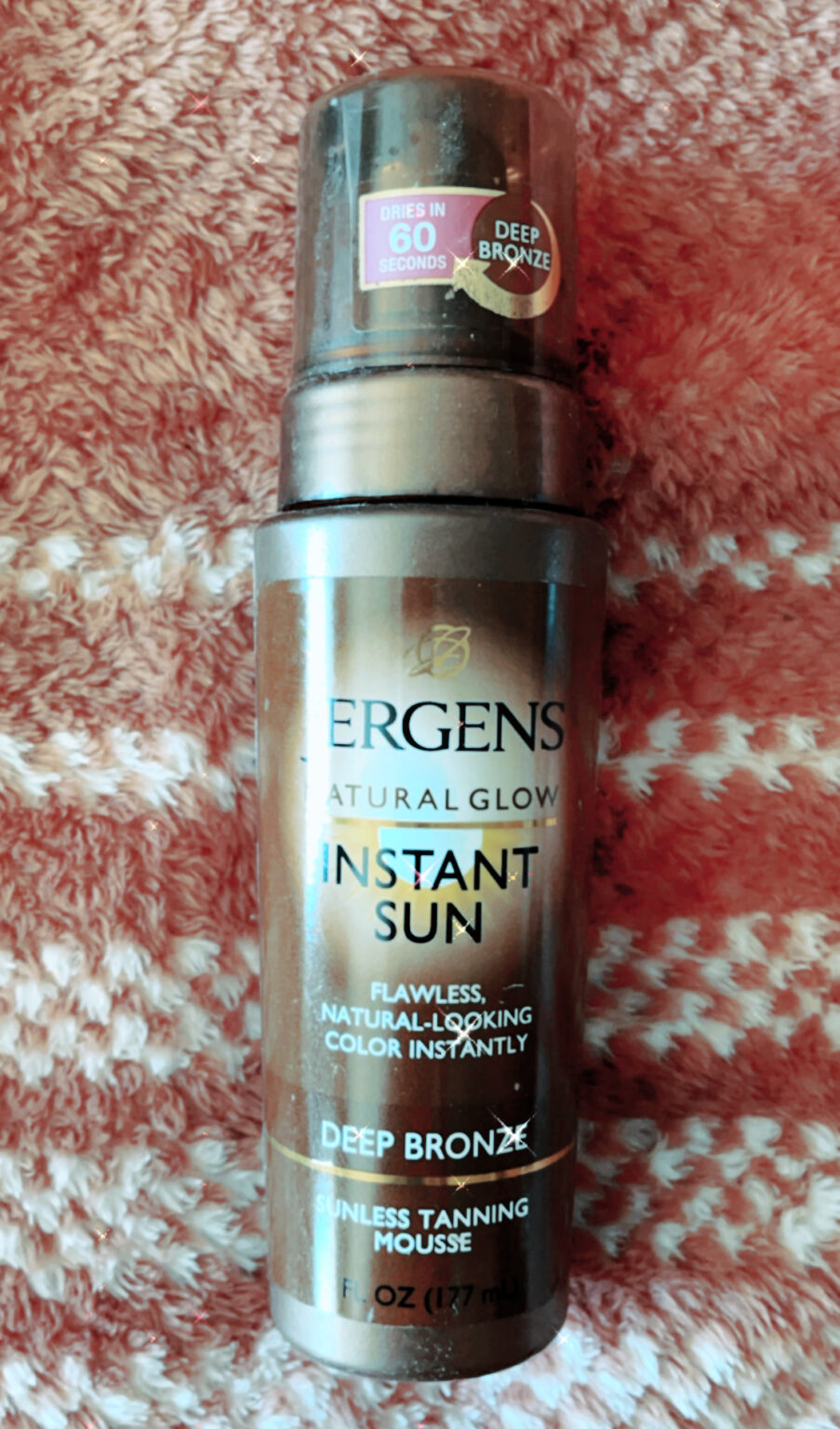 This one does have a self-tanning odor as it is developing. It has a nice scent going on and as it develops into a tan, it starts to give off that all too familiar odor of sunless tanners. But, it is SO worth it because the tan you get afterward is absolutely flawless and gorgeous! I always have a bottle of this on hand in my cupboard.
I Am Wearing It In This Picture Below (don't mind the tiny black dots, those were pesky bugs because my sis and I were at the lake!):
It retails for $10.63 on Amazon.com. I absolutely recommend using a self-tanning mitt to apply any sunless tanner. And, it looks like there is an option on Amazon.com to grab the Jergens Natural Glow Instant Sun Body Mousse AND mitt but that is out of stock right now, but you can just buy the mitt separately. (see links above!)
2. Completely Bare Don't Grow GLOW
Where was this all my life??? This is a gradual self-tanner that not only gradually gives you a gorgeous glow, but also helps to slow the growth of your body hair, Ummm, YES, please! I was skeptical at first only because I like a sunless tanner to just be a sunless tanner. I never liked anything 'extra' only because it would mess with the whole 'tanning' process. However, this sunless tanner did not! It helped me achieve a golden glow (I used it every day for one week!). I haven't used it long enough to see if any hair growth has slowed down, but when I do notice, I will update this post to let you all know.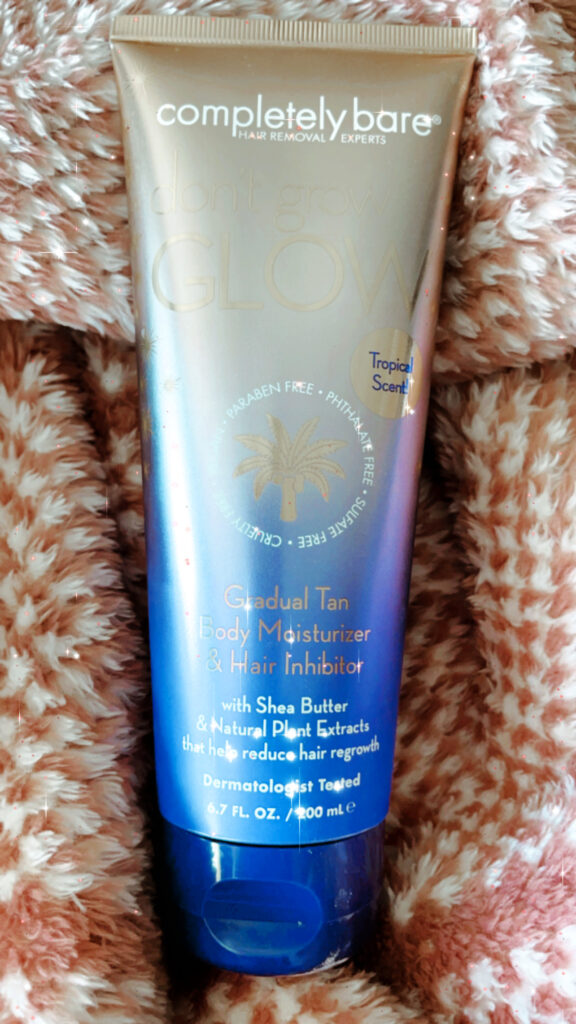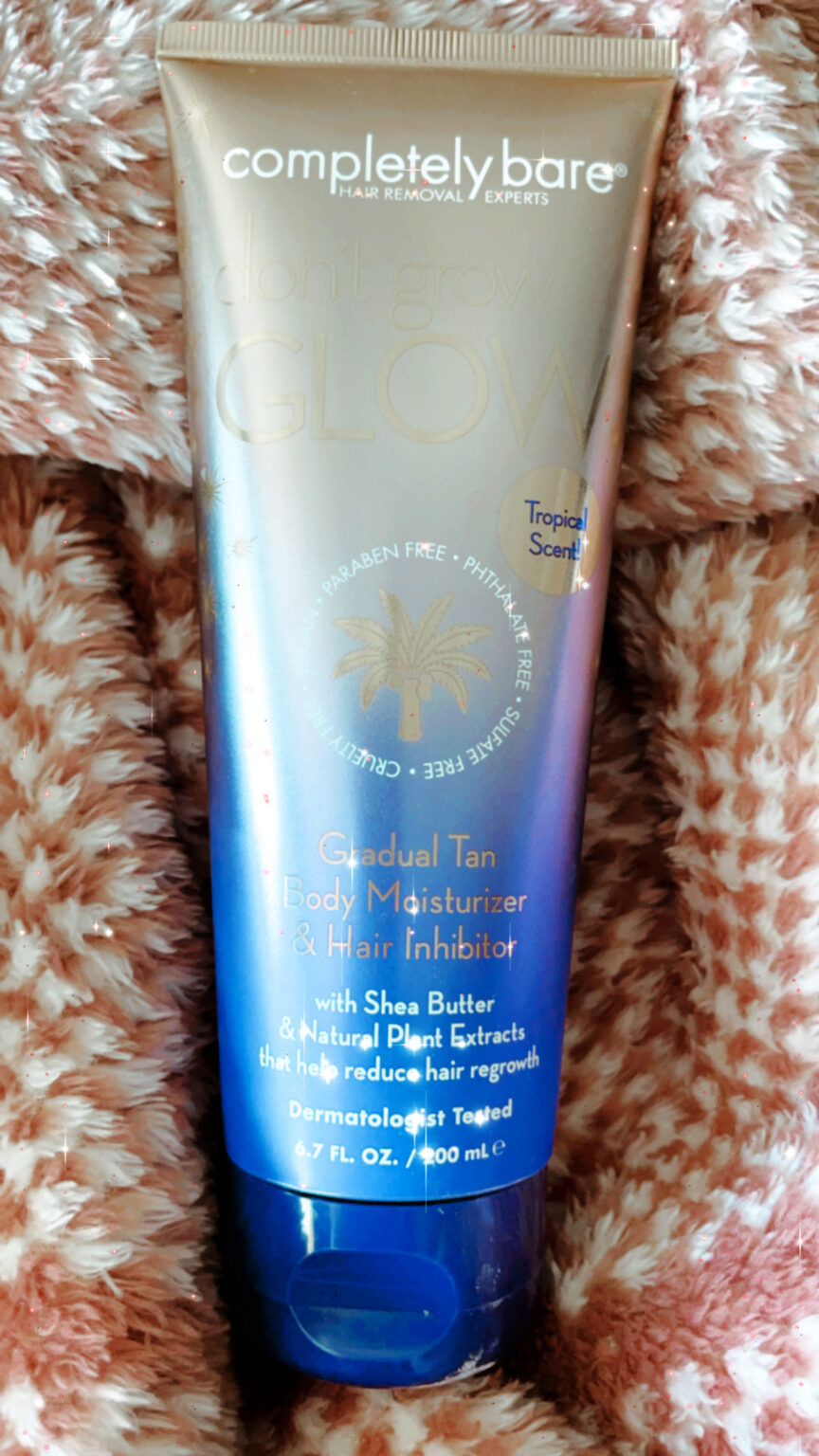 Also, the Completely Bare Don't Grow GLOW smells AMAZING!!! Think of sitting on a tropical beach and smelling the coconut trees nearby! Ahhhhhh! Yep, that is what it smells like! This lotion is also moisturizing. So many sunless tanners pull moisture from your skin but this one does not. It really, deeply moisturizes your skin and leaves it a super soft feeling (and tanned!). This has Shea butter and natural plant extracts that help reduce hair regrowth. It also has white Willow Bark that helps calm & soothe skin and also helps prevent razor bumps. It is Paraben & Phthalate Free and has a Vegan & Cruelty-Free Formula.
Picture Of One Leg After Using This For One Night, And The Other Leg Without So You Can Compare: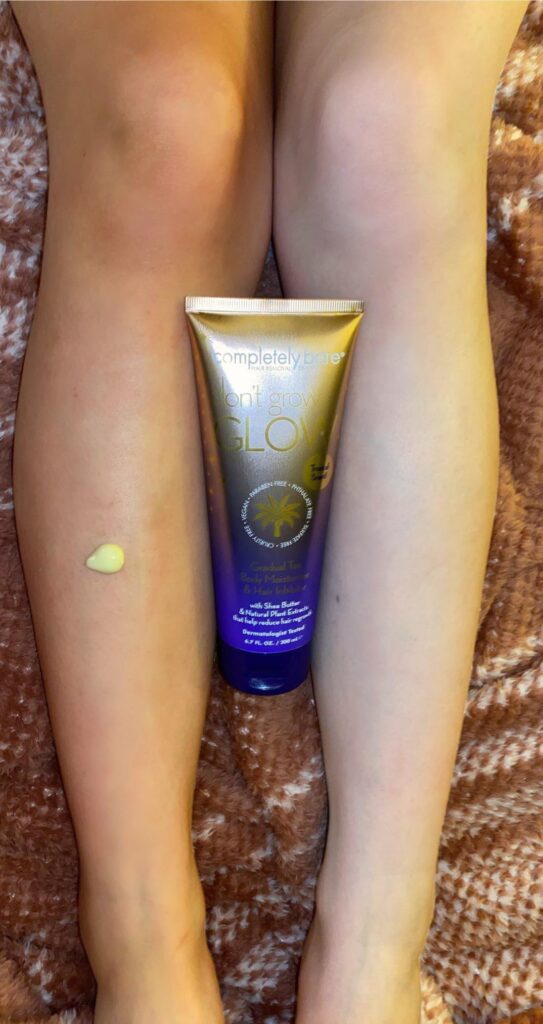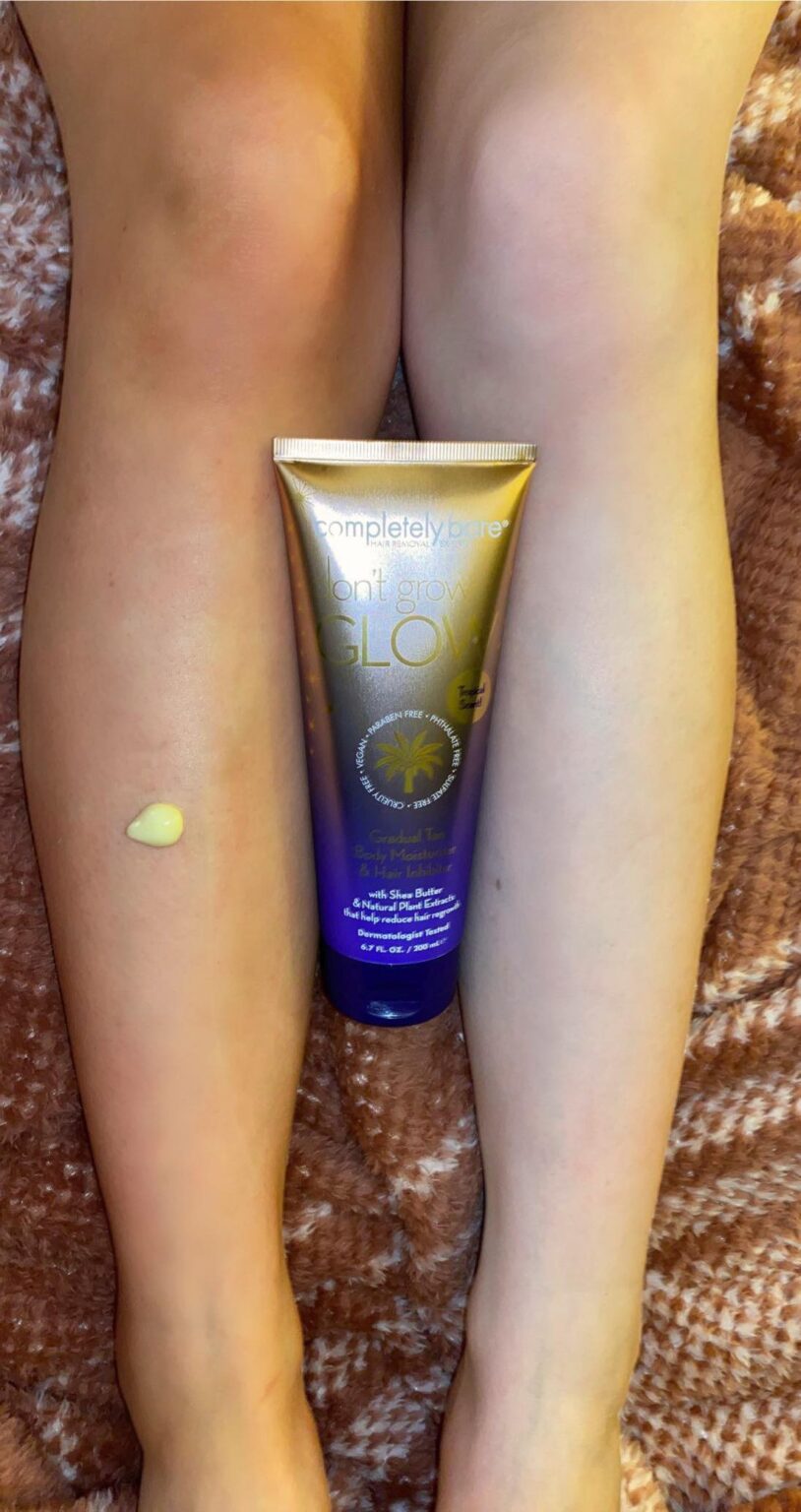 Directions: Apply to clean, dry skin in an upward circular motion across the face, neck, and body. Wash hands after application. Wait until your skin dries before applying makeup. Allow four to eight hours before getting wet.
This retails for $17.00 (if you have Rakuten, you can get 3.5% cashback from buying this!). You can also get $5 off your order if you sign up for the Completely Bare newsletter! Use code GLOWNBeholdDGG for free shipping!
3. Sun Serum Glow Boosting Tanning Drops
I LOVE this stuff! You add this to ANY moisturizer you have and instantly turn your lotion into a sunless tanner! How brilliant because now you get to choose which lotion and know it will smell GOOD! Plus, it does smell good 🙂 The Sun Serum Glow Boosting Tanning Drops are also SO moisturizing just by using it alone. With just one pump of the Sun serum, you will turn any face or body cream into beautiful skincare-enriched sunless tanner. You can use more based on how dark of a tan you want to achieve.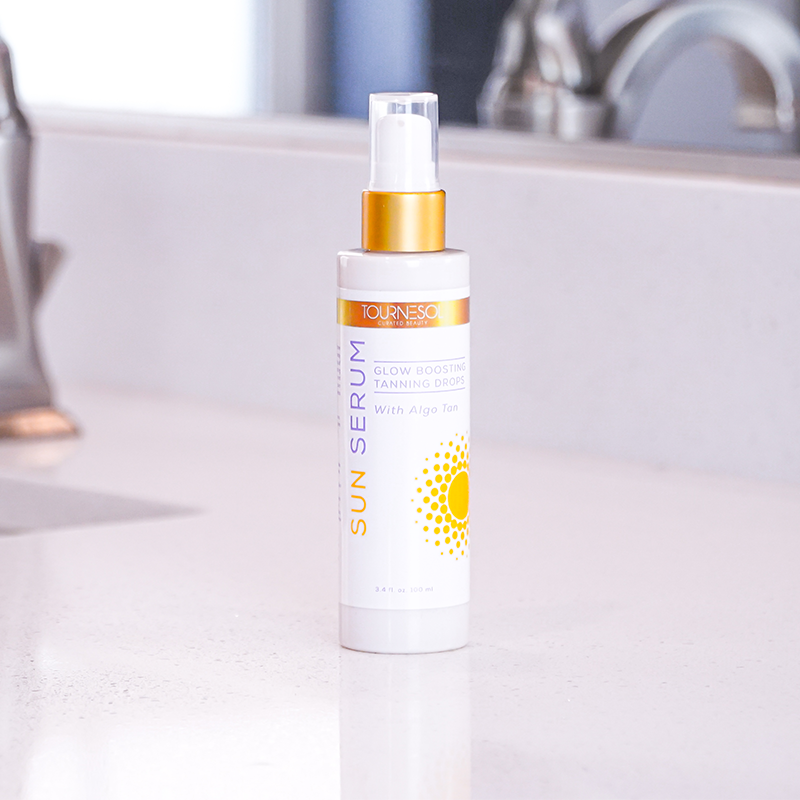 Tournesol's innovative anti-aging tanning Sun Serum is packed with nourishing ingredients such as Aloe, Shea Butter, Acai, Sunflower seed oil, and green tea extract. The serum is also formulated with our proprietary complex Algo-Tan. Along with the DHA, this combination provides a deeper, longer-lasting tan.
Me wearing this sunless tan (don't mind my lips, I just had lip filler done :))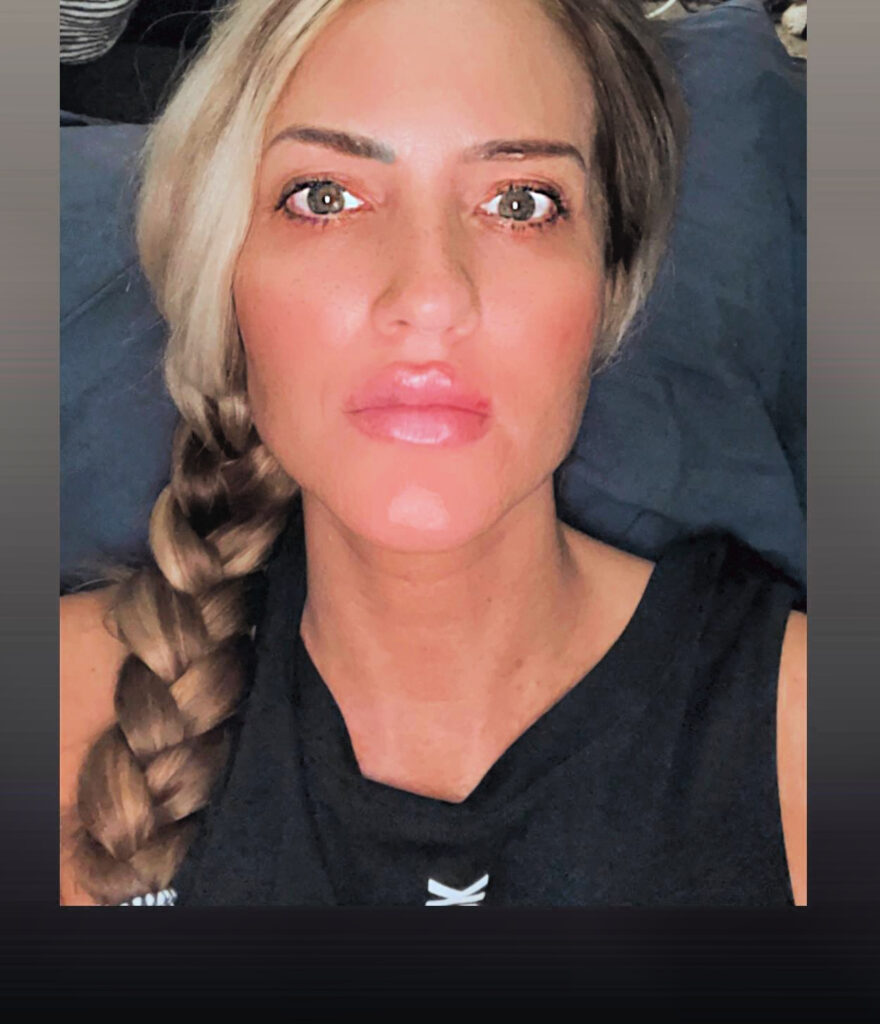 This retails for $24 and is currently sold out because it is SO wonderful! Should be restocked shortly.
4. Face Soleil Self Tanning Pads
I really like the face Soleil self-tanning pads for my face and neck. The pads are simple to use and I use a tanning mitt when I apply them only because no one wants stained hands, right? A pretty tan starts to develop after about 2-3 hours and deepens with time. These are self-tanning face pad that develops a rich color while providing exfoliating and anti-aging benefits.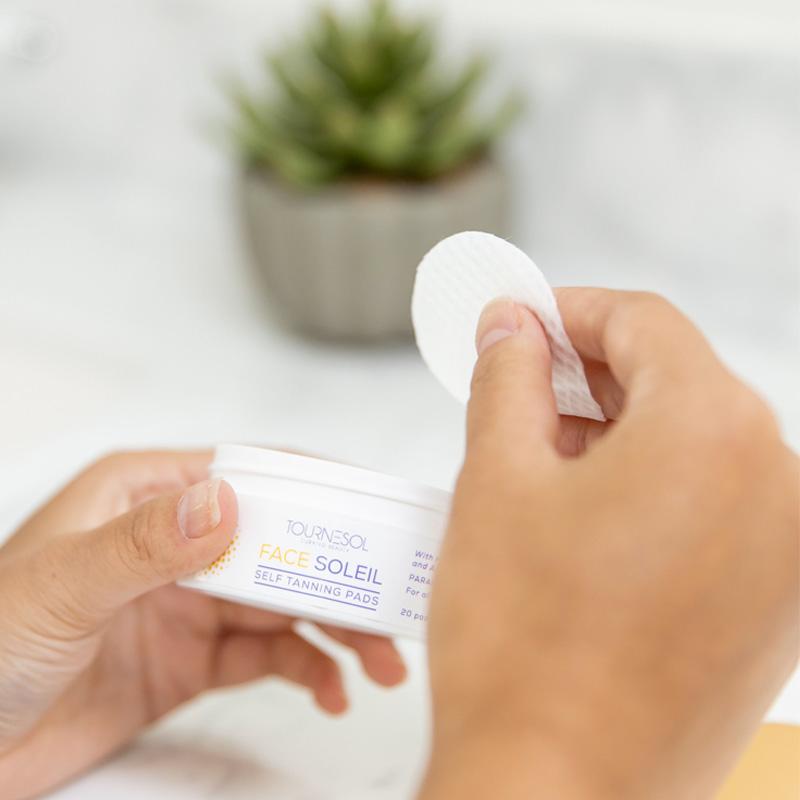 Face Soleil Self-Tanning Face Pads have been developed specifically for the delicate skin on the face. The quick-drying formula provides a streak-free, natural-looking tan that fully develops within two hours. Enriched with Aloe, Hyaluronic Acid, and Aquacell technology the formula provides maximum hydration and anti-aging benefits to the skin. Aquacell increases the delivery of hydration to the skin and helps to reduce fine lines and wrinkles. The self-tanning pad also contains AlgoTan ™ technology that produces a tan from within by stimulating the melanin in the skin. The results are no mess, no orange, beautiful radiant tan skin!
These retail for $26 for 20 pads. I recommend Soleil PreTan Prep for a beautiful, even tan! I use it in the shower, right before I am going to apply my sunless tanner and it smoothes out my skin perfectly.
5. Hanalei Self-Tanning Mousse
As I said above, I really love using tanning mousse only because they go on so well and dry pretty quickly! No waiting to put on your clothes. I don't usually have a lot of time after my baths at night to wait for sunless tanning creams to work, so tanning mousse's definitely quicker to dry so I can get on with my evening!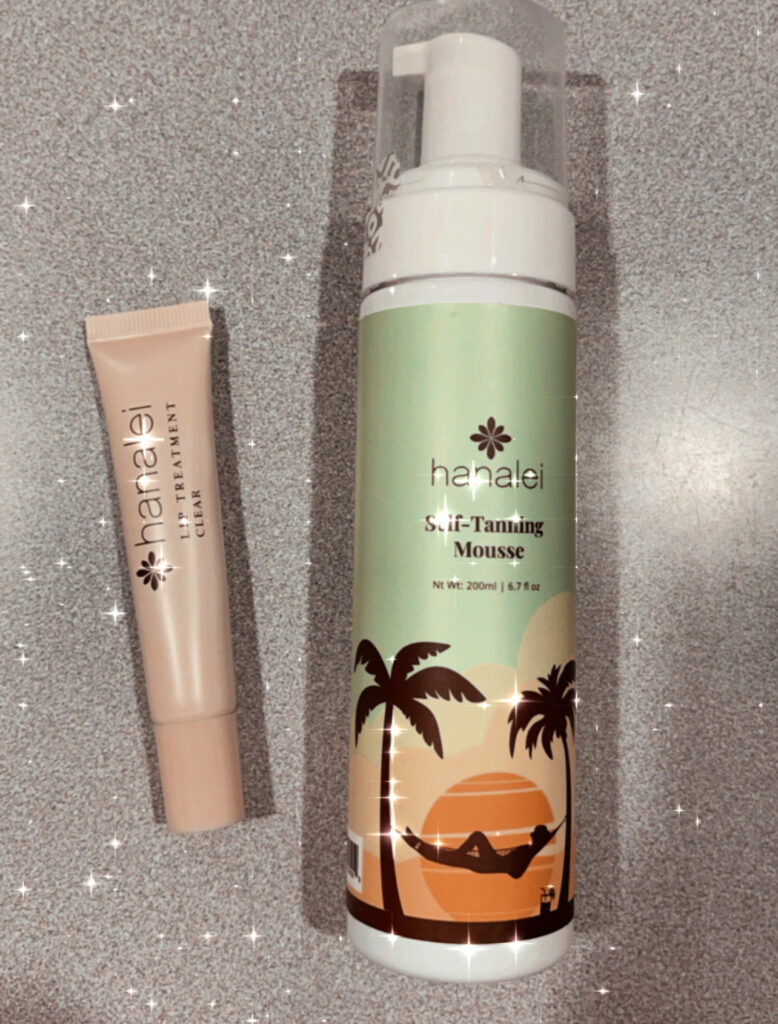 The Hanalei Self-Tanning Mousse is another favorite of mine! I only just found out about this brand and now it is one of my favorites. This is a creamy mousse sunless tanner and it absorbs rather quickly into my skin. Right away I have an instant glowing tan! Love it!
This is a natural-looking, radiant tan no matter what time of year you use it! Your skin will be kissed by the sun! This is a lightweight, violet-based formula that helps to create the perfect bronzed glow for your weekly beauty routine, special event, or a day out in the sun. Ideal for individuals looking for a dark but natural-looking tan, this bronzing mousse provides a flawless blend, and a sun-kissed glow with no streaks, stickiness, or transfer.
I am wearing this sunless tanner in the picture below! Looks so natural, I love it!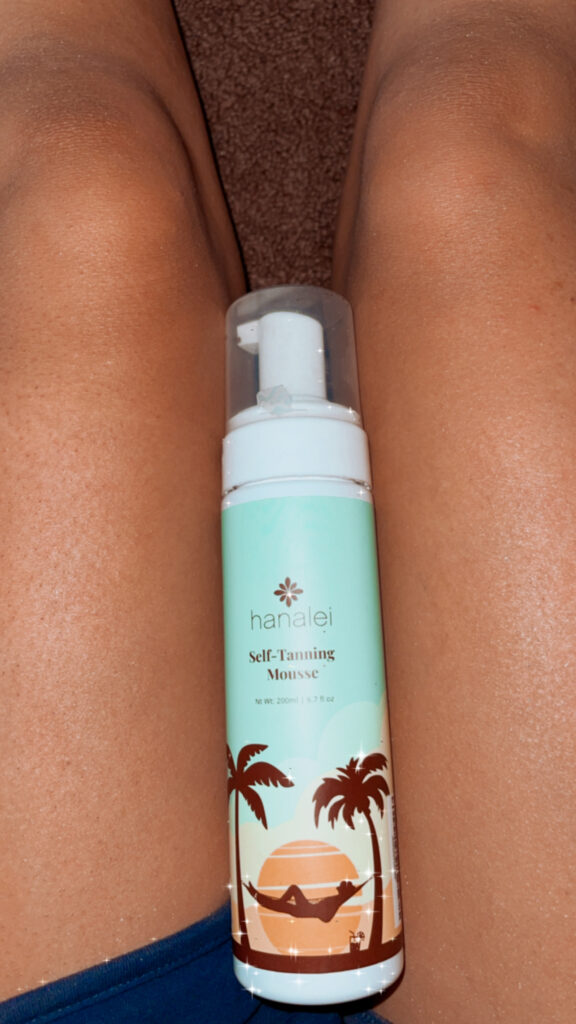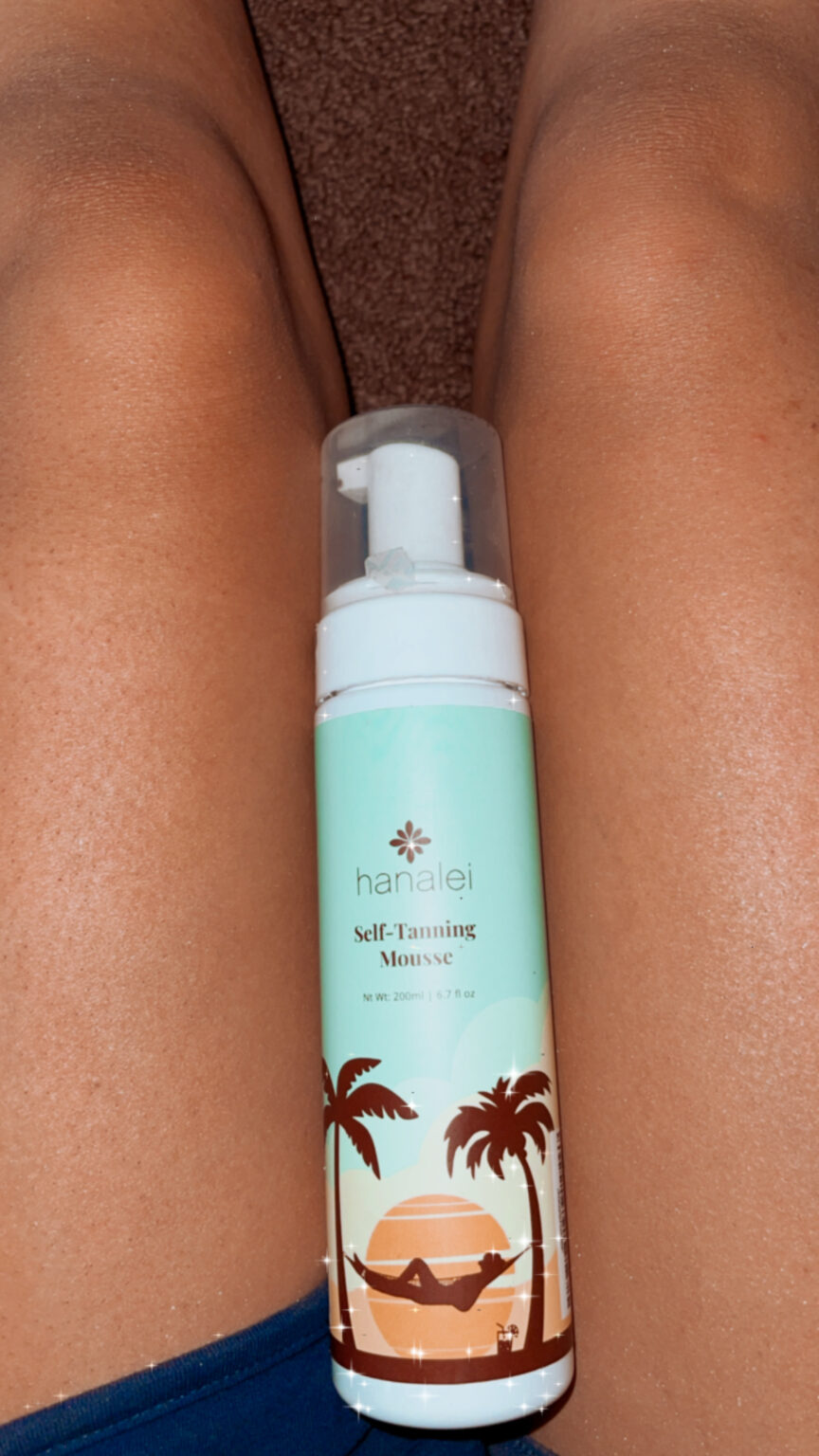 Features:
The violet-based self-tan mousse darkens over time to help you glow like a Hawaiian goddess
Lightweight, non-streaky formula
Fast-drying formula with no transfer
Cruelty-Free, Paraben-Free, and Sulfate-Free
Plus, it doesn't give off a terrible sunless tanning scent that I despise! This retails for $28. I recommend buying the application mitt with this so your tan doesn't get on your palms. Sign up for their newsletter and get 25% off your order. Totally worth it.
6. Madeline Sunless Bronzing Mousse
This is another brand I only just found out about and love! Their sunless bronzing mousse tans you evenly and immediately and the tan lasts me a couple of days! It doesn't stink and just looks so natural!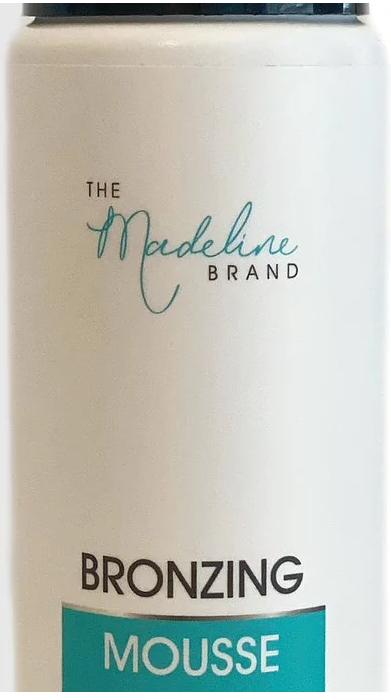 This self-tanning foam is formulated with naturally derived ingredients and with the lightweight formula, it allows for easy application and flawless bronzing results. Great for all skin types and skin tones. The Madeline Bronzing Tanning Mousse is perfect for clients who would like a simple at-home tanning product. This product can be used as a stand-alone product or in conjunction with a fading spray tan.
*The lightweight formulation for steak-free, easy application
*Contains 10% DHA for medium, buildable color
*Natural bronzers provide a washable color guide for even application and immediate bronzed benefits
I am wearing the Madeline sunless tanning mousse in the picture below! Sunless Tanners: The Best And The Worst Self-Tanners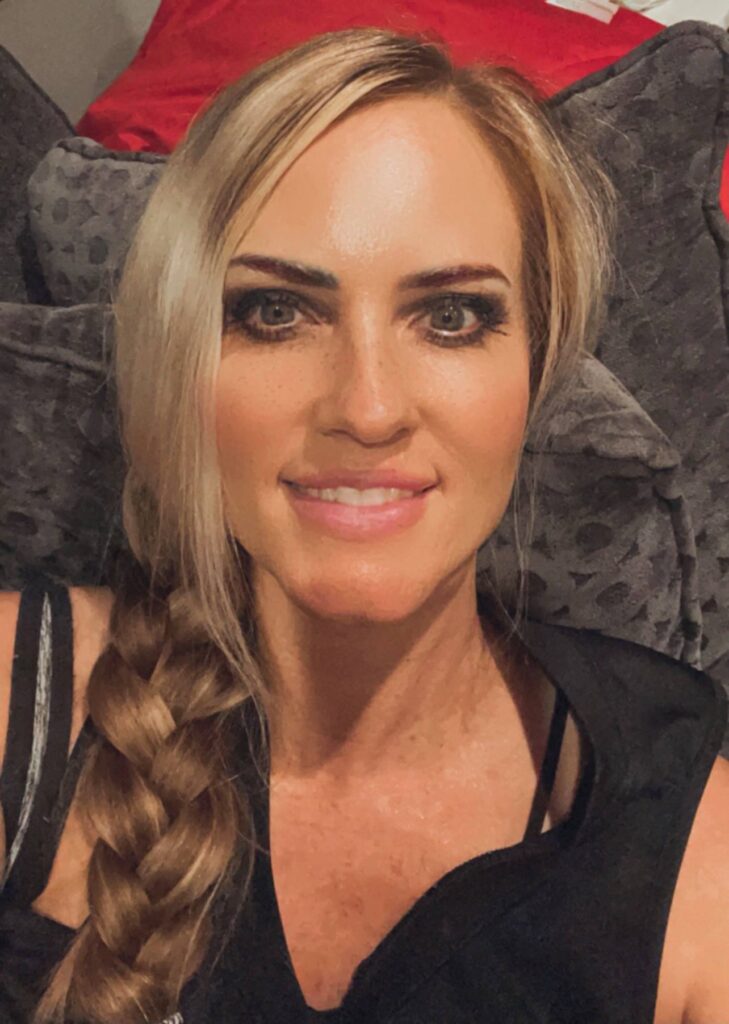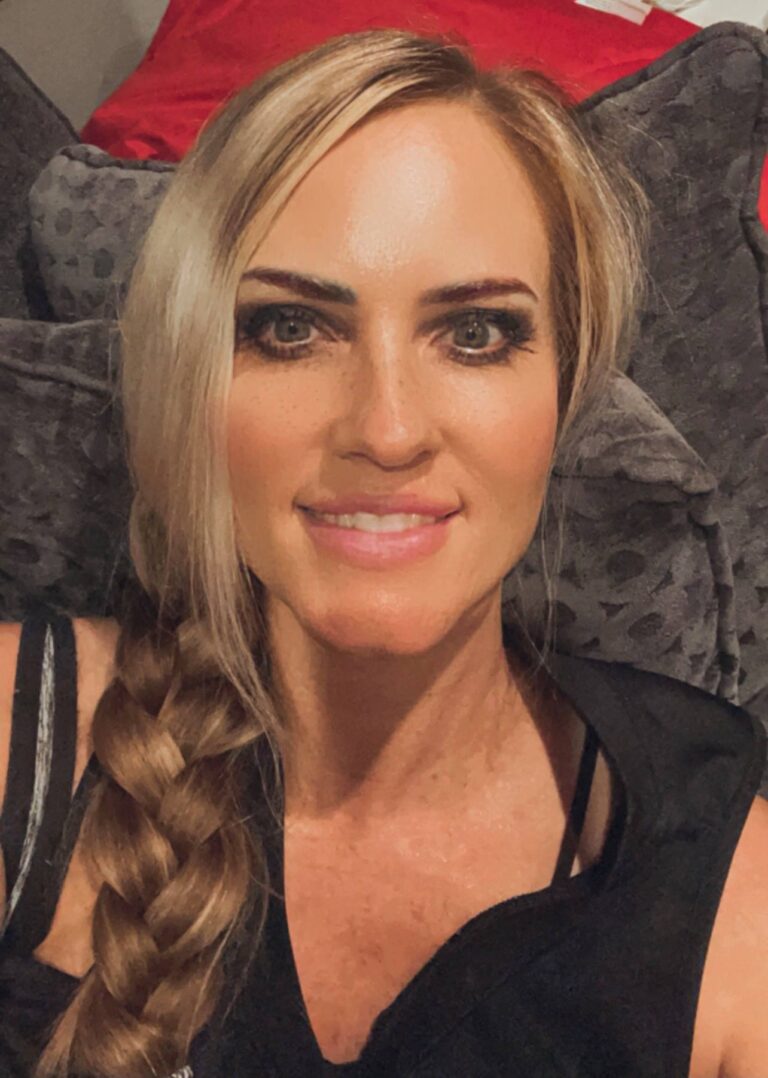 How to use:
Pump a liberal amount of mousse on to applicator mitt and apply in long circular motions to the face and body. Use any excess product to lightly blend over the hands and feet. For best results, wait for 8 hours before showering.
The Madeline Sunless Bronzing Mousse retails for $35.00
7. Coco & Eve Sunny Honey: Sunless Tanners: The Best And The Worst Self-Tanners
I cannot say enough GOOD things about this sunless tanning mousse!! I am going to buy them out because this is hands down the BEST tanning mousse out there (that I have tried!). It doesn't have that processing sunless tanning smell (at all!! even when developing!) and it literally gives me the best fake tan EVER. I am not kidding!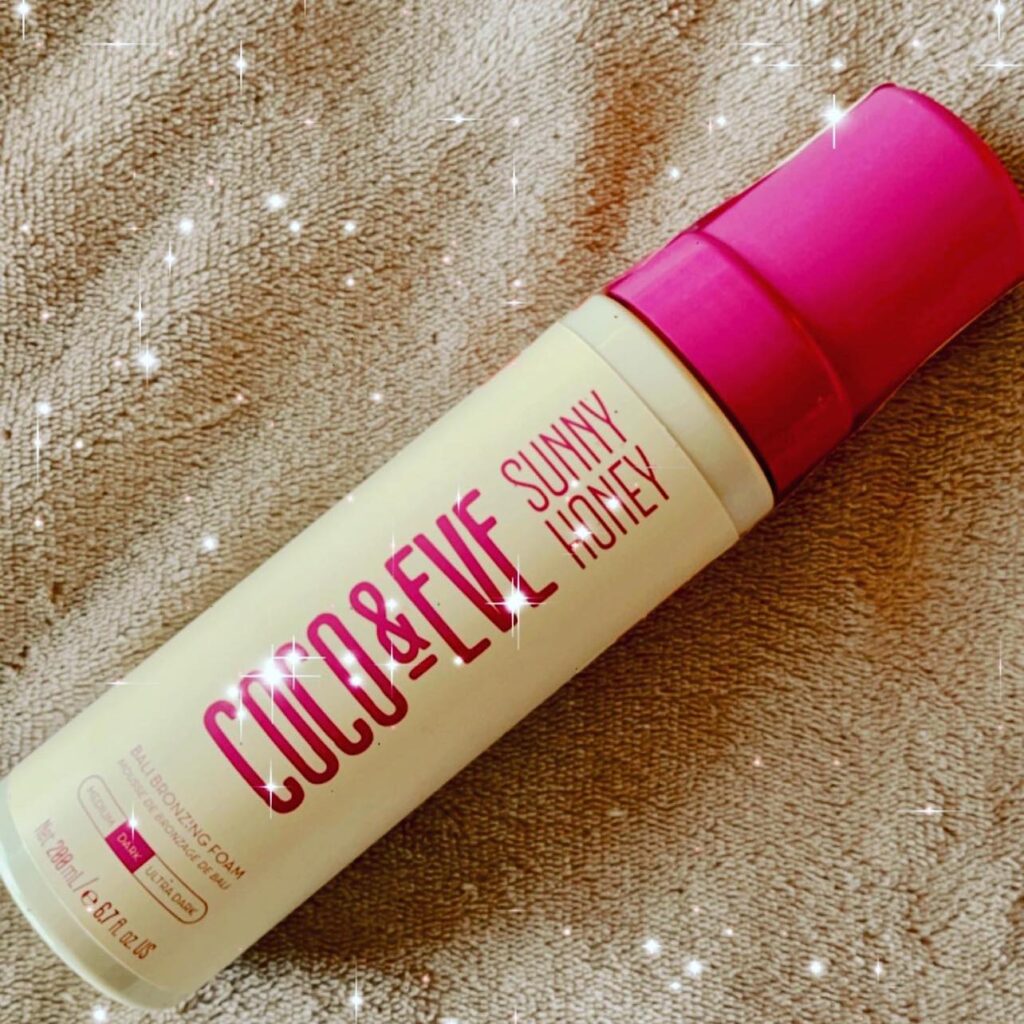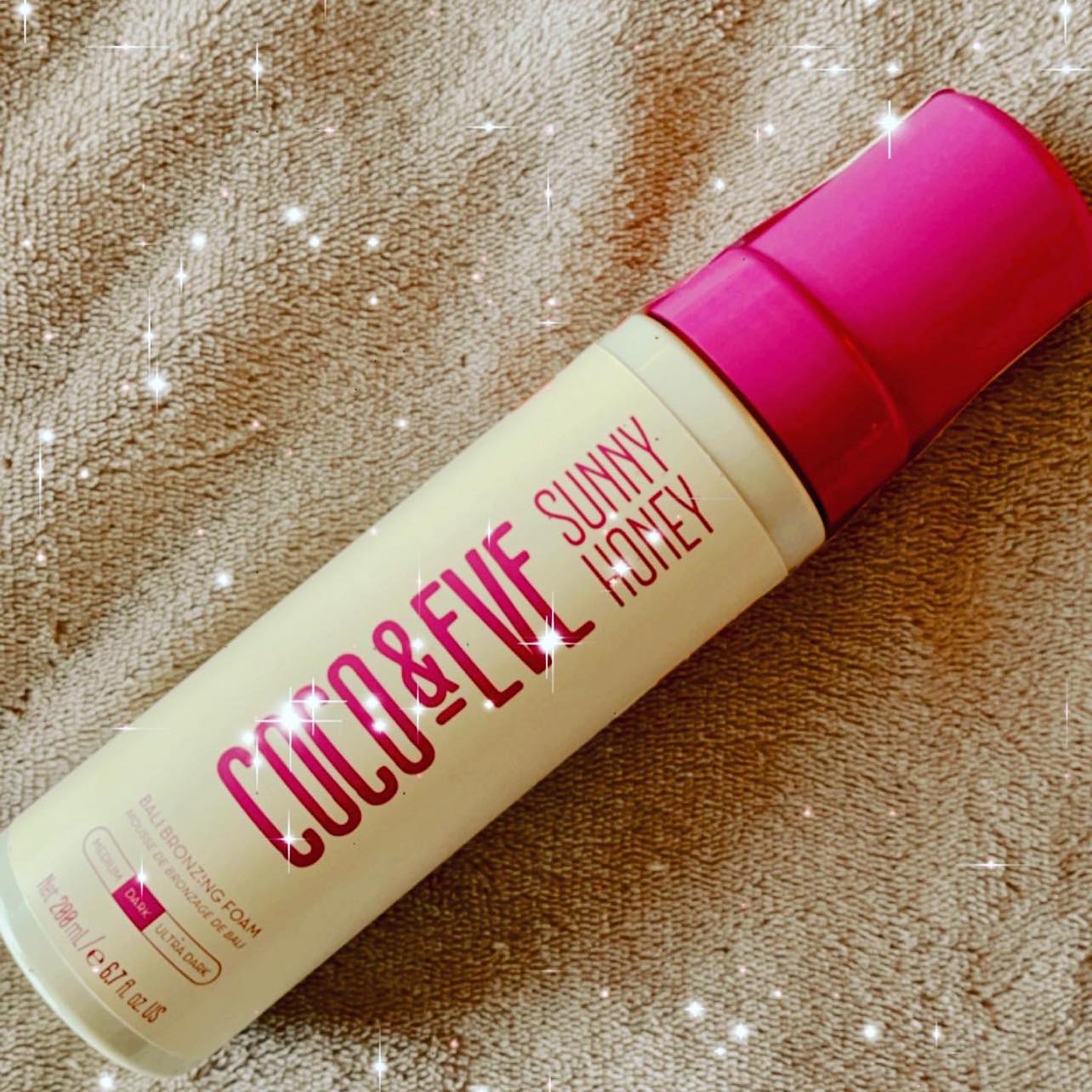 And, if it couldn't get any better, it does! It also helps with cellulite! Say what?! YES, it does! Oh, it is also anti-aging too 🙂 Anti-cellulite, anti-aging self-tan with zero nasties. Created using unique Cellushape formula to hydrate and firm the skin! It comes in three different shades: Medium, Dark, and Ultra Dark. I bought the dark as you can see above!
This tanning mousse leaves my skin soft and so pretty looking with the natural-looking sunless tan! I look like I just got back from Hawaii! So beautiful! I am wearing it in the picture below: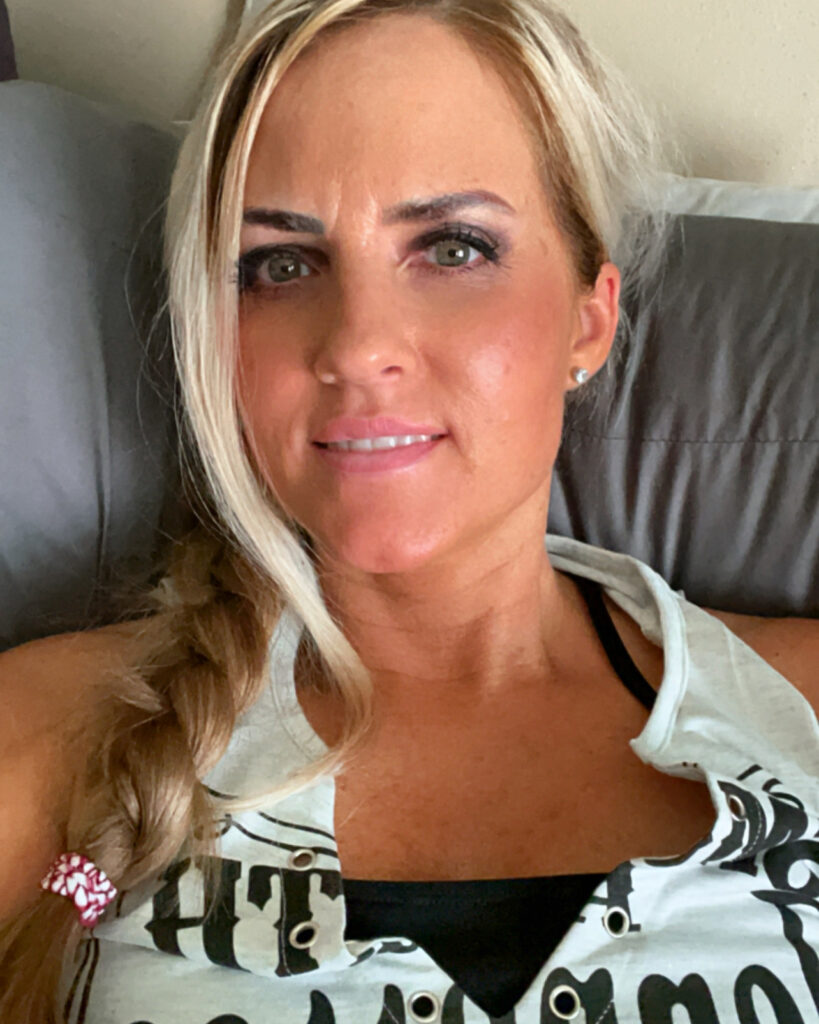 This stuff is SO popular that on their main website, they are in the process of restocking them! But, you can also purchase on Amazon.com. It retails for $34.90. I am so happy I found this sunless tanning mousse!
The Worst Sunless Tanners (Avoid These Sunless Tanners!):
Since I told you about the BEST sunless tanners, now I need to tell you about the sunless tanners to avoid the plague! I so badly wanted these to work for me but instead, they either left me smelling SO bad like sunless tanning cream, were orange and streaky, or BOTH! Gah! I tried them so you don't have to! Save your money with these ones!
1. NuSkin Sunright Insta Glow Nuskin Sun Tanner Tanning Gel: Sunless Tanners: The Best And The Worst Self-Tanners
Oh, how I wanted to love this stuff 🙁 I heard SO many wonderful things about this sunless tanning gel and wanted it to work for me, I really did! As soon as I received this, that night after my shower, I applied it. I used a sunless tanning mitt to apply it. Right away though, was the sunless tanning scent. It was SO strong and I absolutely hated that smell! There was no good floral scent or any scents to cover up the yucky sunless tanning smell and it hadn't even developed yet! That immediately turned me off to this sunless tanning gel 🙁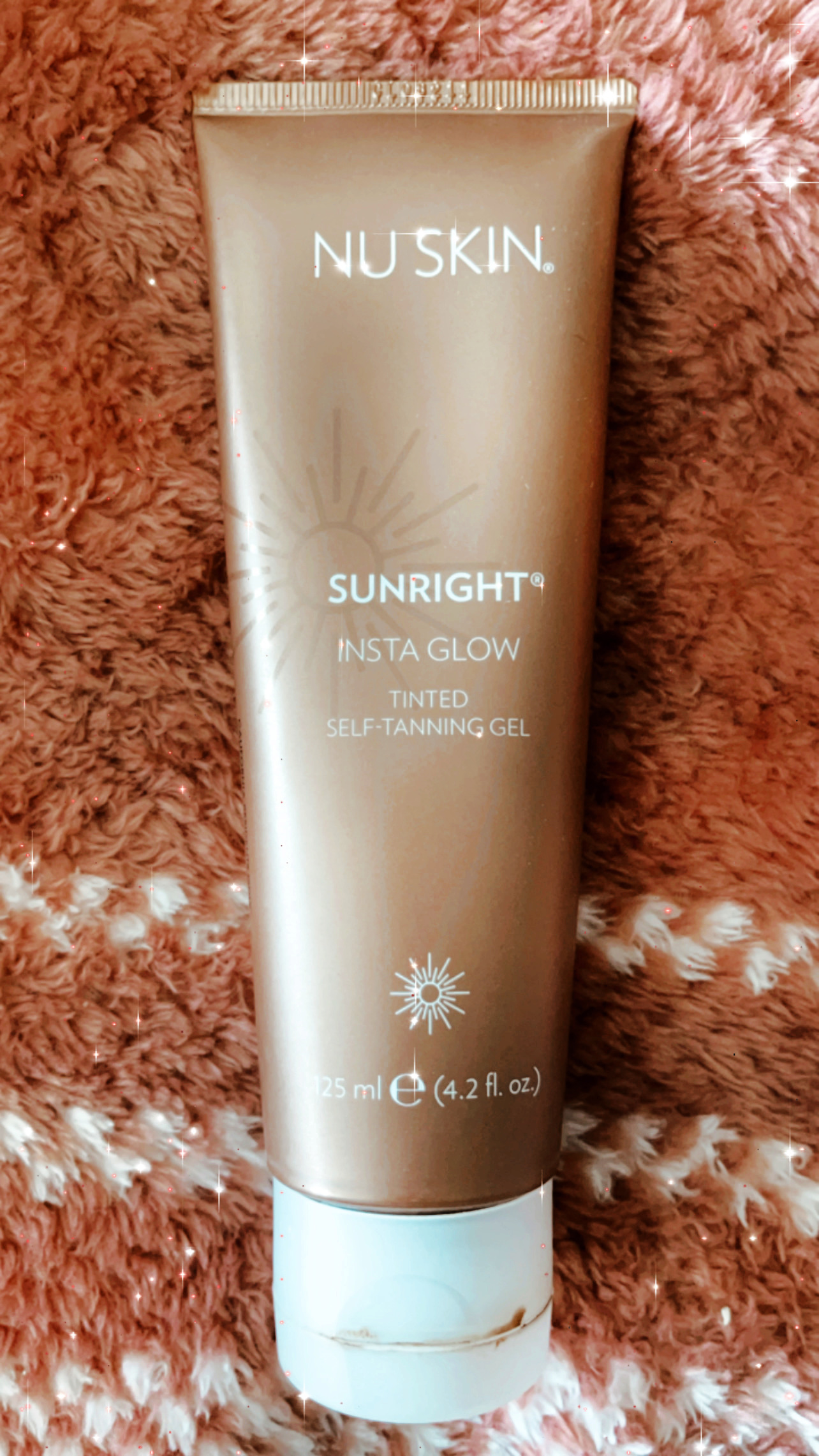 Of course, I did try it though. But only once because I just couldn't get past the scent! I wish they could have at least tried to hide the odor of this sunless tanner in a floral scent but they didn't. The tan came out okay, but really wasn't a tan that stood out at all. It was extremely subtle and I just did not like it. Certainly not worth having to endure the yucky sunless tanner smell for a not-so-great sunless tan.
I was pretty bummed because when I asked the lady who sold this to me, she said it has hardly any sunless tanning odor :/ So, I am not sure if she just wanted to sell this (it is also spendy!), to me just to get her commission from doing so or what, but I am turned off by this sunless tanning cream now. Like I said above, I wanted to love this so much! There are so many wonderful reviews of this online so that is probably why I was so shocked that it wasn't very good and smelled bad. To each their own I guess!
This retails for $50 and you can check it out on Amazon.com or find someone who sells it IF you want to check it out more. This one is a pass for me though!
2. b. tan Sunless Tanning Mousse
b.tan is another brand that I had heard so much about and was everywhere on the internet. I wanted to love this so bad but ended up not liking it at all 🙁 Not only does it get really streaky after only one application but it doesn't smell the best either.
This does go on with color, so I thought there was no way to mess it up. Unfortunately, it still was blotchy and even though I exfoliated my hands, knees, elbows, and feet the color still held on to all those areas really bad. It was a nightmare to try and get it off too! I am always very careful with applying sunless tanners to those areas but it still came out gross looking.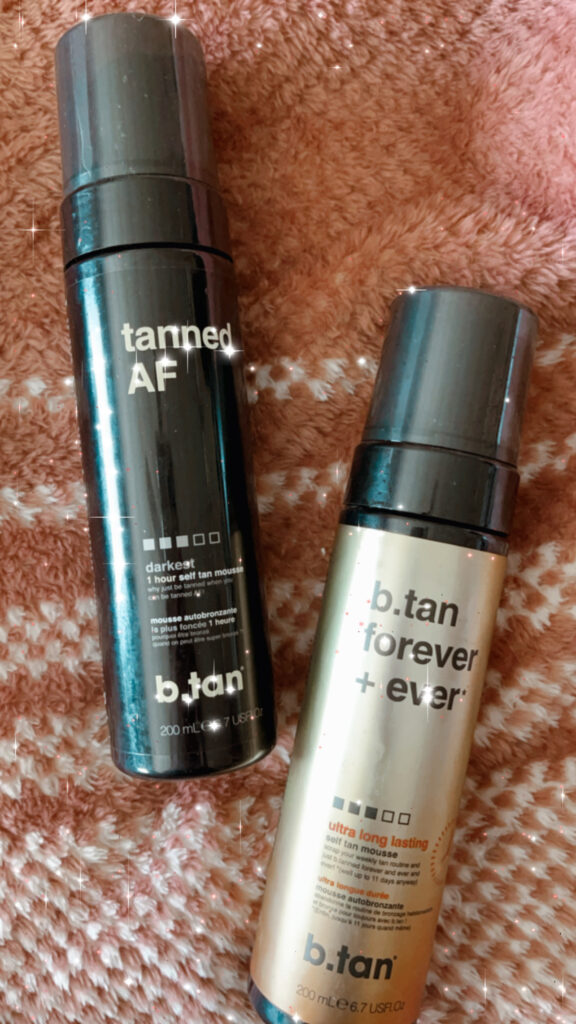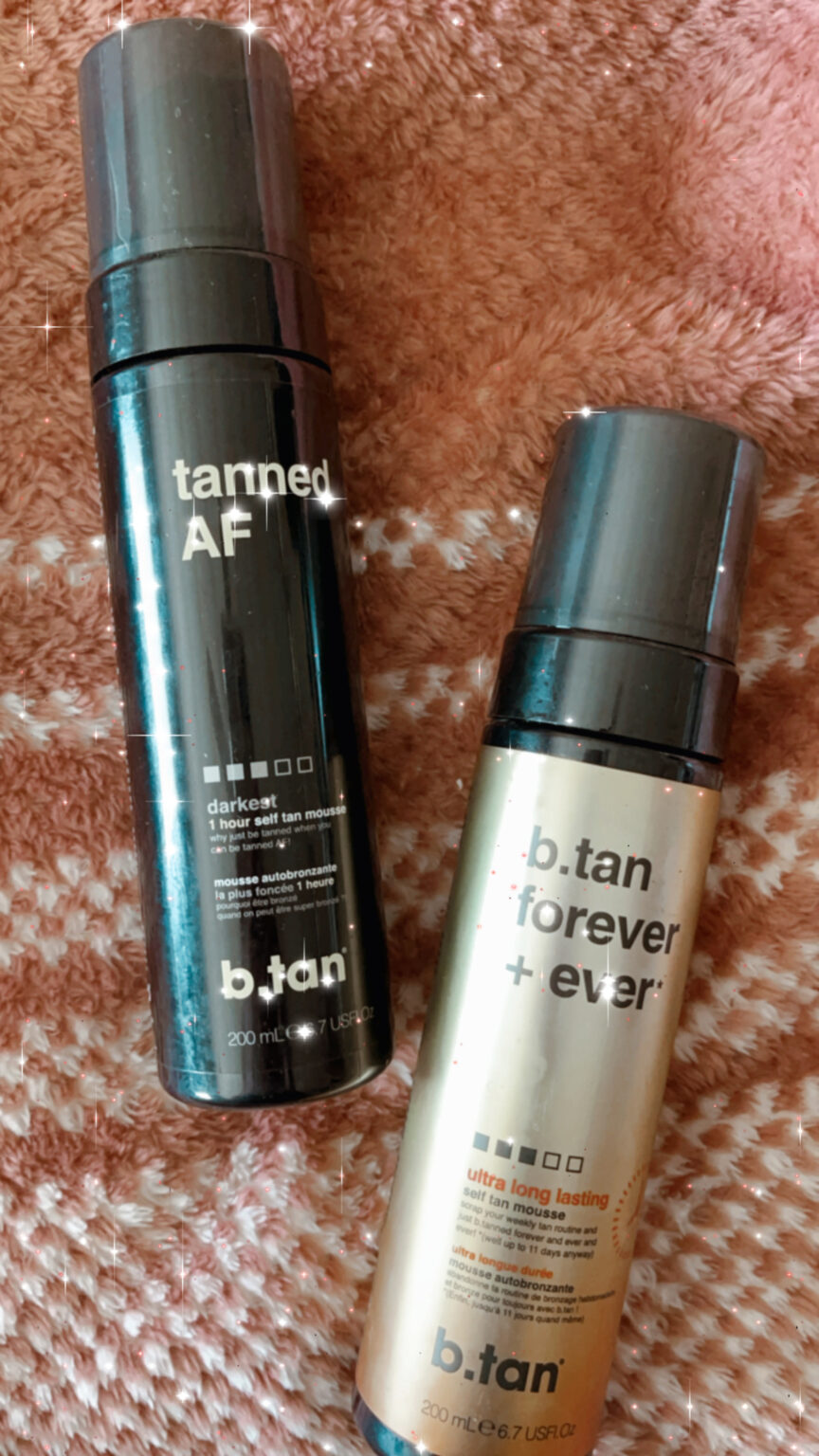 I bought the b.tan besties bundle which comes with a sunless tanning mitt applicator and two sunless tanning mousses. This duo comes with one tanned AF self-tan mousse in the darkest tan (which starts developing in one hour so really quickly) and the b.tan forever + ever for an ultra long-lasting b.tan mousse.
This duo retailed for $24.99
3. Coconut Water Self Tan Foam from minetan
I also really wanted to love this coconut water self-tan foam from minetan because I also heard wonderful things about it. However, the bottle came defective, and even though I could still get the product out of the bottle, it was messy, very messy, and a weird color (almost a green color). It really sticks to your elbows, knees, feet, and hands too. I tried everything to make it work but it just didn't work for me.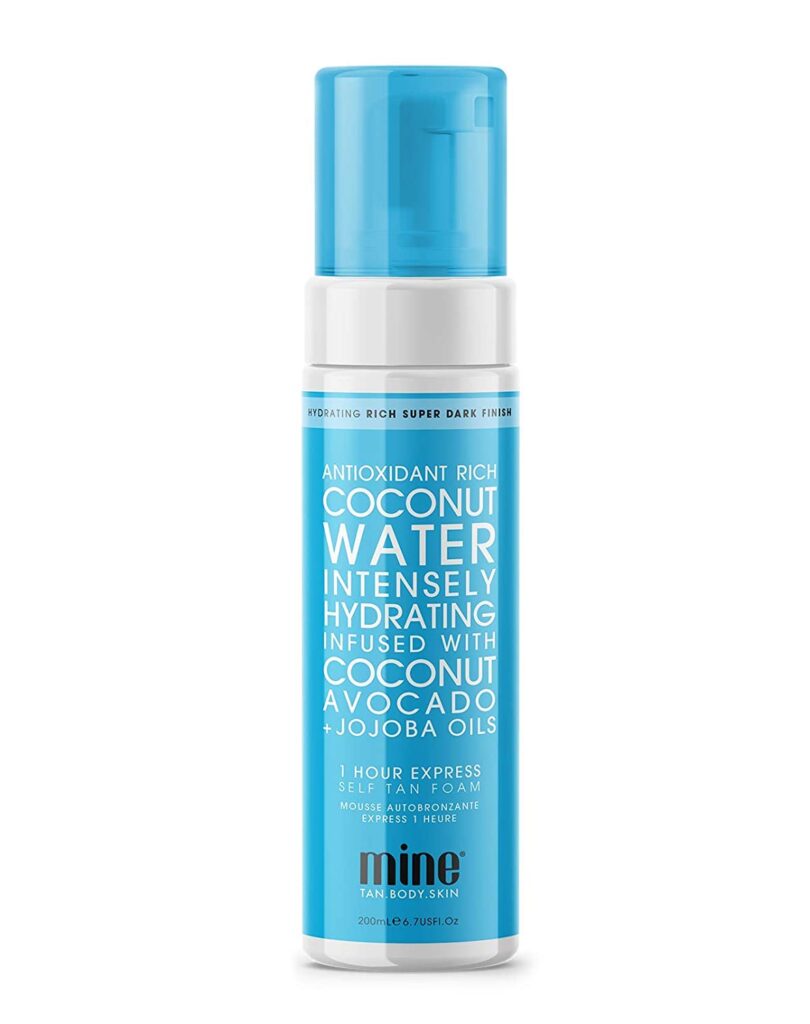 It also has a really bad sunless tanning smell after it starts processing and that is a huge turnoff for me. The tan was never even and just did not look real at all. This retails for $34.95.
4. Tan Physics True Color Sunless Tanner Formula 12: Sunless Tanners: The Best And The Worst Self-Tanners
The only good thing about the Tan Physics True Color sunless tanner Formula 12 is that it smells GOOD. Like creamsicles to be exact! But, other than the yummy scent, I don't care for it. It is tinted which is helpful when you put it on your body but it really doesn't do much after that. I tried it several times and it really did not tan me very well. This wasn't a terrible sunless tanner, just not for me because it did not do much in the way of tanning my skin.
This retails for $35.89 on Amazon right now.


Sunless Tanner Will ALWAYS Darken Any Spots, Moles, Freckles!
This is just a fact. I know some claim to NOT darken any skin spots like moles, freckles, age spots, etc, but they ALWAYS do! Sunless tanner is made to darken your skin by 'staining' it so, of course, it will always darken any spots on your skin too. A way to lessen the look of your dark spots after you apply sunless tanner is to gently exfoliate the 'dark spots' after your tan has been processed. This will lighten the spots and help make them less noticeable. Other than that, there is really nothing else you can do. Same with self-tanner getting into the pores on your legs where your leg hair grows. You can gently exfoliate your legs after the self-tan has been processed (usually the next day), and it will lessen the look of darker pores on your legs. So companies that say their sunless tanner won't do this is more than likely lying :/
How To Prep Your Skin For A Sunless Tan
Before I put on my sunless tanning lotion, I prep my skin! I exfoliate using this exfoliating sponge (it is the BEST!!!) and I pay close attention to my hands, elbows, knees, and feet. I also enjoy using the Tournesol PreTan Prep Body Wash which is specifically formulated to exfoliate, nourish, balance, and prepare your skin before applying your sunless tanning product. PreTan Prep Body Wash will prepare your skin and get you ready to glow without any residual soaps or oils.
When I get out of the shower, I then apply a small amount of body lotion to those parts to ensure they are soft and ready for a sunless tanner! This is the best way, I have found, to prepare my skin for a gorgeous and flawless sunless tan. You can my secrets on how I apply sunless tanner here!
How To Keep Your Sunless Tan For Longer
There are plenty of ways to help keep your sunless tan past a couple of days. You can do that by moisturizing daily, multiple times a day. I actually moisturize my skin 3 times a day, especially when I have a sunless tan on! That way, my sunless tan stays put longer and doesn't start to look gross after one or two days. I like to help maintain my sunless tans with DermaQuench.
There's no better way to hang on to that beautifully bronzed glow than by using DermaQuench, the amazing tan saver. Derma Quench is a daily hydrating moisturizer that is packed with a nourishing blend of ingredients that will leave your skin velvety smooth and reduce tan fading. This yummy scented tropical cream will drench your skin in the smell of the beach and help to prolong that beautiful glow!
So, this is my list of Sunless Tanners: The Best And The Worst Self-Tanners. I hope it has helped you find the perfect sunless tanner for your body. I know everybody is different, but this list should help you out still! Feel free to share this list with your friends and family so they can achieve their perfect sunless tan too!
What is your favorite sunless tanning product? What is the worst self-tanner you have ever tried? Any tips you want to add to apply the perfect sunless tan? Share below! Thank you!
PIN IT: Sunless Tanners: The Best And The Worst Self-Tanners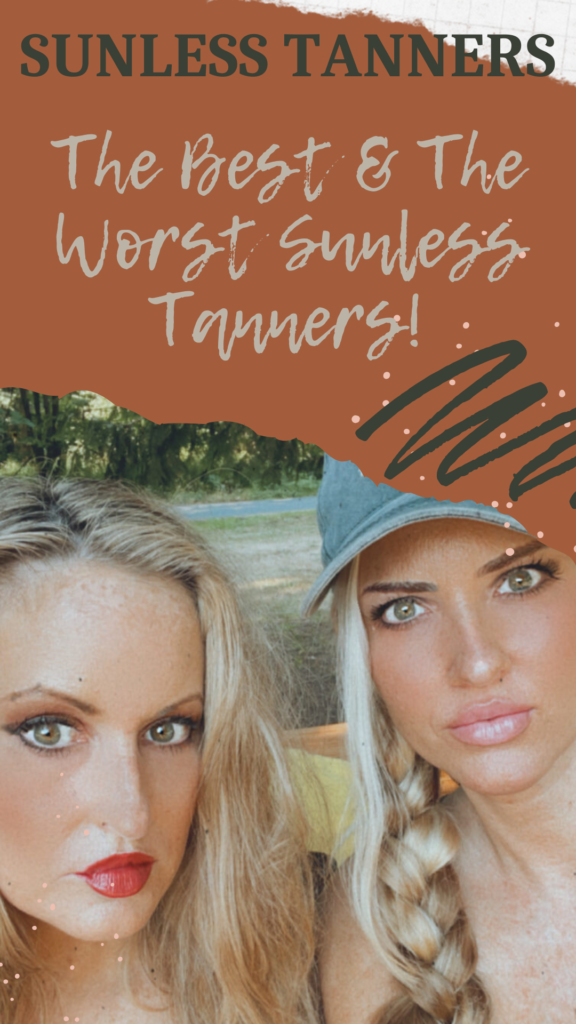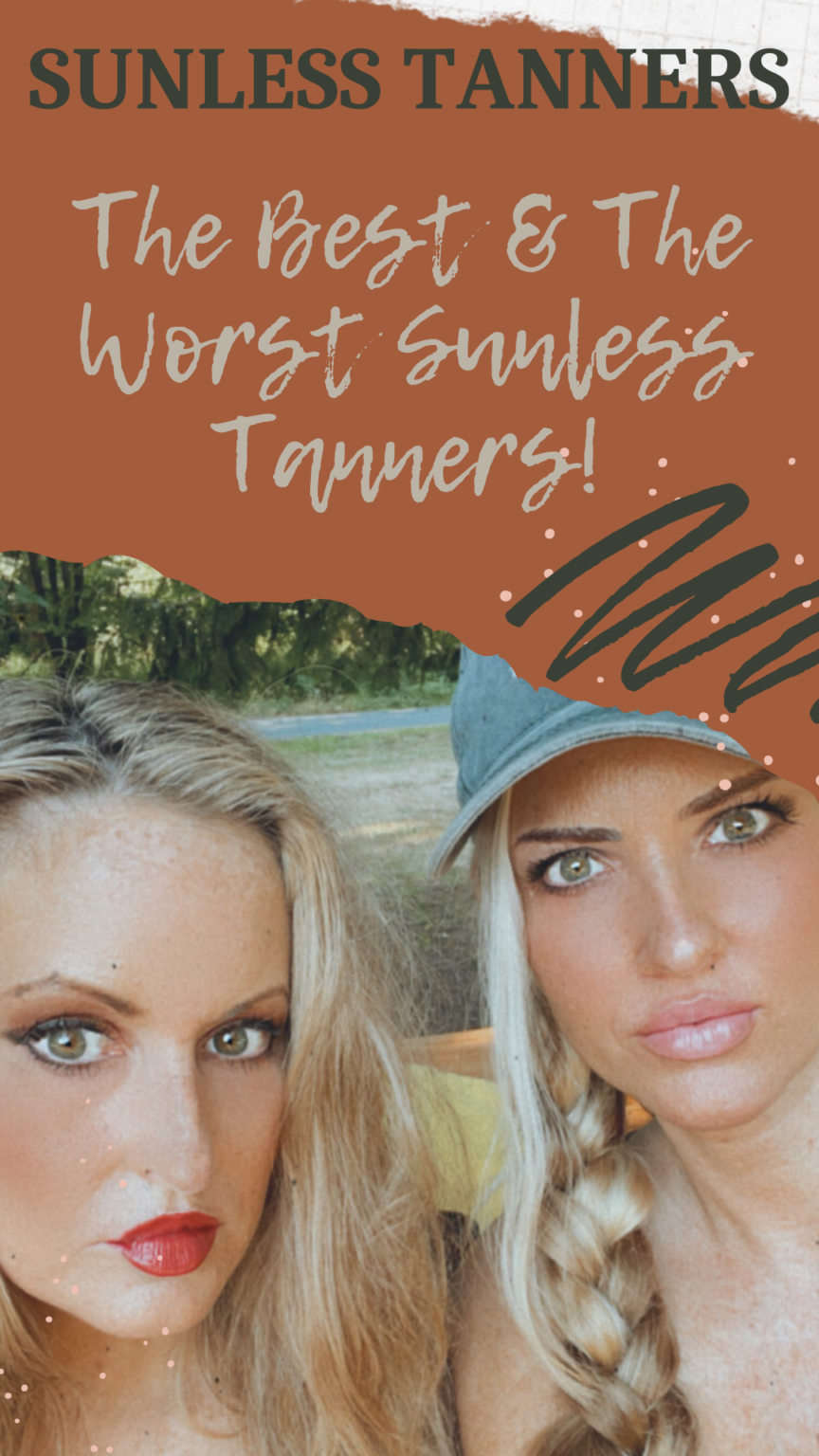 Do you have anything you want to add to my post about Sunless Tanners: The Best And The Worst Self-Tanners? Do you have a specific sunless tanner that you swear by or hate? Please let me know in the comments below! Thank you!