This post is all about how to Blast Your Cellulite: Products To Lessen The Appearance of Cellulite! Since cellulite affects nearly 90 percent of women and only about 10 percent of men, (ugh!), chances are you have cellulite and that is what brought you to my post! Don't worry though! A LOT of women have cellulite!
There is a woman I follow on Instagram and I love her! She is SO real and beautiful and guess what? She has cellulite and she doesn't care! She loves her body and we all should love our bodies too! There is nothing wrong with cellulite, but knowing what products are out there to help us lessen its appearance is quite nice too, right? I think so!
Sure, we all have our cellulite. It's that little bit of unwanted fat on our thighs or butt that seems to never go away no matter how much we diet or exercise. While you can't completely get rid of it, there are products out there that can help lessen its appearance.
So if you're looking for a way to perk up your booty and make those thighs look sleeker, read on! We've found some great products to help blast your cellulite.​
*This post includes my affiliate links
Blast Your Cellulite: Products To Lessen The Appearance of Cellulite
Diet And Exercise
To start, let's talk about diet. Eating healthy foods is essential for reducing cellulite. Foods that are high in fiber and low in fat will help to reduce the appearance of cellulite. Another important factor is staying hydrated. Drinking plenty of water will help to flush out toxins and keep your skin looking its best.
Exercise is also important for reducing cellulite. Cardio exercises will help to burn fat while toning exercises will help to build muscle and improve skin appearance. Be sure to focus on problem areas, such as the thighs and buttocks.
Genuine Health Marine Collagen+
Collagen is the most abundant protein in your body. It's the 'glue' that holds you together, supporting the structure and elastic quality of your tissues from head to toe!
But did you know that your body's natural production of collagen starts to decline in your 20s – often first noticed on the skin when lines and wrinkles start to form? But collagen loss impacts many different areas of your body and can lead to sore joints, low bone mineral density, and more!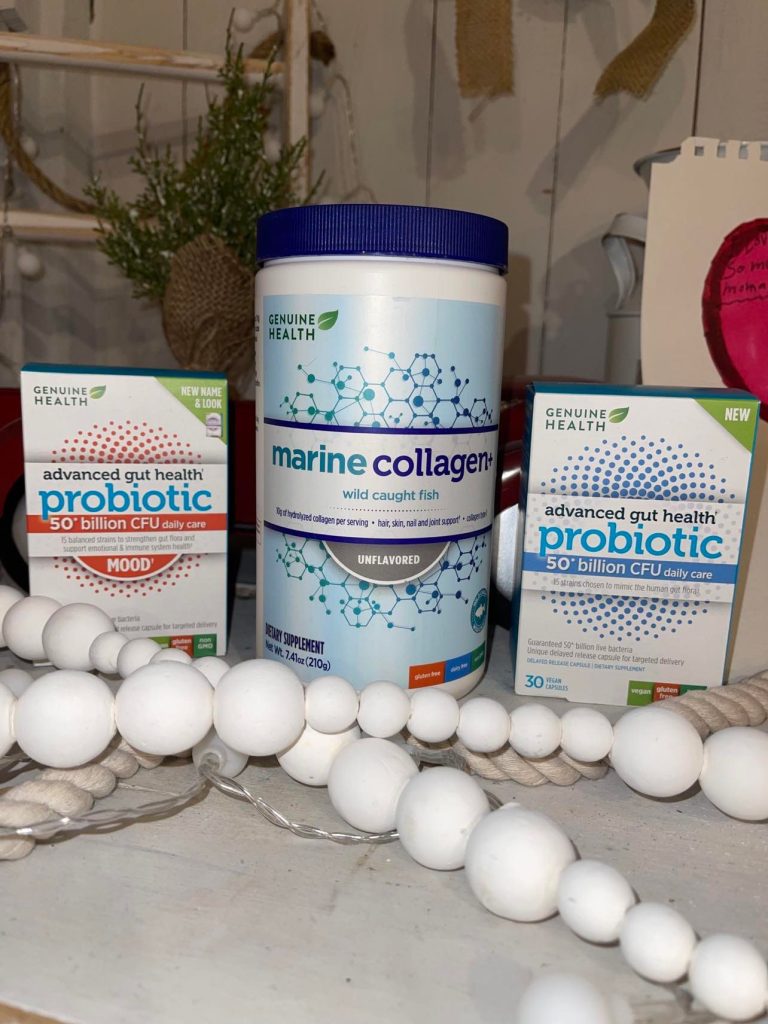 I have been taking collagen for a while now and I have noticed that my skin is looking SO much healthier now. I have also noticed that my cellulite is becoming less noticeable too!
So, it is helping my cellulite! I am so excited about that! I love the collagen from Genuine Health. Collagen is made from unique peptides – small chains of amino acids. Research shows that when you take a collagen supplement, these peptides get absorbed through your digestive tract, to support the body's own collagen production. This benefits your skin, joints, bones, and more!
This is clean collagen that is sustainably & consciously sourced. From wild-caught fish skins or grass-fed, pasture-raised cattle hides. Each serving provides 10 grams of hydrolyzed collagen for maximum benefit. It is carefully extracted into highly absorbable peptides – for efficient absorption by your body.
It is free from dairy, gluten, GMOs, and sweeteners, and is paleo and keto-friendly! This is a tasteless powder and mixes perfectly into hot or cold drinks. I love it!
Gut health is also very important because if your gut isn't healthy, then it affects everything! I like Genuine Health's advanced gut health probiotic and their advanced gut health for Mood! I have been taking the mood one and I swear it is helping me and making me feel SO much better!
Dry Brushing: Blast Your Cellulite: Products To Lessen The Appearance of Cellulite
While dry brushing has long been recognized as a beneficial health practice and using an ionic dry brush can stimulate natural lymph flow, which helps make the lymphatic system more effective at purging toxins and pathogens from the body.
This also helps tremendously for cellulite-stricken areas! For a luxurious experience, brush the skin twice a week using light strokes towards the heart before bathing.
Fat Burner Cream
Yes, creams can work to lessen the appearance of cellulite! How do I know? I know because I have tried my fair share of them and if used correctly, can help to diminish the appearance of cellulite on your body.
I received Fat Burner Cream from Newport Natural Health. Since receiving this fat-burning cream, I have used this cream twice a day. Of course, I have been only using it for about 2 weeks, but I have noticed my skin becoming more firm.
Time will tell if it lessens those dimples on my thighs, but I feel like they have diminished a tiny bit. I will continue to use this fat-burning cream and update you in about a month!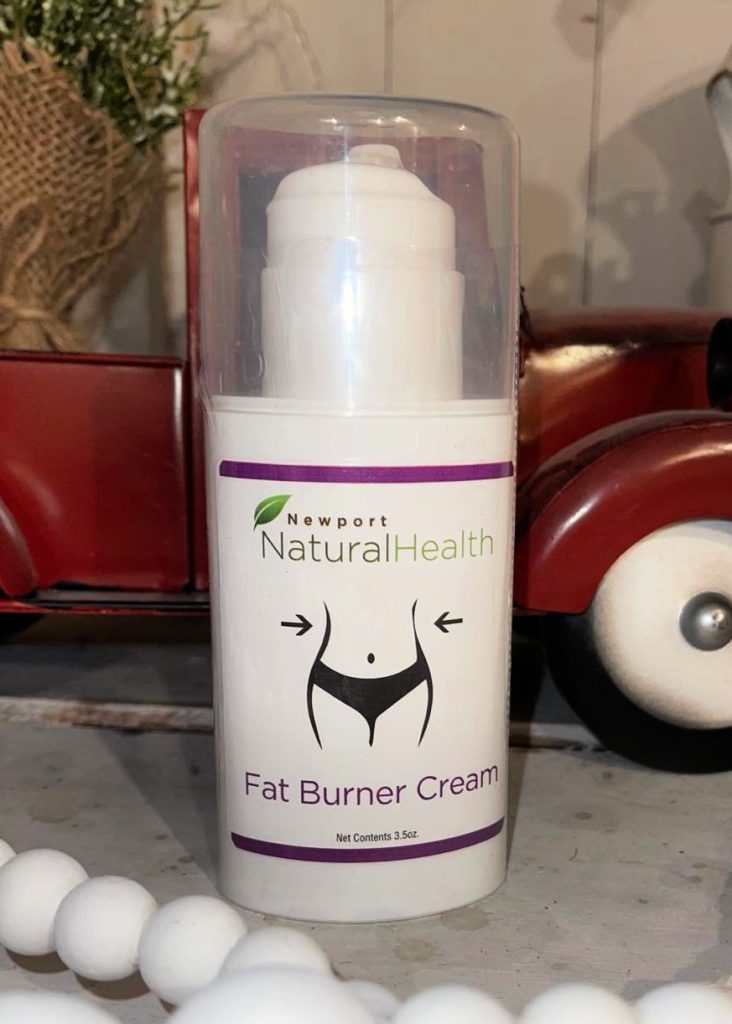 Fat Burner Cream is a topical cream made to help dissolve fat, reduce cellulite, improve skin texture, and tighten the skin. It's safe and easy to use all over the body in targeted areas around the arms, chin, stomach, hips, waist, thighs, and even around the eyes!
Get all the benefits in this easy-to-use press pump cream made of compounds that have been proven to help fat dissolution and lipid metabolism, the breakdown of fats for energy. It uses a liposome absorption system and is an alternative to the Lipodissolve procedure or mesotherapy which involves a series of injections.
The unique formula of Fat Burner Cream is rapidly absorbed into the skin. Made of all-natural ingredients, Deoxycholic acid and Phosphatidylcholine, compounds similar to what the body naturally produces, and the same that are used in micro-needle therapies. This cream is more expensive, but I do like what I am seeing so far! Stay tuned for the full review coming soon!
Grab your discount on the Fat Burner Cream! Just use the coupon code SHOPWITHME20. It's valid sitewide for one purchase per customer until March 31!
Buzz Chill
I absolutely LOVE this Buzz Chill body cream, I really do! It smells JUST like fresh lemons and makes my skin literally SO dang soft. A little bit of this cream goes a long way to moisturize your skin! I use it on my butt, thighs, legs, tummy, and arms!
So, I use it pretty much everywhere on my body! I use it with a little Natural Wood Wooden Hand-Held Massager to massage this into my skin really well.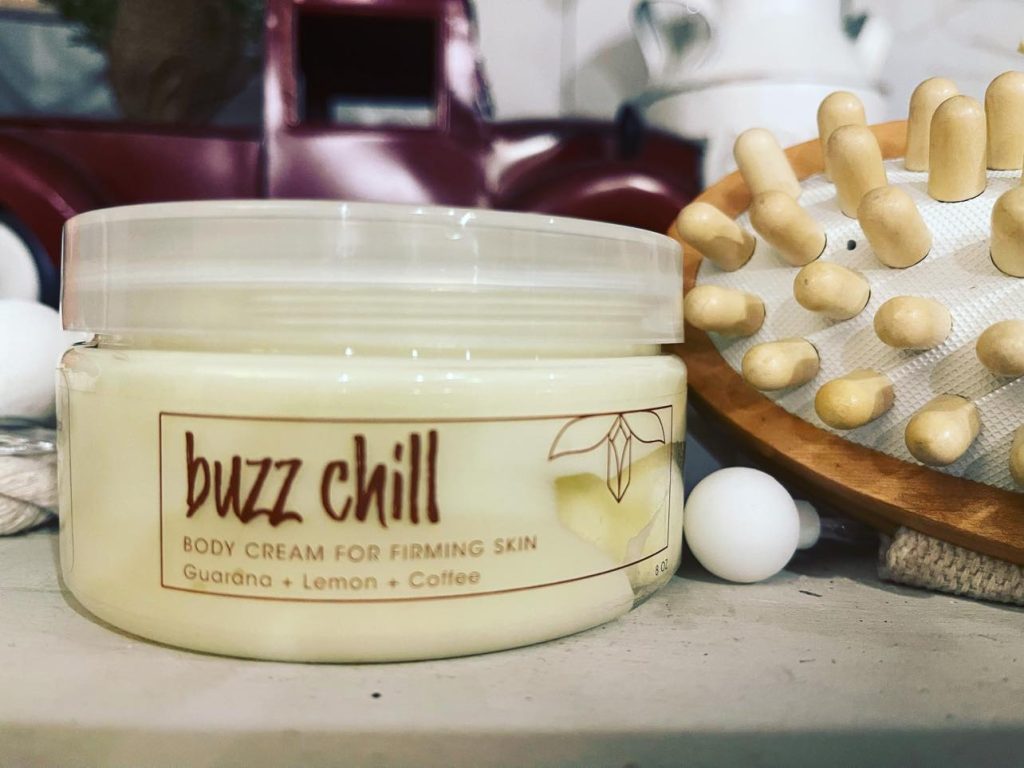 Buzz Chill is made to smooth out the bumps of life and get beach-ready. Guarana, Coffee, Lemon, and Quince leaf combine to form an advanced cellulite cream that also boosts hydration.
This cream contains all the ingredients that have been shown to positively impact the appearance of cellulite. Plus, the naturally bright fragrance of lemon is a natural mood boost, so slather in the morning to jump-start your day!
For best results, massage the product into areas of concern with a rollerball or deep tissue massage (see what I use above!). This will help speed up the breakup of cellulite. Buzz Chill works on its own but if you work to break up the cellulite while applying it you will see more dramatic results!
Key Ingredients:
Caffeine – helps to tighten blood vessels, stimulate the breakdown of fat cells, and help rid the body of toxins.
Guarana – helps dilate blood vessels to stimulate blood flow to an area. This helps make the bands that bind fat more elastic which reduces the appearance of dimpling.
Coffee –Helps stimulate the breakdown of fat cells.
Lemon – Helps tighten and detox skin while providing a natural mood boost.
Quince Leaf – Helps smooth and contour skin.
Cupping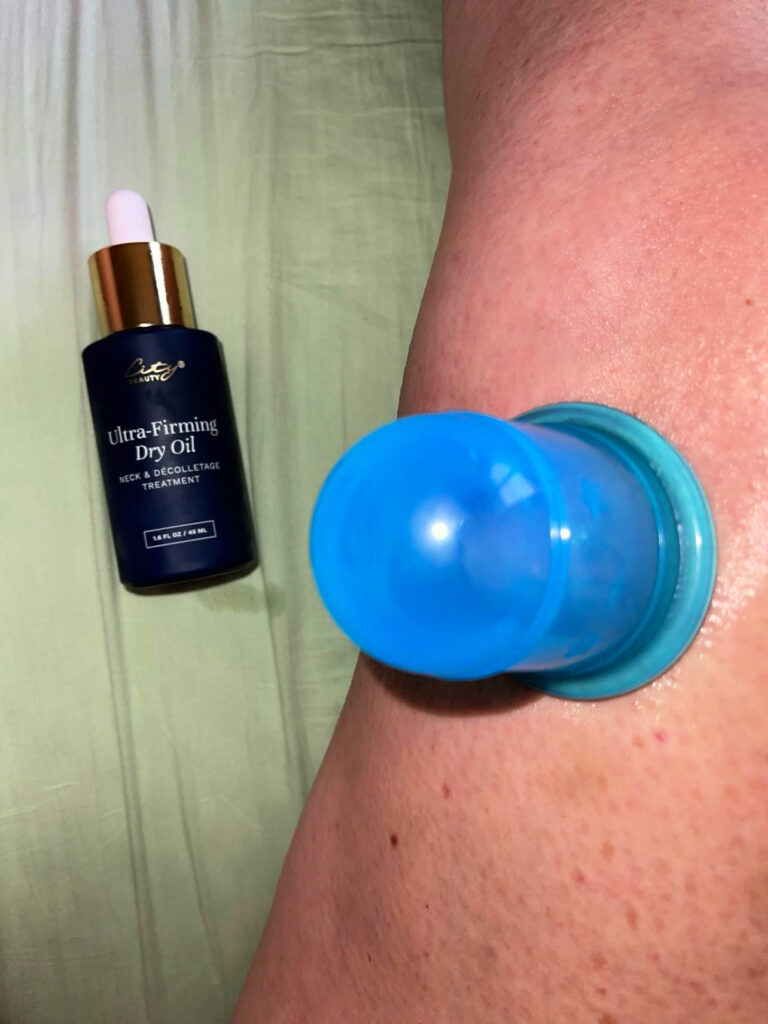 Yes, cupping! The simplest explanation is that cupping is a therapeutic technique that uses a vacuum created inside a cup to help improve circulation and increase space between the skin, fascia (connective tissue), and muscles. I bought a cupping kit from Amazon which was super affordable and I use it once a week. I sit on my bed with a towel under me, and I use body oil (I love the one from City Beauty!)
I put oil all over my thighs and legs, and then I use the cup on my thighs and legs. I swear after I am done, my legs feel tighter! My legs are bright red afterward because of all the blood I brought to the service, but that does not last long! Cupping is SO good for your skin and for cellulite!
Do you have any tips to blast your cellulite? Share them in the comments below! If you found my blog post about How to Blast Your Cellulite: Products To Lessen The Appearance of Cellulite, be sure to share it with your friends! And don't forget to subscribe to our newsletter for more great content like this. Thanks for reading!​​
PIN IT!