This blog post is all about Beettan, The Best Healthy Sunless Tanning Lotion Made From Beets! If you read my blog, you KNOW that I wear sunless tanners and have used them most of my life. I have tried SOOO many of them, some I do not like and would never recommend, and some I absolutely love and have to tell the world about! Well, guess what? I found a NEW natural sunless tanning lotion that I need to tell you all about because it is AMAZING! It is all-natural (made from Beets!!!!) and not only gives you one of the best sunless tans I have ever seen, but it also moisturizes the heck out of your skin so there is no dry, flaky skin! Oh my goodness you guys! It is the best sunless tanner lotion I have ever tried!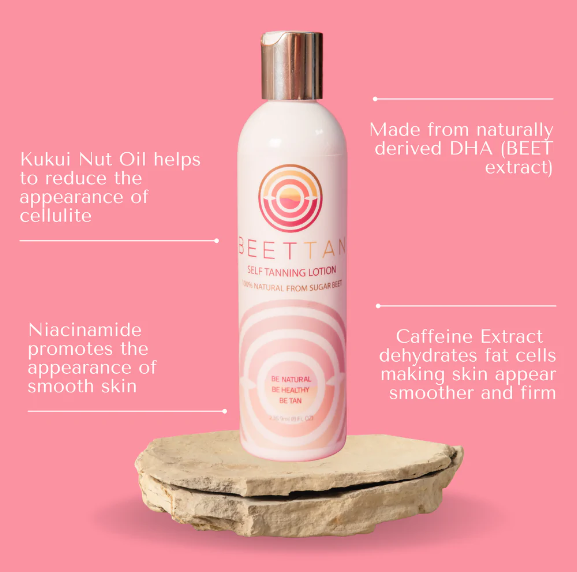 What is this natural, healthy sunless tanning lotion's name?? I had never heard of this brand before until I saw them on Instagram! The brand is Beettan and they make healthy, sunless tanning lotion that is made from BEETS. And? It totally rocks! You can't even tell that my tan is fake because this is a gradual sunless tanner that gradually gives you a natural-looking tan without the sun. Just look at my pictures below! See how nice and tan I look??? That is from this sunless tanning lotion! My skin is hydrated, soft, and bronzed! And, I did not lay out in the sun all day to get this healthy tan! I did it the smart way 🙂
The picture below was day 2 of applying Beettan Sunless Tanning Lotion! I am getting my tan on the safe way! Yay! (Don't mind my moly legs! I get that from my mama!)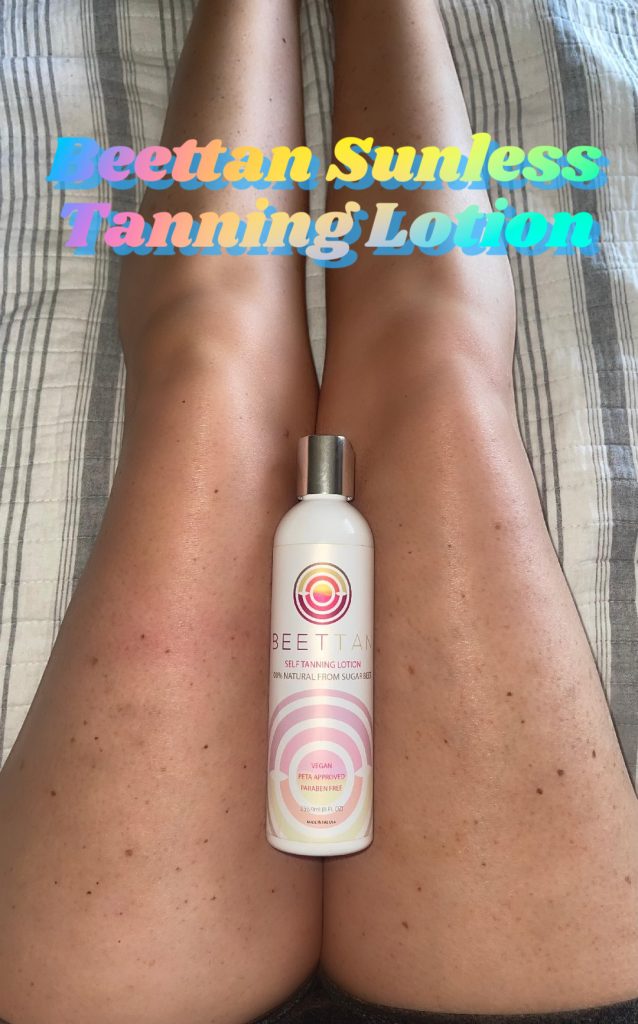 Just Beet It!!!
I think I applied this sunless tanning lotion about 3-4 times (every day for 3-4 days. I did not skip a day) and this is how tan it made me. What I love about this sunless tanner lotion is that it is all-natural and really makes my skin feel moisturized. Most all other sunless tanning products I have used in the past dry the heck out of my skin and leave it splotchy and gross looking after a while. I hate that! But, this sunless tanner lotion doesn't do that to my skin. And because of that, my sunless tan stays put for a while longer than its rivals.
Beettan self-tanning lotion is designed to provide a gradual, natural tan for all skin tones. Hydrates and nourishes the skin, while the anti-aging components tone and firm! The best part? Their lotion goes on CLEAR And smells INCREDIBLE! To me, this sunless tanning lotion smells like a tropical vacay! Yes, please!
I use a tanning mitt only because I have 345 of them and have always used a self-tanning mitt to apply my sunless tanners. However, you don't need to use it on as this sunless tanning lotion goes on clear. Just remember to THOROUGHLY wash your hands right after application!
How to Apply Sunless Tanners
Apply liberally to clean, dry skin to use as a self-tanner. Remember to wash between the fingers and palm of your hands after application! See the video below! I also wrote a very helpful blog post the secrets to applying sunless tanners. That is a must-read! So be sure to check that post out before applying your sunless tanners!
Beettan Sunless Tanning Lotion Ingredients:
Beet Extract, Aloe Vera, Gel Behenyl Trimonium Methosulfate, Dimethicone, Glycerine, Cetearyl Alcohol, Kukui Nut Oil, Jojoba Oil, Isopropyl Palmitate, Cucumber Extract Rooibus Tea Extract, Green Leaf Extract, Citric Acid, Dihydroxyacetone, Collagen, Glycosamine, Hydrocreatine, Copper Gluconate, PyridoxinHCL, Niacinamide, Tocopheral Acetate, Sunflower Extract, Grape Extract, Feenel Seed Extract, White Birch, Red Algae, Adenosine Triphosphate, Proflavin HCL, Superoxide Dismutase, Caffeine Extract, Yeast Extract, Dextran, Actyl Hexapeptide, Ectoin, Phenoxyethanol Hexylene Glycol, Glycerine.
Caffeine Extract – dehydrates fat cells making skin appear smoother and more firm.
Kukui Nut Oil – contains essential fatty acids that help the body retain water and cleanse the skin. Helps to reduce the appearance of cellulite.
Niacinamide – is a skin-restoring ingredient that offers multiple anti-aging benefits such as improving the appearance of large pores, uneven skin tone, fine lines, and dullness.
This picture was of me laying on my trampoline as my kids played nearby! I am wearing sunscreen and got this tan from Beettan sunless tanning lotion!!! LOVE! No filters 🙂
I am just so pleased with the Beettan healthy sunless tanning lotion! I can adjust the color at any time by skipping a few days of applications or I can do an application every day and get super, naturally tanned the SAFE way! I have skin cancer, so this is the ONLY way I tan!
Sunless Tanner Helps to Cover The Appearance of Cellulite!
It's true!! This is one of my most FAVORITE features of sunless tanners, ha! It helps to diminish the appearance of cellulite! The tanner you are, the less you notice cellulite, so that is just an added bonus of using sunless tanners 😉 Of course, we all KNOW that cellulite is NORMAL. Almost every woman on the planet has it. So, if you do have it, just embrace it (and add a lil' dollop of sunless tanner over it!).
Beettan also sells other stuff like:
SELF-TANNING MOUSSE (MADE W/ COCONUT WATER AND BEETS)
ANTI-AGING DAILY TANNING BOOSTER
HEALTHY GLOW WITH LAVENDER Body Moisturizer
Gradual Tanning/Anti-Aging Drops with plant-based hyaluronic acid and beet DHA
Tanning Water with color correcting additives to even skin tone.
BEETBOD Body Wash
BEETBUTT Sunless Tanning Blending Butter
BEETIT Buffing Sugar Scrub
BEETOFF Self Tanning Eraser
Deluxe Mitt
Deluxe Mini Face Mitt
Deluxe Back Applicator Mitt
I will have to try out their other stuff because I am really pleased with their sunless tanning lotion.
Buy
You can purchase the Beettan sunless tanning lotion on line at https://www.beettan.com/. It retails for $49.95.
Win
One person is going to win a bottle of the Beettan Sunless Tanning Lotion! Yay!
Rules (because we gotta have 'em!)
The contest is open to US 18+. The giveaway will end on August 9, 2022, at 11:59 PM MT. The winner will have 48 hours to confirm their win after I email them, or a new winner will be chosen. I am not responsible for lost or stolen mail.
PIN IT