This post is all about Red Light Therapy Benefits For Aging Skin. Have you heard of red light therapy benefits for aging skin? If you are in your late 20's, or early 30's, chances are, you are starting to see the first signs of aging.
I remember the very first time I 'noticed' a line near my eye, I was freaking out. I was in my early 30s when I started noticing the first signs of aging, sigh. If you're looking for an anti-aging treatment that is both safe and effective, look no further than the RejuvaliteMD.
This High-Power Anti-Aging LED Treatment uses LED technology to stimulate skin healing and collagen production from the inside out. It helps to reduce the appearance of wrinkles and dark spots while it improves the radiance, elasticity, and firmness of your skin.
UPDATED POST: I noticed that Trophy Skin no longer sells this red light therapy device that I am reviewing in this post. :/ But, they do sell a handheld red light therapy device that is probably just as good (and maybe cheaper!). Check it out HERE.
*This post includes my affiliate links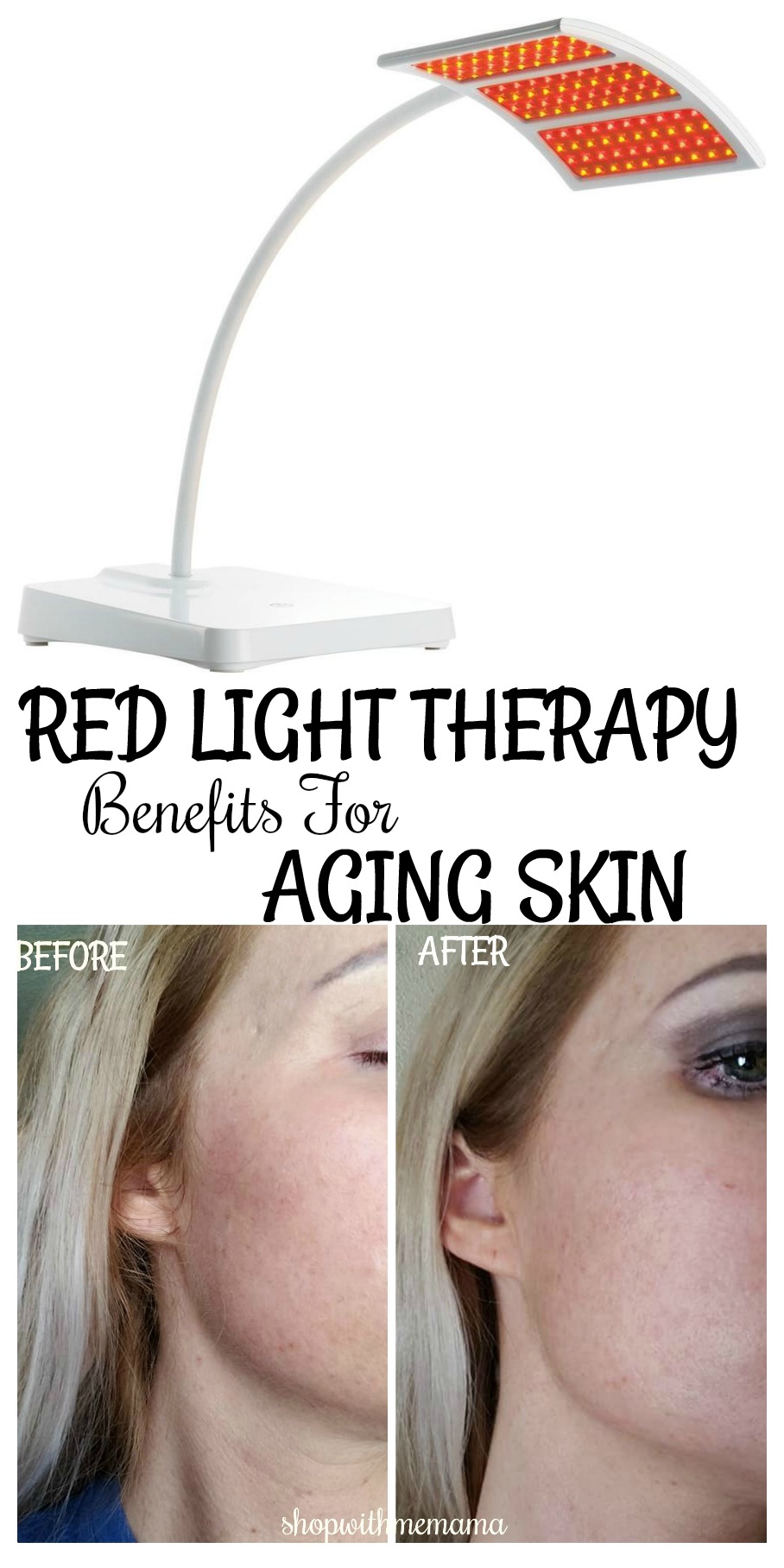 Now that I am in my early 40s, I am starting to see more and more lines on my once, flawless face. It makes me so sad to see these signs of aging because I feel SO young inside! It just isn't fair!
I know I have really good genes though because my mom looks so good for her age and my dad has literally no wrinkles and he is 80. It also makes me feel really good when strangers cannot believe I am in my 40s, they think I am in my late 20s. So, I guess there is that! But still, aging sucks! I am not ready for it, but I guess we never are, right???
This Was SO Hard For Me To Post Unedited Photos!!!
This is SO hard for me because I NEVER think I am pretty enough to post a picture of myself without any kind of filter… The pictures you see of me below, are all the real me. The ONLY thing I DID do was make my eyes a bit brighter and my lashes darker. Otherwise, the pictures you see below are ALL untouched and have no filters. Be kind!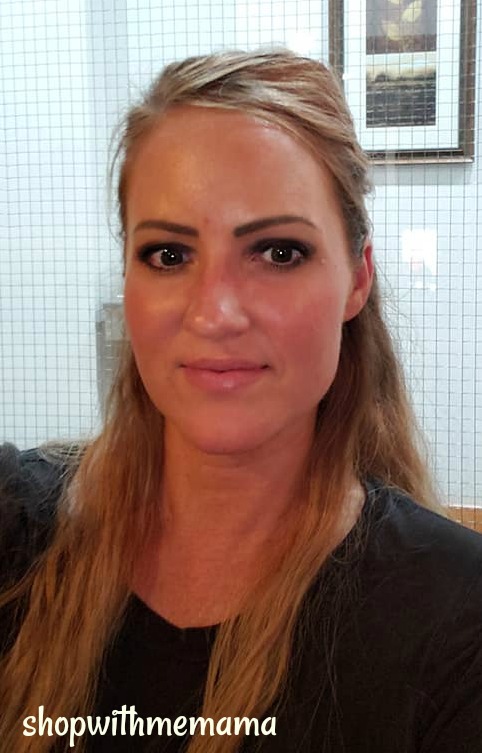 I have always used face cream and neck cream, ever since I was in my teens. So, it helps that I have always taken care of my skin. Even though I did use those horrid tanning beds when I was in my teens and even in my 20s and early 30s. Thank heavens I stopped cold turkey though because those tanning beds are no good!
Now I use sunless tanning cream and my skin has never been so moisturized and tan, in a more healthy way! I totally recommend sunless tanning creams to get your skin glowing and tan! Just much healthier for your skin and won't age it!
Now that I am older, sigh, I need to start REALLY concentrating on my skin and its health. I don't want to wake up one morning and look in the mirror and not recognize who I am.
I don't want a sagging jawline, uneven skin tone, fine lines, or crepey skin. That is not what I want and I don't have to let my skin ever get like that and neither do you!
How can I keep my skin from showing my age? How can I slow down the aging process? It isn't hard to see that there are SO many products on the market today, promising you younger-looking skin! From beauty creams to skincare products and services, there are just so many things out there! What really works? What doesn't?
One product that I KNOW works, for slowing down the aging process AND helps reduce the appearance of aging skin is the Red Light Therapy Anti-Aging RejuvaliteMD which is the only anti-aging tool you will ever need in your life. Promise.
What Is The Trophy Skin Red Light Therapy RejuvaliteMD?
The RejuvaliteMD is a High-Power Anti-Aging LED Treatment that uses LED technology to safely and effectively stimulate skin healing and collagen production from the inside out. It helps to reduce the appearance of wrinkles and dark spots while it improves the radiance, elasticity, and firmness of your skin.
There are other devices that use only red light, however, RejuvaliteMD utilizes FOUR UV-free wavelengths that include; red, yellow, amber, and infrared light to effectively treat multiple signs of aging. In as little as 5 minutes a day a few times per week, RejuvaliteMD gives your skin a lit-from-within glow.
My Thoughts On Red Light Therapy
The RejuvaliteMD Red Light Therapy is simple to set up. Just open up the box, read the instructions, and screw the long part into the base of the lamp. You want to be careful when screwing the lamp into the base because you don't want to twist the long part too much.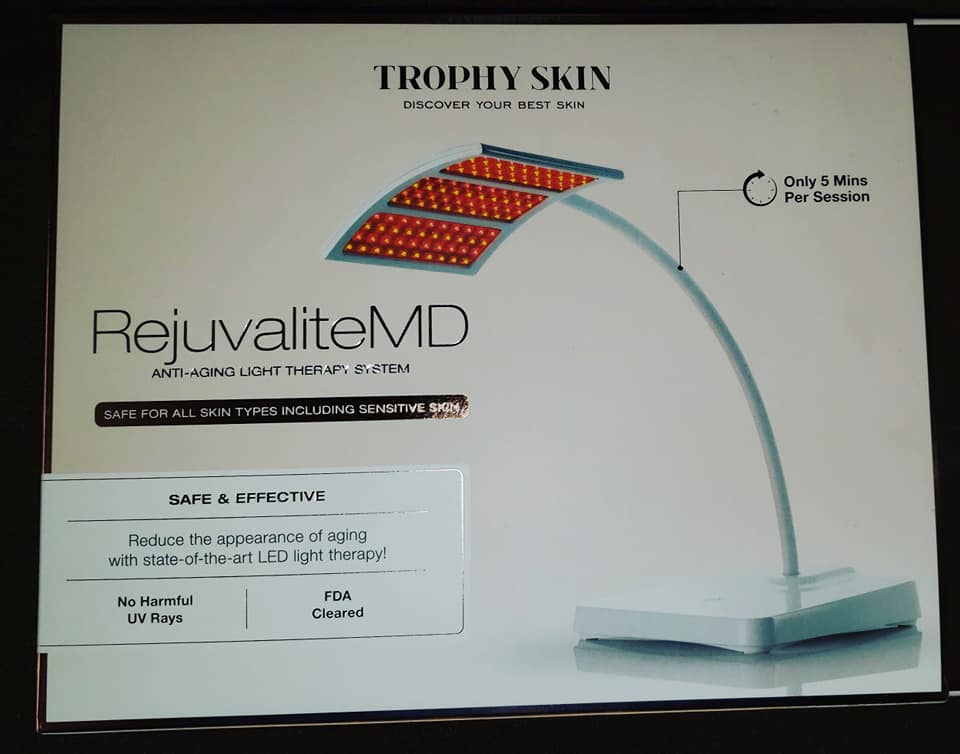 Once it is put together, you can plug it in and turn it on. It comes with goggles to protect your eyes. It is not recommended to stare at the bright light for long.
It can cause problems with vision, and headaches, or trigger epilepsy for people with light sensitivity, so make sure to wear those goggles. It also has a built-in timer so that you never exceed 5 minutes. It just goes off automatically which I love.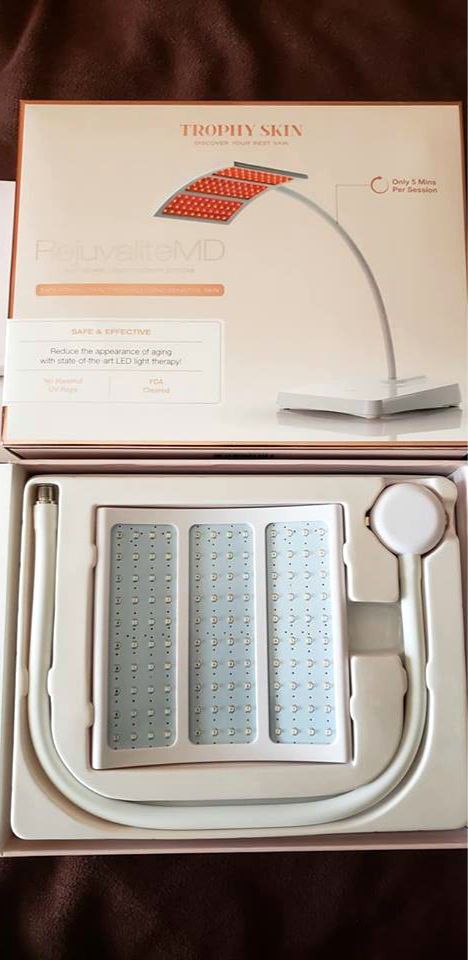 When you first use the RejuvaliteMD Red Light Therapy and turn it on, you will see that some lights don't appear to be 'lit up' with the others. That is okay! They are supposed to be like that! They are really on, but we can not see it with the naked eye!
These bulbs do not give color because human eyes cannot detect these wavelengths. Infrared bulbs are necessary to penetrate deeper into the skin help reduce inflammation and excite cellular activity. I thought that was kind of cool to learn.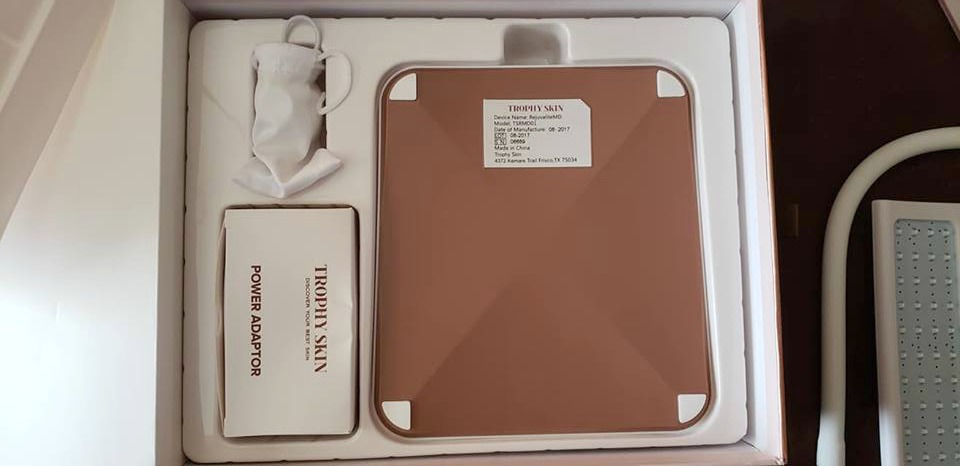 It is recommended to position the LED panel 4 inches away from the skin for optimal facial coverage. If you prefer to do 2 5-minute treatments to treat both sides of the face, that is fine too.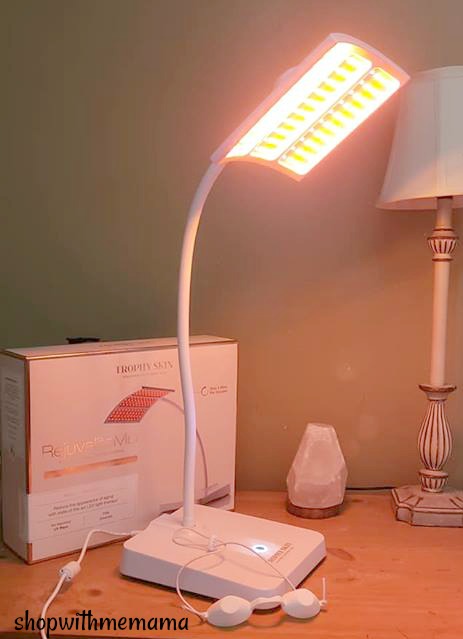 I have been using the Trophy Skin Rejuvalite MD since the end of August. So, I have been using it for around 7 weeks (maybe a bit more). I have been using it every day (minus the weekends), twice a day for 7 weeks. It is only a quick, 5-minute session, so it is super quick and very simple to use.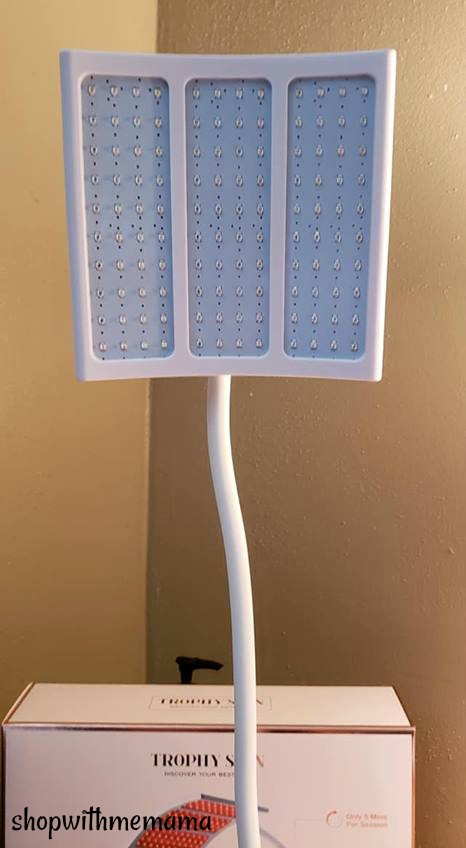 I do my face, then I do another session on my neck and chest (one session for that area) and I do another 5-minute session on just my hands. So, I do a total of 15 minutes, twice a day, but in three different spots.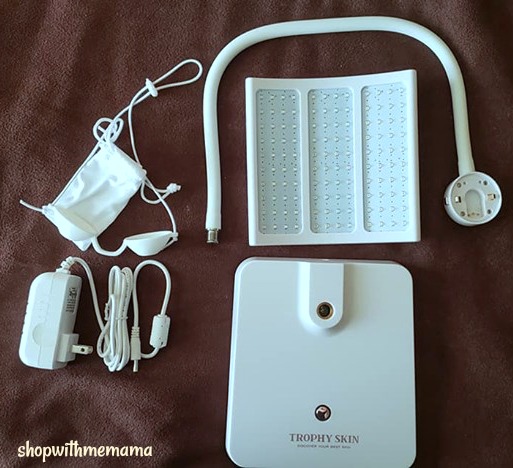 My face has seriously never ever been so soft. I don't know if that was one of the effects this device has on my skin, but it certainly has made my skin the softest it has ever been! My skin is also less dull-looking. My skin seems to be much more supple and even-toned looking.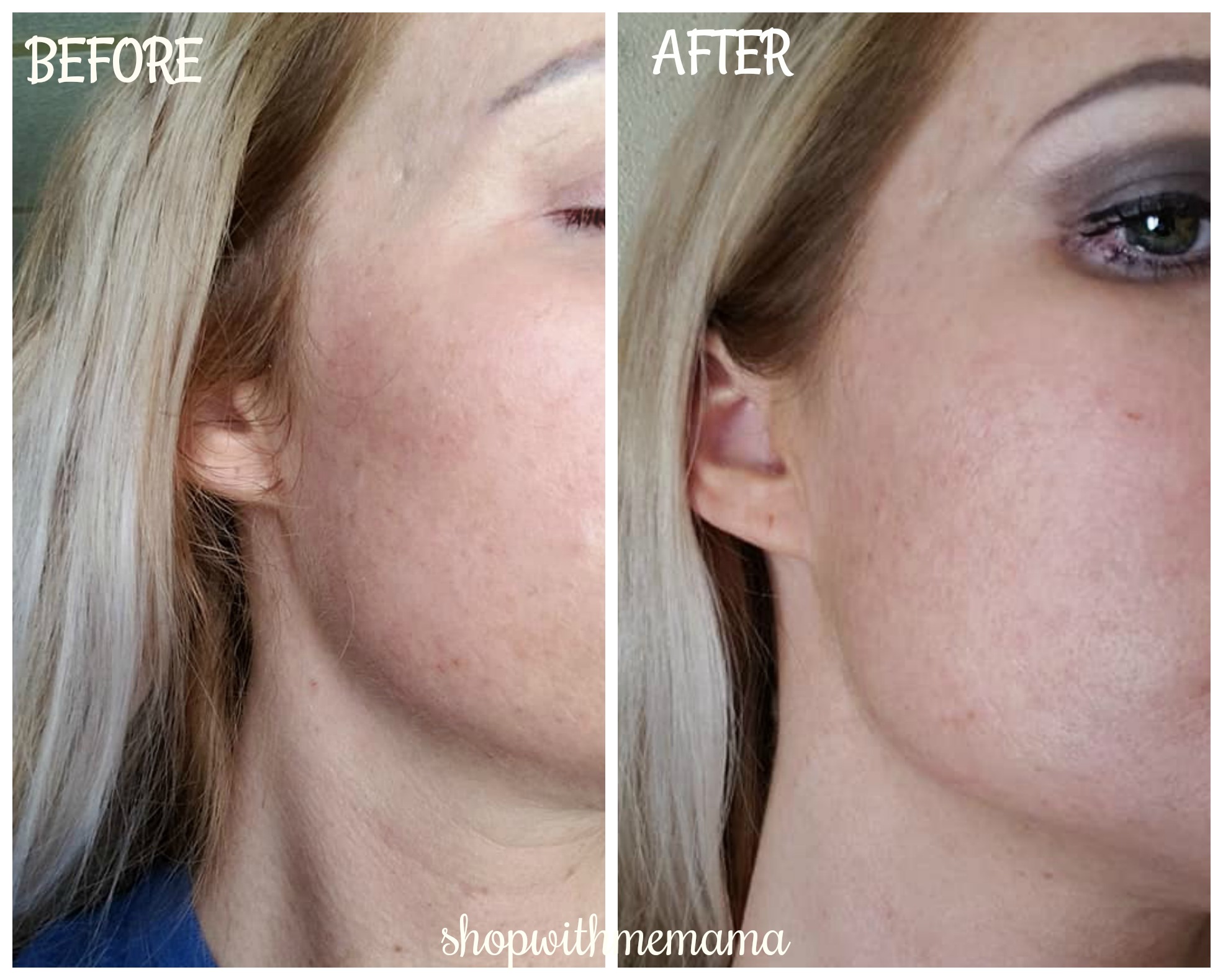 My neck seems to appear less crepey, right under my jawline. The tops of my hands are also less crepey looking. So, all in all, my face, neck, and hands are absolutely showing signs of improvement!
I am so excited to see just how much this red light therapy will do for my skin! This is really exciting when you actually SEE and feel the improvements!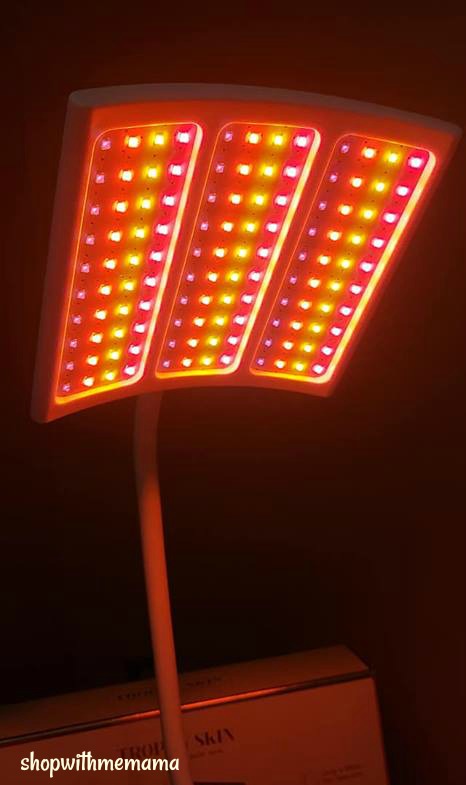 Light therapy products take a bit longer to see results because they are working from the inside out. Most people start seeing improvement in 3-6 weeks for acne and 7-12 weeks for anti-aging red light therapy. So I know I am only beginning to see what this red light therapy device can do for my skin! So exciting!!
If I ever have any questions about the RejuvaliteMD red light therapy device, I know I can easily chat online with their on-staff esthetician who is available via chat, email, or even phone, to answer any questions I might have. They can also provide you with treatment advice! So, you are never left alone or in the dark!
What Are The Benefits Of Red Light Therapy?
There are so many benefits! Experts believe red light therapy can assist with issues like skin conditions, scarring, signs of aging, wrinkles, age spots, etc.
It can also improve the health of your skin, help with wound healing, improve hair growth, reduce pain, and has anti-inflammatory benefits! So many wonderful things that red light therapy can assist you with!
So, if you're looking for an anti-aging treatment that can give you visible results, the Rejuvalite MD is a great option to consider. Not to mention, it's quick and easy to use in the comfort of your own home. So why not give it a try? You may just be surprised at the results.
About Red Light Therapy
Light therapy is a groundbreaking technology used by dermatologists to support the skin's natural healing processes. Safe visible and infrared light wavelengths penetrate the skin, stimulating the production of natural enzymes that increase collagen production, reduce inflammation, and improve skin tone and texture.
What's included in the box?
*120 bulbs LED light panel
*Sturdy base w/5 min. timer
*Flexible Arm
*Protective goggles
*Power adapter
*User manual
Show your skin the light! Reduce the appearance of sun damage, fine lines, and age spots with state-of-the-art LED red light therapy!
Now I can stop paying the dermatologist! MicrodermMD erases wrinkles, spots & fine lines easily & painlessly at home. Payment plan available & free shipping. Try it now & you'll see why they have 5-star reviews.
No Hassles!
✔ No hassle, 60-day returns
✔ Most orders ship the next business day
✔ You'll get tracking info upon shipment
✔ Join thousands that trust their skin to Trophy Skin
Interest-Free Payment Option!
If you are like me, I have to save money to buy a big-ticket item such as the RejuvaliteMD. But, thank heavens there are options for us!
Make Monthly Payments | You Decide Number of Installments | No Fees | 0% Interest
*Easy Approval, Just Need A Credit Card!
*No Credit Checks!
*Up To 12 Months of Financing
*Easy Online Tracking
Discover YOUR Best Skin Now!
Trophy Skin is pleased to offer interest-free installment plans for all of its customers ordering through its website. They currently offer installment plans ranging from 2 to 12 months. If you would like more information or have questions, please contact their support team at 866-546-4664.
Discount Code For YOU!
Get 10% Off When You Order Now! Code: FACELIFT. Limited Time Offer!
Buy It!
You can purchase the RejuvaliteMD Red Light Therapy Device online at the Trophy Skin website! It retails for $149.99 (on sale from $249!!).
Check Out My Other Reviews For More Trophy Skin Products:
*Trophy Skin Microdermabrasion MicrodermMD
*Labelle Ultrasonic Skin Spatula