Even though I am almost 49 (GASP), I absolutely do NOT feel like I am. Today, I am going to talk to you about some amazing, best natural skincare for aging skin, that I recently came across, reviewed, and LOVED. It is so good, I can't keep it a secret anymore!
I have been using facial serums and creams on my face since I was around 14 years old. My mom taught me early on to ALWAYS moisturize my face to keep it soft and line-free, so when I am older, my skin will be nice looking. She was SO right! Because of my mommy, I do look younger, thank Heavens!
My mom also taught me to not only moisturize my face but also my neck and chest area! Oh, and don't forget about your temples!
People tend to forget about those areas and they are so important because the temples have thinner skin so they definitely will age a LOT quicker!
Also, under your chin area and neck? Yep, those areas will probably be one of the very first areas to go south when you get older! So, keep those areas exfoliated and MOISTURIZED!!
What about those hands? Don't forget about your hands! My mama also taught me that! If you have any leftover moisturizer or serum use it on the tops of your hands! Don't waste it!
It is good to exfoliate the tops of your hands too. I exfoliate at least once a week to exfoliate all of the dead skin on my face, neck, chest, and tops of my hands! Then, I will apply the best natural skincare for aging skin, all over! My skin drinks it up!
I also use my NIRA Pro skincare laser DAILY. It is now a must-have and must-use skincare tool that I have to have. I started using it at the end of July 2023 and haven't stopped using it since. You can check out my NIRA Pro Laser results here!
Anyway, because I have been so good at taking care of my skin (minus the tanning years, sigh…), my skin still looks good.
Sure, I do have some fine lines, age spots, skin crepiness, and a natural wrinkle here and there, but that is just the way it is! Everyone must age, so I guess I can't fight it too hard, can I?
---
*This post includes my affiliate links
Best Natural Skincare For Aging Skin
The best natural skincare for aging skin (it is actually great for any age!) that I have been using for a little bit now, is from Bel Essence. It is an all-natural skincare line and I absolutely LOVE the stuff. My skincare routine just got a facelift!
I received the Four Serum Booster Set for anti-aging, hydration, exfoliation, and brightening from Bel Essence. I have been using it for about 2-3 weeks now and already my skin looks pretty good.
Video Of The Four Serum Booster Set
About The Best Natural Skincare For Aging Skin From Bel Essence:
Revitalize your skincare routine with a comprehensive range of care! Enhance your anti-aging efforts, repair and restore your skin with B vitamins, brighten your complexion with Vitamin C, deeply moisturize, and gently exfoliate and refresh your skin with serums. These can be used alone or as part of your existing skin care regimen to optimize your results.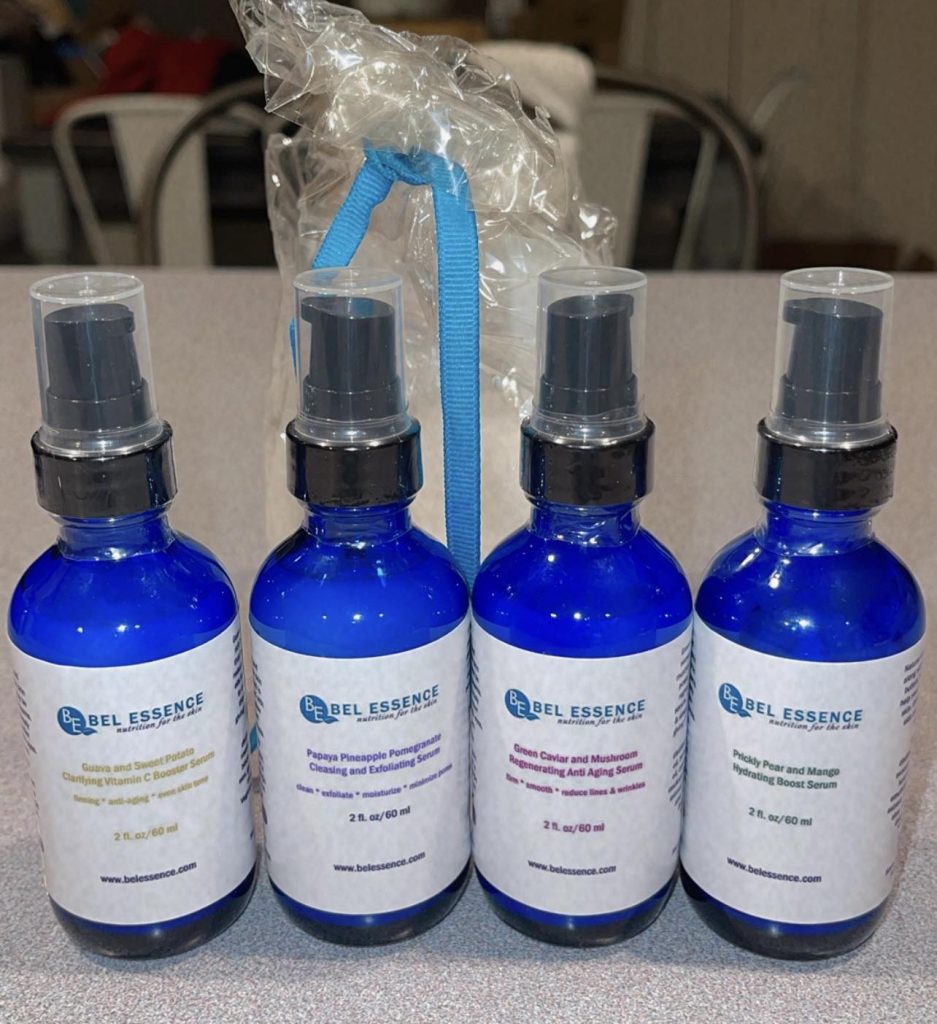 The Four Serums That I Received:
*Repair: Mushrooms are an important source of B vitamins that repair and renew your skin, and rebuild the moisture barrier in your skin
*Restore: Vitamins A, B, C, and E are the stars of our serums, restoring youthful skin by building collagen for firm skin, reducing discolorations, smoothing fine lines and wrinkles, and preventing environmental damage that causes aging. The Vitamin C Booster serum gives you glowing skin with an even tone
*Refresh: Boost your hydration with prickly pear and natural oils and butter. The serum ingredients draw moisture into the skin, retain moisture, and prevent your skin from losing moisture.
*Renew: Gently exfoliate your skin with enzymes that dissolve dead skin cells and reveal clear, bright skin. Natural oils clean your pores and minimize them.
These serums are easy to use and apply: Apply small dots and massage into the skin until absorbed. Can be used day or night, and can be used with other moisturizers and serums.
My Thoughts On These Best Natural Skincare For Aging Skin
I tend to use two of the serums in the morning and two of the serums at night. I kind of rotate which ones I use because they are all perfect for morning or evening use. They all do different things so I just switch it up as I see fit.
They kind of have a fruity smell to them and they are a light serum that is milky white and reminds me of a watery cream. They all blend into my skin nicely and leave my skin feeling soft and looking really moisturized which I love. They leave a layer of moisturizer on my skin so I will use a lighter moisturizer over the serum each time I use them.
Upclose Picture Of My Skin (No Filters)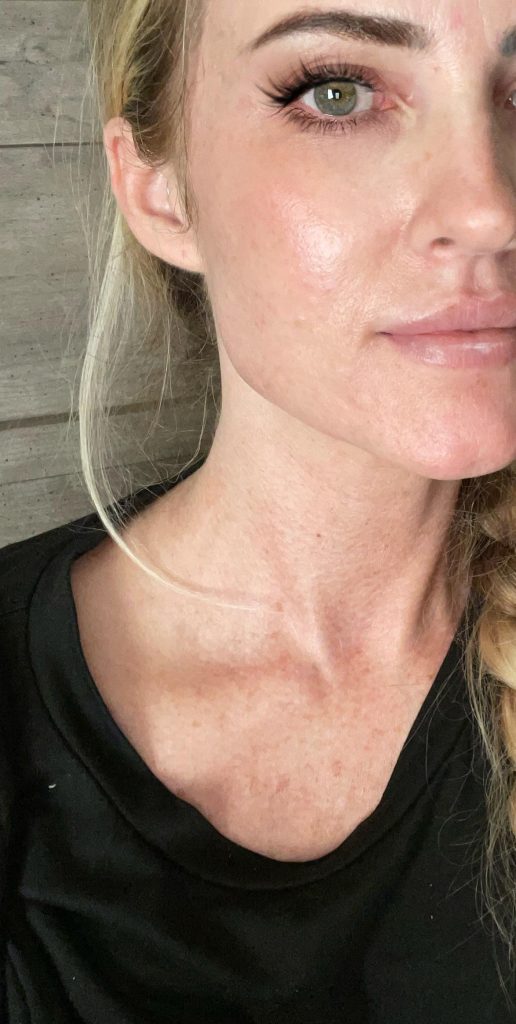 My skin feels and looks really nice and I love that this skincare is natural. Makes me feel better about using it on my skin every day. I have heard a lot of great things about their skin-restoring body butter so that is what I want to try next.
They have so many best natural skincare for aging skin products that I really want to try. I am interested in one day, trying them all because I really like this brand and the serums I received.
What Are The Ingredients?
Bel Essence is created from natural botanicals that experts agree are the richest sources of vitamins, antioxidants, omega 3s, and other compounds to restore healthy, youthful, glowing skin.
Natural ingredients give your skin the nutrients it needs to rebuild, regenerate, and renew. You get human-tested, human-approved formulas that work and reveal your natural beauty. Never tested on animals (which I loved to hear)! You can check out the full ingredients here!
Bel Essence products are infused with a diverse blend of natural oils and extracts that cater to your skin care needs. These products moisturize, soften, and soothe, even out skin tone, firm and smooth, reduce lines and wrinkles, and relieve irritations.
Each formula is carefully crafted to become your beloved go-to product that provides long-lasting improvement. Bel Essence is the sole natural skin care brand that requires less usage over time, the more you use it.
Achieving effective and reasonably priced skincare is your top priority. You also desire to feel confident about the products you use, right? Bel Essence products help you achieve that.
The ingredients in these products are thoroughly researched for their benefits and sustainability, and the packaging is designed to minimize waste.
Explore their Give 10 Get 10 initiative – you save on your purchase, and they donate to conservation programs and animal welfare charities of your choice.
Bel Essence is skincare that not only positively impacts your life but also the world we live in. They also have a really informative and cute blog, so be sure to check that out too!
---
Buy
You can purchase this amazing Best Natural Skincare For Aging Skin on their website. The serum set I received retails for $80. They also offer free and fast shipping!
Win!
One lucky person is going to win an anti-aging face cream and a firming eye cream (in a cute gift bag ready for gifting!) from Bel Essence! Yay!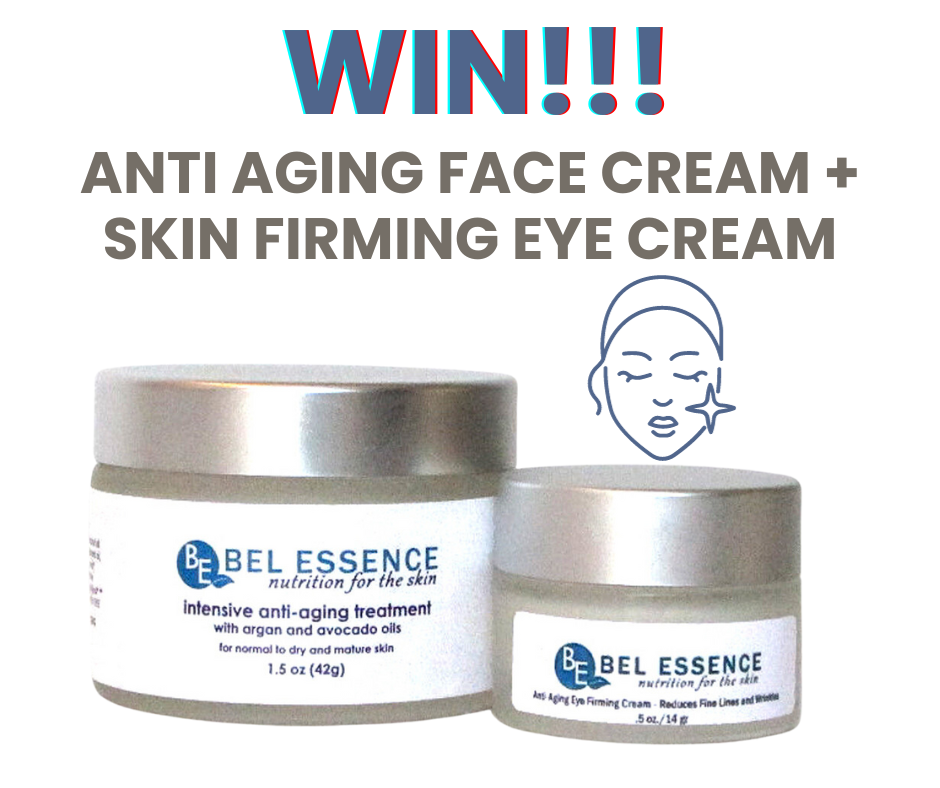 Rules
The contest is open to US, 18+. The giveaway will end on November 3, 2023, at 11:59 PM. I am not responsible for lost or stolen mail.