If you read my blog, then you know I am passionate about my skincare! Especially since I am 49 years old! GULP… You should also know that I have been using the NIRA Pro Laser for a while now and I am more than ready to show my NIRA Pro Laser results to you! Check out my before and after pictures from using the NIRA Pro skincare laser for 90+ days! The results are completely amazing and blew me away!
I cannot say enough good things about the NIRA Pro laser, I just can't! It is one of my most treasured, most used, and favorite skincare tools I own and use ALLLL the time.
Why? Because it WORKS. The pictures you see below are unedited, unfiltered, and raw. They are the real deal! I am happy to say I am excited to share these after pictures with you all because they look SO dang good!
This home laser is simple to use, only takes 2-5 minutes to do a full treatment (depending on what you are treating), and is lightweight so it doesn't hurt your wrist from holding it like some other beauty skincare tools I have used in the past.
*This post includes my affiliate links
NIRA Pro Laser Results: Before And After Pictures
They say you can see clinical grade results in 90 days, guaranteed (or your money back!). That is why I wanted to wait and use the NIRA Pro Laser for the FULL 90 days so that I could see for myself, the results that were guaranteed. I definitely see results! Do you see them too????
I mean, look at the glow I have now! My skin looks younger, feels tighter, looks tighter, doesn't have that redness to it, and is just smooth-looking! Doesn't my skin look good?!?
My Personal Unfiltered, Unedited, Before And After Photos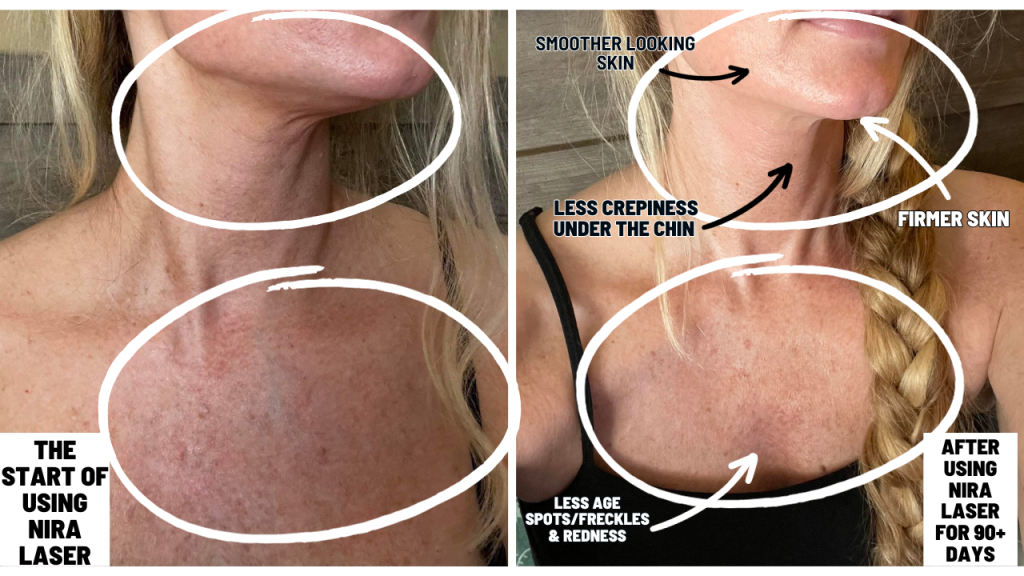 My NIRA Pro Laser results and my before and after pictures are kind of amazing ;)! Here are my NIRA Pro Laser results, what I noticed, and how I felt my skin has changed since I started using the NIRA Pro skincare device in August:
*Fine lines are LESS noticeable
*Skin appears to be firmer and less saggy-looking (less aging-looking)
*Crepiness on my chin has lessened (look at the picture below!)
*The sun spots on my chest have lightened (My personal result after using the NIRA Pro for 90+ days)
*My face appears brighter and smoother
*The redness on my chest and face is gone
*The skin on my hands is less crepey
Before and After Pictures Of My Hands
(pic below is on day 43!!)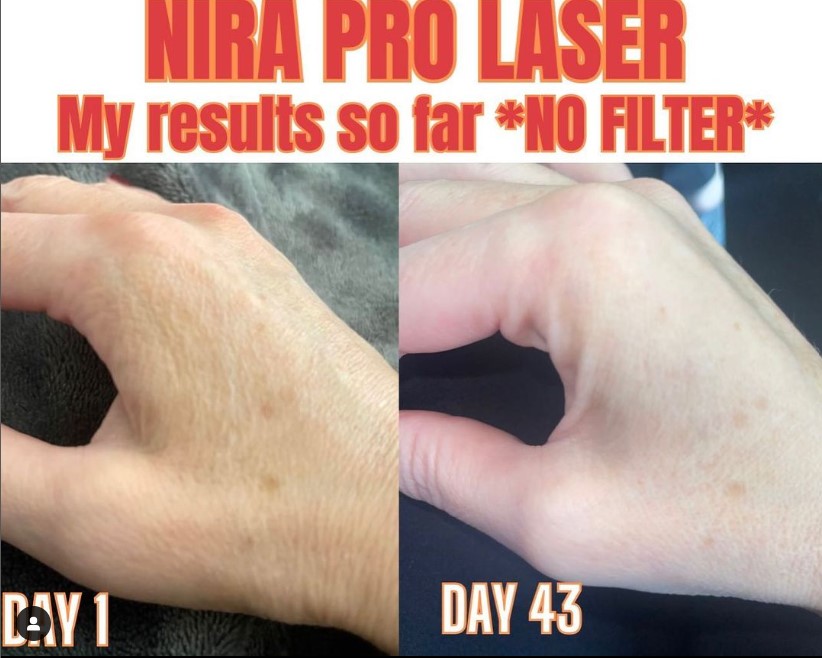 NIRA Pro Laser Before And After Pictures!!
I am just SO SO SO happy with the results that I have received so far from using the NIRA Pro Laser! I definitely have noticed significant changes in my skin not only from looking at it but the way it feels too.
Unedited, Unfiltered Photo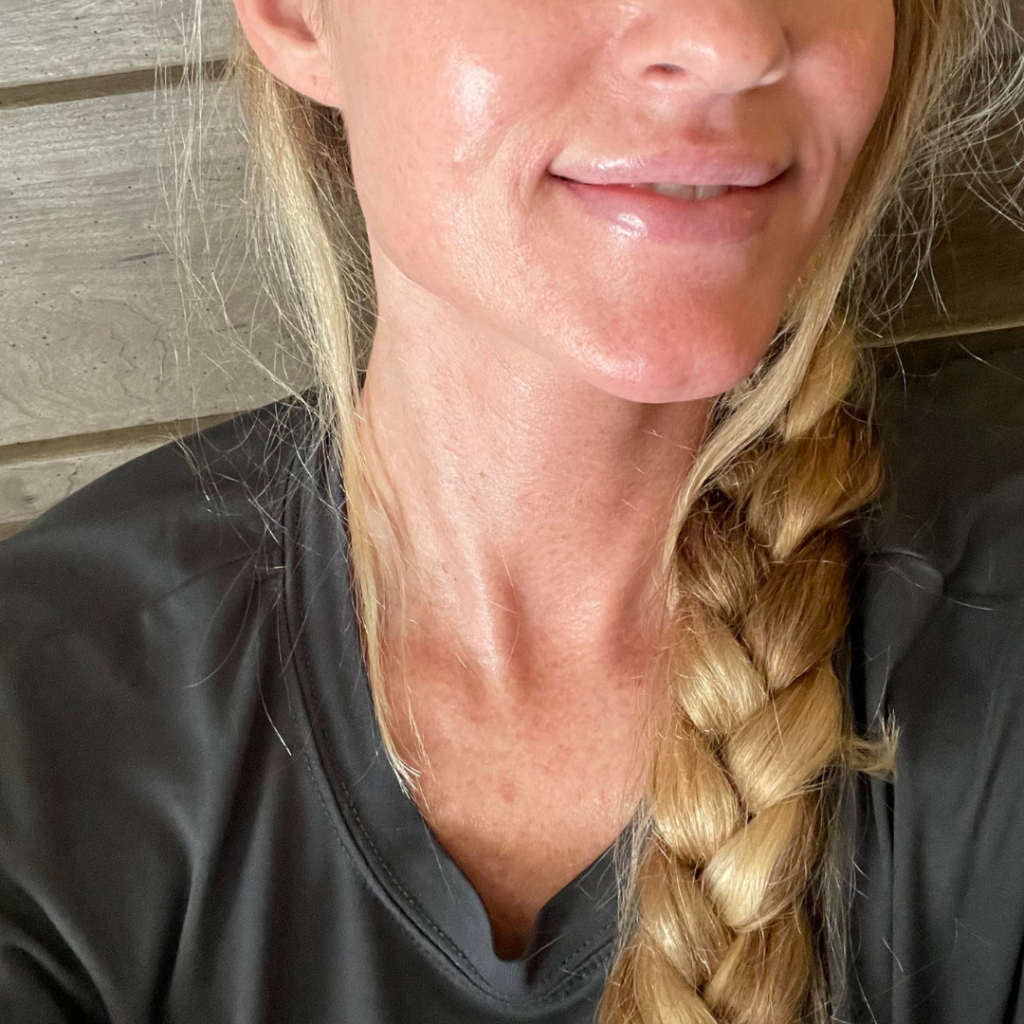 Real Users Proven Results
If you are not convinced by my personal before and after pictures, then you should check out the before and after pictures of real users on the NIRA website.
There are a TON of them and they are all unedited and unfiltered pictures of real individuals who use and love the NIRA Pro skincare laser.
Targeted Laser For Wrinkle Reduction And Skin Renewal
The NIRA skincare lasers (both the PRO and the Precision lasers) are targeted for wrinkle reduction and skin renewal. I mean, I certainly noticed both since using the NIRA Pro laser for 90 days!
It is obvious that this skincare laser actually works or I would not waste my time using it and talking about it so much. You can tell when I am passionate about a product I love because I won't stop talking about it! It really is a great anti-aging skin care device that every woman over 40 NEEDS to have in their home.
Easy To Use Nira Pro Laser
I love that the NIRA Pro Laser is very easy to use and it doesn't take long to do a full treatment. I will usually do a treatment one to two times a day. One time in the morning and one time in the evening while I watch my crime shows 🙂
So Easy and Quick To Use!
I will usually treat my whole face, neck, chest, and the tops of my hands. That usually takes me anywhere from 3-8 minutes depending on how quickly I am going or if I have to get up and do something real quick. It is painless (unlike other skincare devices) and it never takes me over 10 minutes to complete my treatments.
Since it is so easy to use and only needs to be charged after I use it 3-5 times, I tend to use the NIRA Pro laser every day. I LOVE the convenience of having it by my bedside and easily accessible. It is just such an easy item to use.
Video Of Me Using The NIRA Pro Laser
(This video is of me using the NIRA Pro Laser in the first three weeks of receiving it)
11 Reasons You Should Try The NIRA Pro Laser
I mean, if my results haven't convinced you to at least try the NIRA Pro Skincare Laser and see for yourself, then I don't know what will convince you! So, below, I put together a small list of why you should try the NIRA Pro Laser!
1. The NIRA Pro Skincare Laser is painless and non-invasive.
2. The NIRA Pro Laser is worth it because it can help improve the appearance of fine lines and wrinkles.
3. The NIRA Pro Skincare Laser uses a Non-Fractional Laser to kick-start the natural production of collagen and rejuvenate your skin from the inside.
4. The NIRA Pro Skincare Laser is clinically proven to reduce wrinkles.
5. The treatment is simple, fast, and effective, and can be used in the comfort of your own home.
6. NIRA Pro is the largest at-home laser for face, neck and hands
7. Hyperpigmentation & sunspot correction
8. Fraction of the cost of in-office treatments
9. Safe for all skin types
10. 90-Day Money Back Guarantee (nothing to lose but wrinkles and aging skin!)
11. Free US Shipping!
What Is The Difference Between The NIRA Pro Laser And The NIRA Precision Laser?
The NIRA Pro Laser covers more area, quicker. You can still use the NIRA Pro on smaller areas too, like around your eye area (though the NIRA Precision Laser would cover smaller areas more accurately), but you can still use it around your eyes. I did with no issues at all.
The NIRA Pro is great for larger areas like the full face, neck, chest, and hands. The NIRA Precision Laser is best for smaller areas around your eyes, eyelids, temples, and smaller areas.
However, as I stated above, the NIRA PRO can get these areas too, it is just trickier and you should take your time doing the treatments!
Where To Buy The NIRA Lasers
The NIRA Skincare Lasers (the Precision and PRO lasers), can be purchased on their official website at niraskin.com.
Get 25% Off The NIRA Skincare Lasers + Sitewide!!!
Right now, you can get 25% off both of the NIRA Skincare Lasers (the Pro and the Precision) AND sitewide!! Just use my code: SHOPWITHMEMAMA at checkout!
This discount is only good until November 27th, so hurry (After the 27th, it will go back to 10% off)!
If you are on the fence about buying the NIRA Pro Laser this is your sign to BUY IT!!!! Let me know if you have any questions, by leaving me a comment below! I am here to help you and answer any questions you may have.