I love the Nira skincare laser because it is literally the best at-home laser for under-eye wrinkles and skin in general. If you want to purchase one, I have a 20% off sitewide coupon at the end of this blog post, so be sure to grab it! I also have NIRA Skincare Laser Advanced Anti Aging Device Reviews, see it below!
As someone who has spent time researching the best solutions for aging skin, I know that finding the best laser for eye wrinkles, fine lines, dark spots, etc., can make all the difference.
As we age, our bodies naturally stop producing collagen – causing the skin to wrinkle and sag. And, now that I am in my late 40s, sigh, I must say I do need a bit of help with signs of aging :/
Skin aging, often resulting from sun damage, sun exposure (which I had a LOT of in the younger days…), and loss of collagen, which of course leads to the development of wrinkles, fine lines, and pigmentation issues, hence my need for the Nira skincare laser! These concerns can be particularly prevalent in delicate areas such as the skin under our eyes.
*This post includes my affiliate links
The Best Laser For Under-Eye Wrinkles (Nira Skincare Laser)
I know many people associate laser devices with laser hair removal, but it is also used for skincare! There are plenty of ways to help your skin out by using a laser, like laser skin resurfacing or helping to treat those pesky fine lines, wrinkles, and brown spots on your face and neck area with a treatment like using lasers.
My main issues are circled in the picture below (untouched photo):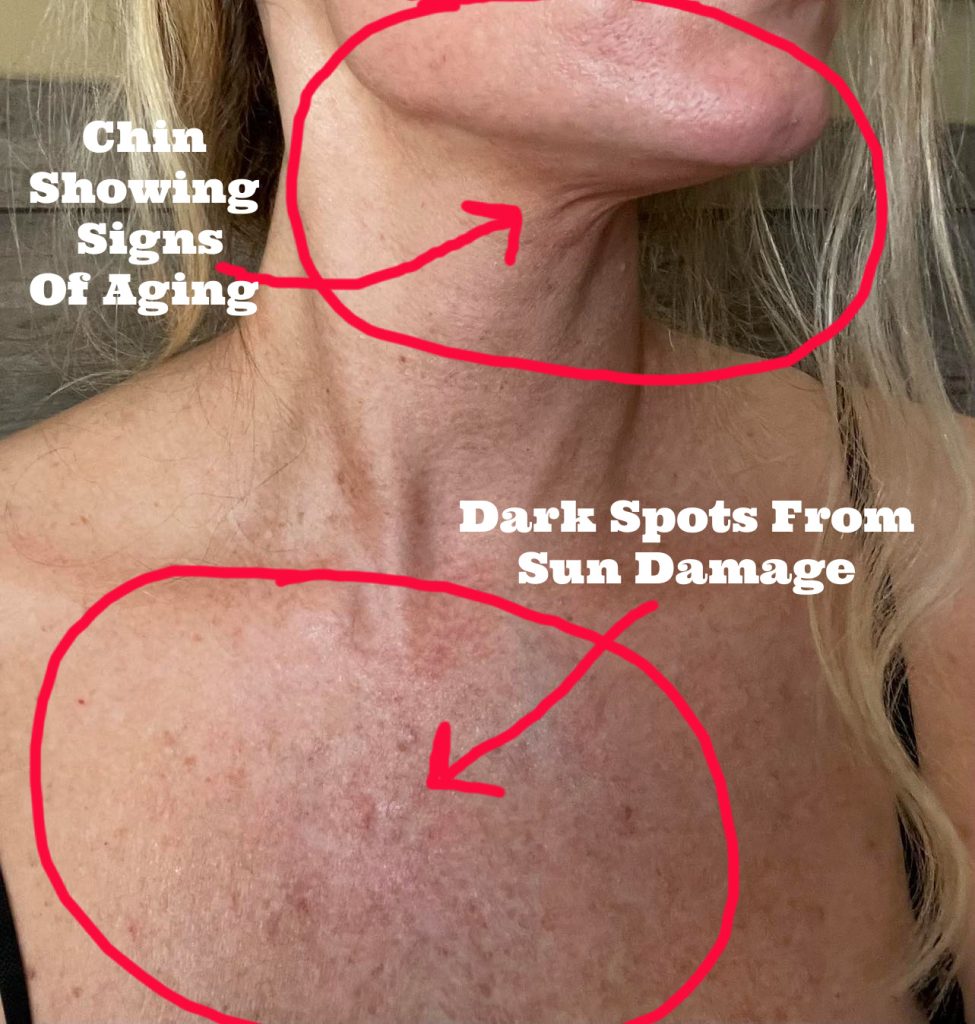 With advancements in the aesthetic field, several laser treatments have emerged as effective options for addressing under-eye wrinkles and other skin care issues.
These lasers work by stimulating the production of collagen, improving skin elasticity, and loose skin, and reducing the appearance of fine lines and wrinkles, crow's feet, and eleven lines (my biggest thing!) and in the process slowing down the aging process.
People use the Nira skincare laser for eye wrinkle treatment around the eye area (delicate skin!), skin tightening or lift (double chin, etc.), body contouring, etc. There are SO many ways you can use a laser for all your skincare and cosmetic needs/issues.
While some people opt for surgery and cosmetic treatments (hey nothing wrong if you do! I get Botox!!), I opt to use my NIRA Pro Laser Wrinkle Reducing and Skin Renewing at-home laser device!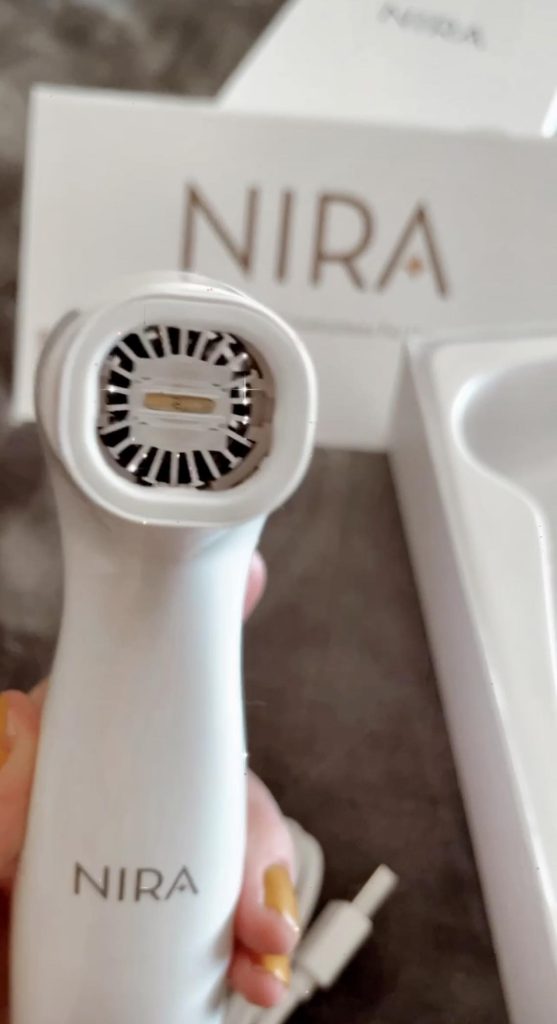 There is absolutely no downtime and no pain from using it. Plus, I save a LOT of money in the long run because I am not visiting a plastic surgeon or spending money on costly procedures every 3-6 months.
I am so passionate about keeping the appearance of my skin, young-looking and pretty. I don't want to age, but unfortunately, aging is inevitable for us all. However, I can certainly slow down the aging process! I have been doing this lately with the NIRA Skincare Laser.
The NIRA skincare laser uses the same laser chip as professional Dermatology systems. NIRA has designed the first and only at-home facial laser that painlessly delivers clinical-grade results.
Benefits of Using The NIRA Skincare Laser
​Let's talk about all the wonderful benefits you achieve by using the NIRA Skincare Laser daily!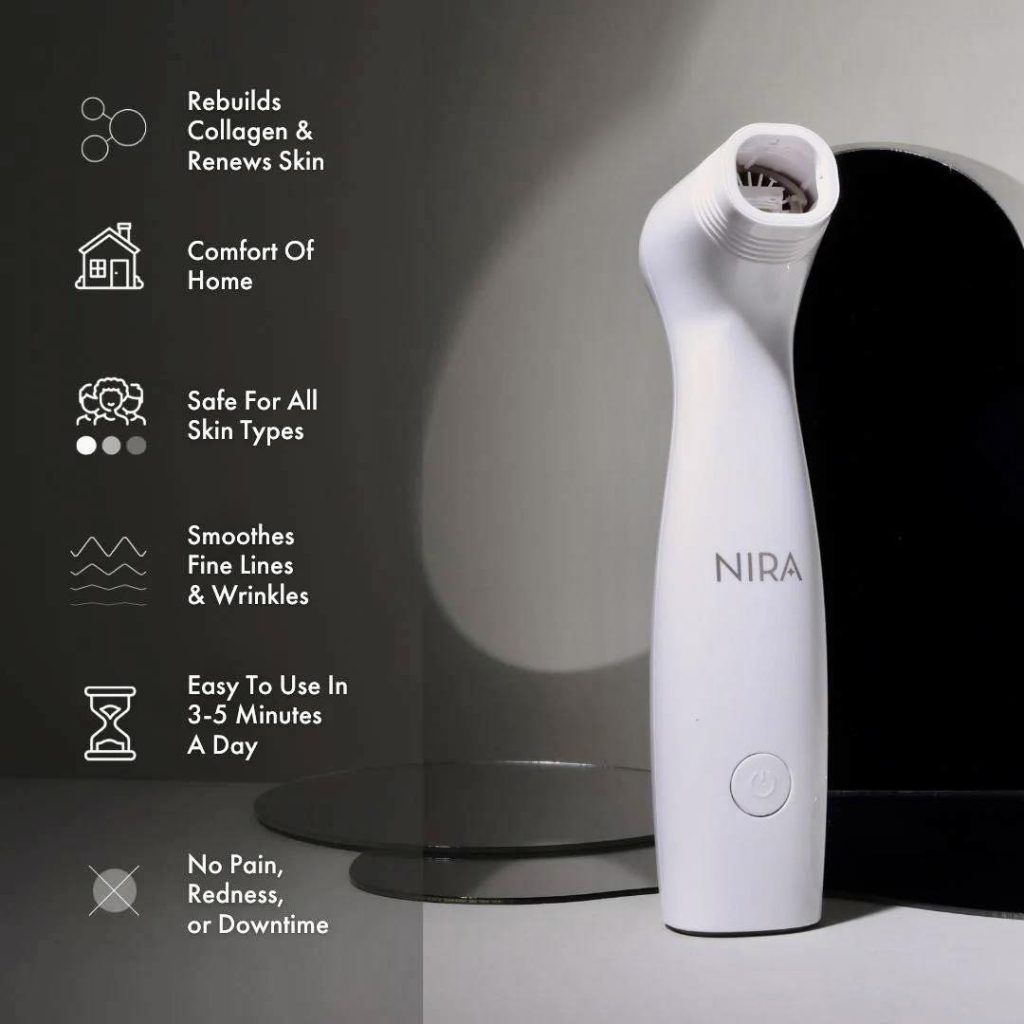 I've found that the NIRA Pro Laser offers several benefits for the under-eye area and over the whole face, the tops of my hands, and the neck area. One key aspect of using this laser is the stimulation of collagen production.
NIRA's patented non-fractional, non-ablative laser technology is proven to reduce signs of aging without pain downtime, or a healing process to deal with.
So, you can go on with your normal activities right after using this laser. The anti-aging laser gently warms the dermis, rebuilding collagen and renewing the skin from the inside out.
As I age, my skin's collagen production decreases, leading to wrinkles and fine lines. By promoting collagen production, the NIRA Pro Laser helps maintain a youthful appearance. And? It is simple to use!
In addition to supporting collagen production, the NIRA Skincare Laser also improves my skin's texture. As a result of regular treatments, I've noticed a smoother, more even texture in the under-eye area. This makes my skin feel softer and appear more refined.
Another benefit I've experienced with the NIRA Pro Laser is an improvement in skin tone. The laser treatment helps in reducing redness and hyperpigmentation that can occur around my eyes. As a result, my under-eye area appears brighter and more even so far but time will really tell after I have been using it for 90+ days!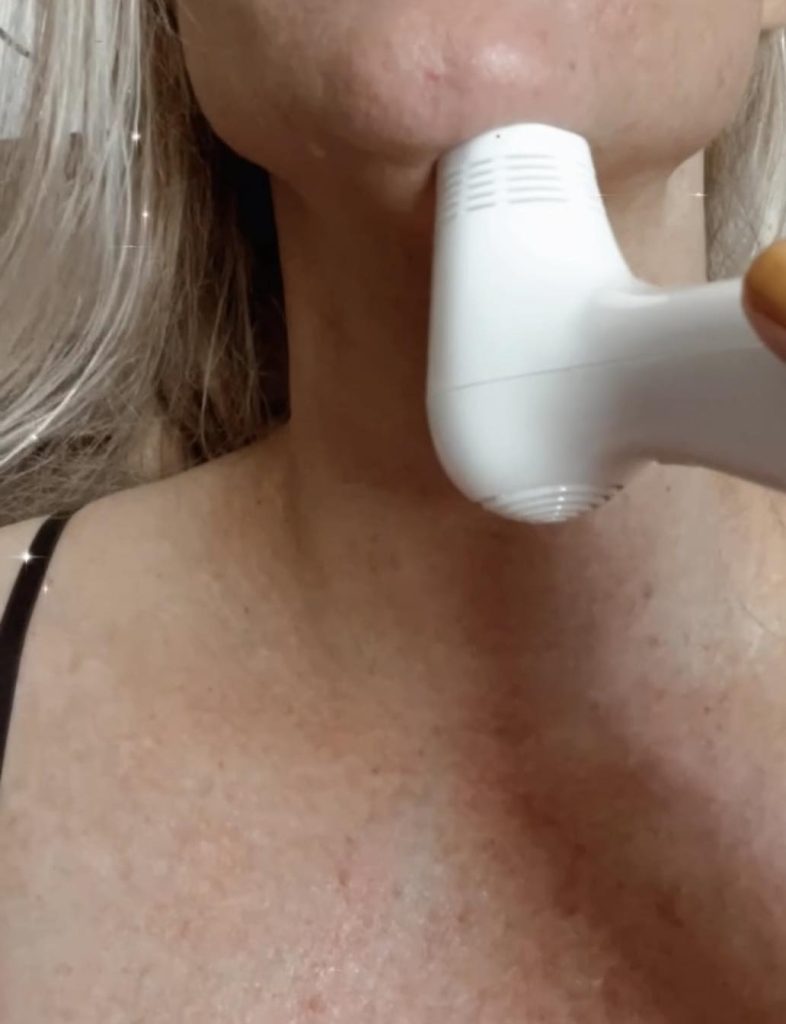 I also have noticed that by using the NIRA PRO Laser daily, my face, neck area, and the tops of my hands, the treated areas have been looking much brighter and even-toned. Of course, I have only been using this for about two weeks now, so I am excited to see the full results after using this for 90 days!
So, in October, I will be updating this post with 'after pictures'. Below are my 'before pictures' so I can keep track of how much my skin has changed over the course of 90 days of treatment!
I really hope that the Nira skincare laser helps to tone down the eleven lines between my eyes! I HATE them and I can't afford Botox right now. I pray the appearance of wrinkles will lessen significantly! That is my goal by using the NIRA PRO daily!
Overall, using the NIRA Skincare Laser for under-eye wrinkles, wrinkles around my mouth, lip lines, tops of hands, and my skin hyperpigmentation, there have also been various benefits for my skin's appearance and health.
What I really love about this laser too is that there are SO many NIRA Skincare Laser Advanced Anti Aging Device Reviews on their website.
Real experiences, real people, telling their stories and sharing their honest thoughts about this amazing device! By reading all those reviews really made me want to try out this laser and see if it works for me. So far, so GOOD!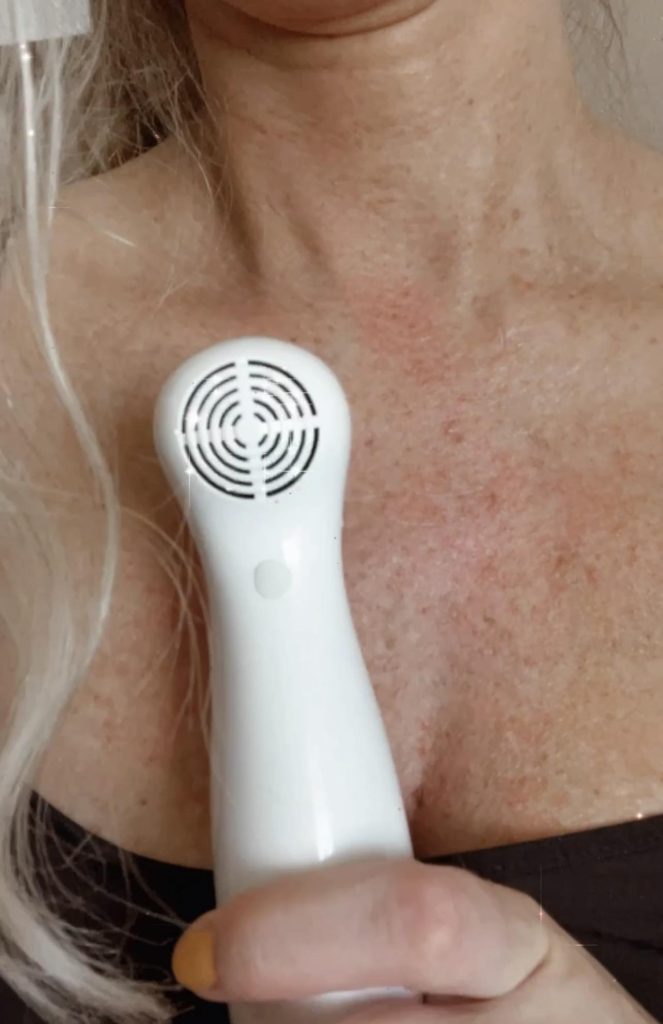 Helps Promote Collagen, Texture, Sun Spots, Redness, And More!
The laser helps in promoting collagen production, improving texture, and evening out skin tone while reducing redness and hyperpigmentation which I can't wait to see more of.
NIRA Skincare Lasers
NIRA has two skincare lasers to choose from. I received the NIRA Pro Laser but they also sell the NIRA Precision Laser too. They are both wonderful and they both help with fine lines, wrinkles, hyperpigmentation (dark circles), sagginess, acne scars, and more!
About The NIRA Pro Laser
​The first and only painless at-home laser with a large enough treatment tip to target the entire face, neck, chest, back of hands, etc.
Features:
​*FDA-Cleared, clinically proven to reduce wrinkles fine deep lines, and dark spots on your facial area and body
*Stimulates new collagen production for younger-looking skin in 90 days
*5 comfort levels for no pain, redness, or downtime
*Easy-to-use, portable skincare device for use at home or on-the-go
I love the bigger treatment tip because I have a lot of wrinkles and hyperpigmentation to take care of! So, having the bigger tip for treatments is so nice! I can quickly cover an area of skin and go on to the next section pretty quickly making the treatment sessions totally doable every day! Yay!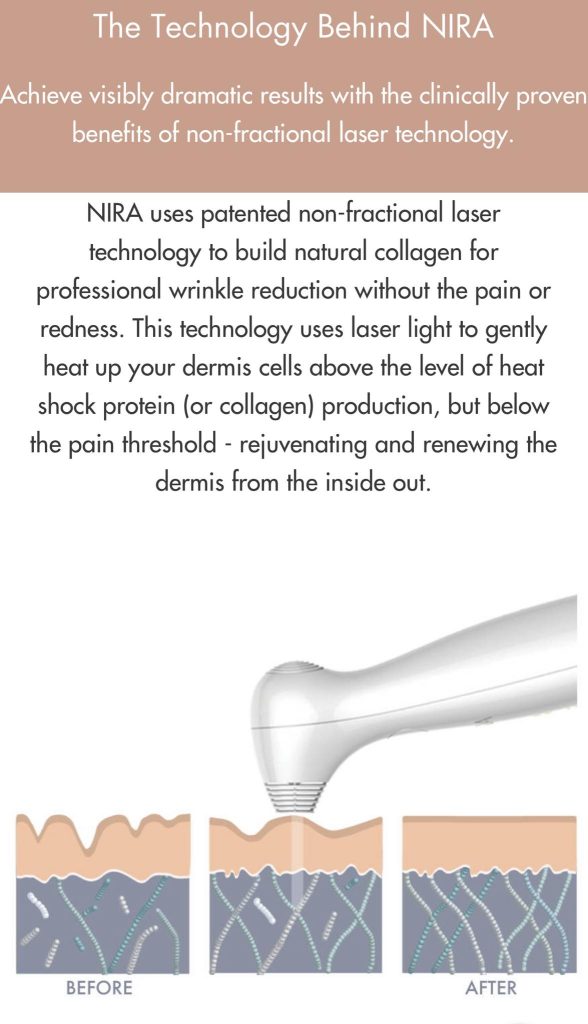 About The NIRA Precision Laser: The Best Laser For Under-Eye Wrinkles And Skin
​The first and only painless at-home laser with a small enough tip to target hard-to-treat and small areas around the eyes and mouth.
Features (Just like the Pro Laser!)
*FDA-Cleared, clinically proven to reduce wrinkles fine lines, and age spots
*Stimulates natural collagen production for younger-looking skin in 90 days
*5 comfort levels for no pain, redness, or recovery time
*Easy-to-use, portable skincare device for use at home or on-the-go
What Type Of Laser Is NIRA?
NIRA Laser is a non-fractional, non-ablative laser! Find out what non-fractional and non-ablative laser technology is, below!
Non-fractional, non-ablative laser technology stimulates collagen production and rejuvenates the skin without damaging the surface. It directs thermal energy into deeper skin layers to enhance texture, diminish wrinkles, and firm the skin.
NIRA's technology uses gentle heat to stimulate collagen for a firmer, more youthful appearance in 90 days, providing a non-invasive alternative for wrinkle reduction with no side effects.
In contrast, most facial lasers, like fractional or ablative ones, work by removing skin layers, potentially causing redness, scarring, inflammation, pain, and downtime.
How Do I Use The NIRA Laser?
​First, make sure that your NIRA Skincare Laser is fully charged. Just plug it in and let it charge up. After it is fully charged you can then use it.
Read the instructions and make sure you fully understand how to use this device! I recommend watching the below helpful YouTube video to fully understand how to use the NIRA Laser device!
Video On How To Use The NIRA PRO Laser
Video On How To Use The NIRA Precision Laser
Can Use Every Day Up To Twice A Day!
​To get the results illustrated on their website, you need to use the laser routinely – 10 pulses per skin laser treatment area, per day, for 90 days. Consistency is key when it comes to seeing any results with your skin concerns.
The NIRA Laser works similarly to exercise and muscle, it takes time for the collagen to rebuild, and the best results are seen with continued routine use. (I use my NIRA Laser TWICE a day for the past week or so and will continue to do so until I have noticeable results that I can take a picture of and share with you all)!
NIRA says you can use the laser twice a day!!! So, that is what I do 🙂 They recommend waiting at least 1-minute before retreating to each area. (Daily usage is recommended on an ongoing basis to maintain results).
I am hoping to get rid of or at least smooth out the crepey skin on my hands and eliminate the age spots you see in the pictures below: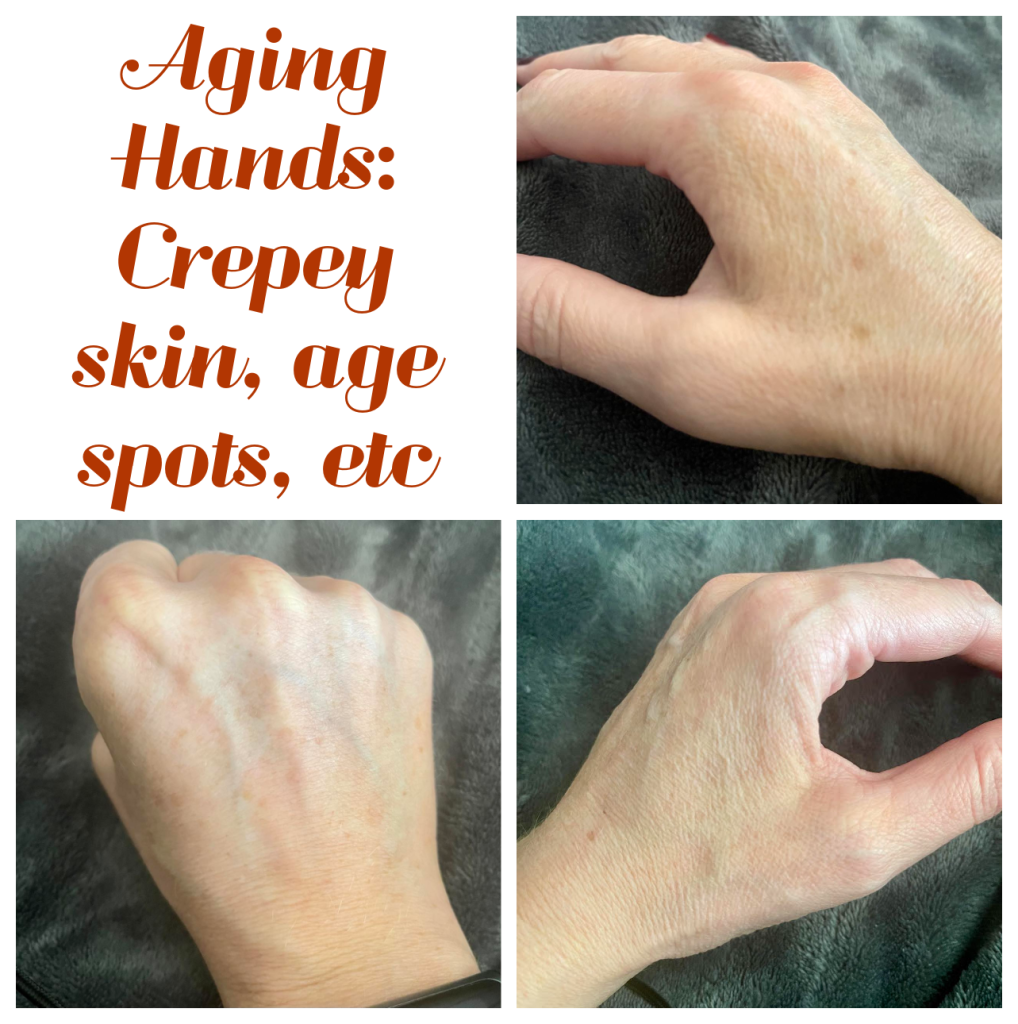 Learn The Beeps!
Reject Point (Yes, it's a thing!)
​Next, power on your skincare laser device. It is important to detect the 'reject point'. You do this by holding the skincare laser away from your skin (NO skin contact), and pressing and releasing the treatment button.
You will hear a set of quick low-pitched beeps indicating a rejection pulse. This will help you to identify when the skincare laser is not in contact with your skin and is not lasering your skin properly.
The rejection tone indicates that the tip of the laser was not in direct contact with your skin. If you happen to hear this sound during the treatment of your skin, just reposition the laser tip to ensure it is in full contact with your skin and try again.
Test Your Treatment Level
​Now it's time to test your skincare laser treatment level. You should really only have to do this the first time, because, after the first time, you will be more familiar with the treatment levels and how your skin can handle them. It will become easier and quicker, I promise! The first time is longer because you are learning!
Complete Steps To Use The NIRA Laser:
*Wash and dry your face completely
*Set your NIRA Pro to level 1
*Place the device tip on your skin.
*The laser will automatically fire once.
*A successfully delivered pulse is confirmed by 2 beeps.
*The first beep indicates the laser has begun firing.
*The second beep indicates the laser finished firing for that one spot.
*Move the laser, repeat this process, and continue to increase the power level until you've reached a level where you feel warmth without pain.
*After 10 pulses are successfully completed, you will hear a jingle which indicates that you can move treatment to the next area.
I experience a slight warmth when using the laser, but it's tolerable and free of pain. As the treatment is non-ablative, it does not cause any damage to my skin's surface, meaning it has minimal side effects and discomfort.
*Note: If you hear the initial pulse followed by the error tone, the pulse is not complete; you likely pulled the laser off the skin too early. Re-adjust the device and be sure the face of the laser is fully pressed against the skin. Hold the laser in place until you hear the second high-pitched beep.
Video Of Me Using The NIRA Laser
A Video Of Me Using The NIRA PRO Laser On My Neck And Chest Area:
After the Treatment
Once I've finished the treatment, I apply the NIRA Hyaluronic Acid Serum to help hydrate my skin and alleviate any redness that may occur. Since the NIRA laser does not cause notable inflammation, I can quickly resume my daily activities without needing any downtime.
I gradually notice improvements in the appearance of my under-eye wrinkles, face, neck, and tops of my hands, as I use the device consistently, following the recommended frequency for the best results.
Frequently Asked Questions (FAQs)
Side Effects and Risks
Though not common, NIRA Precision may cause some temporary redness immediately after use but that should fade within a few minutes.
A small portion of users may also experience mild stinging and discomfort. Please see the Instructions for Use for NIRA Precision for a full list of possible side effects, indications, cautions, and precautions.
Where Can I Use The NIRA Laser?
You can also use the skin care laser device on other areas of your face too! I use it around my mouth, under my eyes, under my chin, and on my temples.
It is safe for all skin types and if you have dark skin, you can use it too. You can use the laser 2 times per day to accelerate results. Simply wait at least one minute between treatments.
What Does The NIRA Precision Laser Feel Like On Your Skin?
It honestly just feels warm to me. The NIRA Precision Laser feels like a warm, pulsing sensation on your skin. If you ever feel ANY discomfort at all, then change the intensity level of the laser.
The laser has 5 different levels to choose from. I recommend starting out with the lowest level and going up from there as you get to know the device.
Is The NIRA Laser Safe?
Yes, the NIRA Precision Laser is safe to use and suitable for all skin types and tones. In order to achieve FDA clearance, the laser was clinically tested on 76 subjects (both women and men) for efficacy and safety. The laser was also tested and certified for electrical and laser safety as well.
Can I Use The NIRA Laser If I Have A History Of Skin Cancer?
The NIRA Precision Laser is recommended to be used on healthy, intact skin only. Please do not use NIRA Precision if you have a history of cancer or pre-malignant moles.
If you are unsure, we recommend consulting with your physician or medical professional before using the laser to ensure the best safety and performance.
What non-laser alternatives are available for under-eye wrinkle reduction?
There are several non-laser treatment options for reducing under-eye wrinkles. Some popular options include:
Remember that before starting any treatment, it's crucial to consult with a qualified medical doctor or board-certified dermatologist about your medical history to discuss your unique needs and determine the best option for your under-eye wrinkle reduction.
No Side Effects For Me
Since using my NIRA Skincare Laser (The Best Laser For Under-Eye Wrinkles And Skin), I have not personally faced any complications or side effects from using it.
However, I did have some temporary redness immediately after using the skincare laser, but it goes away fairly quickly and it never hurts.
I really love my NIRA Pro Laser and can't wait to see the results and share them with you all! This is literally one of the best ways to treat your skin and it is so very easy to use this at-home laser! It really is so much better than going in for cosmetic procedures and getting a series of treatments.
This is definitely the best treatment for me! Of course, there are plenty of effective ways to illuminate those pesky lines, but I prefer my NIRA! I see smoother skin in my near future 😉
Technology sure has come a long way and I am so thankful because now my body, especially my face, can look better but appear to be aging way slower!
I know this is all cosmetic stuff, but it certainly can help you feel better about your appearance as you age! I definitely feel like this is the Best Laser For Under-Eye Wrinkles And Skin!
Learn more about NIRA Lasers and their history, by clicking that link! Also, don't forget to read all the NIRA Skincare Laser Advanced Anti Aging Device Reviews on their site!
Buy
You can purchase the NIRA Precision Laser OR the NIRA PRO Laser by visiting their website here. If you don't have the money at the moment, they do offer 4 interest-free installments with Klarna.
Also, they offer a 90-day money-back guarantee if you see no results after using it for the full 90 days! If a business can back its product up with a full money-back guarantee, you KNOW it believes in its product!
20% Off Sitewide Coupon Code!!!
Here is a 20% off sitewide coupon code for you! Just use: SHOPWITHMEMAMA at checkout for 20% off EVERYTHING on the NIRA website! Yes, that means BOTH lasers too! Yay!