When I was young, really young, I remember going into the library and getting my library card. I was SO excited because I loved reading books! I only wish my kids were the same way! My youngest enjoys reading sometimes, but my older two just don't like to read and it makes me sad! Reading has SO many benefits too! Did you know you can learn a new language through reading?!? You absolutely can! Teach yourself a new language, just by reading books!
Learn A New Language Through Reading
The online language learning provider Preply released a report on the Most Translated Books in the World. From this list they have compiled a list of the top 10 most translated children's books, to help you get started on your journey to learn a new language! This is great for both children and adults. These books are great options for families learning a new language as the books are available in so many of the world's most popular languages!
*Affiliate links included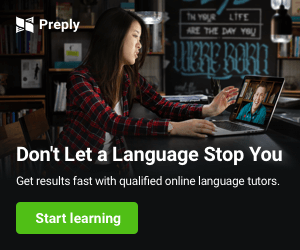 "The Little Prince" by Antoine de Saint- Exupéry is number one. It currently holds the Guinness record for the most translated author for the same book.
Here are the top 10 most translated children's books per country:
World Map Of The Most Translated Books In The World!
This world map of the most translated books allows you to see the top translated works in each continent and in your own country! Below Preply has broken down each continent and highlighted some noteworthy contributors.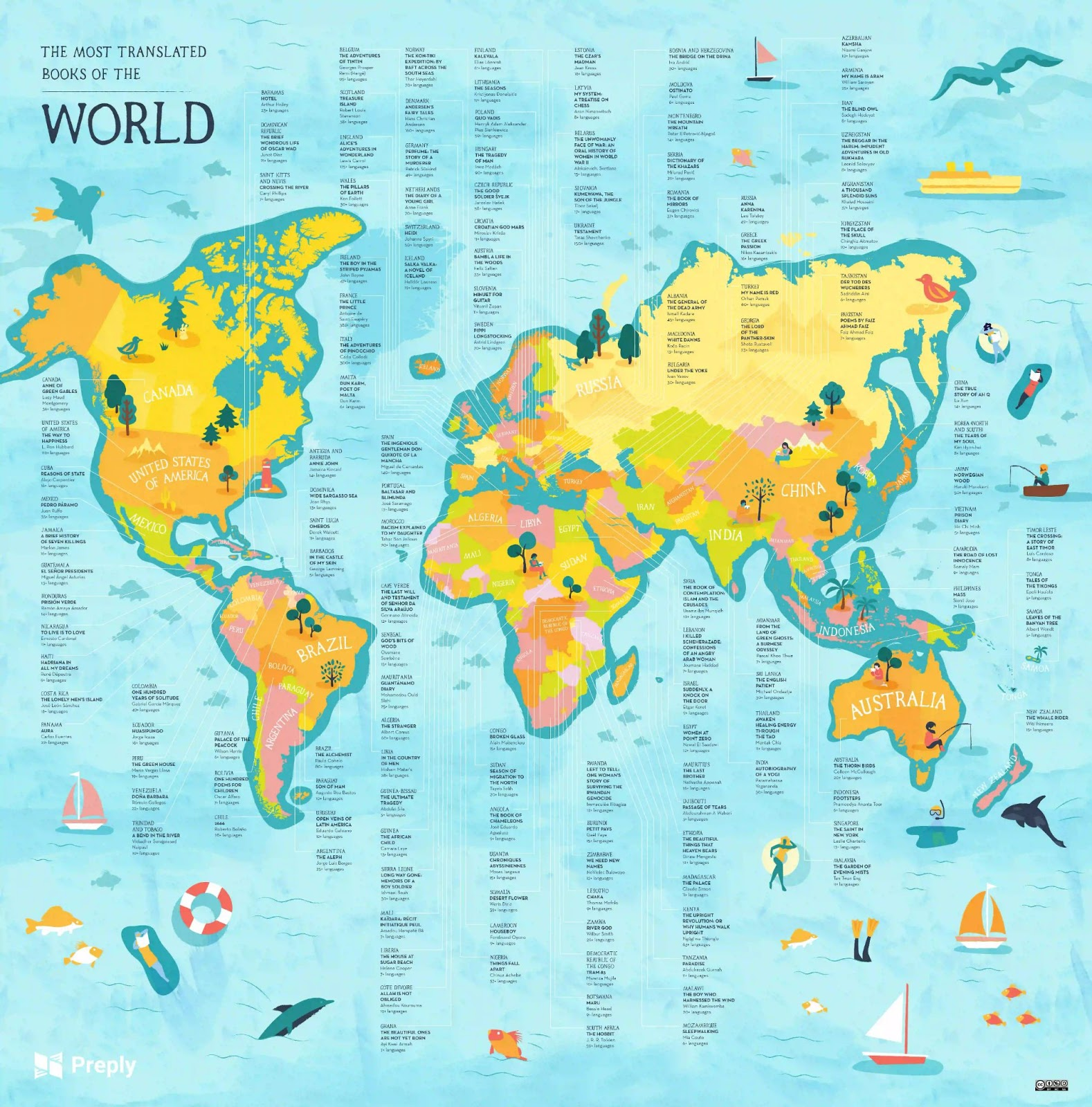 Below Are Some Interesting Facts On How Children Learn Languages:
Language learning is an innate process babies are born to know how to do! All children, no matter which language their parents speak, learn languages in the same way. (source).

When babies are born, they can hear and distinguish all the sounds in all the languages in the world. That's about 150 sounds in about 6500 languages, though no language uses all of those sounds. The sounds a language uses are called phonemes and English has about 44. (source).

You can help your child build language skills by reading to them. Have child-centric conversations with them as studies show that babies learn language best within a social context. (source).
Helpful Tips for Learning a New Language Through Reading (Adults and Children):
Read children's books.
These books have shorter content, basic vocabulary, and simple sentences. Begin with the easiest reading material. If you're an adult who wants to learn, don't be prejudiced against children's books as this is a great way to learn the basics.
Consider reading parallel texts.
Get a book that is written in dual language. With these books, there are translations written right below the sentence you're reading. This will save you time from finding the closest dictionary. It will also allow you to see how the grammar rules vary and you can notice similarities and differences.
Read a lot!
If you're learning a new language, it's about quantity. If you don't take everything in, don't worry – keep going. The idea is to expose yourself to as much material as you can. You don't need to understand everything. It's more about practicing your contextualizing abilities and guessing what you're reading about. Try to make out what's actually happening overall.
Read with intent
Just as you should try reading extensively, you should also try the technique of intensive reading. This means, being actively involved with what you're reading and absorbing everything before moving on. If you don't understand something – underlining the words, dog-ear pages, or writing your mnemonics to help.
Read about what you or your children love
If your child loves music, then have them read a book in a different language that's about music. If you love gardening, then find multilingual books about gardening. If you love cooking, you can find recipe books in the language you want to learn. This will help ensure you don't get bored, as it's not easy learning a new language and you might be tempted to give up.
My dad used to read to my siblings and me every night before bed. I loved hearing my dad's voice and how he made the stories sound so animated and fun to listen to! We were so engaged with every book he read to us! I will always remember that. Just think if my dad had read these stories in a different language! We would have probably been fluent in different languages by now! So neat to think about.
About Preply
Preply is a global language learning marketplace, connecting 15,000 tutors with tens of thousands of students from all over the world. It was founded in 2012 and backed by some of the world's leading investors, Preply is on a mission to shape the future of effective learning.
Fueled by a belief that live engagement with a teacher is still the most effective way to learn a new skill, Preply is building a personalized learning space that will enable individual learners to reach their goals in the fastest way possible.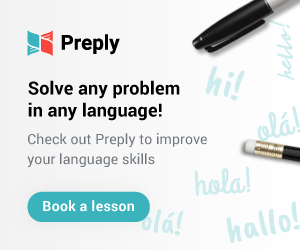 PIN IT: Learn A New Language Through Reading