"Triumph: The All-Purpose Go Fast Buggy"
I really needed a stroller for my daughter, I don't have one!! So, when I researched strollers, I really liked the Maclaren Triumph Stroller. It just seemed to fit my style and needs. So, I was so happy to learn that I was able to review one of these strollers!! Yeah!
I received the Maclaren Triumph Stroller and right away we put it to use. With the holiday shopping in full force, what a better time to hit the mall with our new stroller!! Woohoo 🙂 I just pulled it out of the box and pushed down the back and there it was, in all it's glory, ready for use. So easy and so nice to look at!
It also can be taken down very easily and stored for the next use and has a strap attached to the back of it for easy carry! Some strollers in the past that I have used are so hard to fold up and put away, really.
I had a well-known stroller that would NOT go down unless I and my husband pushed it down, so this stroller is such a breath of fresh air for me! And, it turns on a dime baby! With strollers, especially in busy shopping malls, you NEED your stroller to be able to turn on a dime and maneuver the smallest of spaces, with the Maclaren Triumph, I can do that.
It is very smooth too. My daughter fell asleep after just 15 minutes of being pushed around in the mall in this stroller. I am just so pleased with it!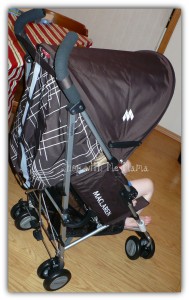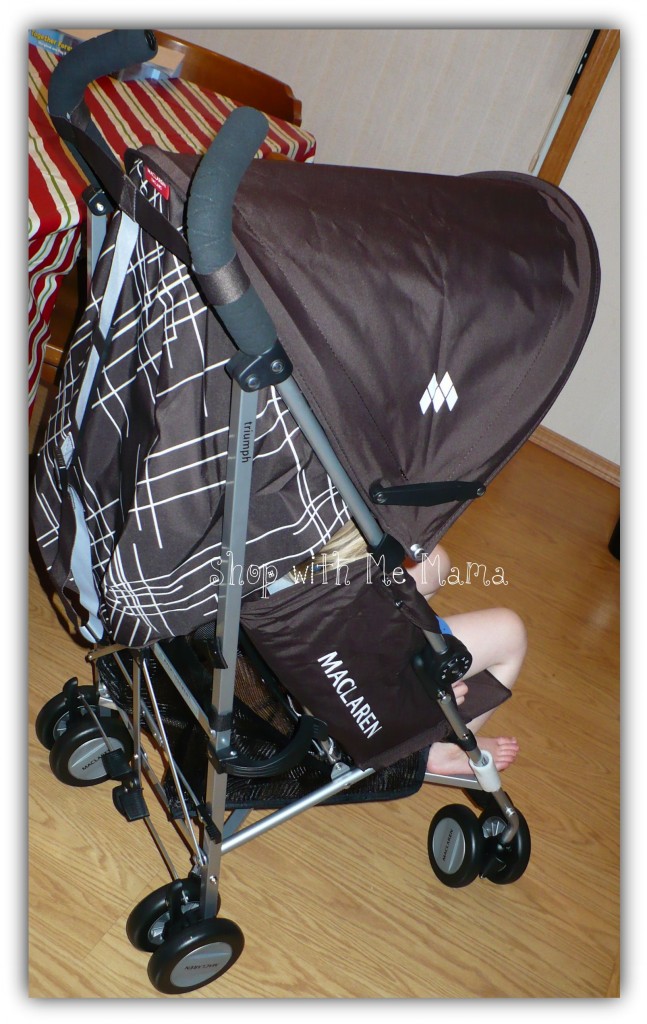 It also comes in some great colors like Racing Green, Scarlet, Coffee (the color I received!), Charcoal and Majesty! So, you can choose a color to fit YOU! The basic weight of this stroller is 11.5 lbs and can hold up to 55 lbs! The seat can recline, which is nice for that sleeping baby of yours!
Some features that I adore are the rain cover that is included in the package, so my baby is kept dry. I also love that it has a water resistant hood, because it rains soo much here in Washington, and that is a MUST! Has easy to use, foot operated brakes for quick thinking and breaking.
A convenient shopping basket to store all your little necessities, a  washable seat easy to clean when your child must have that messy ice cream cone! We have all been there, right?? The five point harness offers extra security to my precious bundle and keeps them extra safe when Mom is wheeling them around at high speeds 🙂
(My daughter got into my makeup, sigh…)
So, as you can see, this stroller pretty much has you covered! Great features and turns on a dime, my kind of stroller 🙂
Buy It!
You can purchase the Maclaren Triumph Stroller online at Amazon.com! It retails for $229.99.
Disclosure:
I was sent the Maclaren Triumph Stroller to review. These are my honest opinions of this stroller. The above Amazon.com link is my own personal affiliate link, thanks!