This post is all about the Medibag 4 Kids Review is A First Aid Solution for Little Ones! As a parent, I know all too well how often little ones end up with those inevitable "boo-boos" and scrapes.
That's why I was thrilled when I received the Medibag 4 Kids by Me4Kidz to review. This compact first aid kit is a must-have for every mama, providing an array of supplies for those not-so-happy moments.
*This post includes my affiliate links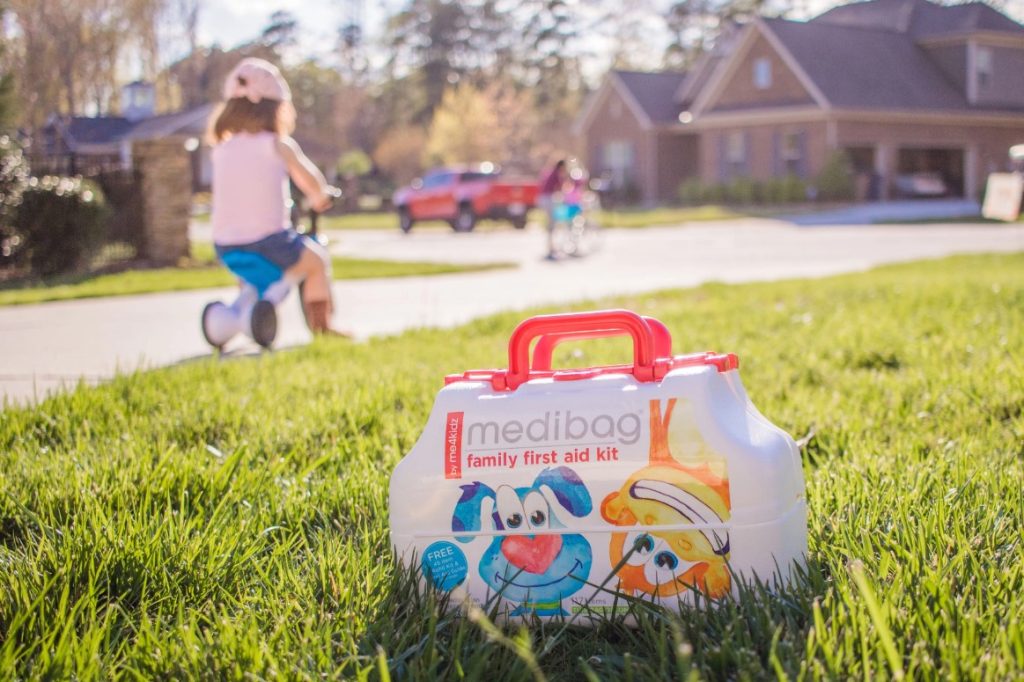 Medibag 4 Kids Review: A First Aid Solution for Little Ones
I was truly impressed by the abundance of items neatly packed inside this little bag.
Let's take a look at what's included:
(30) Assorted Kid-Friendly Bandages
(12) Junior Bandages
(20) Antiseptic Wipes
(4) 2 X 2 Gauze Pads
(4) 3 X 3 Gauze Pads
(2) Knee & Elbow Bandages
(1) Anti-Itch Ointment
(2) Antibiotic Ointment
(1) Burn Gel
(1) Eye Wash
(1) First Aid Guide
(1) Instant Cold Pack
(2) Blue Kid-Friendly Exam Gloves
(1) Hypoallergenic First-Aid Tape Roll
(1) Plastic Disposable Tweezers
(10) Application Swabs
(1) Sting Relief Pad
(1) Emergency Information Label
(20) Kid-Friendly Fun Stickers
(1) Kid-Friendly Organized Doctor's Bag
(1) Coupon for a Free 45 Item Refill Kit
Yes, all of that fits snugly inside the cute little doctor's bag! And the best part? The Medibag 4 Kids is available for just $19.95. Me4Kidz also offers other fantastic products like Medibuddy (perfect for on-the-go), Diaper Bag Buddy, and even a Medibag 4 Petz!
Recently, my little girl had an unfortunate collision with the corner of a wall while we were playing. She ended up with a cut on her forehead, and as a concerned mama, I was immensely grateful to have the Medibag within reach.
I quickly retrieved it and patched her up in no time. The goodies inside the bag kept her entertained, allowing me to tend to her without any escape attempts—something that happens quite frequently!
I particularly appreciated the inclusion of a little first-aid book that covered essential topics like CPR, which I definitely needed to brush up on.
It proved to be highly informative. Another great feature is the childproof design of the Medibag; even I had a hard time opening it!
This gives me peace of mind, knowing that my children won't accidentally access the contents if the bag is left within their reach.
Additionally, the kit comes with fun stickers—a small but meaningful gesture that helps kids feel brave and proud of their resilience. It's lovely to see these thoughtful additions to a medical kit.
Plus, when I need to replenish the supplies, there's a coupon for a free 45-item refill kit, with only shipping and handling costs. What an incredible offer!
Not only can you trust Me4Kidz for their high-quality products, but you can also feel good about supporting an environmentally friendly company.
The plastics used in their kits are 100% recycled and certified lead-free. Also, Me4Kidz donates 10% of its sales to the disabled community, and all its products are assembled by individuals with disabilities!
The Medibag exceeded my expectations, and I am genuinely impressed by its concept and execution. It's truly a wonderful innovation!
Now, a little bit about the remarkable family behind this fantastic kit and business (excerpted from their website):
The Me4Kidz team affectionately refers to themselves as the "Little Bees." Their journey began when their oldest son, Cody, got stung by a bee, inspiring Richelle to envision the concept of Me4Kidz (tm), which stands for "Medical Emergencies for Kids."
Years later, Luke came along and served as the inspiration for their latest launch, while their beloved four-legged pet, Coda, also played a role.
Pete has been instrumental in helping the company and family envision their future success. This family of four is driven by their faith in the Lord and completely dedicated to their business in all aspects.
Thank you, Me4Kidz, for this incredible opportunity to review one of your outstanding products!
Buy
You can purchase products from Me4Kidz on their website. You can also find similar ones on Amazon!