Mia is a Dallas based health and beauty social selling company that offers entrepreneurial business opportunities for women. I was contacted by Mia Mariu and asked if I would like to review for them, of course I said yes, I love beauty and I love that they offer business opportunities to women 🙂

Mia Mariu's natural health and beauty products are only available exclusively through their Independent Advisers and of course, online. Their vision was to create a business for women who wanted a contemporary and progressive way to make money without sacrificing time with family. They offer stylish and lucrative home-based business opportunity that is fun and rewarding and is a powerful way to help you make money, make new friends and reach your personal success. Sounds pretty cool!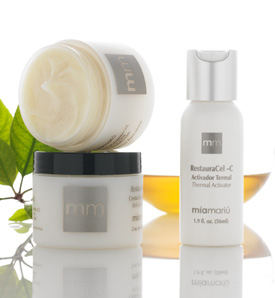 I was sent a few products to check out. Now, since I already just adore all things beauty, I knew I would more than likely like what was in the box. Indeed I did 🙂 I was sent the Luminous Lip Gloss Ilusión, Mineral Eye Shadow Duo Rosa Marquesa and the RestauraCel-C Thermal Microdermabrasion Set.
I want to first talk about the awesome RestauraCel-C Thermal Microdermabrasion Set only because I am so impressed with it. What it is, is a two piece set. The little tub has the granules in it for the scrubbing part, the bottle has the serum type stuff in it for putting over the granules and rubbing in a circular motion. This is your gentle at home alternative to microdermabrasion. It works very well and helps my skin look and feel absolutely soft and silky feeling. I use this 2-3 times a week and love it.
About The RestauraCel-C Microdermabrasion Set (Taken from their site):
RestauraCel-C delivers dramatic skin restoration benefits with our powerful Vitamin C micro resurfacing spheres plus deep thermal action that warms the skin to help open, purify and minimize pores as well as remove dead skin cells aiding in the penetration of other products. Suitable for all skin types, non-irritating, oil-free <—LOVE the oil-free part 🙂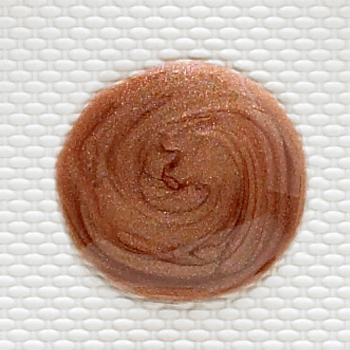 The  Luminous Lip Gloss Ilusión is just gorgeous too. It is kind of sticky though, so I just add a tiny amount of Vaseline over it and it totally takes away the stickiness, so try that 🙂 The color is a coppery color and looks really pretty on my lips. It does not dry out my lips or irritate them in any way. It has a nice sparkling shine in a vitamin rich hydrating formula, that gives your lips an irresistible look. It contains Vitamin A, C and E to nourish your lips.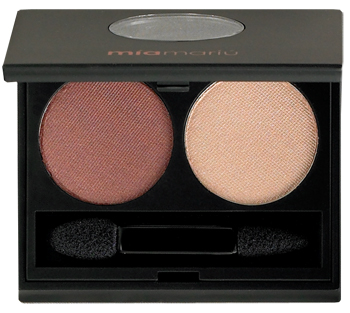 Last, but not least is the Mineral Eye Shadow Duo Rosa Marquesa. It goes onto my eyelids with ease and stays put. It might end up creasing towards the end of the day, but that is to be expected. I love the way it looks on my eyes. This is a pure minerals eye shadow and it has gorgeous color pigments in it.
Not sure what colors are for you? Then visit the Mia Mariu find your perfect shade page and get it right before you buy!
Buy
You can purchase these beauty items online at http://www.miamariu.com/
Disclosure:
I received products to review, these are my own honest opinions. Thanks Mia Mariu!!!