CONGRATS TO
Michele Pineda #1906!
*Product was sent to me. Opinions are mine.

Oh dear, what can I say? I fear I see the signs of aging on my face. Sigh. Why on earth does one have to get so old and decrepit? It simply is not fair!
I want to stay looking young as possible. I mean, it is not like I feel elderly or anything, geesh. So I thought I would try out Niora's Anti-Aging Intensive Program.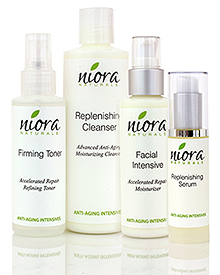 I was sent the program to try out. I really wanted to try out this particular program because it is supposed to have lots of moisturizers in it and I need that for my parched, dry and retched skin.
Here is what is included:
1 Replenishing Cleanser, 8oz
1 Firming Toner, 4oz
1 Facial Intensive Accelerated Repair Moisturizer, 4oz
1 Replenishing Serum, 1oz
The replenishing cleanser is really creamy, almost not like a cleanser at all. It is very moisturizing but I am not sure if I feel like my face has gotten clean enough, by using it alone. So I usually follow-up with my original facial cleanser too.
The firming toner is interesting. I have always steered away from toners, only because I don't really think they actually serve a purpose other than to make your face kind of sticky feeling. But this toner is different. It doesn't make my face feel sticky or filmy. It just absorbs right into my skin like I never put anything on it. So, that was a nice surprise.
The Facial Intensive Accelerated Repair Moisturizer is quite nice too. It leaves my skin supple and soft feeling. When I blend it into my skin, it does not get all tight feeling, but just stays soft and squishy 🙂 my skin, not the lotion, lol.
The replenishing serum is more like a cream serum. It is nice feeling on my skin and leaves my skin soft. It is different from most serums, as it is in a more lotiony form.
All in all this is a good system, if you use it together and every day, you should see results like I have, which is softer skin.
Buy
You can purchase Niora Skin Care online at http://www.niora.com/
Win
One person will win a Niora Anti-Aging Intensives Program of their own!
How?
Easy! Just use the Rafflecopter form below! GL!
RULES:
Contest is open to US 18+ will end on November 27, 2013 at 12:00 am PST. One person will win an Anti-Aging Intensives Program!!(see above!)! Winner will have 48 hours to confirm their win or a new person will be chosen, good luck!