With age, unfortunately, comes them dreaded wrinkled skin and uneven skin tone. Blah! I have so many beauty products and I try everything to make aging come to a halt!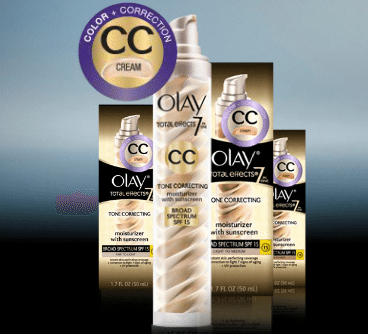 I have always really liked Olay Total Effects and I do have a few products from them already in my medicine cabinet. But, I was recently sent some other great products from Olay Total Effects to try out.
I was sent the Olay CC Cream. I am sure you have all heard of the BB cream, but this cream is much more different! It provides instant Coverage plus Correction to fight 7 signs of aging, including uneven tone, age spots, and wrinkles! My kind of makeup!
This CC Cream is very moisturizing. It almost feels as though, when I put it on my face, it has a lot of water in it. It is that moisturizing. It is creamy too, don't get me wrong, but it just feels, when it goes on my face, that it is watery when blended in. So, it leaves my face very moisturized. So much that I don't need extra moisturizers on my face before or after putting on this CC Cream.
What It Fights:
Total Effects fights the 7 signs of aging:

Fine lines and wrinkles: reduces the appearance of fine lines and wrinkles
Uneven Tone: balances and helps even out tone
Age Spots: reduces appearance of discoloration
Gentle Exfoliation: Improves surface cell turnover
Dryness: provides nourishing moisturization
Moisture Barrier: strengthens skin's natural defense against moisture loss
Luminosity: recaptures youthful luminosity
Now, it does give me some shine, after about an hour of having it on, so I do need to wipe off the shine with my handy dandy oil absorbing sheets. I do have oily skin though, so you might want to keep that in mind. The tint is great and covers most of my blemishes. You can add more or less, up to you. This all-in-one triple stream formula combines a daily anti-aging moisturizer, SPF 15 sunscreen and sheer tint for younger-looking skin.
 Buy
You can purchase the Olay Total Effects CC Cream at your local store. It retails for around $22.
Disclosure:
The Olay Total Effects product, information, and gift pack have been provided by Olay. All opinions are mine. This post includes my affiliate link. Olay does not represent or warrant the accuracy of any statements or product claims made here, nor does it endorse any opinions expressed within this blogsite.