*Product was received. Opinions are mine.
I love style and I love my beauty products! Both go hand in hand. When I am home, I wear makeup. I put it on every morning when I get up, I feel naked without it. Same goes for a good pair of comfy jeans and sweatshirt! Of course I would be 'naked' if I did not wear clothes, but certainly no pun intended…
I found a really cute boutique called Ooh la la Boutiques New York, and loved their products/styles. I was able to choose a comfy NY Giants Sweatshirt to review! Yay me!
Now, first I have to say, that if you know me, you know I could absolutely careless about sports or teams. No interest what-so-ever. So me picking the sweatshirt I did, I only did so because it was cute! Not for the team. With that said, the sweatshirt arrived and is so comfortable and cute!! I love wearing it around my home and out to run quick errands!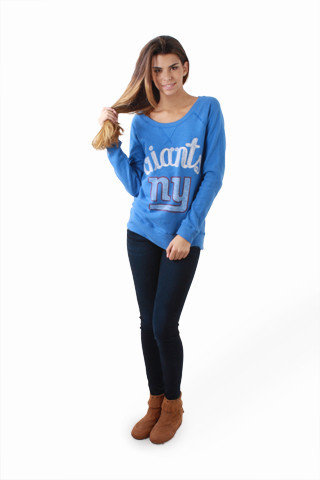 The neck of this sweatshirt is kind of big, so when I wear it, it kind of goes off  one shoulder, which I adore 🙂 I love the length on this sweatshirt and the sleeves are super comfy too. Overall, I am happy with this sweatshirt, it is adorable! Oh, and though I am smaller, I did get an XL and it is kind of big on me, but not huge. It fits me perfectly with room, but not too much room. So, these do run small!! Keep that in mind when ordering.
Ooh la la sells clothing, shoes, bags and accessories. They have really cute things! I had fun browsing the website and choosing what I wanted to review.
Buy
You can visit Ooh la la online at http://oohlalaboutiques.com.
Get 20% Off!
Get 20% off the website! Just use the code SHOPWME at checkout!