I recently came across the Osmo Explorer Starter Kit and I must say, it's a fantastic tool for children aged 5-10. This comprehensive STEAM learning kit offers a great combination of interactive games that encourage creativity, critical thinking, and problem-solving.
Every child has a different style of learning and this kit covers it all! I'm confident that kids and even parents are going to love exploring the classic Osmo games included!
*This post includes my affiliate links
Osmo Explorer Starter Kit
What really excites me about the Osmo Explorer Starter Kit is how it makes learning fun and engaging. By blending technology and hands-on play, it caters to children's diverse learning styles and helps them stay focused for longer periods. Additionally, the kit includes all the necessary game pieces and an Osmo Base, ready to be used with an iPad or Amazon Fire.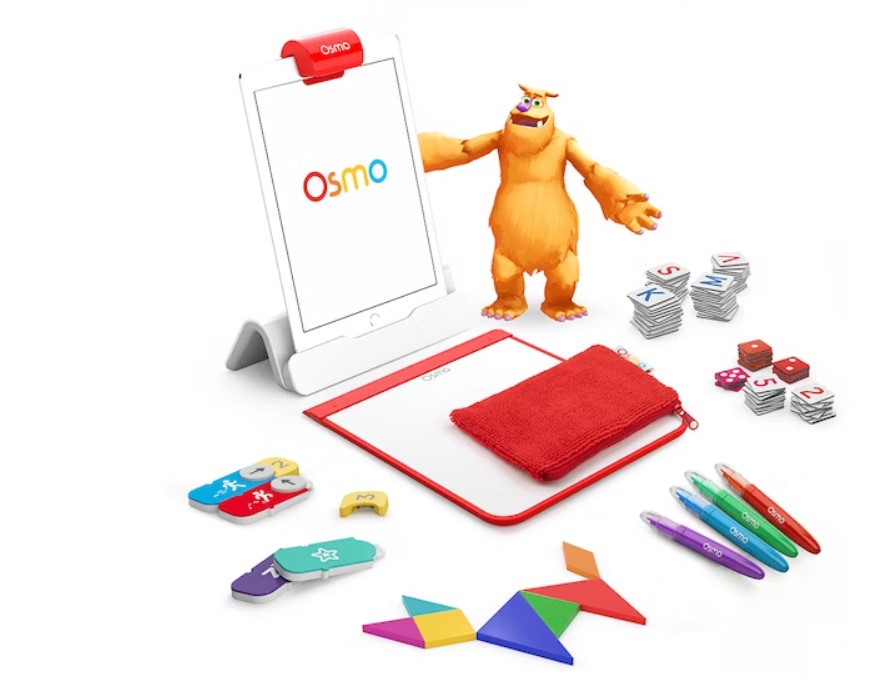 Another advantage of the Osmo Explorer Starter Kit is that it covers a wide range of subjects. So, whether it's math, spelling, drawing, or coding, there's something for every young learner to enjoy and develop their skills. No wonder it's become such a popular choice among parents and educators alike!
Osmo Explorer Starter Kit Components
Osmo Base
Let me tell you about the Osmo Base, which is an essential component of the Explorer Starter Kit. This base is where you'll place your compatible devices, such as an iPad or Fire tablet. It securely holds the device in place, so you can focus on enjoying the games and activities.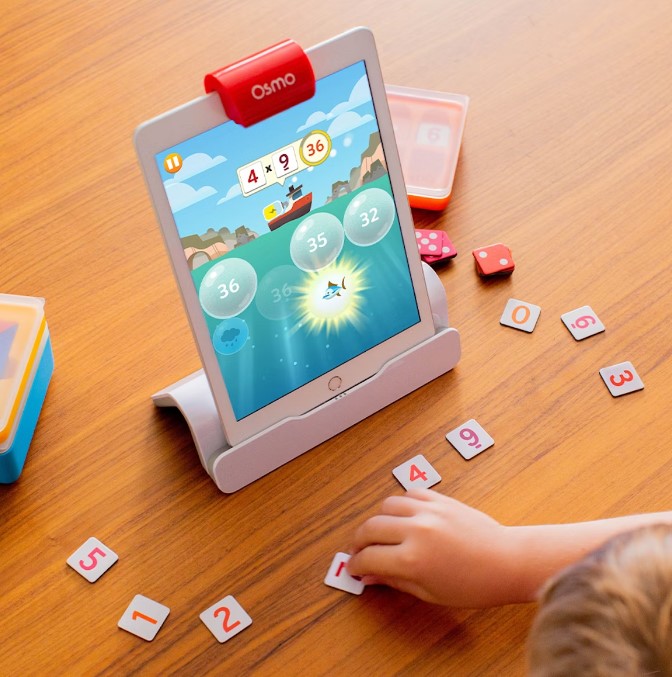 Games and Activities
The Osmo Explorer Starter Kit includes several engaging games and activities that foster creativity and learning. Below are the games that come with the kit:
Words: A fantastic game that helps enhance vocabulary skills

Tangram: A puzzle game that challenges your spatial thinking and problem-solving abilities

Numbers: A game that helps you develop your math skills while having fun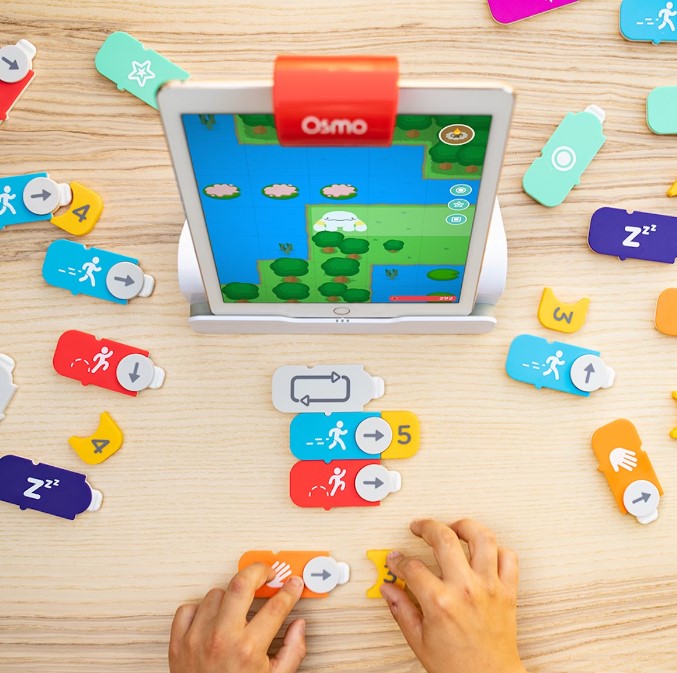 But, wait; there's more! The kit also includes several coding games:
Coding Awbie: An introduction to coding logic through playful interactions

Coding Duo: A cooperative game that helps develop advanced coding skills

Coding Jam: A music-themed game that combines coding and creativity
Last but not least, there's the Monster game. I can't forget about Monster, a game that allows you to bring your drawings to life and watch them interact in a magical world! So fun for kids!
Accessories
In addition to offering engaging games and activities, the Osmo Explorer Starter Kit comes with a range of accessories to support your learning experience.
These include playing pieces for the various games, a reflector for your device, and additional creative tools. The kit ensures you have everything you need to dive into the Osmo universe and have a fantastic, interactive learning experience.
Included With The Explorer Starter Kit
Osmo base (for iPad or Fire)
Tangram pieces
Numbers Tiles
Words Tiles
Monster hardware
Coding blocks
Stackable storage
I hope this information was helpful for you to understand the components of the Osmo Explorer Starter Kit.
Compatibility and Setup
Device Compatibility
As a friendly reminder, the Osmo Explorer Starter Kit is compatible with most iPads, and select Amazon Fire tablets. It's also worth mentioning that Osmo Coding games (Awbie, Jam, and Duo) are compatible with select iPhones. To find a comprehensive list of compatible iPads and Fire Tablets, feel free to check the Osmo compatibility page.
Downloading and Installing Apps
Setting up the Osmo Explorer Starter Kit is a breeze! Let me share how to do it:
First, you have to download the Osmo app. For iPad users, the apps are available on the App Store. Amazon Fire users can find them on the Amazon Appstore. (It's important to keep in mind that any device can be connected to any number of myOsmo accounts).
Setting It Up
After downloading the app, setting up your new Osmo games is pretty straightforward. You can easily follow the step-by-step videos (see them below), or by reading the written onboarding instructions, which is super helpful.
Video On How To Set Up Osmo For iPad
Video On How To Set Up Osmo For Amazon Fire Tablet
The instructions are quite easy to understand, which will help make the process quick and enjoyable. If you'd like to check them out, here are the instructions for iPad users and the instructions for Fire users.
Once the setup is completed, all you have to do is place your tablet in the white Osmo base, attach the red reflector on top of the device, and then you are ready to start playing with your new Osmo Explorer Starter Kit!
Family Tech Back-to-School $10,000 Giveaway!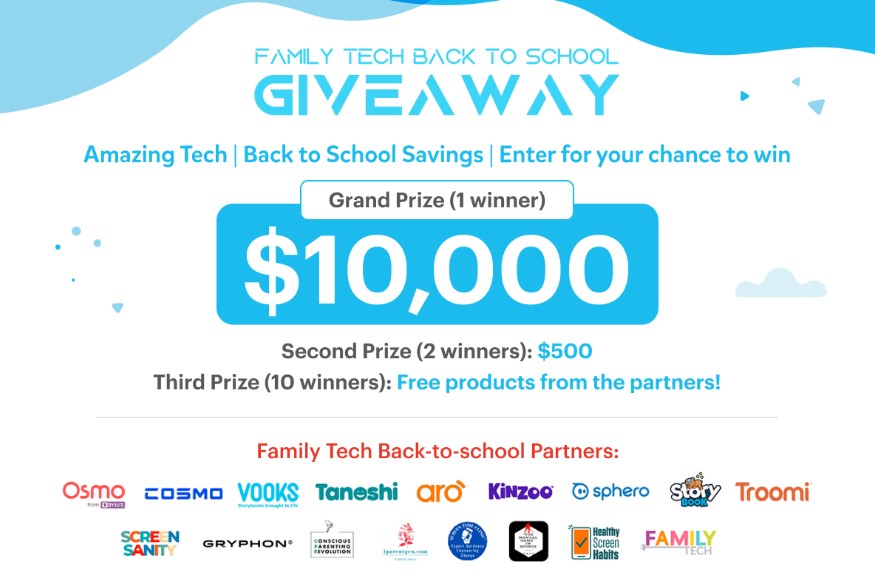 I also wanted to quickly tell you all about the HUGE Family Tech Back-to-school $10,000 giveaway!!
Family tech companies, including Osmo (which makes award-winning educational games), are partnering in the Family Tech Back-to-School $10,000 giveaway to make back-to-school a little easier!
Now through July 30, families can enter for a chance to win $10,000 and other great prizes and unlock special access to amazing deals on all kinds of tech products and resources just in time for back to school!  Yay!!
Find out more and ENTER HERE!!! Good luck!
Buy
You can purchase the Osmo kits on Amazon.com. This particular kit retails for $199 (on sale from $227!).
---
Win!!
Now, my turn to offer a giveaway to you all! YAY!! One lucky person is going to win an Osmo Explorer Starter Kit! ARV $199!! YAY!!!
Rules
The contest is open to the US, 18+. The giveaway will end on August 16, 2023, at 11:59 PM. I am not responsible for lost or stolen mail.