These pecan pie filling topped on pumpkin cupcakes are SO delish! They also have yummy cream cheese frosting! You can't go wrong with that, right??? These delectable pumpkin cupcakes are topped with a decadent pecan pie filling–talk about indulgence. The pumpkin mixture is fluffy and soft, perfect for those who want a break from their usual chocolate craving!
And, I made these delicious Pecan Pie Filling Topped on Pumpkin Cupcakes in my brand-new Caraway muffin tin! I received the complete bakeware set from Caraway and oh my goodness, the difference it makes in baking! Find out more about the wonderful Caraway bakeware set, below the recipe!
*This post includes my affiliate links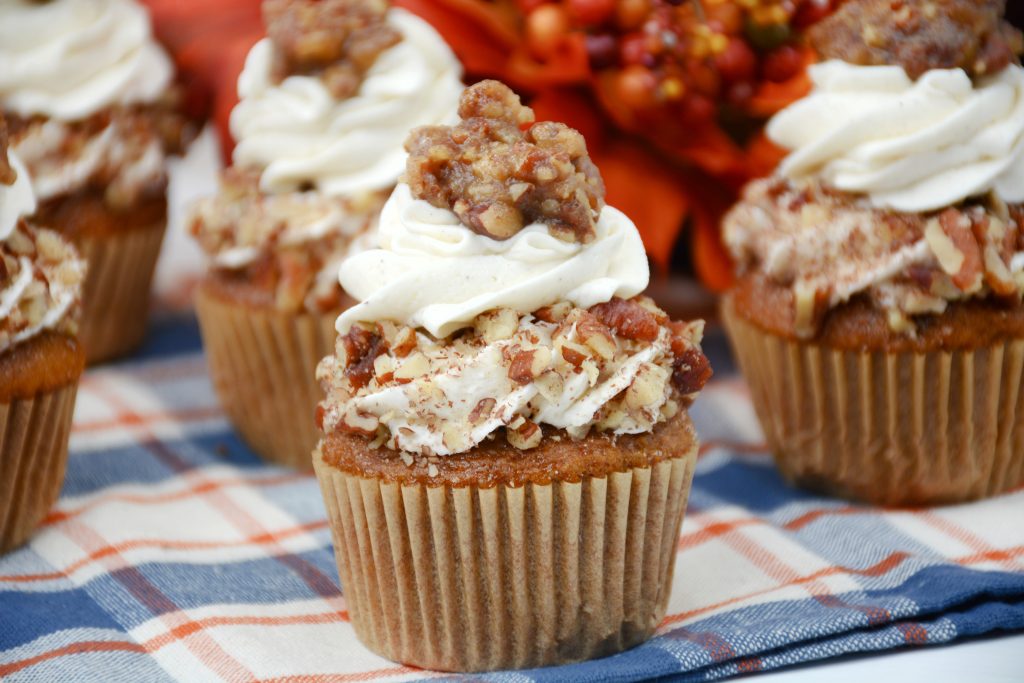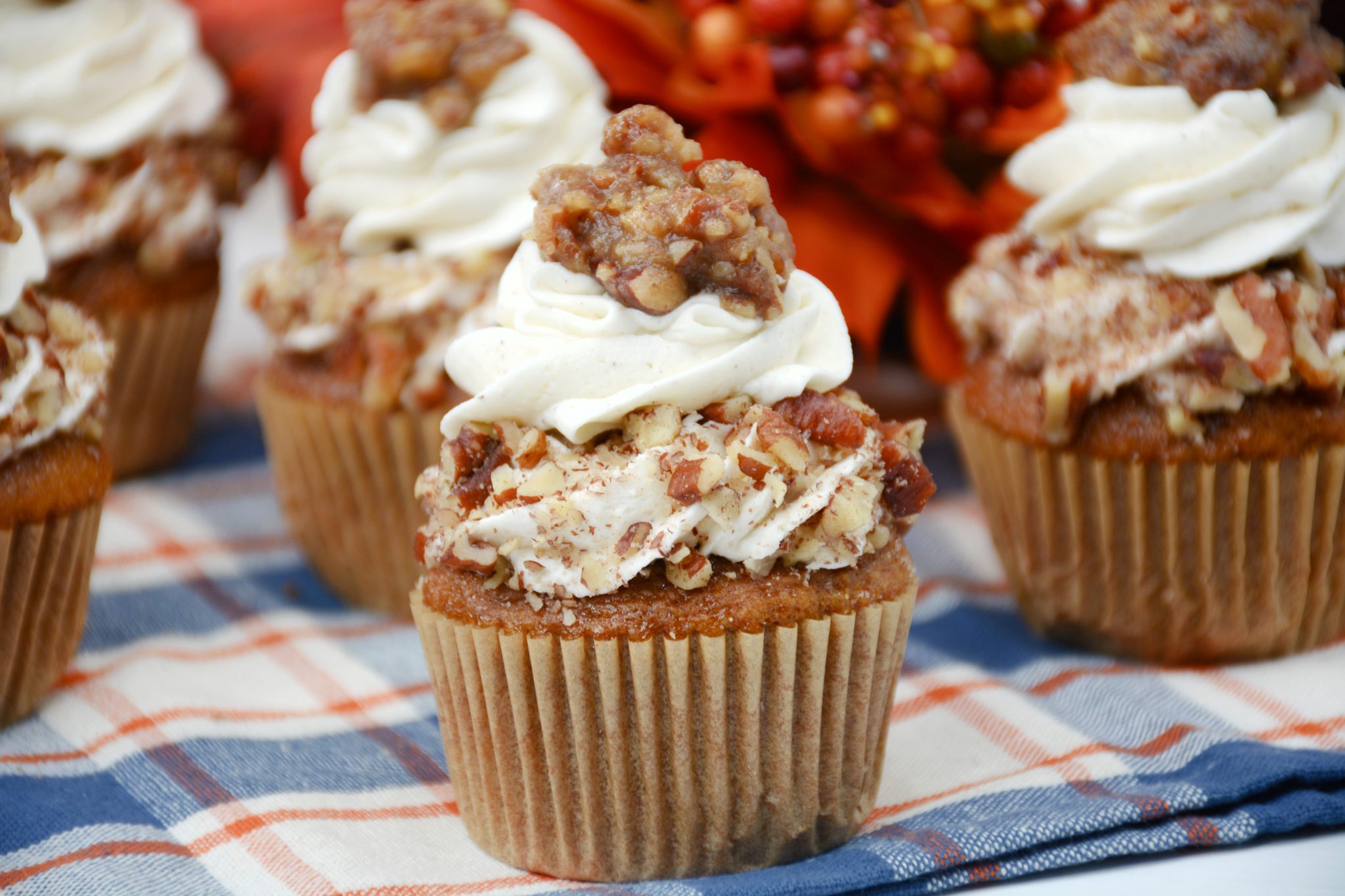 Pecan Pie Filling Topped on Pumpkin Cupcakes
Let's get straight to the recipe!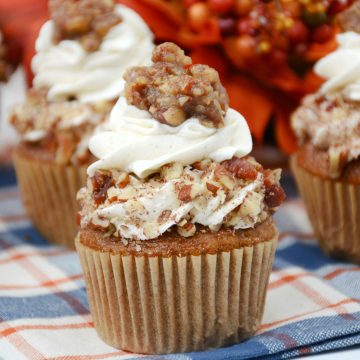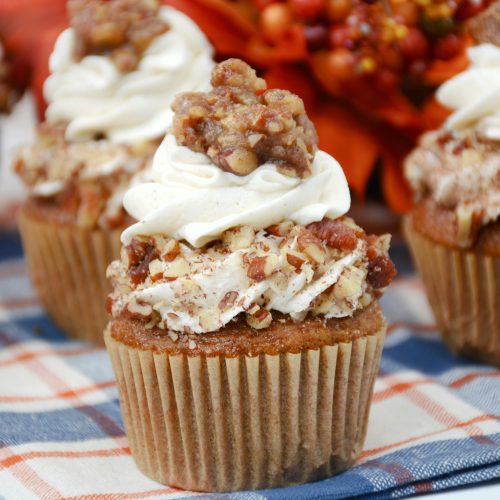 Pumpkin Cupcakes with Cream Cheese Frosting topped with a dollop of Pecan Pie Filling
These pumpkin cupcakes are the perfect bakery item for fall. Topped with cream cheese frosting and a dollop of pecan pie filling, each bite is sure to please.
Equipment
Mixing Bowl

whisk

Electric Mixer

Spoon or ice cream scoop

Muffin Tin

I used the Caraway Muffin Tin
Ingredients
1

Cup

All-purpose flour (leveled)

1

Tsp

baking powder

1/2

Tsp

baking soda

1/2

Tsp

kosher salt

1

Tsp

Ground Cinnamon

1/2

Tsp

Ground Allspice

1/2

Tsp

Ground Ginger

1/4

Tsp

Ground Nutmeg

1/4

Tsp

Ground Cloves

1/2

Cup

Canola Oil

2

Large Eggs

3/4

Cup

light brown sugar (packed)

1

Cup

Canned pumpkin puree

1

Tsp

pure vanilla extract
Frosting
1

Package

package (8oz) cream cheese (room temp)

1

Stick

unsalted butter (room temp)

3

Cups

powdered sugar

1

Tsp

pure vanilla extract

1/8

Tsp

kosher salt

1/2

Cup

Pecans (chopped)
Pecan Garnish
1

Cup

Granulated Sugar

3

TBSP

light brown sugar (packed)

1/2

Tsp

Salt

1

Cup

Dark Corn Syrup

1

TBSP

Cold Water

2

TBSP

Corn Starch

1/3

Cup

unsalted butter (room temp)

1

Cup

Pecans (Chopped)
Instructions
Cupcakes
Preheat oven to 350 degrees.

Put cupcake liners in the muffin pan.

Put the 1⁄2 cup of chopped pecans in a bowl.

Add flour, baking powder, baking soda, salt, cinnamon, allspice, ginger, nutmeg, and cloves in a large bowl.

Whisk to blend. Set aside.

Add the oil, eggs, brown sugar, pumpkin puree, and vanilla in a large bowl. Use an electric mixer to mix all ingredients.

Slowly add the wet ingredients to the dry ingredients, continue to beat while adding until completely combined. (The batter will be smooth.) Set aside.

Whisk the oil, eggs, brown sugar, pumpkin, and vanilla extract together until combined.

Pour the wet ingredients into the dry ingredients and use a mixer until completely combined. (Batter will be thick.)

Use an ice cream scoop to measure the batter to go into the paper-lined muffin tins. (Fill 2⁄3 full)

Bake at 350 degrees for 20-22 minutes. (Check by inserting a toothpick in the center comes out clean.)

Remove from the oven when done and set aside to cool completely before frosting.
Frosting
Cream the cream cheese and butter together with an electric mixer on high speed until they become creamy and smooth.

Slowly add in three cups of powdered sugar, vanilla, and salt beating at low speed for about 30 seconds. Increase the speed to high beating for 2 more minutes. (Add an additional 1⁄4 cup to increase the thickness of the frosting. )

When ready to frost the cupcakes use a piping bag with a large round tip.

Directly after frosting the cupcakes, roll the frost part of the cupcake in chopped pecans.

Top with a dollop of frosting in the center of the cupcake. Set aside.
Pecan Garnish
Add sugar, brown sugar, corn syrup, and butter in a heavy saucepan over medium heat.

Combine cold water and cornstarch in a small bowl. Stirring to blend before adding in the saucepan. Increase heat to high bringing the mixture to a boil.

Stir in the salt, vanilla, and pecans. Continue on the stove until the mixture reaches a boil again.

Continue to stir until the mixture thickens. Set aside to cool.

Add a tablespoon of the pecan mixture on top of the frosting dollop on the center of the cupcake.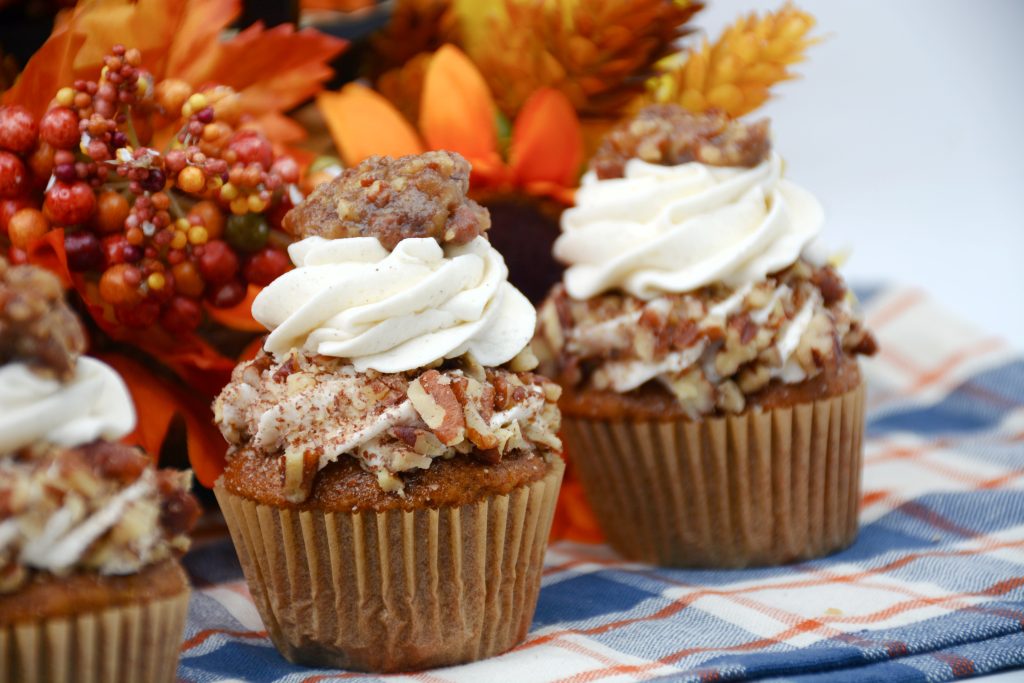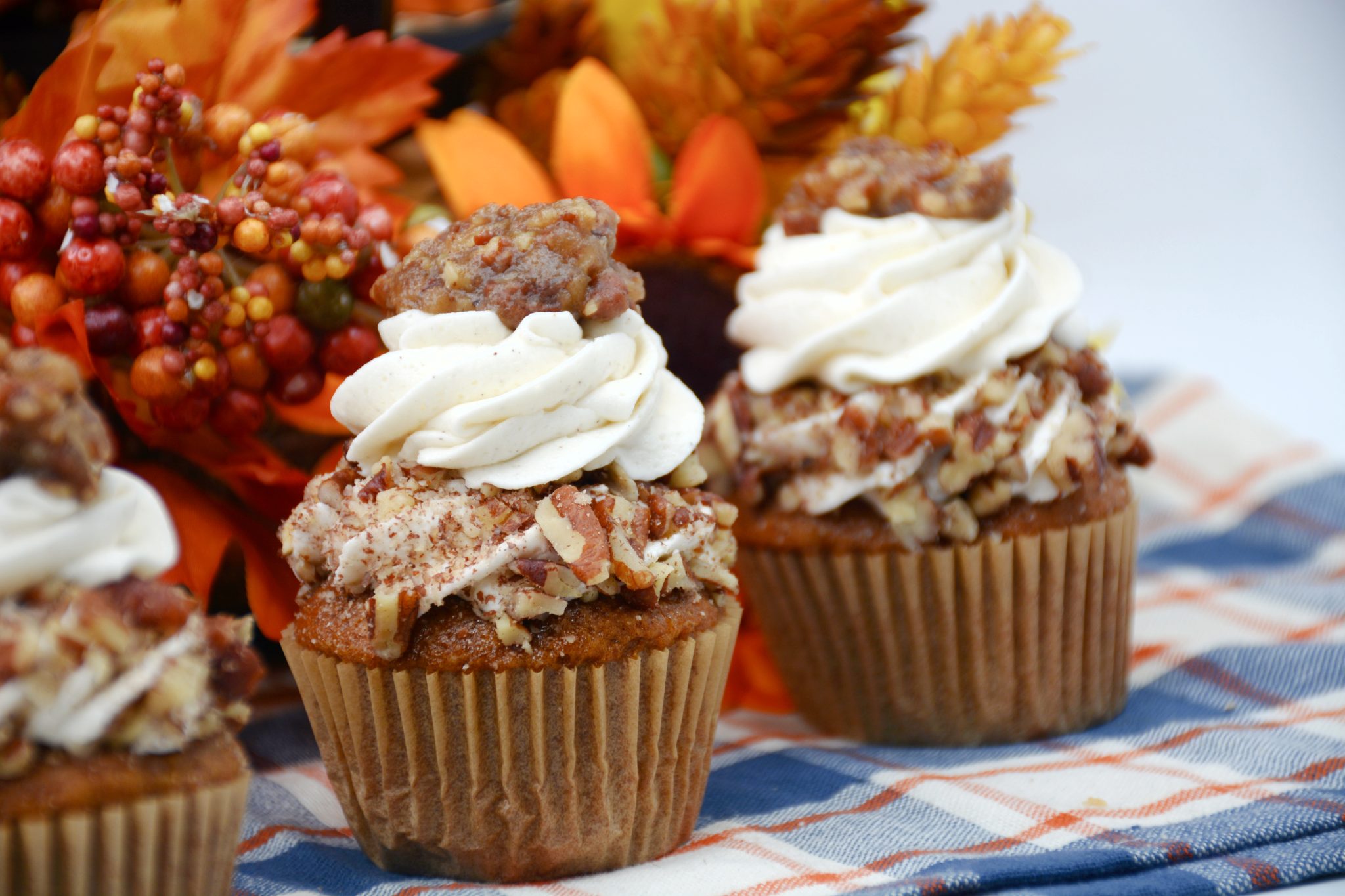 Caraway Bakeware Set
The ONLY pans I will use from now on when I bake is Caraway. Make healthier baking a piece of cake with Caraway ceramic-coated bakeware. The Complete Bakeware Set includes 11 pieces, all featuring a toxin-free ceramic surface, so you can get to baking goods without any of the bad stuff. Sets include storage organizers to keep your kitchen tidy. I received this awesome set and I absolutely LOVE it. Baking has never been this easy or fun!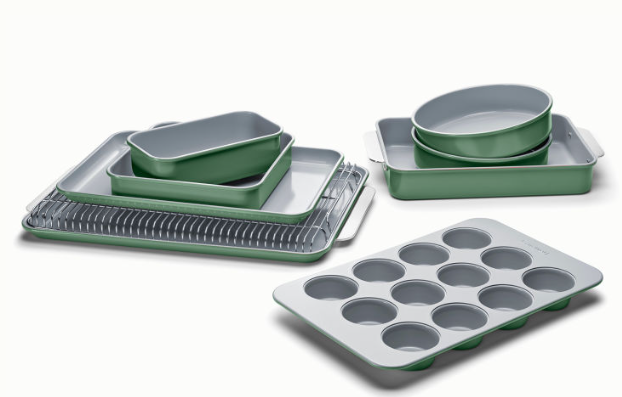 I used the Caraway 12-cup muffin pan to bake these delicious pumpkin pecan cupcakes! They literally fell out of the pan! I did not have to use cupcake liners, but if you want to use cupcake liners, then you can! But, because all Caraway bakeware and cookware have a non-toxic coating in them, you really don't have to use cupcake liners or sprays! And, when you are done using the bakeware set from Caraway, you can easily store it away in the handy organizers that they come with! LOVE!
This bakeware comes in different colors:
*Cream
*Navy
*Gray
*Perracotta
*Sage (what I received)
*Marigold
*(Sage and Marigold are both limited edition colors) I LOVE all the beautiful colors!
Shopping List
Below are the things you will need to make these Pumpkin Pecan Cupcakes. My affiliate links are included!
Here is the printable shopping list for you!
*1 package of cream cheese
*unsalted butter
*granulated sugar
*dark corn syrup
*cornstarch
Please let me know if you decide to make these yummy fall cupcakes! I would love to hear how they turned out for you! If you liked this recipe then you need to check out my recipe for Christmas bark recipe with crackers! YUM!
PIN IT