*I am a Biz Ambassador. This is a sponsored post. Opinions are my own.
Every day my kids play outside and every day my kids come inside with stains on their clothes. Given, they are wearing play clothes for the most part, but sometimes they put on clothes that are not for play and that is when I really panic!
What is one to do when your child walks in from outside with a new, huge grass stain or mud stain on their good clothes? Instead of freaking out, I now have a new option. I use Biz and that is pretty much all I need to use, nowadays! You can check out my Real Life Example of Treating Difficult Stains With Biz, below.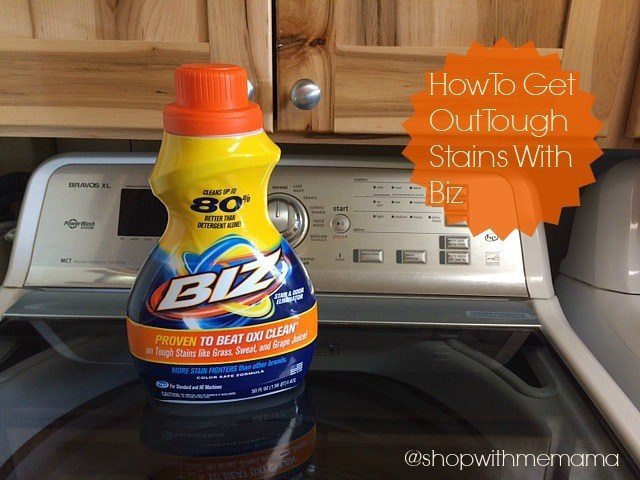 No need to seek out a different treatment from stain to stain. BIZ® is fully-formulated to work on more stains than most other brands and that really put me at ease knowing this!
Various Ways You Can Use Biz:
Pretreat A Stain: Apply a concentrated amount of Biz directly on the stain you want to treat. Kind of rub it into the fabric gently. Leave on for about 10 minutes before throwing it into the wash with your other laundry.
All-Over Tough Stains: These garments can be treated by pre-soaking the garment you want to treat in the sink with 1/2 cup of Biz Powder for mild stains and 1 full cup of Biz Powder for more severe stains. Mix with a gallon of HOT water. Mix it to dissolve the mixture completely then add your garment to the water. Soak for 1-4 hours then rinse garment in cool water and wash as usual.
Add To Your Wash: I add Biz to my regular washes all the time. You add Biz, then add your regular laundry detergent. You can also just use Biz in your laundry and not use laundry detergent. I like to use it in my wash all the time because my clothes come out looking brighter and cleaner.
My Real Life Experience With Biz
Since I have been using Biz, my clothes have been much cleaner looking and brighter too. No more stains on good clothes and the kids have brighter looking clothes. It is wonderful!
My 3-year-old spilled ketchup on his shirt!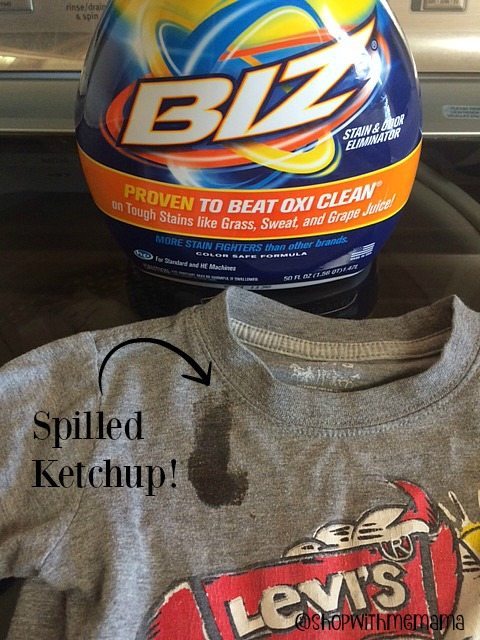 Pretreating the stain with Biz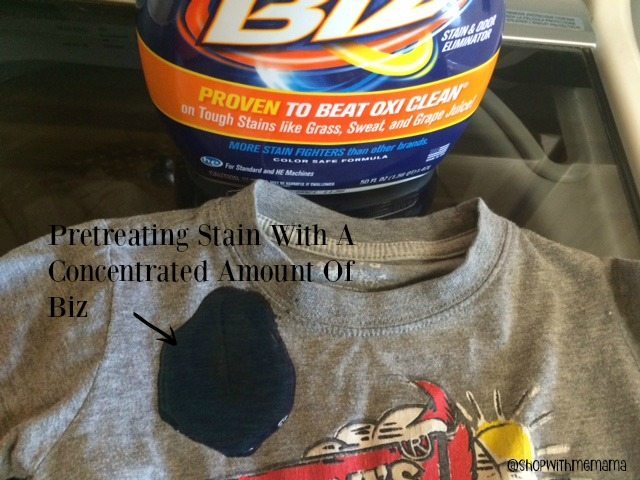 I washed his shirt in cool water (didn't have to, just happened to) and then dried it as usual. The stain is gone!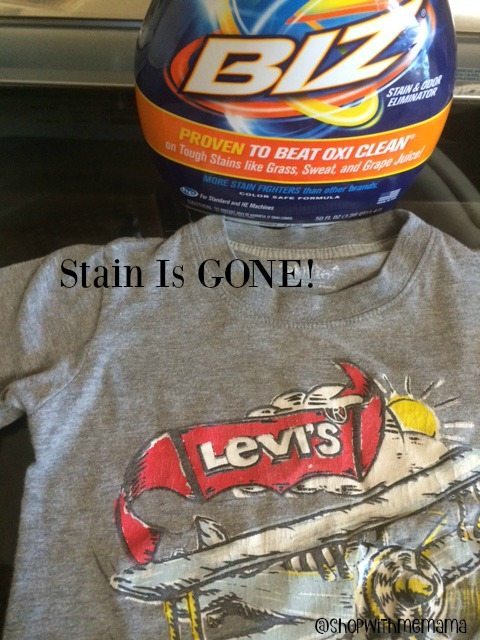 I am definitely a fan of Biz and use it with every laundry load. Our clothes have never seemed brighter and cleaner.
Coupons And Offers!
Who doesn't love coupons and offers? I know I do! The more the better! Right now you can download Biz's latest coupon for $1 off on any Biz product!!
Buy
Not sure where you can find Biz? Never fear! Just visit Biz online and locate a store nearest you!
Get Social!
Connect with Biz on Twitter, Facebook, and Pinterest!
What Kind Of Laundry Tips Do You Have To Share?