Who doesn't enjoy a great candle a burnin' away in your home? I know I love 'em. I especially love the spiral light candle! But, sometimes burning candles can get a bit messy with all that soot, huh? My parents light so many candles that they had to PAINT their ceilings! Imagine that pain! Or, worse yet, your child could get into your candle and start a house fire!!! Scary thoughts, right?!?
I love the thought of no actual flame (though I still absolutely LOVE a burning candle despite the bad stuff..) and I love the idea of using a light bulb to melt the awesome scented wax cubes. ScentSationals does not disappoint, especially when it comes to making your home smell soooooooooooo good! I kid you not, as soon as that wax starts melting in your warmer, you WILL smell its aroma almost immediately! No matter how big your home is, you will smell it.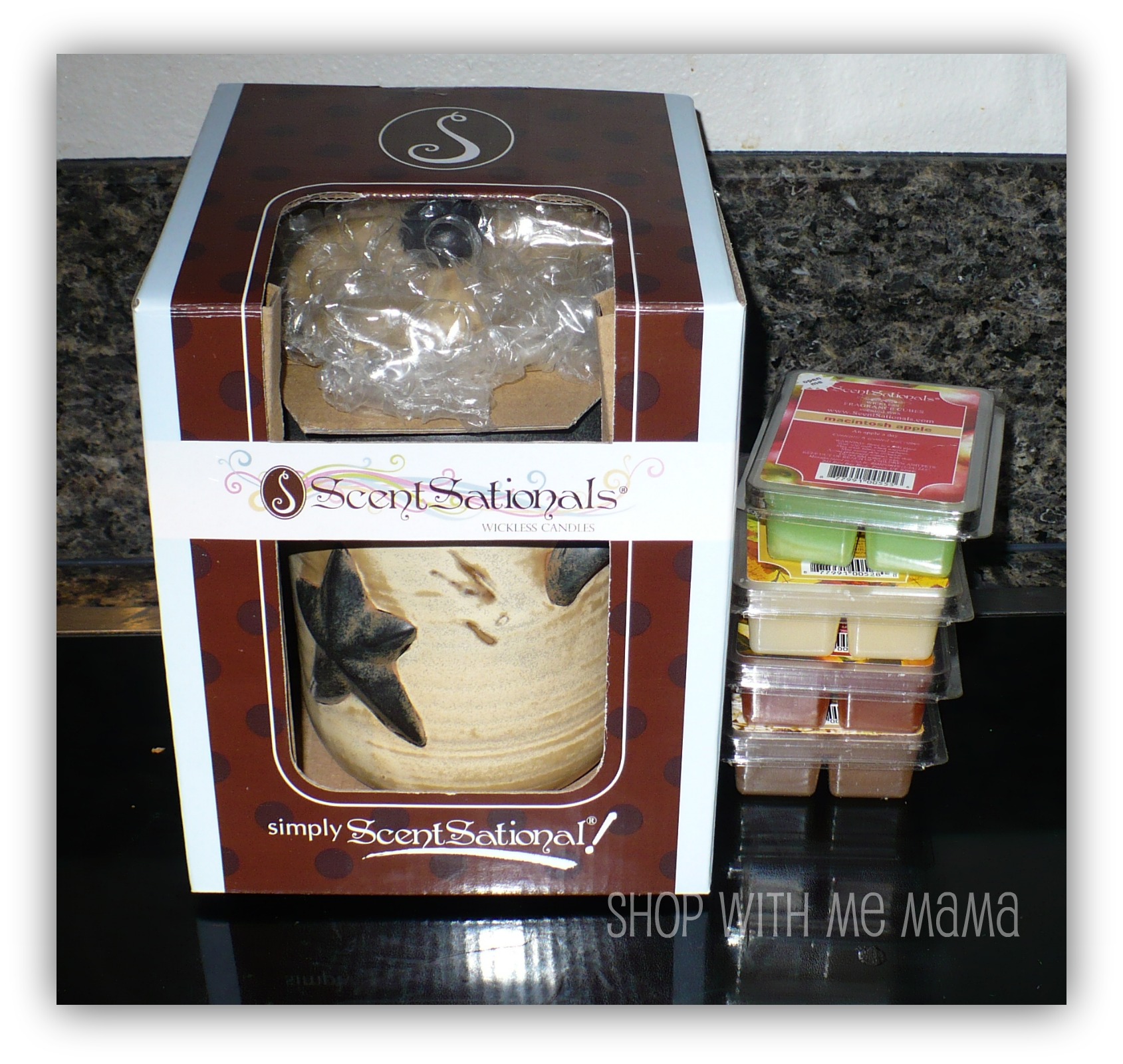 I received a warmer of my choice and love love love it. It is country-ish and just fits in my home perfectly!
See, nice huh?!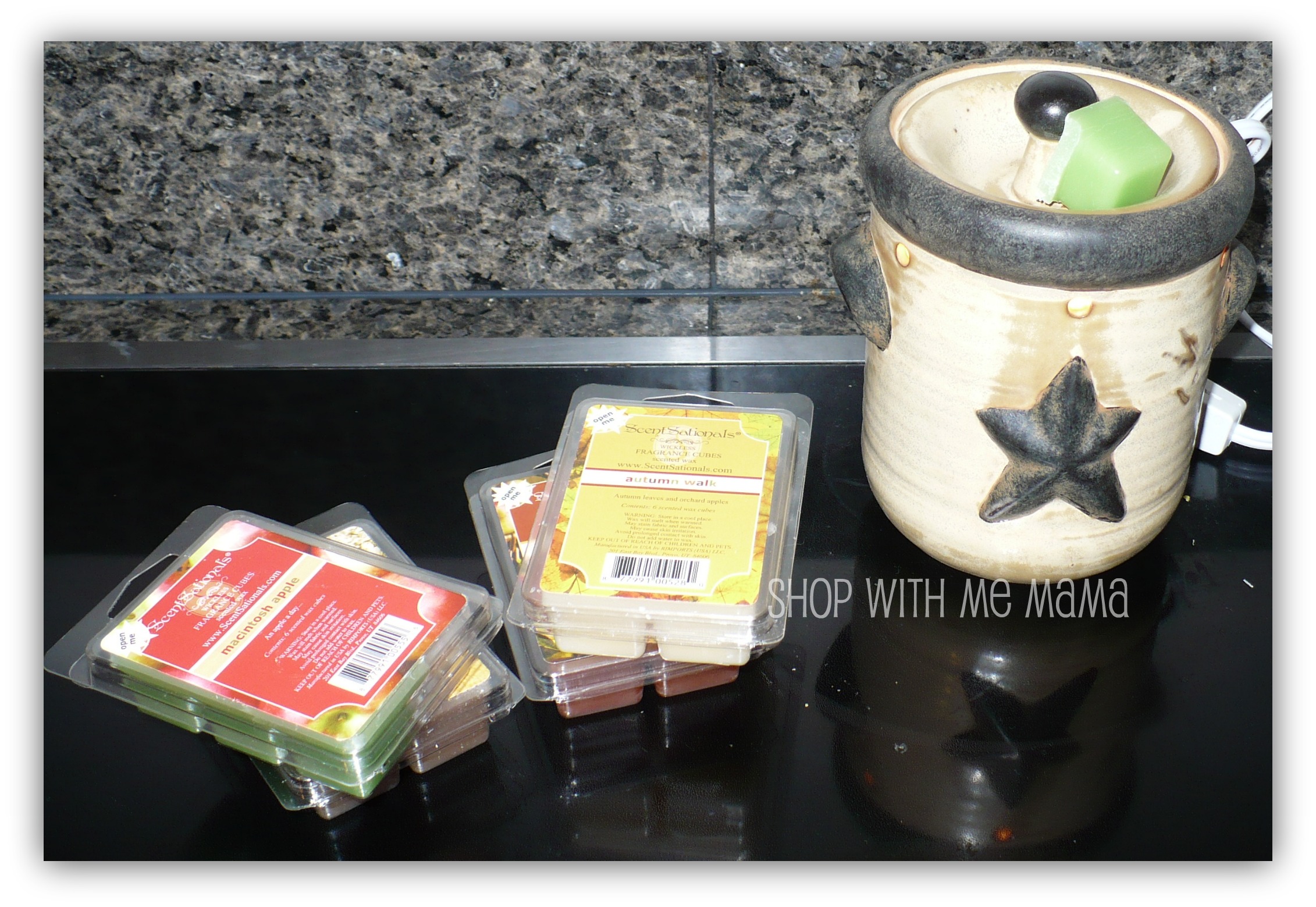 So, I received the Country Star ScentSationals Warmer and 4 deliciously scented wickless fragrance cubes in the below scents:
Sweet Vanilla Oats (reminds me of oatmeal cookies!)
Country Cider (reminds me of a cinnamon scent)
Macintosh Apple (OMG, reminds me of FRESH apples!!)
Autumn Walk (reminds me of pine needles and something sweet, I can't put my finger on the scent of this one..)
And yes, I will be purchasing more scents as they have some DELICIOUS scents, omg! Now I have noticed that the cubes scent lasts about one day, two tops, in my home. After the third time, it just doesn't smell to me, anymore. B
ut, when they do melt the first day, they melt and smell so yummy! And, there are 6 cubes in each box! When your cube has served its purpose, I just grab some tin foil, form a little bowl, and then pour the melted wax into it, wait till it hardens then throw away.
TIP: I have also pulled out some little molds and poured the wax into them, put them in the freezer and a few minutes later, I have really cute little wax molds that my kids LOVE!! Or you can use them as decorations in a pretty bowl on the counter or sprinkled around your home 🙂
Love two scents or three? Heck, just mix them together and serve up your own handmade aroma!!! ScentSational Warmers use a small, candelabra-based 25 watts light bulb to generate enough heat to melt their low melting point wax fragrance cubes. You can find the bulbs at any place that carries them.
Buy
To purchase ScentSationals Wickless Wax Warmers & Scented Cubes, you can visit them online at http://scentsationals.com/
Disclosure:
I was sent the product to review. These are my own honest opinions, thanks! I sure love the ScentSationals' Wickless Wax Warmer & Scented Cubes!