Shabby Apple Purple V-Neck Ballerina Dress with Ruffles
Shabby Apple has some very cute things on their site.  Beautiful women's dresses, jewelry, skirts, blouses and more, TONS more. I love how beautiful and easy to navigate their site is and I really like the prices.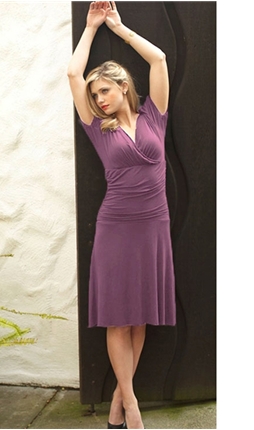 Now, since I do not go to church or attend any formal or semi-formal events (as of yet… that could change :)), I let my sweet sister, Jenifer, review this adorable Shabby Apple Purple V-Neck Ballerina Dress with Ruffles! She attends church every Sunday with her 6 beautiful children, and desperately needed a nice dress to add to her 3 other dresses that she has to wear to church.
 Isn't she gorgeous? Ya, she has SIX children and looks HOT!!
I have 3 older sisters and they each have families. And them and their daughters just love Shabby Apple (that is how I heard of them!) and they have some dresses from Shabby Apple. So, we were all already Shabby Apple fans 🙂
The Purple V-Neck ballerina Dress with Ruffles is as cute as it is on the site as it is in person, maybe a tad cuter! It is made of a really really soft, jersey type of material, so comfortable. I got the size small and it was perfect for my sister. The top of the boob part of the dress was a tiny bit big on her, but would definitely fit a bigger busted woman perfectly, it also stretches too. The breast area of the dress also, can be perfect for that breastfeeding mama! The dress is kind of separated where you can pull out a breast easily to feed your newborn, with ease. I thought that was cool, especially since I am sure it was not meant to be that way, but can be used that way if needed.
Wouldn't this necklace go GREAT with that dress?!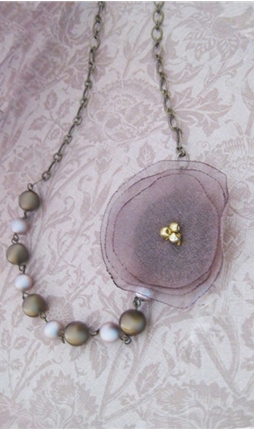 The dress also has adorable "puckered" sleeves that rest just below your shoulders and add a really cute, flirty look to this already adorable dress. The length is a nice length and perfect for anyone. The ruched waist is perfect for anyone trying to hide a less than perfect tummy or waistline. Whether you are attending church or an event, you will feel confident and extremely comfortable in this dress by Shabby Apple. Shabby Apple recommends ordering a size down for petite customers and/or those preferring a more snug fitted dress. Poly/Rayon/Spandex blend jersey fabric. Machine wash cold, delicate cycle. Line dry.
Buy
You can purchase the Shabby Apple Purple V-Neck Ballerina Dress with Ruffles online at http://www.shabbyapple.com/ They offer FREE Shipping with purchases $100 or more. Take 20% off sitewide! Use code NEWYEAR at checkout. (Excludes Sidesaddle Line.)
Disclosure:
I was sent product to review. These are mine and my sisters honest opinions, thanks!