*Silver Jeans Review. This post may contain affiliate links. If you make a purchase, I get a small commission. It will not affect your price.
First off I want to tell you all about Lisa, the PR rep who is allowing me to do a Silver Jeans Review
. She is amazing. The first pair she sent to, UPS delivered to our new neighbors. When UPS realized THEIR mistake, they went to my neighbors home to collect the package.
The neighbors, of course, said that they never received the package, even when the UPS guy showed them the satellite picture of him delivering it to their home. Ya, nice way to start a friendship, with our new neighbors, huh? I was/am so angry with them!
Anyways, Lisa filed a complaint and then she promptly sent me off another pair, two-day delivery! She is a rockstar, and I just had to share that with you all!
---
K, on to my Silver Jeans review 🙂
I received the Pioneer Low Rise Boot Cut Silver Jean in the mail and the first thing I noticed about these jeans is the way they feel. They are so soft and they actually feel like leggings or your hubby's old t-shirt!
When you have them on, they move with you. They are not starchy like some jeans, and they are so comfortable. Usually, when I have a pair of jeans on during the day and I am out, I will get home and immediately take the jeans off and put on my comfy p.j.s.
But with these, I did not even think to take them off right away. I actually leave them on all day long, as they are so comfortable. Love them. They are like a second skin!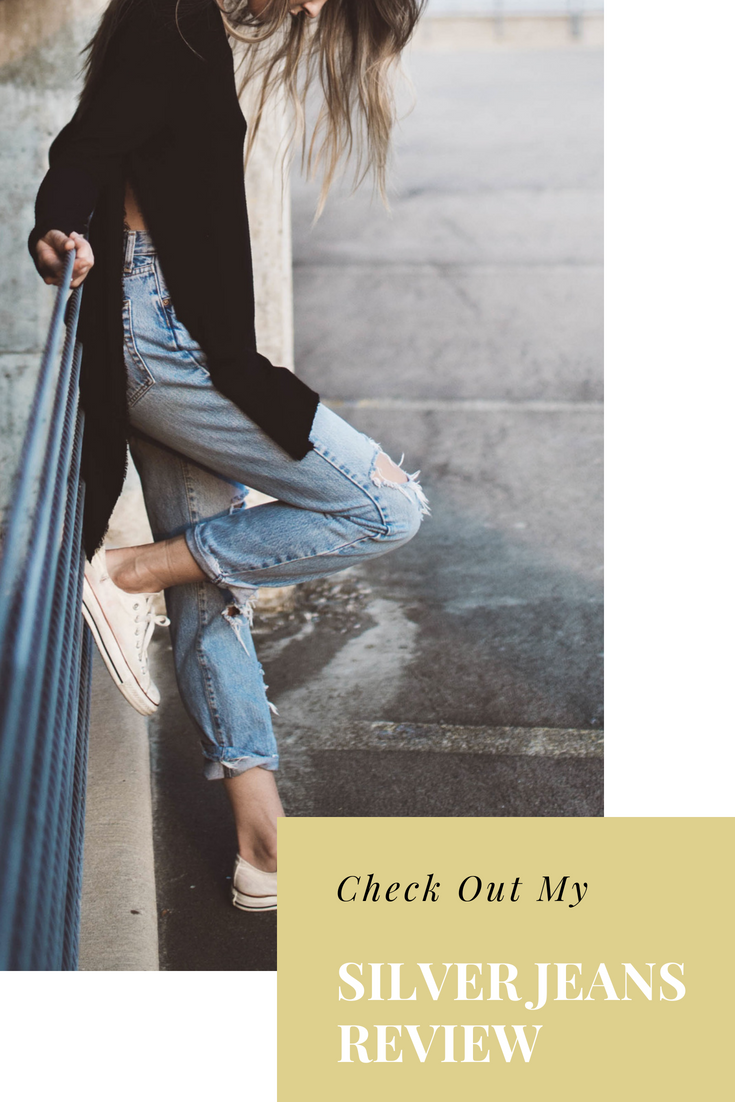 The fit is just perfect for me too. They are low waisted but are still comfortable. The length is long, I LOVE longer jeans because I wear heels or boots with my jeans and I like the way they look with longer jeans.
I also absolutely love the stitching on the back pockets. I always have to have some sort of stitching on ALL of my jeans, just the way I roll 🙂 And I always have to have flap pocket jeans. I will rarely find a pair of regular pocket jeans that I think look good on my bum 🙂 These look good!
Being a Mommy, I like to still feel hot and sexy for my hubby. And with Silver Jeans
, I feel that I am comfortable and stylish and I feel very good about myself when I wear these great jeans.
A Bit About the Fabulous Jeans (taken from their site) Silver Jeans Review:
One of our best selling Red Label fit jeans! If you're looking for the perfect low rise, slim-fitting, flared jean Pioneer is the jean for you! This low rise, boot cut with button-flap back pockets is exceptionally flattering front and back.
This dark rinse is sure to only get better with wear and will look great with boots and sandals alike.
– 75% cotton, 24% polyester, 1% spandex
– 19″ bottom opening
Color: INDIGO
Silver Jeans
has so many great styles to choose from, and all of them are soo stylish and trendy! You will feel good wearing them and look hot too! They also have some nice looking men styles too!
Don't forget your man 🙂 Oh, and the sales that they have been wonderful. If you check out their sales page, I bet you will find an awesome deal on a great pair of jeans!
About Silver Jeans (taken from their website) Silver Jeans Review:
Quality
The latest fashion changes by the minute, however, our value and quality never change. All we're about is making the best fitting, best looking, the best value, finished jeans that we can.
Input
Our products are sold to all of North America and parts of Europe. We take what we learn from your town, your schools, your food courts, your streets, we like to take it and put it into fashion; affordable and real!
Focus
We have a tradition of quality-control: development takes place prior to production. Garments are measured before and after in-house washing. Every garment is inspected and one-third of those finished are measured. We also do box auditing of finished goods that are ready to ship.
People
At Silver Jeans, we promote a corporate philosophy that has less to do with balance sheets and more to do with how to be the best company we can be. Implicit in that philosophy is the belief that our employees and customers are our greatest assets.
Product
All Silver Jeans products are created and designed in Canada by our in-house design team. From there, our talented team of designers, merchandisers, and production managers oversee a process that includes pattern making, cutting, sewing, washing and detailing that spans the globe, where our products are eventually manufactured. This ensures a standard of quality that our customers have come to expect from Silver Jeans.
Buy Them!
You can buy these jeans by visiting Amazon.com.