I need to tell you all about this gorgeous Snowy Mountain Art By Big Wall Decor, that I recently received! It brings nature inside my home and makes my living room feel SO cozy! Big Wall Decor is the largest online store for oversized wall art, offering customers high-quality pieces that are larger than life at affordable prices. Browse through thousands of artworks or upload your own custom wall art. Each print is made on ArtFab material which combines high definition and durability, with easy swapping out of the framing when needed. It also features special features such as silicone beading, infinity framing, and an edgeless appearance for a more seamless look.
Plus, artwork collections are curated by today's top influencers and huge sizes are available to easily own gallery-size artwork. Lastly, it is lightweight and portable for those who are always on the move!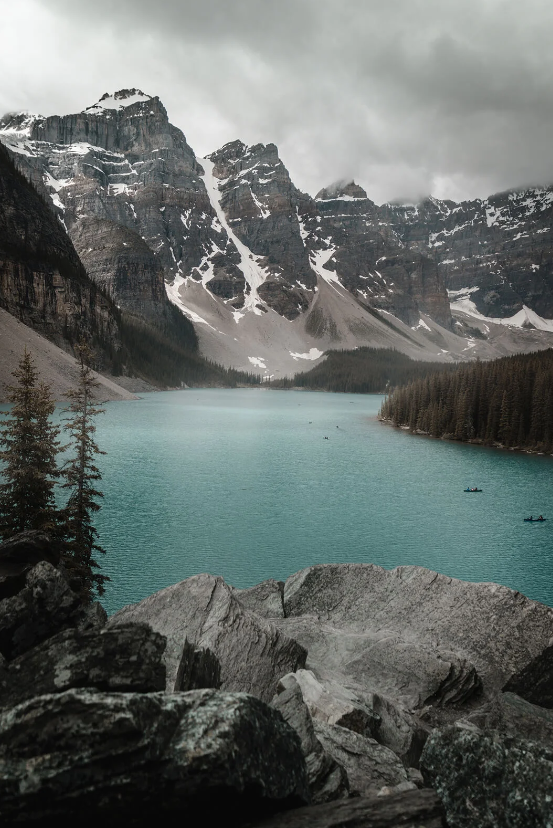 I received the gorgeous Mountain Heights canvas print and I love it so much! I will update this post when it is on my wall! I got a BIG one! It is 60″x60″!!! I am still getting it ready, so stay tuned!
It is now on my wall!!! Take a look below! So pretty!!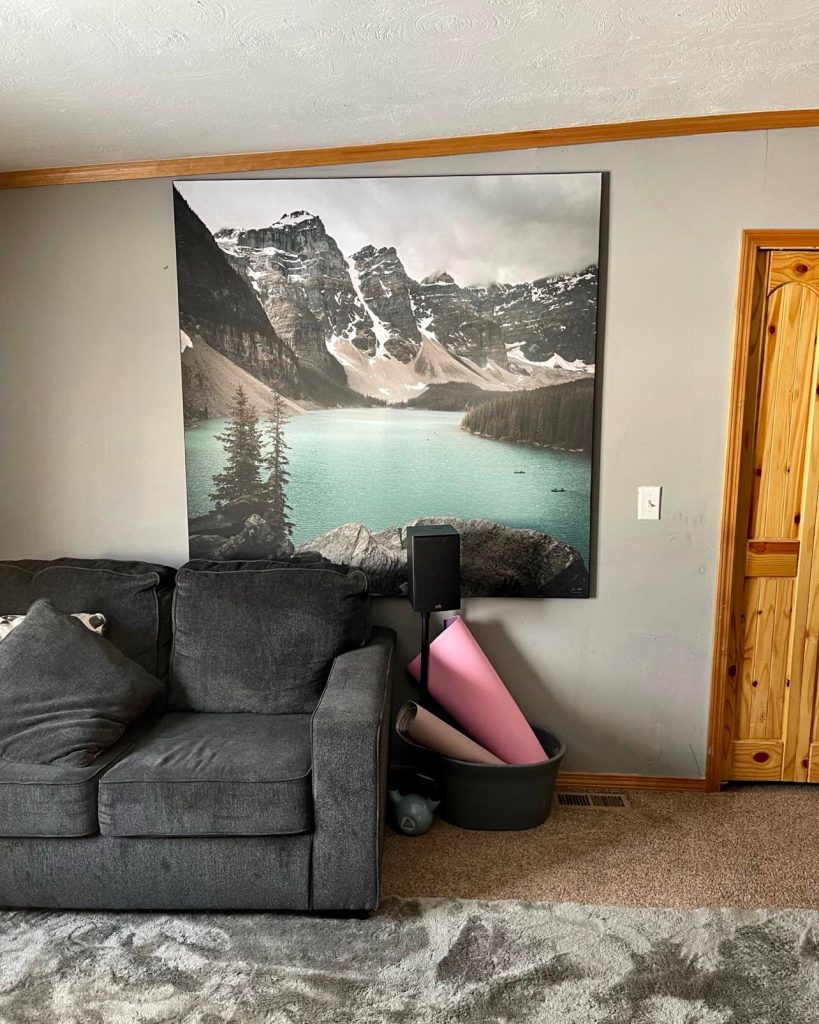 It also came with a frame that is easy to put together, you only need an Allen wrench. Their Youtube video walks you through how to put together the frame and add the print, easily!
Snowy Mountain Art By Big Wall Decor
The Mountain Heights Big Wall Decor canvas is so beautiful! The Landscape is by Devon Loerop and it is stunning! What drew me to this particular snowy mountains art landscape canvas was its beauty. We live in the mountains of Idaho and all we see are snow-capped mountains in the wintertime, it is just gorgeous! So, why not bring the beauty of these snow-capped mountains into my home? Snowy mountain wall art in my living room?? Yes, please!
I love the way this landscape looks and feels, it makes me feel happy! The water in this picture is also calming to me. The whole wall art Snowy Mountain Art print is so comforting!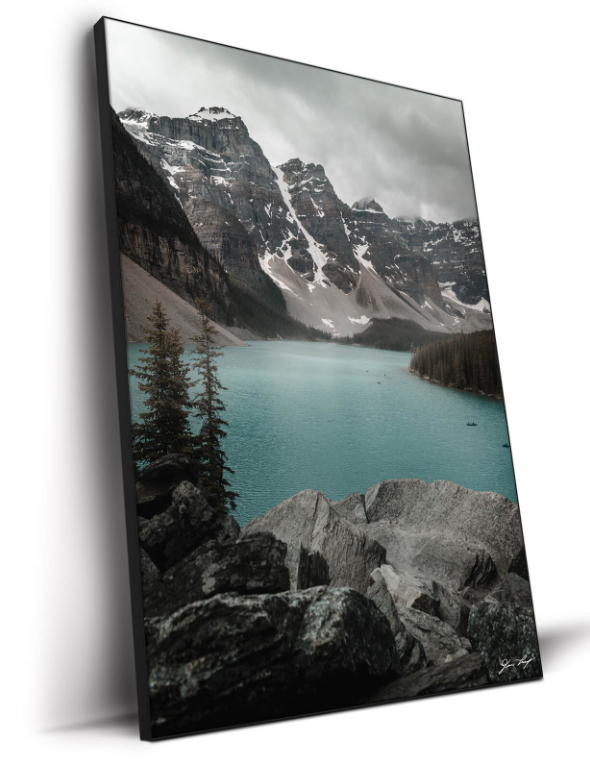 Big Wall Decor carries plenty of these gorgeous nature big prints! There are so many Snowy Mountain Art pieces to choose from if you love snowy mountains art! If you love nature in general, there are also plenty of large nature wall art pieces to choose from too. Or, if you are into other kinds of art prints for your walls, they have a huge selection of different pieces to fit everyone's mood! You just have to go and check them out!
Why You Should Consider Big Wall Decor Affordable Large Wall Art
Here are a few reasons why you should consider Big Wall Decor:
*Big Wall Decor carries Huge Sizes! It's finally easy to own gallery-size artwork. You won't find bigger sizes anywhere.
*Big Wall Decor is Portable! The Lightweight framing and durable prints are for people who are always on the move.
*Big Wall Decor is easily interchangeable! The ArtFab prints can be easily swapped out of the infinity framing without the risk of damage.
*Big Wall Decor is affordable and has a 30-day money-back guarantee!
*Huge selection of large wall prints to choose from!
*Made in the USA!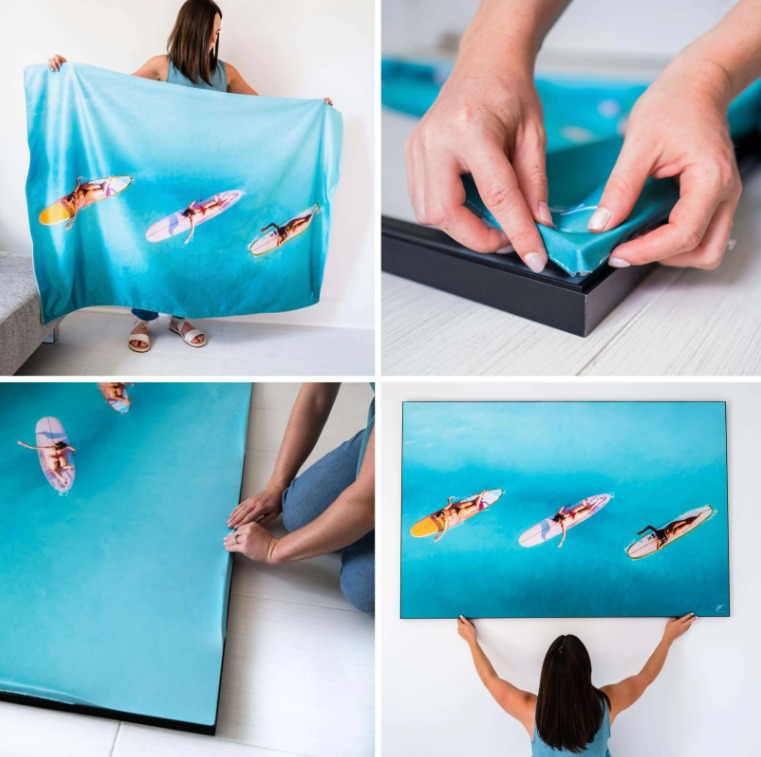 All the Big Wall Decor art Print and framing systems are proudly manufactured in the United States. They also offer a 30-day money-back guarantee if you are unhappy with your purchase. They also offer worldwide shipping and all orders ship within 5-7 business days. Print and frame may arrive separately (mine arrived together).
Adding anything new to your home and walls is always a great way to spruce up any room without having to spend a fortune! These Big Wall Decor art pieces can easily transform any room in your home. I think I might buy at least one more for my oldest son's room. He has his eyes on this one! It is absolutely GORGEOUS! I want it too!
Discount Code For Big Wall Decor!
I have a discount code for my loyals! Get huge savings when you use this coupon code at checkout on Big Wall Decor: SHOPMOMMA20 for a 20% discount at checkout! Please note, this cannot be combined with any other offers or discounts.
Buy
You can browse their art prints by visiting them online at https://bigwalldecor.com/.
What Snowy Mountain Art is your absolute favorite? Please let me know in the comments below!
PIN IT