*Products received. Opinions are mine.

I know that summer is almost gone, sigh, but that does not mean the sunscreen is put away. You should always wear sunscreen when going outdoors, isn't that what your mama told you?
Solscents is deliciously scented sunscreen to help you stay safe, while in the sun. I received some fun scents and lip balms to check out. Do I love them? Yep! They rock!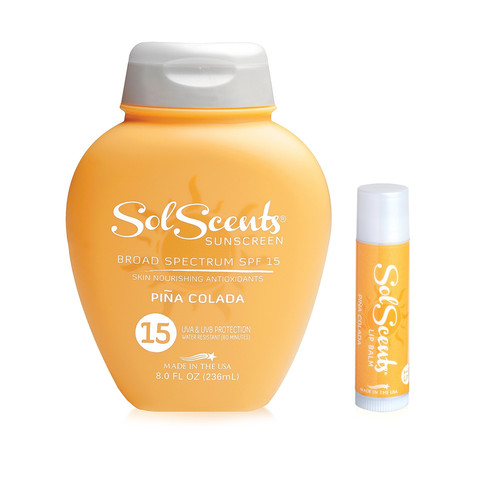 The sunscreens not only smell good, but they are so good for my skin. They make my skin feel so soft and really takes care of any dry and rough spots I may have. Plus, I smell delicious 🙂 Hubby likes the scents I received!
SolScents also brings you the new Clear Face sunscreen. Clear Face provides an ultra-light formula that is fast-absorbing, lightly scented and filled with skin nourishing antioxidants. Offering the same selection of fresh fragrances so you don't smell like sunscreen, Clear Face is available in broad-spectrum levels 15, 30 and 50. Paraben-free and FDA approved, Clear Face is suncare you can feel good about using daily!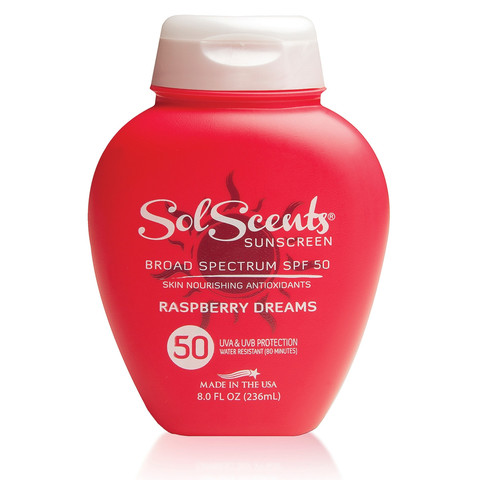 Summer skin care tips from Dr. Richie Lin
Keep pores clean: Look for "oil-free" on face sunscreens – sheer doesn't mean it won't clog your pores – and take cold showers after sweating to help prevent body breakouts.
Stop redness from heat: For immediate and long-term prevention of redness from dilated capillaries on the face and neck, an ice water-soaked facecloth compress cools blood that's flowing.
Up the exfoliation: Hot, humid weather makes pores look bigger, so add an extra exfoliating session every week.
Protect your pout: UV rays dry out sensitive lip tissue, so be sure to use a moisturizing lip balm with SPF 15 or higher.
Shield your eyes: Summer weather can be hard on the delicate skin around your eyes – not to mention squinting. Use an eye-specific cream nightly and don't forget your polarized sunglasses.
Apply sunscreen naked: Bikinis offer little UV protection, so lotion up and let it dry before you put on your suit. Burnt buns are no fun!
Apply and reapply properly: Use a teaspoon of sunscreen for the face and a shot glass-full for the body. Don't forget to reapply every two hours or after swimming.
Treat sunburns: It happens to the best of us! Use a skim milk and ice mixture for a soothing compress and aspirin or ibuprofen to reduce swelling. Keep skin hydrated to prevent peeling.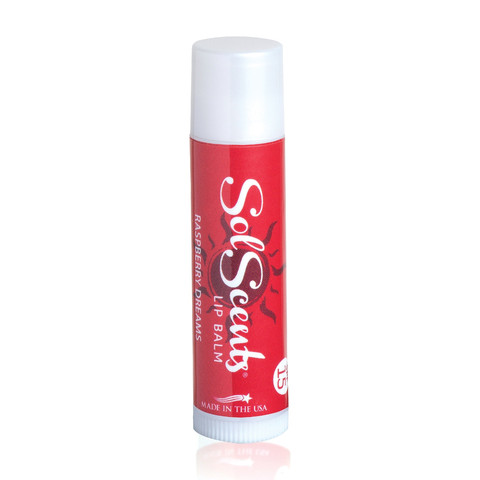 Another thing I love about this company? Each scented product corresponds to a charitable cause and a portion of the sales is donated to those causes!
The scents available are as follows:
Vanilla Silk: SPF 15
Piña Colada: SPF 15
Cucumber Melon: SPF 30
Deep Love: SPF 30
Angelica: SPF 30
Flower Blast: SPF 50
Raspberry Dreams: SPF 50
Buy
You can purchase the Solscents Scented Sunscreens online at
Win!
One person is going to win the following products:
Piña Colada – SPF 15
Pina Colada Lip Balm
Raspberry Dreams – SPF 50
Raspberry Dreams Lip Balm
How?
Easy! Just use the RC form below! GL!