The snow is melting, the birds are chirping and the flowers are starting to bloom. It can only mean one thing: Spring is finally here! Along with the arrival of a new season comes the urge to do some spring cleaning. This year, don't just clean your house from top to bottom – clean your life as well! Below are some helpful Spring Cleaning Tips For Your Home to help you get started.
Whenever the weather warms up a bit, I take a good long look at my home! All the dust build-up from the long cold winter months and grime! With the sunshine shining through my windows I can't help but see EVERYTHING and want to clean it well! It is certainly time to start spring cleaning!
Maintaining a warm and cozy home goes beyond just the regular dusting and sweeping. This is also good for your health. Whether you plan to sell your house or just want to give it a revamp, these spring season tips will help you decide what to do next when spring finally arrives. Below, are some helpful Spring Season Tips!
Spring Cleaning Tips For Your Home
Declutter!
Start by decluttering your home. Go through each room and get rid of anything you no longer need or use. Donate items that are in good condition to a local charity or have a garage sale to make some extra cash. I like to do this every spring so that I can clear out the old and make space for the new year. Here are some really good decluttering your home tips AND a free printable to help you along the way!
Deep Clean Your Home!
Next, deep clean your entire house from top to bottom. This means cleaning things that you normally wouldn't think to clean, like baseboards, light fixtures, and ceiling fans! You would not believe how FILTHY those things get! I love using products from PÜR Evergreen because they are natural cleaning products and they clean SO well!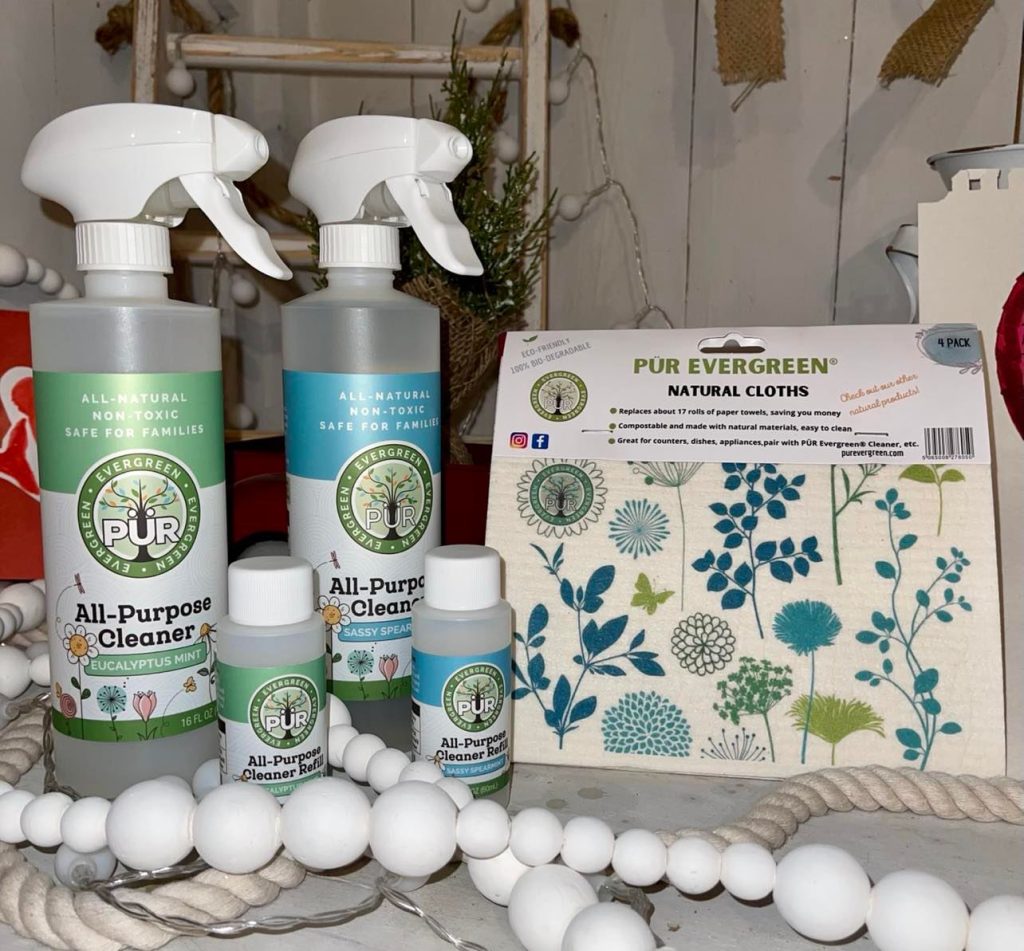 I start in my kitchen and slowly make my way to my bathrooms. It usually takes me a full day to deep clean my home but man is it worth it! The feeling of being in a CLEAN, clutter-free home does wonder for the soul!
I love the all-purpose cleaner in Eucalyptus Mint and Sassy Spearmint to clean almost everything in my home! This cleaner cleans so well and smells GOOD. It is an all-natural, non-toxic cleaner that is safe for families. And, using the PUR Evergreen natural cloths while cleaning has definitely cut back on garbage for sure! I usually go through about 3 rolls of paper towels when spring cleaning, but since finding out about these natural cloths, I no longer go through so many paper towels! Hey, you have to cut costs somewhere with gas being as high as it is! It is all about products that help you and help you save money in the long run!
About PÜR Evergreen:
This amazing all-natural plant-based cleaner will clean everything in your home and 99.9% of microorganisms, including bacteria, yeasts, fungi, viruses, and spores, making it a good choice for cleaning. According to the CDC, hydrogen peroxide is effective at removing which we have as an active ingredient!
This collection is a combination of Sassy Spearmint and Eucalyptus Mint that will bring a fresh scent to your showers and your whole home without the harmful chemicals.
This amazing set will help save space under your sinks and you will be saving a lot of money. Replace all your other cleaners with just one cleaner.
Comes with:
* One -2 fl. oz refill bottle of Eucalyptus Mint
* One -2 fl. oz refill bottle of Sassy Spearmint
* One-16 oz high-quality Sassy Spearmint empty refill spray bottle
* One-16 oz high-quality Eucalyptus Mint empty refill spray bottle.
Imagine the money you can save with one product! It even cleans stainless steel! Each 2-ounce bottle can make two 16oz spray bottles.
The PÜR Evergreen® All Natural Cleaner All in One DUO Collection retails for $33.39
Clean Gutters and Vents!
Since fall and winter must have brought with them tons of leaves and other residues that need cleaning, spring is the best time to do this. Grab your ladder (preferably an extendable stand-alone one) and check on your roof gutter. Clear out the gunk with a gutter scoop and clean off the remaining grime and filth with your handy garden hose.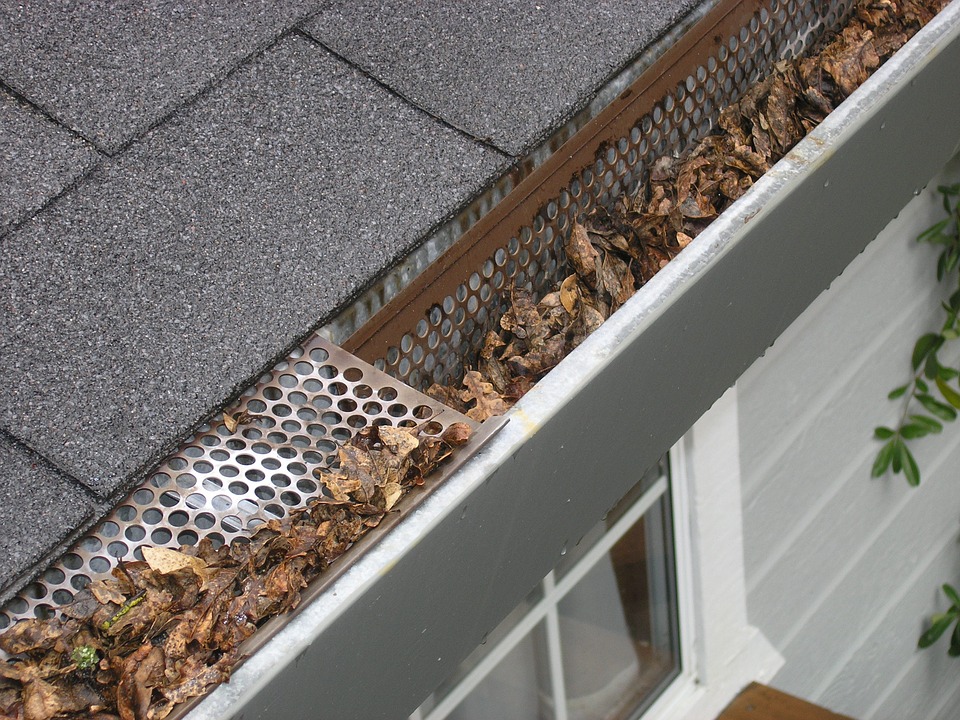 You shouldn't forget about your foundation vents and be sure to check them too. Before cleaning, make sure that you wear a comfortable long-sleeved shirt, a pair of gloves, and a face mask to protect yourself from the accumulated dirt and other potentially harmful substances.
DO NOT Fertilize Your Lawn Right Away
After winter, the grass and trees start to look greener and brighter. For some people, they take this as a signal to go all out on their gardens and lawns, and so they go wild with fertilizer. However, this practice is not advisable or recommended.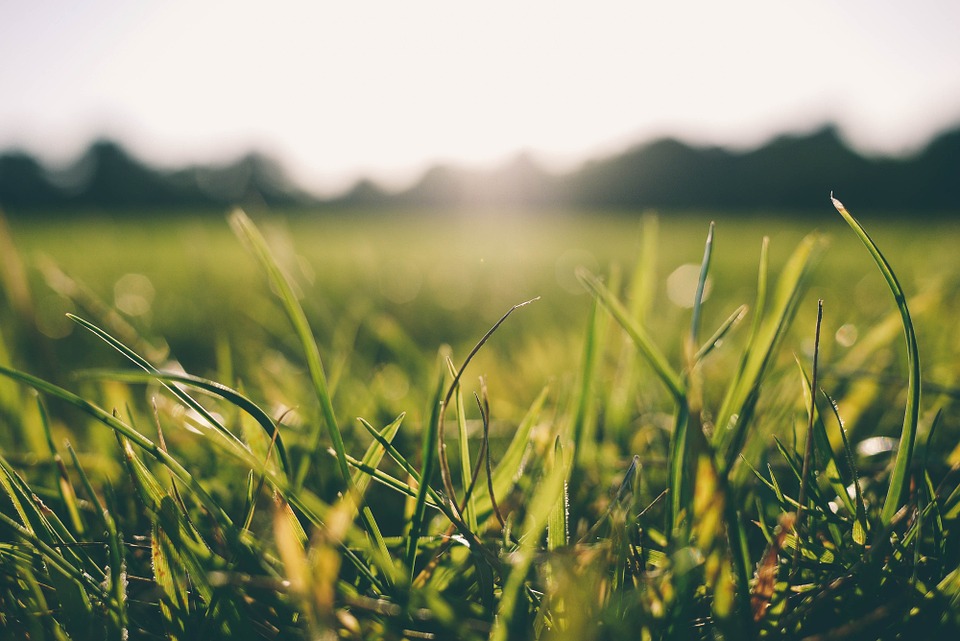 According to a lawn care authority, University of Connecticut's Home & Garden Education Center, you should first wait for your grass to actually grow and for it to finish growing. This is because its roots still store carbohydrates from last fall that help with early spring growth. If you wait for this before putting fertilizer on your lawn, the fertilizer you use will be more useful and effective for the purpose intended.
Also, be careful not to over-fertilize your lawn. Over-fertilizing can lead to grass damage, and more pests and is an overall waste of money. If you're not sure how to do the fertilizing by yourself, you can hire lawn fertilizing specialists like Heroes Lawn Care who can prep and fertilize your lawn.
DO Tend Your Garden
Most plant experts say that spring is the best time to plant perennials. In fact, Willowbrook Nurseries say that "The best time for planting varies from species to species but, in general, the best time for planting is in spring or in fall."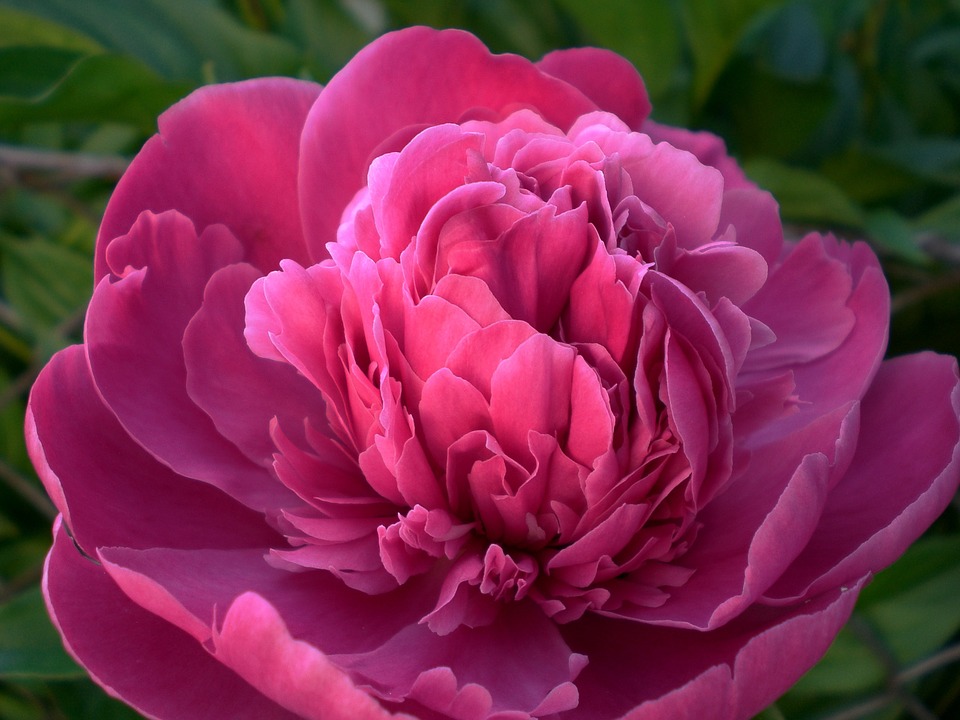 Of course, this is still dependent on what kind of perennial you want to plant. Garden Peonies, Euphorbias, Aquilegia, Iberis, Gypsophila, and Dianthus are just some of the perennials that are best planted during spring.
Clean Your Windows and Screens: Spring Cleaning Tips For Your Home!
There's a certain kind of happiness and gratification you get whenever you do your annual spring cleaning. One of the most satisfying parts of spring cleaning is the window and screen cleaning time.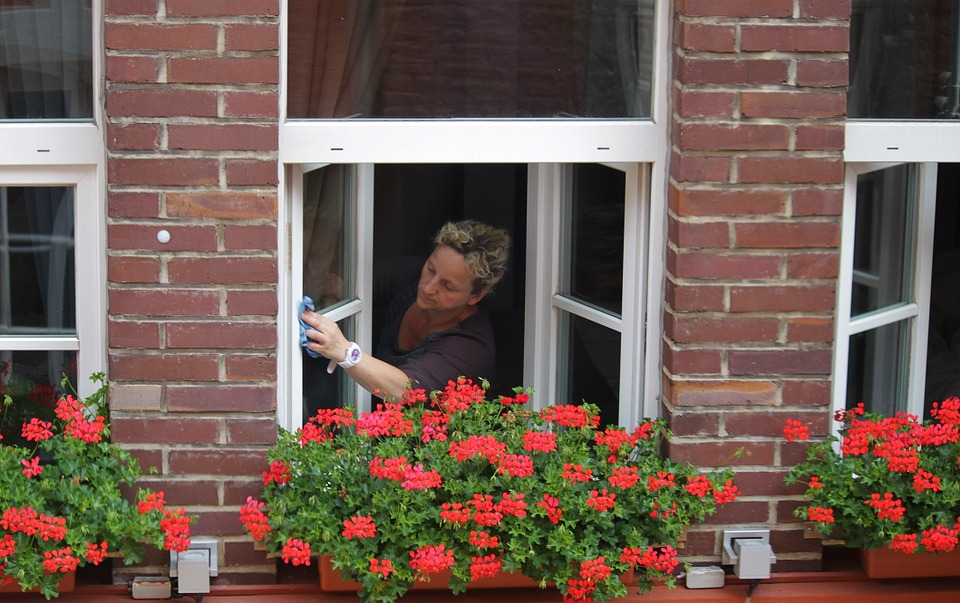 This doesn't only improve the general curb appeal of your home but it also makes you feel safer and cozier. The cold winter season may have caused the rubber and seals around your windows to break down, which can be a problem leading to an increased air leak. This should be addressed as early as possible, or your electricity bills may skyrocket.
Printable Spring Cleaning Checklist!
Below, you can easily print out a spring cleaning checklist that I created, just for you! Click HERE or click the image below, to download and print!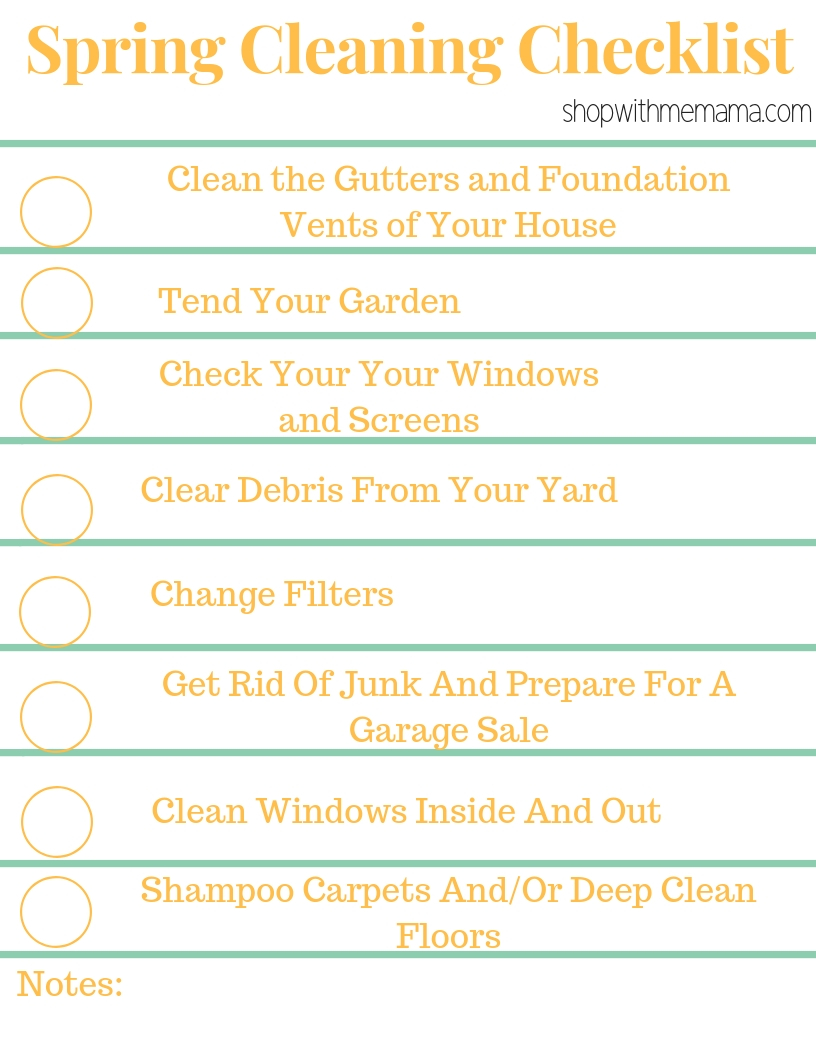 Spring cleaning is so important! Not only for your home but for your body and wellness too! You can do a little daily or do it all at once. Do you have any Spring Cleaning Tips For Your Home to share? If you do, please share them below!
Win!
One lucky person is going to win PÜR Evergreen Spearmint and Eucalyptus Mint All-Purpose Cleaners! Yay!
Rules
The contest is open to US 18+. The giveaway will end on April 7, 2022, at 11:59 PM MT. The winner will have 48 hours to confirm their win after I email them, or a new winner will be chosen. I am not responsible for lost or stolen mail.