In this post, we will discuss some fun facts about gardening! Do you take pleasure and pride in tending a garden? We all know that gardening can be a labor of love, but did you know it's also been incredibly beneficial for centuries?
If you have ever been to gorgeous Chinese gardens or Japanese gardens (find Japanese garden facts here), you know what I am talking about. There are so many different gardens! And, you can have a garden anywhere there is dirt!
My favorite garden is the community gardens, so fun! From providing your own food sources in these modern times, for early civilizations to improving economy, there are many incredible facts about gardening that few people know.
We'll be exploring these fun gardening facts and giving you some tips too! Whether you're part of the new gardeners group or want to brush up on your green thumb knowledge or learn about grow tent gardening, join us as we learn more about what makes our beloved hobby so great!
You don't need a college degree to grow your own food or to create a lush garden! Gardens have such a rich history and it is fun to find out more about them!
*This post includes my affiliate link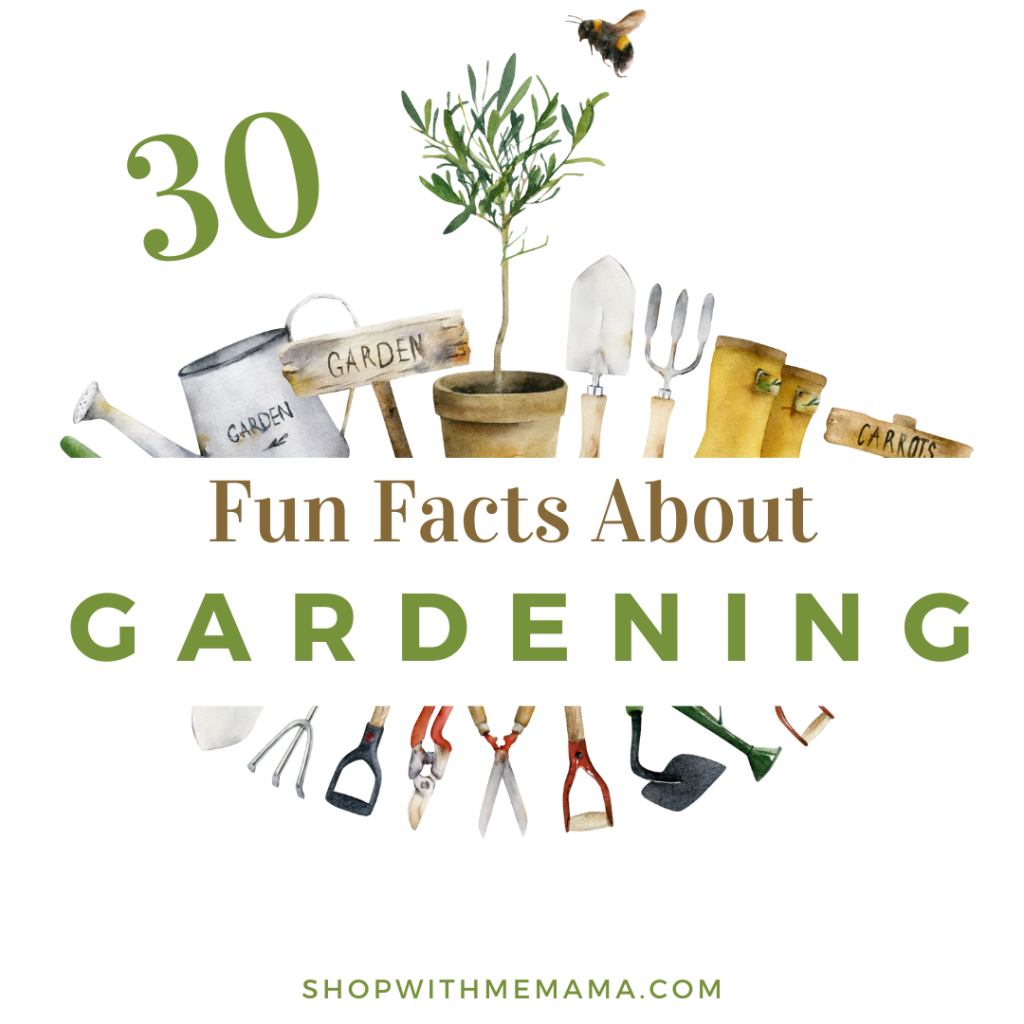 30 Fun Facts About Gardening
1. The earliest known public gardens were built by the Spanish Crown in the 16th century, in Europe and America.
2. Butterflies like weeds more than flowers!
3. There are many different types of gardening, including container gardening, flower gardening, vegetable gardening, and orchard gardening.
4. Container gardening is a popular way to grow plants without needing a large area of soil or land.
5. Organic gardening is a form of gardening that avoids using chemicals or pesticides. Organic gardening encourages the natural growth of plants and soil through composting and crop rotation techniques among other things.
6. Planting cover crops is an important part of organic gardening as it prevents soil erosion and increases soil fertility by adding nutrients such as nitrogen, phosphorus, potassium, and others to the soil naturally.
7. Different kinds of gardens include raised bed gardens are also becoming increasingly popular for those who have limited space for planting vegetables or flowers in their backyard or on their patio/balcony.
8. Composting is an essential part of gardening and helps to provide nutrients for the soil. It also helps the soil retain its moisture and nutrients better. Plus, it attracts beneficial organisms to the soil. Composting also helps with the vitamin content in the plant your growing.
9 . If you want to grow fish and vegetables, then Aquaponics systems are for you! They combine hydroponics and aquaculture providing both a source of sustainable food production (vegetables like green beans) with fish as well as ornamental ponds full of colorful flora & fauna species to look at while enjoying your garden view.
10 . Plant tags can help identify plants correctly when planting multiple varieties amongst each other. This is especially helpful when you are seed planting and need to know where you planted that particular row of seeds.
11 . Watering correctly helps ensure the optimum growth & health of your plants, however, overwatering can be more damaging than underwatering certain types so pay attention to weather conditions & how much water your plants need before & after watering.
12 . Pruning helps maintain shape & size – removing dead leaves & branches keeps disease away while stimulating new growth too!
13. Hummingbirds are attracted to bright colors making them great pollinators helping spread pollen among flowers – they love brightly colored flowerers that are tubular, so try adding these into your flower garden!
14. Companion planting involves grouping together different kinds of plants which benefit each other's growth creating a positive environment. Some examples may include garlic and onions with beans and peas or cabbages with strawberries (average strawberry).
15. Good tools are essential when it comes to successful gardening, find comfortable materials like metal trowels or sturdy kneeling mats with adjustable handles that offer comfort.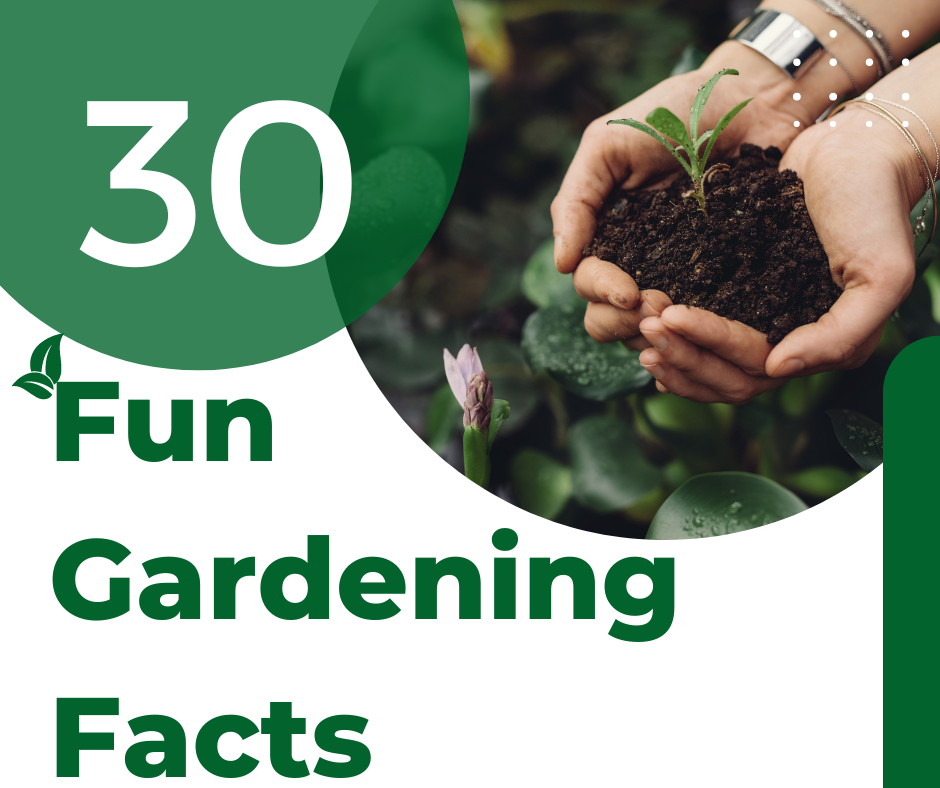 16. Diseases can affect different plants, even healthy-looking mature trees & shrubs if left untreated – keep an eye out for discolored leaves, weak stems, or fungus spots. You should identify these early by inspecting them (your garden), on a regular basis.
17. Weed control is so important. Help prevent too many weeds by minimizing soil disturbance as much as possible. Don't give weeds the chance to sprout by adding mulch. Mulch serves a dual purpose, adding nutrition through its decomposing process while also giving weeds a hard time growing. Weeds growing are a plant distress call so do not ignore this!
18. The practice of gardening is believed to have originated over 12,000 years ago.
19. Vertical gardening, using trellises or walls, can maximize growing space in small gardens.
20. Indoor gardening, using grow lights and controlled environments, can allow for year-round gardening and food production. This would be perfect for growing ghost pepper because they love growing indoors or in a greenhouse.
21. Having a garden and maintaining one is great physical activity! From pulling those weeds, to watering and keeping it fertilized, it is a great way to stay active outside!
22. There are more than 10,000 varieties of tomatoes!!!! This is exciting because there are SO many known species of plants!
23. One of the most expensive flower in the world is the Saffron Crocus
24. Parasitic wasps are tiny wasps that are good for gardeners and farmers because they attack and kill many kinds of pests and insects.
25. Snapdragon flowers are edible (I was a florist for over 9 years and never knew this!)
26. The Inca Indians in Peru grew the very first potatoes!
27. Species of edible plants include Nettle, Dandelions, Curled Dock, and many more.
28. The wishbone flower is one of the easiest flowers to grow. It is an annual flowering plant and grows well in both sunny and shady areas. It is one of those special type of flower that everyone loves.
29. Elephant Grass improves soil fertility and protects arid land from the dreaded soil erosion.
30. The word pineapple came from the Spaniards who at first, named the fruit 'pina' because it resembled the look of a pinecone.
Those are my top 30 Fun Facts About Gardening! The most rewarding activities are done in the garden! Having your own garden is so nice!
The first main reason to have a garden is to grow food but the second main reason is for your own wellbeing and overall health! It is so good for your mental health (with the exception of zen gardens because those help me with anxiety!).
We hope you have found this blog post about Fun Facts About Gardening interesting enlightening and inspiring. From the benefits of indoor plant growing to uncover how many varieties of tomatoes exist, it's clear there is significantly more to gardening than it appears on the surface. As we mentioned before, tending a garden can be incredibly rewarding and yields more than just delicious food.
Gardening promotes healthy eating habits, reduces stress, brings joy, and even gives the gardener something to be proud of. So why not give it a try?
Have you ever planted a garden before? If not, now is as good a time as any to dive into the world of horticulture and experience all its wonders.
Do you have anything you want to add to my post about 30 Fun Facts About Gardening? If you do, please leave yours below in a comment!
Don't forget!! World naked gardening day is on Saturday, May 6th this year!!! Yay!! Will you be gardening in the nude? I probably will not be, but there are plenty of people who do enjoy that! So funny!
Until next time,
Kim
PIN IT