I don't wear a lot of perfumes. I tend to get a bit sick if I smell too much of anything let alone strong perfumes and scents. I like very subtle scents to wear, especially during the summer months!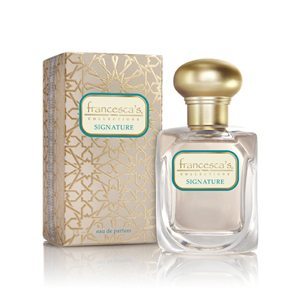 We all know that the heat and humidity can impact your everyday beauty routine, including the application and wearing of fragrances. So, here are a few tips from the custom fragrance development company, Tru Fragrance, on how to smell extra sweet this summer!
1.       The rules for applying fragrance shift in summer months: Apply perfume more delicately but with increased frequency. Sweating allows the body to cool but it does impact fragrance as it gradually evaporates with the sweat, necessitating regular reapplication. Rollerball versions of your favorite scent are great to carry throughout the day to freshen up.
2.       Placement of perfume is key:  Spray lightly on pulse points such as wrists, décolleté, behind knees and ears. Do not rub in the fragrance but let it soak in. The optimal time to apply perfume is on clean fresh skin – it's best to shower, apply lotion and then apply the fragrance. Also, a light spritz in the hair will help scent linger longer.
3.       Certain scents are more pleasant than others in the heat:  The following notes and perfumes are a good choice for the summer season:
a.       Citrus notes such as pink grapefruit, exotic yuzu, lemon lime spritz, citron, orange, mandarin, and bergamot, found in L'Eau d'Issey pour Homme Summer, L'Occitane Eau Universelle and Marc Jacobs Splash Kumquat
b.      Aromatic cooling notes such as mint that can be found in CK One Summer Limited Edition and Acqua di Gioa Satin
c.       Aquatic notes with scents such as watermelon, bamboo, and sea spray, found in Victoria's Secret Beach Angel, Cool Water and Charlotte Russe Refuge
d.      Creamy gourmands such as coconut, vanilla, and almond; examples of these can be found in "suntan lotion scents" such as Jet 365 Cabana for Two, Creed Island Water, Bobbi Brown Beach and Keihl's Crème de la Corps Light body lotion SPF 30
4.       Avoid fragrances that are "hot" and contain spicy notes as well as heavy oriental scents:  Many perfumes come out with a sheer version of their main fragrance for summer, which minimizes heavy notes and features lighter notes while maintaining the signature quality of the scent. Jean Paul Gauliter CLASSIQUE Summer Fragrance, Angel Aqua Chic andRalph Lauren Romance Summer Blossom are good examples.
5.       Try something new:  Several notable brands are launching limited edition and seasonal fragrances this summer, including CK One Summer Limited Edition, Jean Paul Gaultier Classique Summer, Viktor and Rolf's Flowerbomb Love Me Tight, Yves Rocher FlowerParty and Cacharel Amor Amor Summer 2012.
Lots of great tips, above, to help you through the summer wearing your perfume!!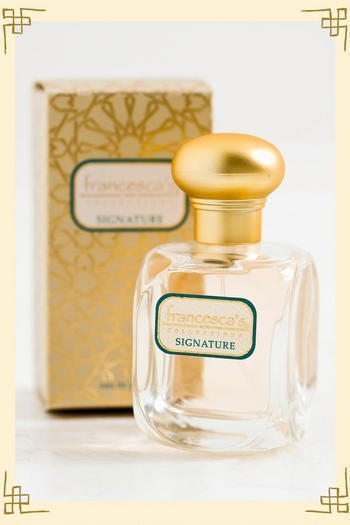 I received a delicious perfume in the mail to try out. It is called Francesca's Signature perfume and it is lovely. It is not too strong, and I love that. I spray it VERY lightly in the air and just walk quickly through it to give me a very subtle scent from it. I cannot over do it, and by just spraying and walking through it, seems to do the trick just right for me!
This perfume was just launched in April of 2012 so it is quite new to the fragrance scene! The packaging is really unique, I think and very pretty. It is inspired by the intricate patterns of artwork found in Morocco. Francesca's Collection Signature reinforces women's sophisticated taste and worldly desires.
Top Notes: Fresh Bergamot, Orange Segments
Mid Notes: Sensual Jasmine, Exotic Rose
Base Notes: White Patchouli, Vetiver, Creamy Vanilla (I definitely smell that yummy vanilla!)
It is just an all around nice smelling perfume.
Disclosure:
I received product to review and check out. All opinions are my own, thanks!