congrats to Maryann Drapkin and Lori Walker
*Product was received. Opinions are my own.

I absolutely love this time of year, don't you? I love all the fall scents, the comfort foods, the warmth and comfort of this season. It is just a great time of year!
With the Fall season comes yummy treats, snacks and good times! I have always enjoyed roasting our pumpkin seeds after carving pumpkins, with my parents and now I enjoy it with my kids! Nothing like baked pumpkin seeds fresh from the oven with a little salt on them 🙂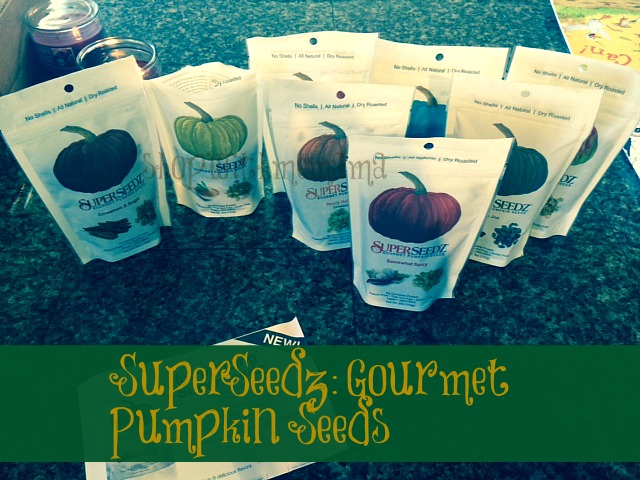 I was really curious when I heard about SuperSeedz. They are gourmet pumpkin seeds, in a variety of flavors and they don't have the shells on them! Mmmm. Ya, I needed to try them out 🙂
I received an assortment of their flavors to try out with my family. Guess what? I LOVED them ALL. This is the first time I was ever sent a selection of something AND enjoyed every flavor. That says a lot for these gourmet pumpkin seeds.
SuperSeedz are healthy but super tasty snacks. They are great to take along on the road with you, bring into your room for a late night snack (or sneak a bag into the movie theater for a healthy snack! Did I just say that out loud??..). There are lots of ways to enjoy these delicious pumpkin seeds! My kids LOVED them too. Everyone did.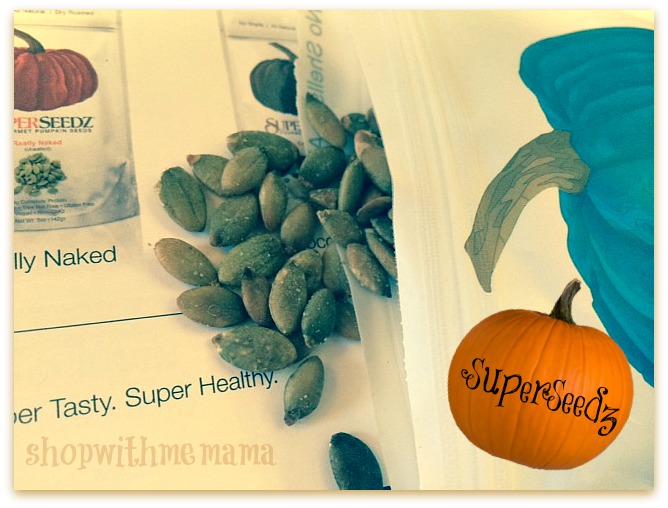 These are not only yummy for just snacking on, but also great in dishes like salads or casseroles. We enjoyed them in salads, but mostly just snacking on them. These have  lots of plant-based protein, zinc, iron, magnesium, and more, packed into them. Not to mention low in net carbs. 0 cholesterol, 0 trans fats, and no gluten. Vegan too. One of nature's most alkaline foods!
Flavors:
Really Naked: which is absolutely nothing on them, not even salt.
Sea Salt: Oh these are GOOD!
Cinnamon and Sugar: I thought I would not care for these ones, but they turned out to be my second favorite ones!
Coco Joe: Who does not love a little chocolate? These were my kids favorite ones
Tomato Italiano: For the tomato lovers (that is me!!!)
Curious Curry: These are so good and you will love them if you like curry
Somewhat Spicy: VERY good and has a nice bite to them!!!
Super Spicy: These have a BIGGER bite to them!!! Yum!
Buy
You can purchase these online at http://www.superseedz.com/. They retail for $4.99 for a 5 ounce bag.
Win!
TWO lucky individuals are going to win one of each flavor!! Yay!!!
How?
Easy! Just use the RC form below! GL!