If you're ready to discover the magic of Disney and every fun theme park Orlando has to offer, you're likely eager to find the perfect accommodation for you and your loved ones. However, you don't need to stay in Disney to experience an unforgettable vacation, as many exciting and stylish hotels aren't too far away from the likes of Walt Disney World Resort, Universal Resort Orlando, and Magic Kingdom.
Make the right choice by checking out the following ten best off-property hotels near Disney.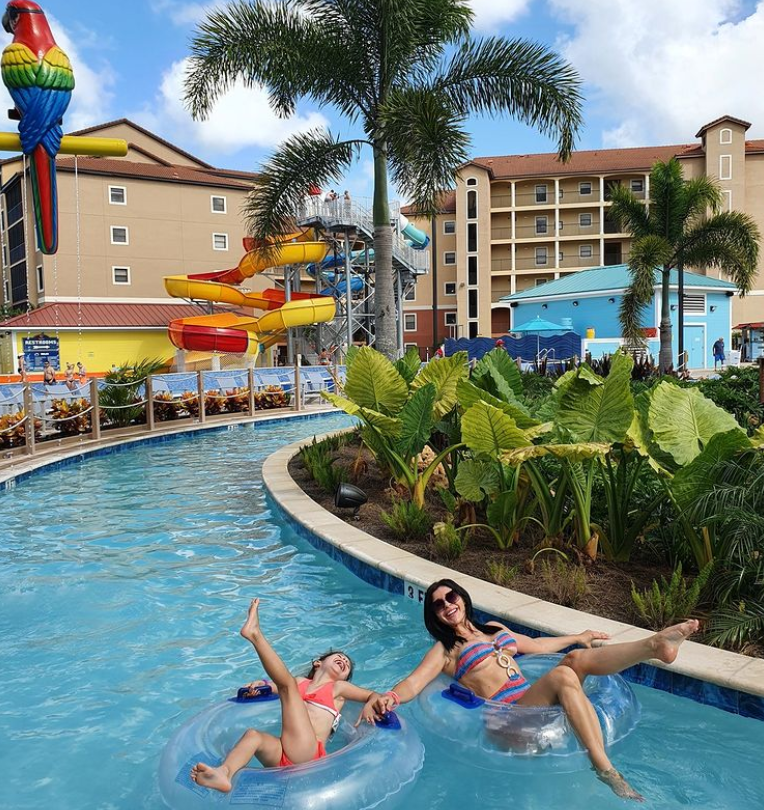 Source: Instagram, posted on October 22nd, 2021, Westgate Resorts' official profile.
Westgate Lakes Resort & Spa
The family-friendly hotel is the perfect choice for an off-property Disney hotel, offering a Treasure Cove water park, an 18-hole mini-golf course, a luxury spa, and much more.
Sticking to Walt Disney World Resort hotels will cause you to miss out on unforgettable off-property Disney accommodations that will wow your family or friends. If you are looking for a fun, fabulous, and fully furnished hotel during your trip to Orlando, Westgate Lakes Resort & Spa should be your top choice.
The luxurious resort offers all the comforts of a vacation home and the benefits of a premium hotel. The stylish home away from home caters to your every need from the beginning to the end of your stay. Plus, you can choose accommodation options to suit the size of your party, from stylish studios to expansive four-bedroom villas.
It's a perfect pick for families, as the resort provides the new 160,000-gallon Treasure Cove Water Park, seven pools, and many onsite restaurants serving a wide variety of dishes, beverages, and snacks. It's easily one of the best off-property Disney accommodations on this list.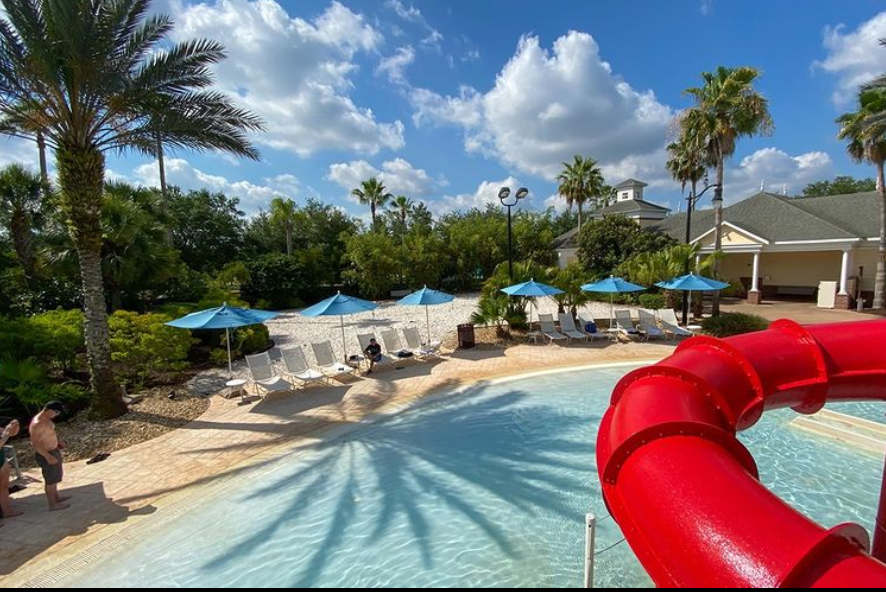 Source: Instagram, posted on June 11, 2021, Waldorf Orlando's official profile.
Guests can experience sheer luxury at the 502-room Waldorf Astoria Orlando, which offers a soothing spa, an 18-hole golf course, and two pools.
Treat your kids or the other half to a luxurious hotel experience by staying at Waldorf Astoria Orlando. The exquisite hotel offers 502 guest rooms and suites that provide the ultimate escape. The deluxe rooms and suites are renowned for their timeless elegance and many amenities to ensure you have an enjoyable stay, such as a spacious living room, a four-person dining area, and an Italian marble bathroom.
Also, you can upgrade to a Disney view room to catch a glimpse of Walt Disney World Resort, its nightly fireworks, and the hotel's 18-hole golf course. Plus, you can travel in style to all four Walt Disney World theme parks and Disney Springs via a luxurious coach.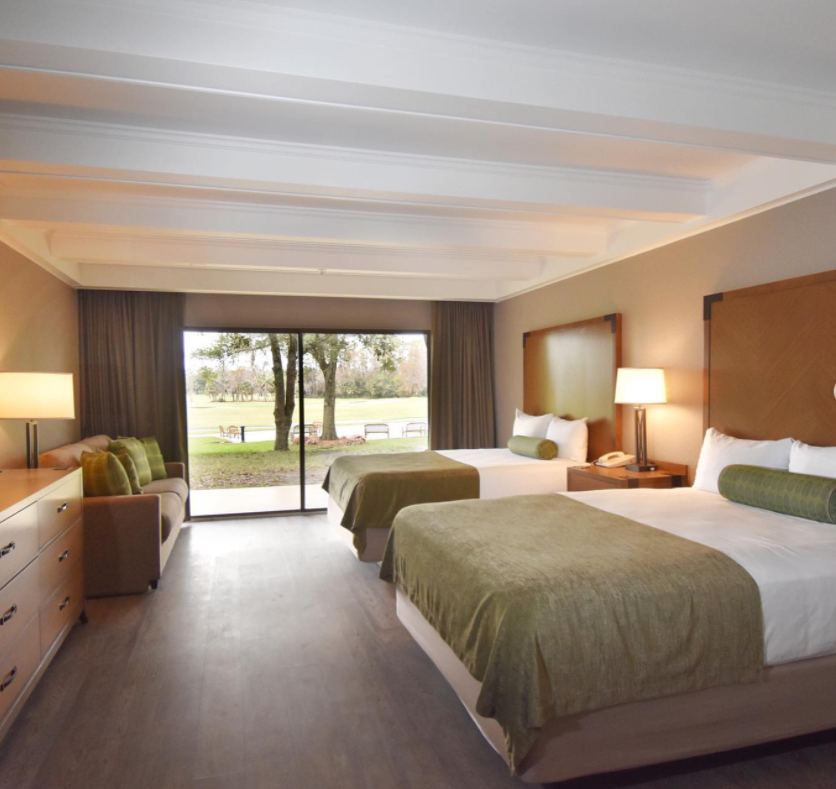 Source: Instagram, posted on June 11, 2021, Shades of Green Resort's official profile.
Exclusive to military members and their families, this Armed Forces Recreation Center provides an unforgettable stay close to Walt Disney World Resort.
Shades of Green is exclusive to military service members, their families, and sponsored guests. If you have served or served in the forces, don't overlook this family-friendly resort that offers stylish accommodations, restaurants, cafes, a sports bar, and room service.
When you aren't busy exploring Orlando's biggest and best theme parks, you can relax in the hotel's zero-entry Magnolia Pool, enjoy a treatment at the onsite spa, or flex your muscles at the fitness center. If all this wasn't enough, the hotel will help you buy military tickets and secure discounts across Walt Disney World Resort. However, you must meet the hotel's eligibility requirements to book a stay at the Armed Forces Recreation Center.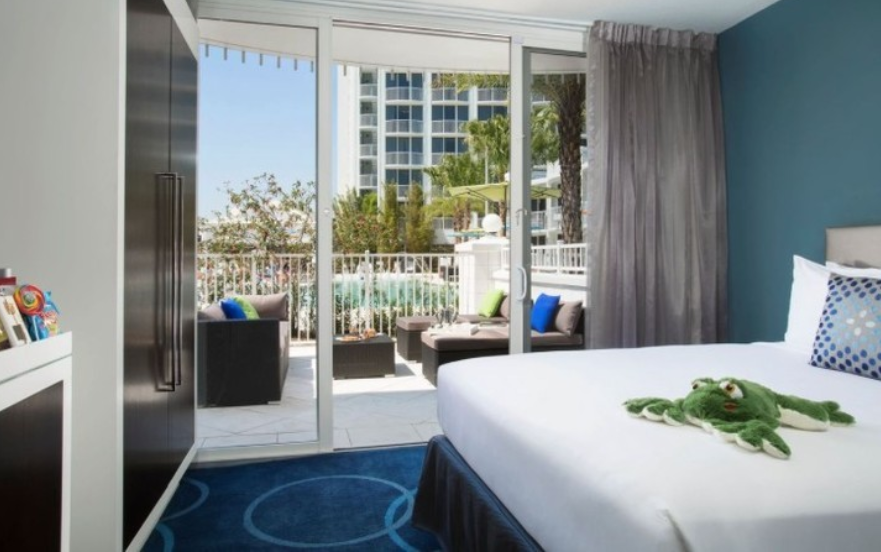 Source: Instagram, posted on December 29th, 2021, B Resort & Spa's official profile.
Book a relaxing stay in one of the 394 stylish guest rooms and suites at this official Walt Disney World Hotel.
The fun-filled theme parks are a short walk away from B Resort & Spa, which prides itself on a classic hotel experience. A good night's sleep awaits you at this well-thought-out resort, as you can rest after a busy day in one of its signature Blissful Beds®. When you're not relaxing in your spacious room, you can indulge in utter luxury in a Jacuzzi, splash your heart out in the large zero-entry pool, or take the kids to have some fun at the Kids Zone.
Also, the Official Walt Disney World Hotel provides complimentary shuttles to and from the nearby parks and resorts. After a busy day of thrilling rollercoaster rides, unforgettable animal experiences, and jaw-dropping attractions, you can return to the hotel to try classic farm-to-table dishes at American Kitchen Bar & Grill.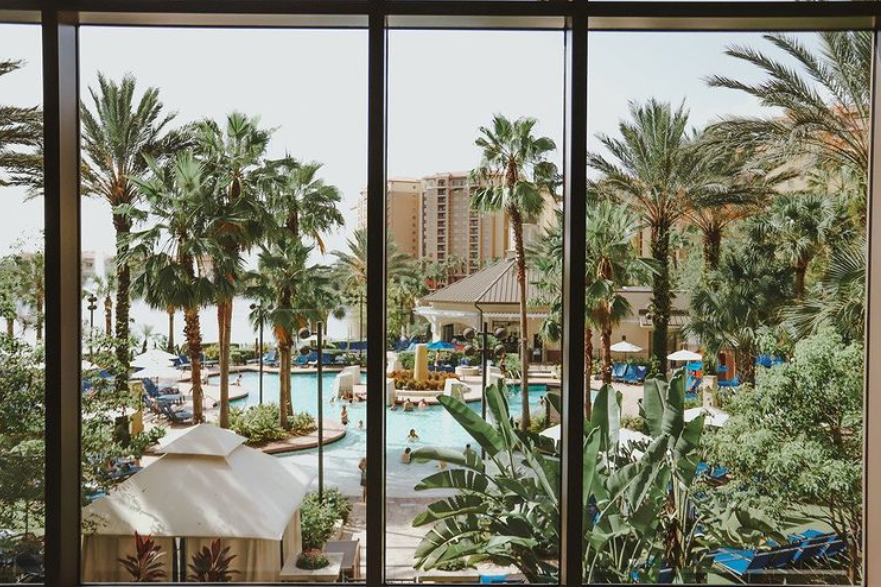 Source: Instagram, posted on January 28th, 2022, Wyndham Grand Orlando's official profile.
Step inside this secluded hideaway that's a short distance from Walt Disney World Resort theme parks and attractions.
If serenity and seclusion are at the top of your list when looking for an off-property hotel near Disney, Wyndham Grand Orlando Bonnet Creek Resort is unlikely to disappoint. The 62-acre resort will provide a picture-perfect stay that will make your vacation complete. You're sure to fall in love with its breathtaking landscape, two lazy rivers, and tranquil Blue Harmony Spa.
When you're not absorbing the gorgeous backdrop, you and your loved ones can immerse yourself in plenty of fun at the hotel. There's an activity for every age, including five pools, a mini-golf course, and a classic sports bar with lake views.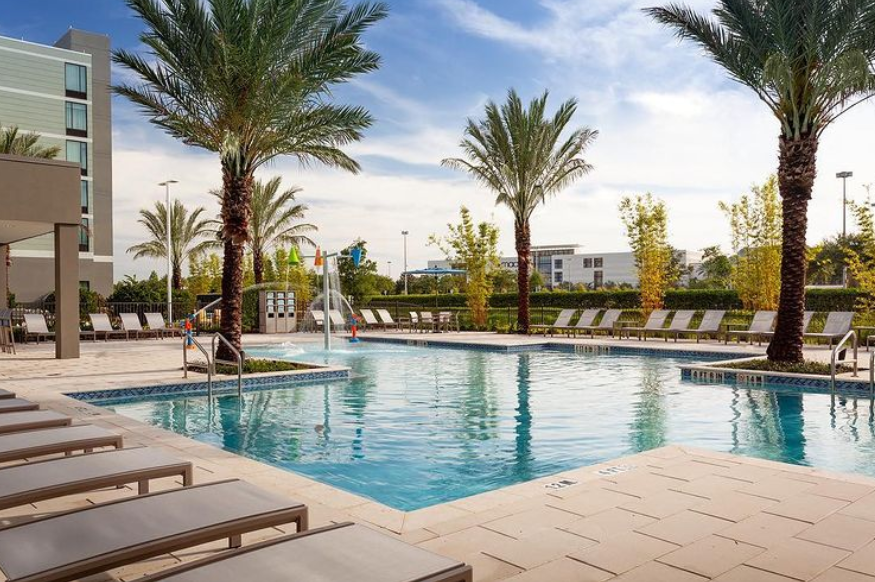 Source: Instagram, posted on August 16th, 2018, Springhill Suites official profile.
Springhill Suites at Flamingo Crossings
A low-cost, family-friendly hotel close to many popular theme parks and attractions in Florida.
If you're looking for a budget-friendly hotel that's ten miles away from Walt Disney World, Disney Springs, and many more world-famous attractions, book a stay at Springhill Suites at Flamingo Crossings. It's the perfect place to catch some of the famous Florida sunshine, as you can swim in its resort-style outdoor pool or lounge with a drink.
Pick from various suites to match your group size and needs, and you can even upgrade to a Disney fireworks view, which is worth the extra expense. Guests can also fuel up for the day with a complimentary buffet breakfast, or they can enjoy lunch or dinner at Flamingo's Bar & Grille.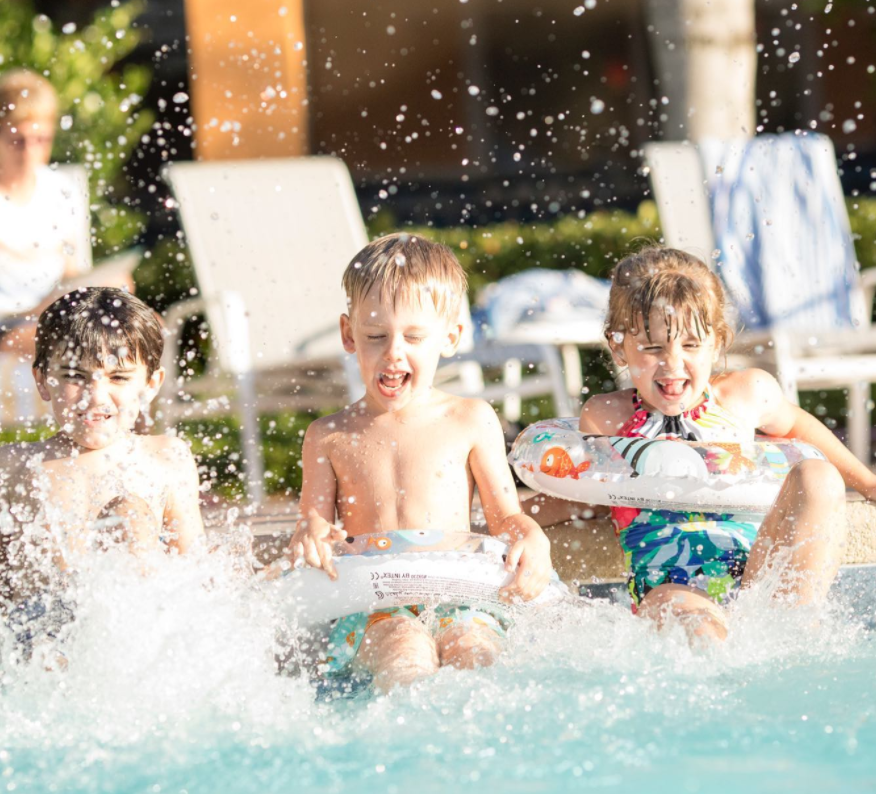 Source: Instagram, posted on August 8th, 2019, Bahama Bay Resort's official profile.
Enjoy a home away from home at Bahama Bay Resort, which offers comfortable, spacious villas and proximity to the best attractions.
Bahama Bay Resort offers a touch of the Caribbean in Orlando. Guests can unwind in sheer luxury in the two- or three-bedroom villas, making it the perfect spot for families or friendship groups of various sizes. Comfort is key at the stylish resort, as it offers central air conditioning, a private screened balcony, and a fully equipped kitchen with major appliances.
The convenient location is perfect for guests who want to explore Disney's theme parks, shop 'til they drop, and dine at many fantastic restaurants. It's an ideal choice for sports fans, too, as you can take a short stroll to the soccer and recreation park up the street.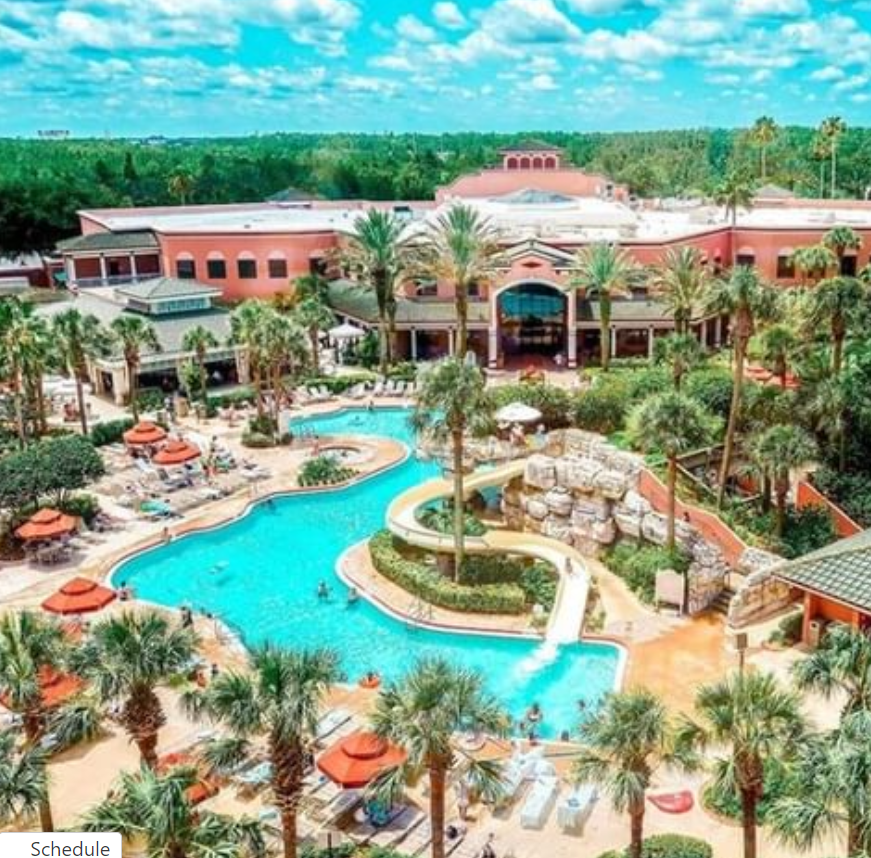 Source: Instagram, posted on July 19, 2019, Caribe Royale's official profile.
A newly updated hotel close to Orlando's coolest theme parks and attractions, such as Walt Disney World Resort and Epcot.
Caribe Royale provides the ultimate Floridian escape. Recently remodeled, the family-friendly hotel offers its customers a warm and welcoming experience from start to finish of their trip.
It's an excellent choice for families, friends, or groups planning to visit Walt Disney World Resort, as it is minutes away. Also, you won't need to travel much further to step inside other popular theme parks and attractions, as Disney Springs is two miles away and Epcot is three miles away.
After fun at the parks, you can rest up in the updated rooms with the wow factor. Unwind in either a suite or villa designed with comfort, privacy and play in mind. Offering a clean, pastel-washed interior design and much natural light, you'll happily spend your downtime in comfortable accommodation.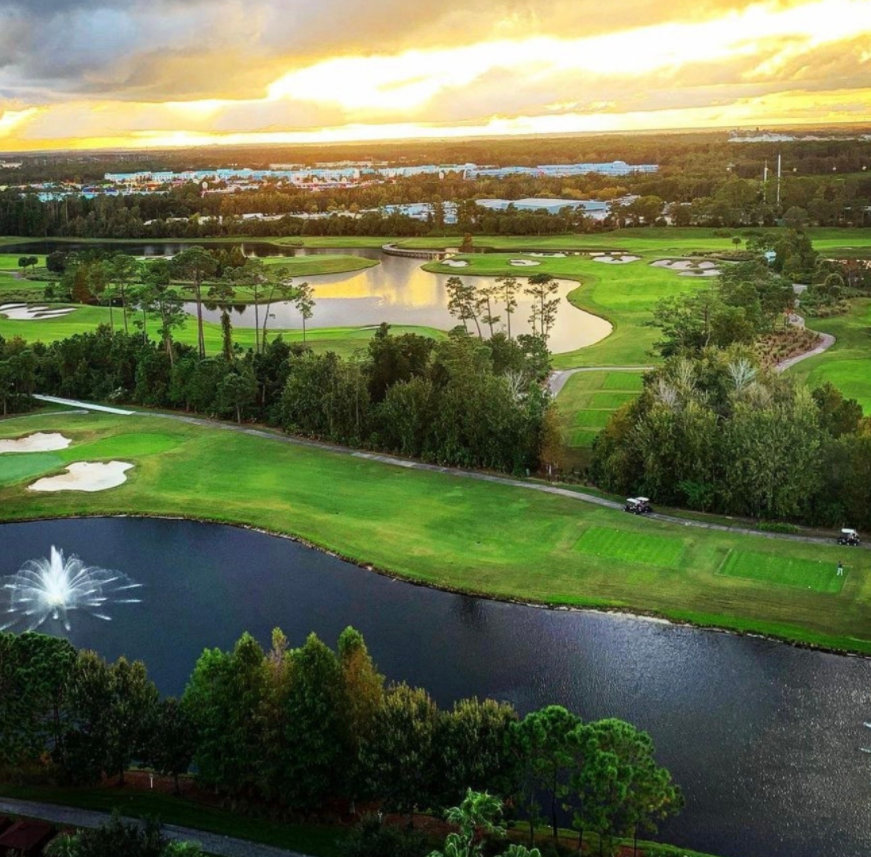 Source: Instagram, posted on December 1st, 2021, Signia Bonnet Creek's official profile.
Signia by Hilton Orlando Bonnet Creek
Choose from 12 restaurants and lounges at this premium hotel and the adjacent Waldorf Astoria Orlando.
If you want to immerse yourself in good fun, plenty of sun, and luxurious experiences, Signia by Hilton Orlando Bonnet Creek might match your every need. Popular with locals and tourists, you can enjoy a premium stay for a premium price at this leisure and business hotel.
One of the biggest perks of booking a stay at the luxurious hotel is the adjoined Waldorf Astoria Orlando (mentioned earlier). You can enjoy Signia's accommodation and award-winning hospitality throughout your trip while experiencing the Waldorf Astoria's superb 72-par championship golf course, restaurants, and lounges.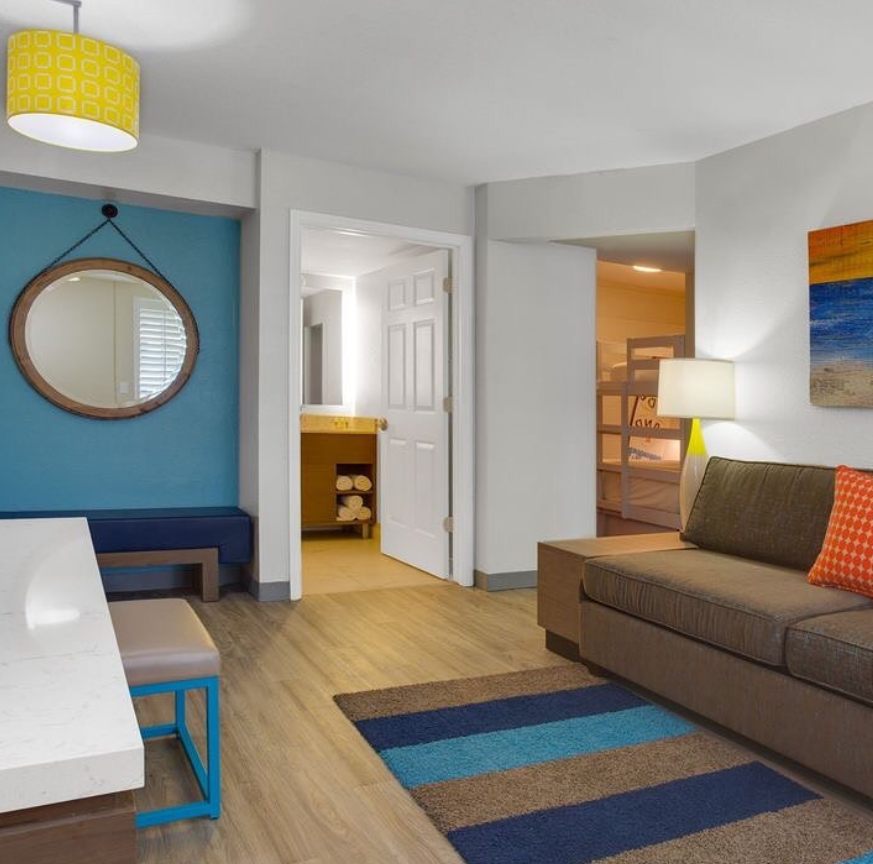 Source: Instagram, posted on October 27th, 2021, Holiday Inn Resort Orlando's official profile.
Holiday Inn Orlando Disney Springs
A value-for-money hotel providing an hourly shuttle service to the four Walt Disney World theme parks.
If you have a tight vacation budget, Holiday Inn Orlando Disney Springs might be the right fit for your finances. The value-for-money hotel might not boast extensive restaurants and pools, but it offers clean, attractive guest rooms, outdoor pools, and hourly shuttle services to all four Walt Disney theme parks.
Plus, you can grab a bite to eat at the Palm Breezes Restaurant & Lounge, which also provides a grab & go service for snacks, pastries, and sandwiches. Plus, kids 18 and under can eat for free during their stay when sharing a parent's room.
Conclusion
Orlando isn't short of stunning hotels that offer all the comforts of home and then some. Plus, you don't need to stay at a Walt Disney World Resort to experience the magic, as the above off-property hotels provide guests with enchanting accommodations and amenities they're unlikely to forget.
There are some pretty awesome and accommodating Orlando vacation rental homes near Disney that you can check out. Just do your research if you don't like any of the suggestions I made, above.
Of course, the above hotels will offer different room rates and proximities to the likes of Walt Disney World, Magic Kingdom, Epcot, and Disney Springs. For this reason, you'd be wise to do your homework to pick accommodation that matches your every need. You can then book with peace of mind that your family or friends will have a comfortable, fun stay in Orlando every single day.
Don't forget to talk to your loved ones to discuss the different hotels available. Your kids might love nothing more than splashing in an onsite water park, relaxing by a beautiful pool, or hopping on and off complimentary shuttle services to the best theme parks Orlando has to offer.