*This post is part of a sponsored campaign with The Allstate Foundation and MomSelect. All thoughts and opinions are my own

Did you know that October is Domestic Violence Awareness Month? I did not, but do now. I want to do something too. So, I was excited to join the Allstate's Foundation Purple Purse Campaign, to help spread awareness!
We all know that violence is hard to talk about, with just anyone. So, our friends at The Allstate Foundation are helping to give a voice to this issue with the Purple Purse campaign! What exactly is the 'Purple Purse'? The Purple Purse is the Allstate Foundation's symbol for domestic violence, which proudly represents a woman's way to escape the cycle of abuse by gaining financial independence.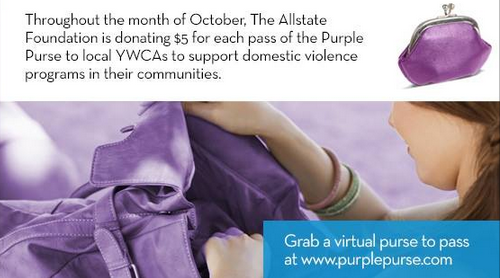 The Allstate Foundation's Purple Purse campaign has been very successful so far. They have been doing this for three years now! The Allstate Foundation's Purple Purse campaign has pledged to donate up to $350,000 to the YWCA for programs designed at assisting survivors of domestic violence and other women in need. I thought this was fabulous!

They are also sending more than 1,000 purses carrying domestic violence information, throughout the country. The purses can be passed from co-workers, friends, family and even strangers! The more passing of that purple purse, the better!
Passing the Purple Purse will more than likely spark some great conversation along the way and hopefully will help those in need. For every purple purse passed through the end of October, The Allstate Foundation will donate $5 to YWCA. You can even pass a virtual purple purse by logging onto Facebook.com/PurplePurse or www.purplepurse.com. There is also a Spanish-language site available at www.bolsomorado.com.
 This is such a wonderful campaign and I encourage you all to visit Facebook.com/PurplePurse to get involved!!