*Sponsored Post. Opinions Are My Own.
I know we have all been stuck in traffic and it sucks! Nothing is worse than being stuck in traffic after being on a road trip and all you want to do now is go home and put your feet up!
I have been stuck in traffic many times in my life and if there is ever an alternative route, I want to know what it is and I will take that route instead. I also like to know what The Best And Worst Times To Travel are, so I can plan accordingly.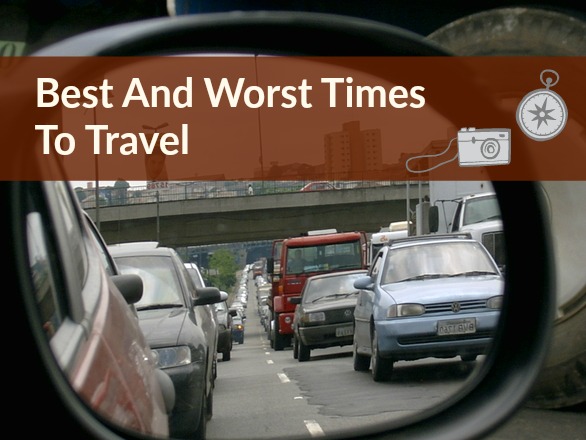 Worst Time To Travel…
Christmas. This is a no brainer. Christmas traveling is the absolute worst ever! You want to be home with your family but you are stuck on the road! My recommendation? Have your family stay put and see each other after Christmas! Or, have your family travel to your home a couple of days before the big day. That way, you can enjoy each other and enjoy what the holiday is really about.
Thanksgiving. There are SO many people scrambling to see their family and friends on Thanksgiving. Even a week before Thanksgiving, there is tons of traffic and people are leaving town early, in hopes of missing traffic. Never works, trust me unless you leave to your destination two weeks or so in advance and who wants to do that?? :/
New Years. I never travel on New Year's Eve or New Years Day. Why? It scares me too much. Too many humans on the road and many of them, unfortunately, have had alcohol. I will not bring my family out on the road on these days unless absolutely necessary.
Fourth Of July. This is another crazy traffic day. I remember one year I traveled to see fireworks with my friends at a very popular place and we ended up leaving a little bit early so we could get out of the parking lot. Did not work! We still were in the parking lot trying to leave for a good  HOUR. We missed the end of the fireworks and were STILL caught up in traffic. My advice? Stay home, and watch fireworks from afar!
Spring Break! Always will be the worst week of traffic EVER. My advice? Just plan ahead, take another route if one is available and take your time!
Best Time To Travel…
Two weeks after the holidays!  Not only will the roads be much less congested, but you will also find great deals on hotels, plane tickets and more!
Right After Summer Break! This is another awesome time to hit the road and not be stuck in all that summertime traffic. If you can get the kids out of school, just when they went back, do it! Promise you won't regret it!
Wintertime. It all depends on where you live. Here in  Idaho, we could not do much traveling due to how much snow we get, but if you live in an area where you have mild winters, I recommend getting out and going on a much-needed road trip BEFORE the holidays come.
If you are going to be traveling, make sure you have all your ducks in a row. Make sure you have your GPS, cell phone, charger, map, and for heaven sakes, make sure you have a good vehicle to take you from point A to point B without any issues. The people over at York Chrysler Dodge Jeep can hook you up!
What Days Do You Enjoy Traveling On? What Days Do You Hate Traveling On?