Travel Beds For Kids! Summertime is coming and so is the traveling season! Can't wait and neither can my family! Love visiting the beach and other fun places! Sometimes when we stay at hotels, there are not enough beds or there are enough beds, but one of our kids wants to sleep next to us on the floor. The floor is not an ideal place to sleep, nor is it comfortable. That is why next time we travel, we will be bringing our Indoor Tuckaire Toddler Travel Bed by The Shrunks!
*This post includes my affiliate links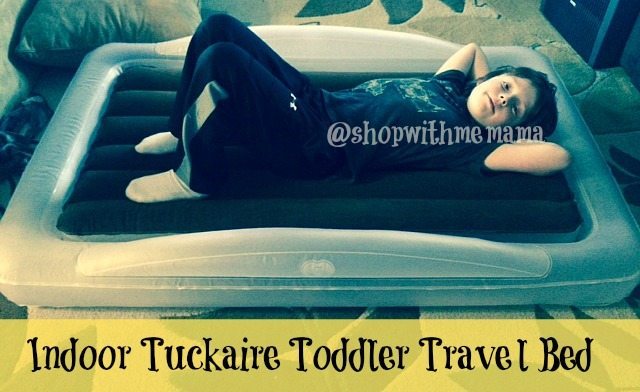 Travel Beds For Kids
This bed is awesome. It comes with the pump and everything to get that toddler bed inflated and ready for use (carry bag, electric pump). Standard-size crib sheets fit nicely on this mattress. What I really like about this inflatable travel bed is that you can actually lift up the mattress a bit, to put on the sheets.
That way, the sheets fit and stay on the mattress, without coming off. I LOVE that. I also like the soft mattress top. It kind of reminds me of velvet. Just a very soft and cozy feeling.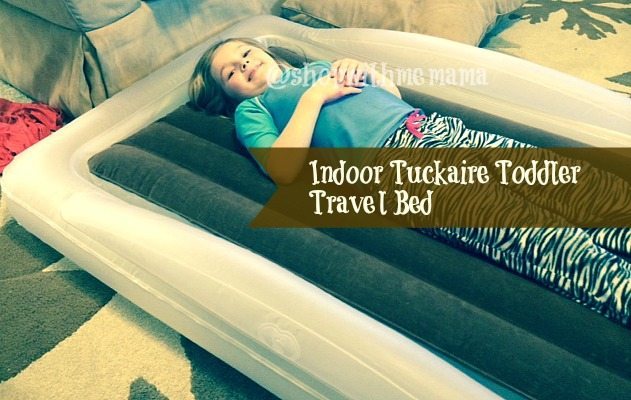 These inflatable travel beds are constructed with the safest materials, The Shrunks Travel Beds are Phthalates-safe, BPA-safe, and Lead-safe. This mattress is best for kids ages 2, and up to 150 lbs.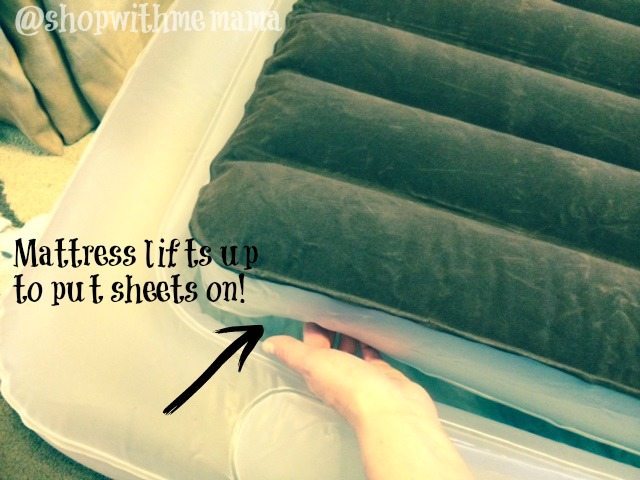 Handy Features To Know About: Travel Beds For Kids
Signature sheet-tuck feature – fits all standard crib-sized sheets
Our trademarked security rails help prevent your child from falling off
Inflates quickly in 30 seconds
Includes a convenient carrying bag, repair kit, and the compact yet powerful Jetaire Electric Pump
Phthalate-Safe, BPA-Safe, and Lead-Safe
Ages 2+
Inflated size: 60 x 37 x 9 (inches), 152 x 94 x 23 (cm)
Approximate deflated size: 16 x 7 x 7 (inches), 40 x 18 x 18 (cm)
Weight bed and pump: 8.5 lbs, 3.8 kg
Maximum weight capacity 150 lbs, 68 kg
This mattress is simple to blow up, just use the pump it comes with, and super easy to deflate and store away.
Buy
You can purchase the Shrunks Indoor Tuckaire Toddler Travel Bed online at Amazon.com. This travel bed retails for $72.99.
Check out my review for this awesome inflatable soccer ball! And, my review for the BlastZone inflatable waterpark!!