This post is all about the Ultimate Leather Jacket Buying Guide! Nowadays, leather jackets are wardrobe essentials. For most people, investing in a good leather jacket is something they can do only once because of the financial strain it might put them on. Which types of leather jackets should you buy, and how can you find the appropriate leather jacket for yourself? What about getting a genuine leather jacket or a faux leather jacket?
Choosing an appropriate leather jacket may be exceptionally hard and confusing, with so many alternatives available in the market. You'll learn everything you need to know about buying the right leather jacket from this ultimate leather jacket buying guide.
The Ultimate Leather Jacket Buying Guide
Faux vs. Genuine Leather Jackets
When discussing leather jackets, "genuine" is often used interchangeably with "faux." Personally, I would always recommend genuine leather. We consider it faux leather when no oil or wax is applied to the leather to protect it from water and dust. In terms of practicality, that's a bad idea.
For example, owning a faux leather wallet is fine because you wouldn't mind replacing it after a while since it's affordable and not something you'd expect to have for a long time. For leather jackets, always avoid faux leather jackets, and opt for genuine leather jackets for the sake of longevity.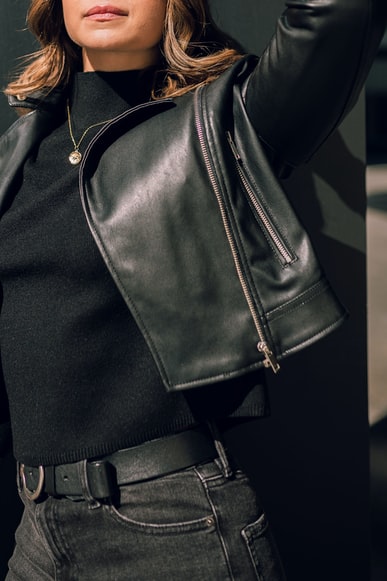 Type of Leather Finish
Leather jackets are available in different leather finishes. They include:
Antique Grain Leather

– It's not uncommon to see someone sporting a brand-new leather jacket that has the effect of making them appear vintage. That is because the jacket is finished in Antique Grain. This appearance is created by contrasting two different types of finishing materials.

Leather Jackets with a wax finish

– Instead of using paint or pigments, this leather jacket is colored using natural oils and waxes. Popular for its natural feel and softness, this leather has become increasingly common.

Nubuck Leather-

The Nubuck-finished jacket has a silky surface. Because of the extensive coloring procedure, this is among the priciest types of leather. It takes a lot of effort and time to transform delicate animal skin into a sturdy and durable material, yet the finished result maintains toughness and durability.

Suede Leather

– Suede is created from the softer and more delicate underside of the animal skin. Suede, as opposed to Nubuck, is less durable and unreliable. Because it has large pores, it is more susceptible to absorbing liquids, making it the least popular option.
Inner Lining
The inner lining is the second layer of fabric that increases the jacket's weight. It helps to firmly pull the jacket down on your shoulders, ensuring a smooth transition from top to bottom. Additionally, the inner lining absorbs sweat in some circumstances, is soft and toasty, and provides a comfortable fit.
Many people are unaware that they can choose the fabric for the inner lining. You can have it plain or quilted or completely remove it, especially when purchasing custom-made jackets from premium retailers like PalaLeather.
The quality and the materials of the inner lining will also determine the cost of the leather jacket. Bemberg lining is the preferred material when it comes to the inner lining. It is breathable, lightweight, and smooth to the touch. Jackets without an inner lining are lightweight and breathable, but they are more expensive to produce due to the additional internal finishing required and manufacturing complications.
Craftsmanship & Stitching
Clean and crisp stitching on a jacket demonstrates that it is of the finest quality, indicating that considerable work was expended in its construction. A decent leather jacket will be sewn uniformly and thickly with strong polyester thread, leaving no loose ends. A popular feature among jacket fans is ornamental stitching on the pockets and seams. Stitching and details on a jacket need additional effort, which results in a higher price.
Accessories and Hardware
When purchasing a leather jacket, inspecting the hardware and attachments can be a simple and effective approach to determine the quality of the jacket or the brand. Before purchasing a jacket, one must ensure that it has high-quality hardware and accessories. Patches, studs, motifs, buckles, or any other form of decorative features used to improve the aesthetic appeal of the jacket are all examples of accessories.
On the other hand, hardware refers to zippers, buttons, and other metallic pieces that have a functional purpose on the jacket. In addition to being stronger and more durable, a good leather jacket zipper should zip up and down more smoothly.
Styles
Finding your style might be challenging, with many styles sweeping the market. Think about all the situations in which this jacket would come in handy. Is this for work or just for fun? Some of the most popular leather jacket styles include:
Biker's Leather Jacket –

With zippers, wide flaps, and eye-catching buttons, a biker's leather jacket is a wardrobe essential. These jackets, which are often black, are designed for motorcyclists and complement your closet.

Bomber Leather Jacket

– With a

bomber leather jacket

, you may achieve an athletic style in seconds. This straightforward style features a single zip and an easy-to-wear silhouette. The collar is composed of a separate fabric to keep out the cold. This timeless leather jacket is appropriate for any occasion and will allow you to make a statement.

Flight Leather Jacket

– Who would have guessed this protective gear for military pilots would become a fashion statement? The core difference between flight and bomber jackets is their fabric composition. It is no longer reserved for military personnel; basketball stars, corporate elites, and high school students all wear it.

Racer Leather Jacket

– The racer jacket features a simple style. This jacket features zippers and will instantly upgrade your look. That is how simple and adaptable it is!
The Cut and Fit
When purchasing a leather jacket, a reasonable aspect to keep in mind is the cut and fit. Regardless of where you purchased your leather jacket, these two factors can make or break your chances of looking decent in it. If you enjoy the style of a jacket, it's probably because it's well-cut.
This creates a lovely shape for the jacket. You can only determine the jacket's fit once you've tried it. You want to ensure that the jacket's shoulder seams are parallel to or as close to your shoulder points as possible. Excessively high or excessively low will not work.
Color
Choosing colors that reflect your personality is vital because you will be wearing your leather jacket a lot. It's best to avoid a tan leather jacket if you're not comfortable wearing one. A black or chocolate brown leather jacket is your best bet in these situations. A red leather jacket is ideal for those who don't mind bold colors!
Price
Jackets Accessories, including zippers, pockets, and so on, affect the price of a leather jacket. Instead of focusing on the price, ensure these top-notch accessories because they can make or break your desired appearance. A high-quality genuine leather jacket may be expensive, but it's a good investment if you want a jacket that will last a lifetime.
The Conclusion Of 'The Ultimate Leather Jacket Buying Guide"
After reading this ultimate leather jacket buying guide, you should be able to make an informed purchase of the leather jacket of your dreams, one that you'll cherish for years to come. When shopping for a leather jacket, don't forget to stock up on leather care products like spray and conditioner. Keep your leather jacket from drying out, cracking, or being damaged by the rain.