In this blog post, we will talk about several helpful tips how to make your startup eco-friendly. There are plenty of ways to do this, so read on for some important ways you can do this. Launching a family startup can be an exciting endeavor. Not only does it give you an opportunity to pursue a career in an industry you're passionate about, with help from those you love most, but it can also generate exceptional revenue and profits. However, competing in today's landscape can be easier said than done, as virtually every industry is becoming more cluttered by the day.
One great way to differentiate your business from its competitors and improve your chances of connecting with consumers on an emotional level is to focus on building a sustainable, eco-friendly venture. Now, more than ever before, consumers are more likely to prioritize buying products and services from brands that prove their commitment to preserving the planet.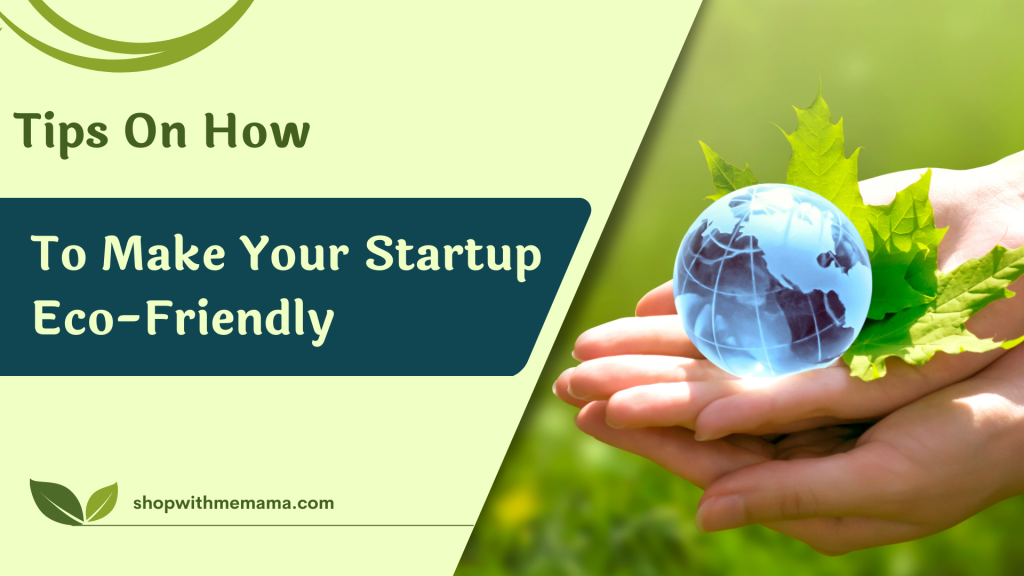 4 Tips How to Make Your Startup Eco-Friendly
Creating and running an environmentally friendly business can be simpler than you'd think. Here are just some ways to make your startup eco-friendly.
1. Choose Eco-Friendly Suppliers and Partners
One of the easiest ways business owners can reduce the impact their company has on the environment is to ensure they're working with the right partners and suppliers. Whether you're looking for companies to help you manage your logistics and shipping process, or you're choosing vendors for your gas, electricity, and other utilities, prioritize eco-friendly brands.
Explore the strategies your suppliers and partners use to deliver services and ask yourself whether they share the same values as you. There are numerous green, and eco-friendly suppliers in the world today, who have achieved certifications and awards for their earth-friendly practices. Partnering with the right vendors ensures you can send the right message about sustainability to your clients.
2. Rethink Your Fleet
A fleet can be one of the most expensive and crucial aspects of your business. It's also one of the core factors which influences just how eco-friendly and sustainable your company is. There are various ways you can invest in making your fleet more environmentally friendly. Fleet management tools can help you to monitor driver routes and look for opportunities to cut down on fuel wastage and emissions.
You can even consider investing in different types of vehicles for your teams. Selecting electric or hybrid vehicles over traditional alternatives is an excellent way to demonstrate your commitment to protecting the planet. However, you will need to make sure you do your research into things like installing charging stations for vehicles and making sure you're leveraging the right sources of electricity.
3. Build an Eco-Friendly Company Culture
Running an eco-friendlier business often starts with implementing policies and operating procedures which help to reduce the impact your employees have on the planet. When cultivating the right company culture, it's worth looking for ways to unify your employees around a commitment to sustainable operations. You could implement recycling strategies to encourage your team members to make the most out of the resources they throw away.
Another option is to encourage employees to think more carefully about how they use resources and energy around the office. Ask team members to be mindful of the number of devices they use at any given time and share insights with them on how they can reduce their electricity usage. You can even take advantage of automated tools and smart switches to help employees remotely switch off devices they've forgotten to shut down before leaving the office.
4. Consider a Hybrid Workplace
One of the best ways to run an eco-friendlier business and reduce operating costs at the same time is to consider the benefits of a hybrid workforce. With a hybrid environment, a fraction of your employees will work within the office, while other team members operate remotely, or work from home.
This reduces your need to pay for overheads like electricity and real estate and cuts down on the emissions team members create when driving to and from work. Not only will a hybrid workplace make your environment eco-friendlier and more affordable, but it can also make it easier to attract and retain talent in your industry. Many of today's talented professionals will deliberately seek out employers with hybrid working options.
In conclusion, building an eco-friendly startup is not only good for the environment, but it can also be a smart business decision. By implementing sustainable practices, you can reduce costs, attract environmentally-conscious customers and investors, and create a positive impact on society.
The tips mentioned above, including using eco-friendly suppliers and partners, rethinking your fleet, building an eco-friendly company culture, and considering a hybrid workplace, can help you build a successful and environmentally responsible startup. Remember, small changes can make a big difference in the long run, and every step toward sustainability counts.
Do you have anything you want to add to my post about 'Tips How to Make Your Startup Eco-Friendly'? If you do, please leave me a comment below! The more eco-friendly and sustainable ideas the better especially with Earth Day coming up!