*This is a product feature only. Opinions are my own.
I love decorating my home. I enjoy shopping online and in stores and finding great deals and adorable, fun, one-of-a-kind things to add to my home. It is just so much fun!
MIXT Studio contacted me a while back to review a product from their  online store. I had a hard time choosing something because they have some really cute products! Just about everything they make is handcrafted in the U.S. They carry a nice line of Paper & Gift Goods as well as a line of Baby & Child products. All the products are made so nice and the selection is fabulous.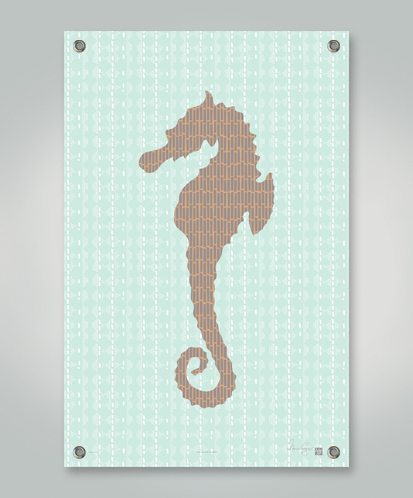 I chose to review the Treasure Cove Seahorse. This print was inspired by their beautiful Hermosa Beach, California location. This is a textured canvas sea life print. This is one of three sea life prints that can go together as a set. The other two are of an octopus and sea turtle. LOVE LOVE LOVE them all, but got the seahorse because that is the one I liked best! These are frameless pieces of art that are printed on  thick 11 oz. canvas and hangs easily with four stainless steel grommets.
About Mixt Studio:
MIXT Studio was founded in 2012 by Marcie Carson. Their studio is based in Hermosa Beach, California and that is where they pull their inspiration from! Marcie chose the name MIXT Studio and coined the term "eco-eclectic" to describe the brand's modern vibe!
All MIXT collections are carefully designed and handcrafted in America with a knowing eye for detail. Everything that leaves their studio, follows their commitment to a clear and conscience, good karma. Their paper products are produced in the U.S. on recycled and/or FSC-certified papers from well-managed and sustainable forests. They also use surplus materials and frequently print their products together with other pieces, to eliminate excess. They are doing their best to limit the amount of natural resources they consume and the waste we all leave behind. It keeps their conscience clear! Plus, it helps keep our air, oceans and landfills less polluted.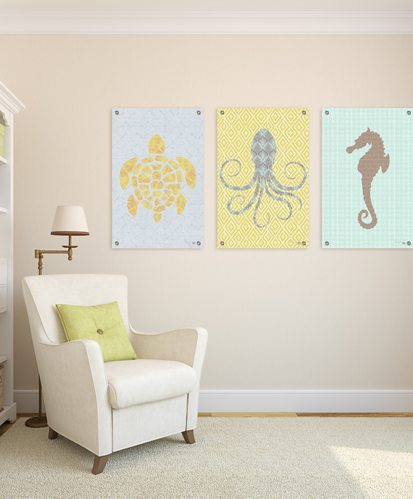 Buy
You can purchase the adorable Treasure Cove Seahorse online at http://mixtstudio.com/. It retails for $65.00.