This post includes my affiliate links.
So, Jewelry In Candles came out with another VERY popular candle, Trick Or Treat. This one was SO dang popular that it sold out EVERY. SINGLE.TIME it was put out. They could barely keep up with the orders on it and had their staff work overtime to produce more!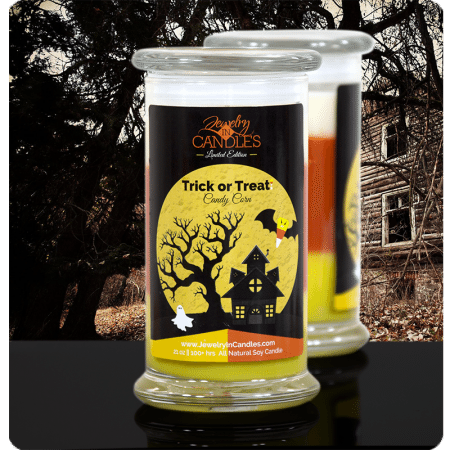 I have been wanting one so badly, but each time I went to the site it was already sold out! In fact, they were selling out within minutes! Crazy, right? But TRUE!
So, today I happened to be on Jewelry In Candles and saw that they were restocked again. They WERE. I quickly bought TWO of them. One has earrings in it, the other has a necklace in it. I was SO excited! Yay!
So, since I did get two of the Trick Or Treat Candles, I wanted to offer one to ONE of my loyals 🙂 That is how much I appreciate you all!
So, enter to win a Trick Or Treat Candle By Jewelry In Candles! Good luck to you all! Happy Halloween!
About This Candle:
Boo! Your favorite Halloween candy is here for a limited time only! Authentic Candy Corn scent is layered in orange, yellow, and white wax to complete the duplication of the traditional mellow cream candy. Get it before it's gone!
Infused with natural essential oils.
All three layers are scented candy corn
Full size 21oz scented candle
100% all natural Soy candle
Burns for 100 to 150 hours.
Includes a surprise piece of jewelry in every candle.