Some gift baskets that I have received in the past have been not so interesting to me and often times I let my family have at them. Not this one I received 🙂 The one I recently received was from WOW Gift Boxes (which apparently does not exist anymore so I am linking you to another gift box site that sells Dr. Pepper gift baskets), and it was a GOOD one! It was Dr. Pepper " The Smoothest Soda & Sweetest Treats Loaded Gift Box". Now, who on earth could go wrong with that kind of gift basket?? Seriously…
Dr. Pepper Gift Baskets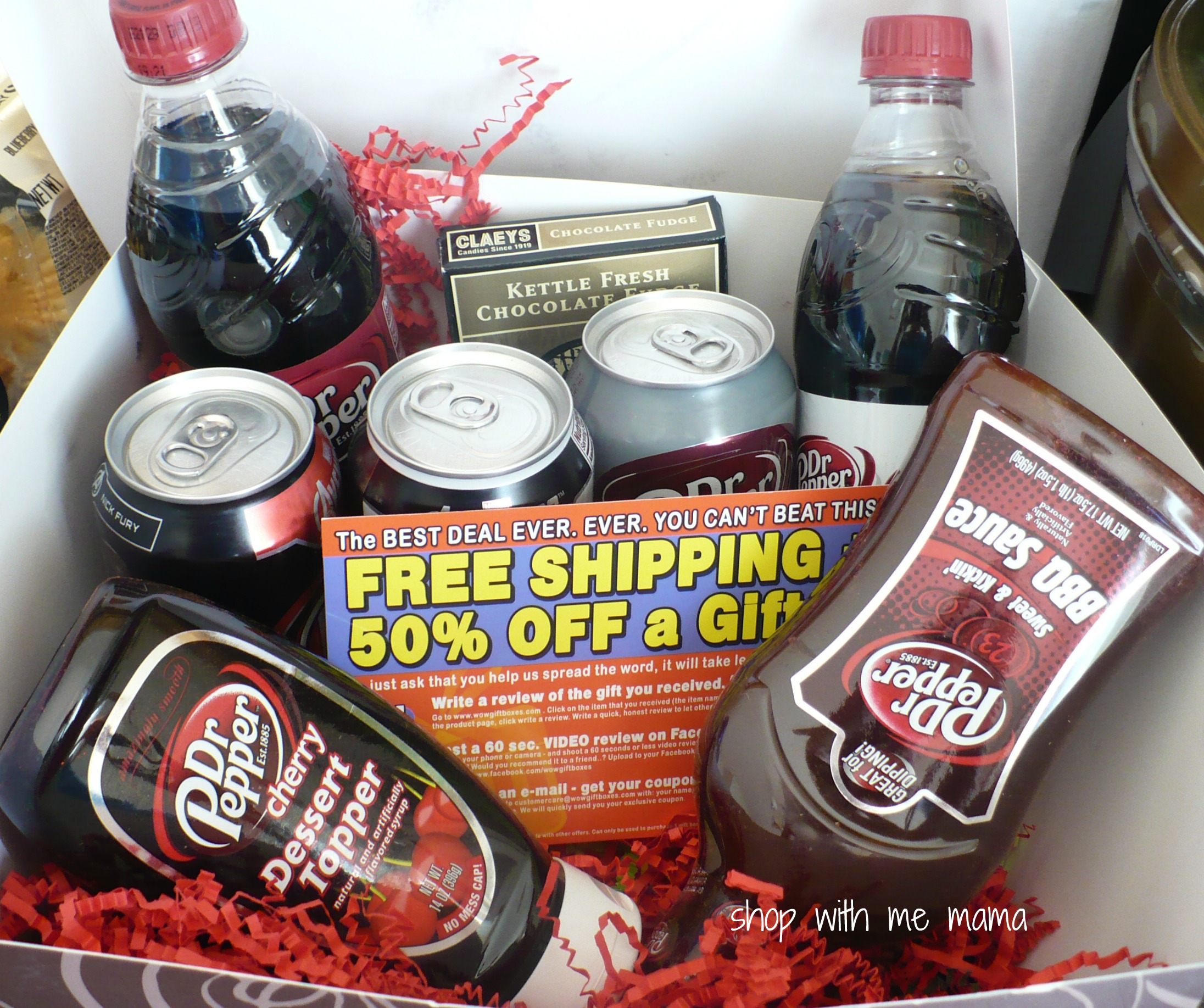 And this Dr. Pepper Gift gift basket was filled with things I actually wanted to eat. Not some weird kind of breadstuff or cookies I have never ever heard of. This had some real yummy things in it!
To prove my point on the goodies in this box, see what was inside:
Dr. Pepper 16.9 oz – The original. The legend. The 23 Flavors you crave; here it is, in its plastic shrine.
Diet Dr. Pepper 16.9 oz – Big on taste; but without the calories.
Dr. Pepper Cherry 12 oz – Same smoothness, same flavor, smaller size.
Diet Dr. Pepper 12 oz – You can have both full Dr.Pepper taste and no calories.
Dr. Pepper Ten 12 oz – Dr.Pepper for men; if you are not a man, beware.
Dr. Pepper Cherry Dessert Topper – An incredibly unique dessert topper – to add to your favorite dessert. Perfect for: ice cream, milkshakes, cake. If you love Dr. Pepper; you would be missing out in life without experiencing this taste.
Dr. Pepper Jelly Bellys – It is unbelievable how they can miniaturize that full, bold Dr. Pepper taste into such as small size – but it is true! These jelly bellys are delicious.
Dr. Pepper Sweet and Kickin' BBQ – A big 18 oz bottle of BBQ perfect for basting, marinating, or dipping. Experience the bold DP taste in every bite.
Gourmet Butter Toffee Popcorn –Crunchy, fresh, sweet gourmet popcorn to please.
Claeys Kettle Fresh Fudge Gold Boxes – a scrumptious box of fudge that is hard to resist.
2 Mrs. Fields Gourmet Rainbow Chocolate Chip Cookies – this cookie tastes like it just came out of the oven; you can't go wrong with a great chocolate chip cookie.
Hand Written Greeting Card – A full size, elegant card – you choose the theme. We will handwrite your note with love!
Gorgeous Gift Box & Bow – All is housed in one of our designer gift boxes to keep your recipient in suspense until the last moment.
Ya, ALL that! Mmmmm…
Since I did this review back in 2012 and it no longer exists, I found another great company online that DOES Dr. Pepper gift baskets with all the yummy goodies! They are called Auntie Ammie's Candy!
This would make an awesome gift for mom, dad or that highschool or college graduate!