When you come home at the end of the day, finding easy ways to be healthy can be challenging. Sometimes, the most appealing solution is to just order pizza and get ready for the next day. While pizza is a nice break once in a while, you want to keep your family healthy by serving them home-cooked meals that they will love. Below, are 3 healthy recipes that can be made with chicken or shrimp.
Combining low-fat proteins and pasta as a base for most of your meals gives you a variety of ways to get creative while keeping things simple and balanced. Chicken and shrimp are two options that make your cooking flexible, and they can be swapped out for each other in almost any recipe. Whether you are grilling out or making chicken and shrimp pasta, here are a few quick recipes that your family will beg for again and again.
3 Healthy Recipes That Can Be Made With Chicken or Shrimp
1. Shrimp Pesto Pasta
When you want to make a sophisticated and healthy meal for your partner during a night in, fresh-made shrimp pesto pasta will always impress. Whether with pasta or as a dipping sauce, the bright flavors of garlic, pine nuts, and cheese ensure people believe you have labored in the kitchen for days. Pesto is easily made, but complex in taste.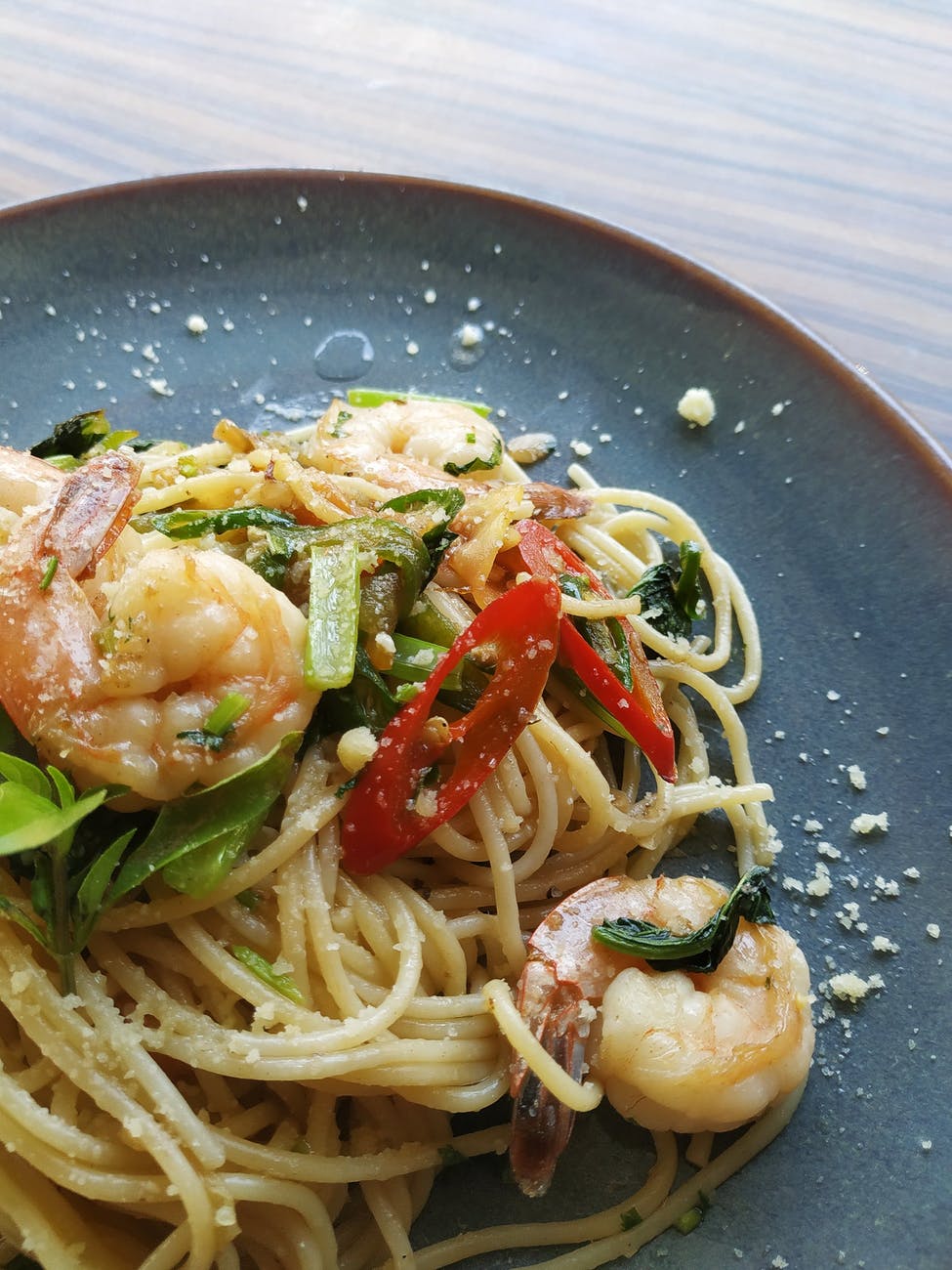 Ingredients:
2 c. fresh basil leaves
2 tbs. pine nuts
½ tsp. salt
5 large cloves garlic
¼ to ½ c. extra-virgin olive oil
½ c. freshly grated parmesan or romano cheese
16 oz. defrosted shrimp
16 oz. dried penne pasta
Cooking Instructions:
In a skillet, slowly saute the garlic for 30 seconds or until fragrant.
Combine garlic, basil, pine nuts, and cheese in a food processor.
Add a ¼ cup of olive oil. Pulse the ingredients while slowly adding more oil until you like the consistency and texture of the sauce.
Next, bring to a boil 6 cups of water and a generous pinch of salt.
Once boiling, drop in 16 oz. of penne pasta for 11 minutes or till al dente. Drain the pasta.
Sauté shrimp in a medium-hot nonstick skillet.
Combine the pasta, pesto, and shrimp in a bowl. Grate 4 tablespoons of parmesan or romano cheese over top of the shrimp pesto pasta and serve.
2. Garlic and Spinach Pasta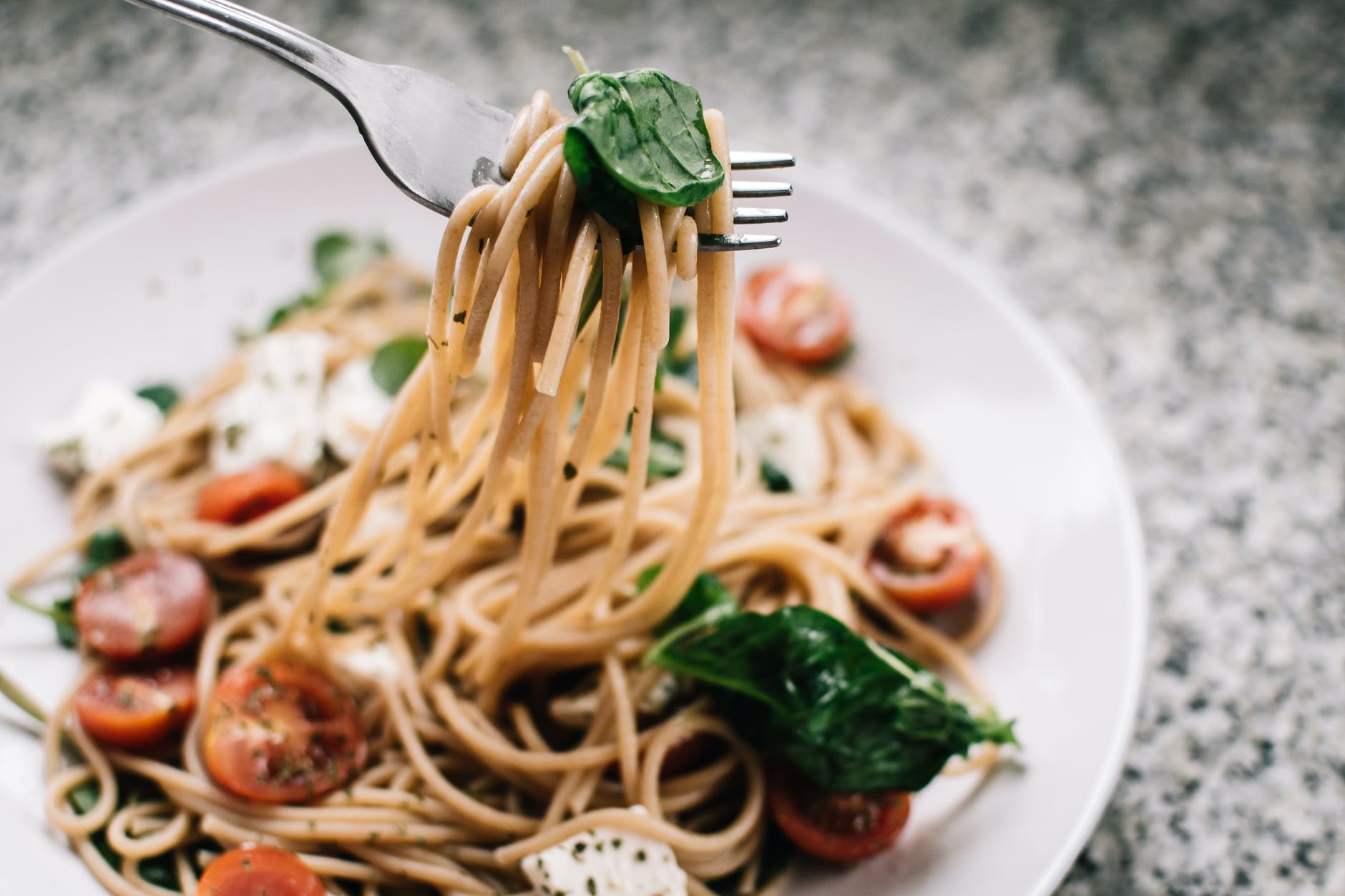 Ingredients:
3 – ¼ lb. chicken breasts, boneless
2 tbsp. olive oil
1 head garlic
10 oz. fresh spinach
3 tsp. salt
3 tsp. pepper
1 large onion
1 16 oz box of capellini
Grated parmesan cheese for garnish
Cooking Instructions:
Bring 6 cups of water and a pinch of salt to a boil.
In a large skillet, warm up olive oil on medium heat. Sprinkle salt and pepper on each side of the chicken breasts. Place them in the skillet and cook each side for 6 minutes or until they have reached the internal temperature of 160°F.
Remove the chicken breasts from the skillet and place them on a plate. Loosely cover with aluminum foil.
While the chicken is cooking, smash cloves of garlic with the wide side of a chopping knife. Remove loose skin and dice garlic. Roughly chop the onion.
In the same skillet as you cooked the chicken, add another tablespoon of oil, place on medium-low heat, and sauté the onion, garlic, salt, and pepper. Cook until the onion begins to caramelize.
Add all of the spinach. It will appear to overwhelm the skillet, but will quickly wilt and reduce as you combine it with the garlic and onion.
Drop in the 16 oz. of dried capellini into boiling water and boil for a brisk 3 minutes. Drain the pasta.
In a bowl, combine pasta, garlic spinach mixture, and parmesan.
Slice the chicken breasts and place them on top of the pasta to serve.
3. Lemon Pepper Shrimp Linguini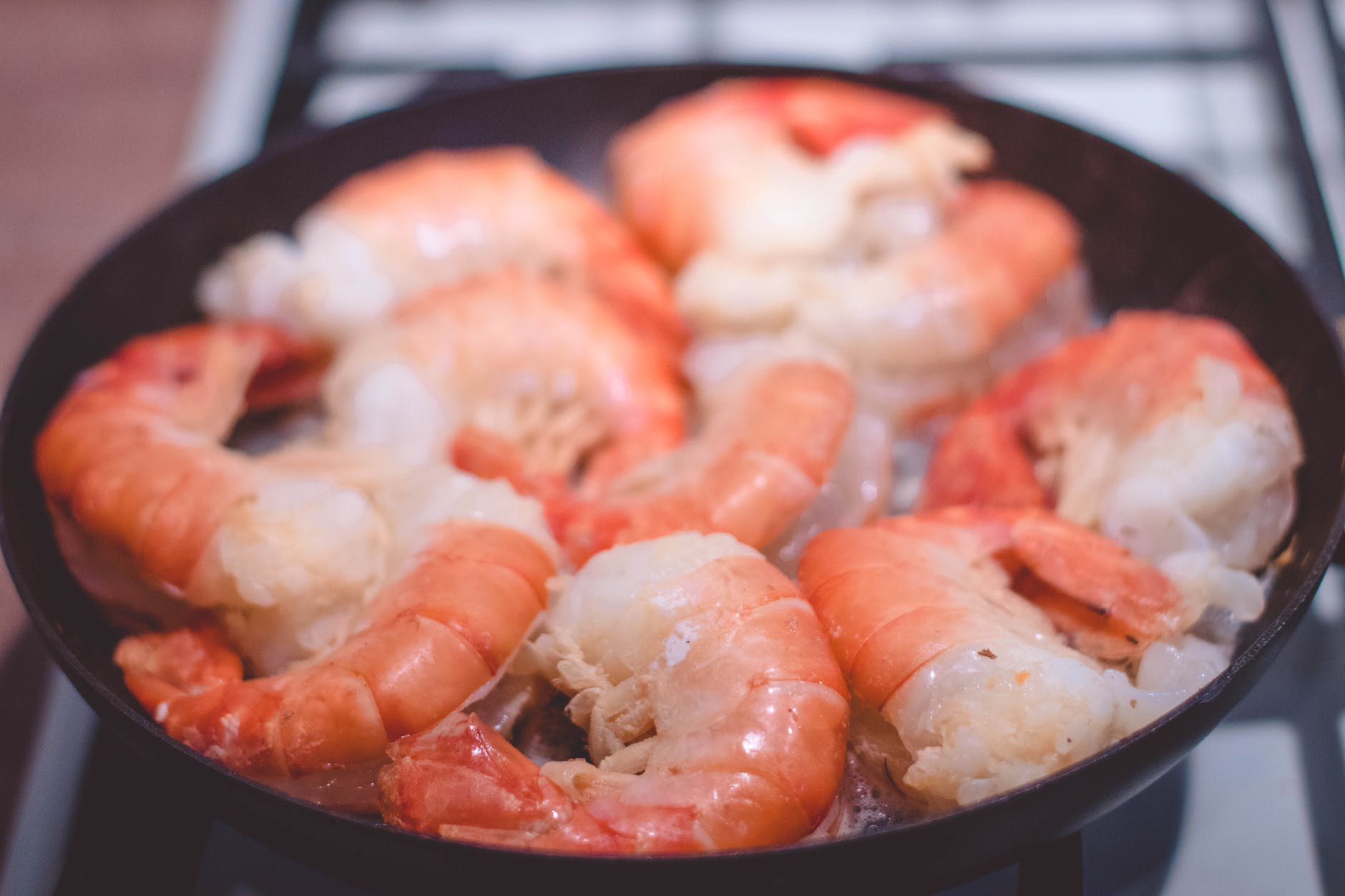 Ingredients:
2 lemons
2 tbsp. of coarsely ground pepper
2 tsp. salt
1 tbsp. flour
16 oz. fresh shrimp
16 oz. dry linguini
3 cloves garlic
¼ c. chicken broth
3 tbsp. chopped parsley or parmesan cheese
Cooking Instructions:
Bring to boil six cups of water and a pinch of salt. Drop the 16 oz. pasta into the water and bring back to a boil for 11 minutes. Drain the pasta and set aside.
In a small bowl, zest the rind of each lemon.
Smash the garlic gloves with the wide side of the chopping knife, remove the skin and finely chop the garlic.
In a large skillet, heat up the olive oil and garlic for 30 seconds or until fragrant.
Add shrimp and saute for three minutes. Remove it when pink.
Saute oil and lemon zest for 30 seconds, then sprinkle the flour in the skillet and scrape the bottom as it cooks for a minute.
Add the lemon juice, salt, and pepper.
Add the shrimp, pasta, and 1/8 to ¼ cup of chicken stock. Cook at a low temperature for up to 5 minutes.
Remove from heat and sprinkle parsley or cheese, pepper, and salt.
These 3 Healthy Recipes That Can Be Made With Chicken or Shrimp can easily include one protein swapped for the other, or you could combine proteins and make a hearty and satisfying chicken and shrimp pasta.
Try making the shrimp pesto pasta with chicken, or the garlic and spinach pasta with shrimp. Whatever you decide to go with, shrimp, chicken, or shrimp and chicken pasta, you only need to master cooking a few things in order to make your meals more versatile and flexible.
What do you think of these 3 Healthy Recipes That Can Be Made With Chicken or Shrimp? Will you be making them for dinner?